Although Still Effective, Michael Jordan Was 'a Luxury Car and No Longer a Sports Car' in His Later Years
Michael Jordan had a tough time letting go. Who can blame him? He was arguably the greatest player ever to play in the NBA, winning six championships with the Chicago Bulls.
Jordan retired from the league three times. As he returned after his second retirement, he slowed down but was still one of the game's best. His former coach, Doug Collins, referred to him as "a luxury car and no longer a sports car."
Michael Jordan showed he was human in his later years with the Washington Wizards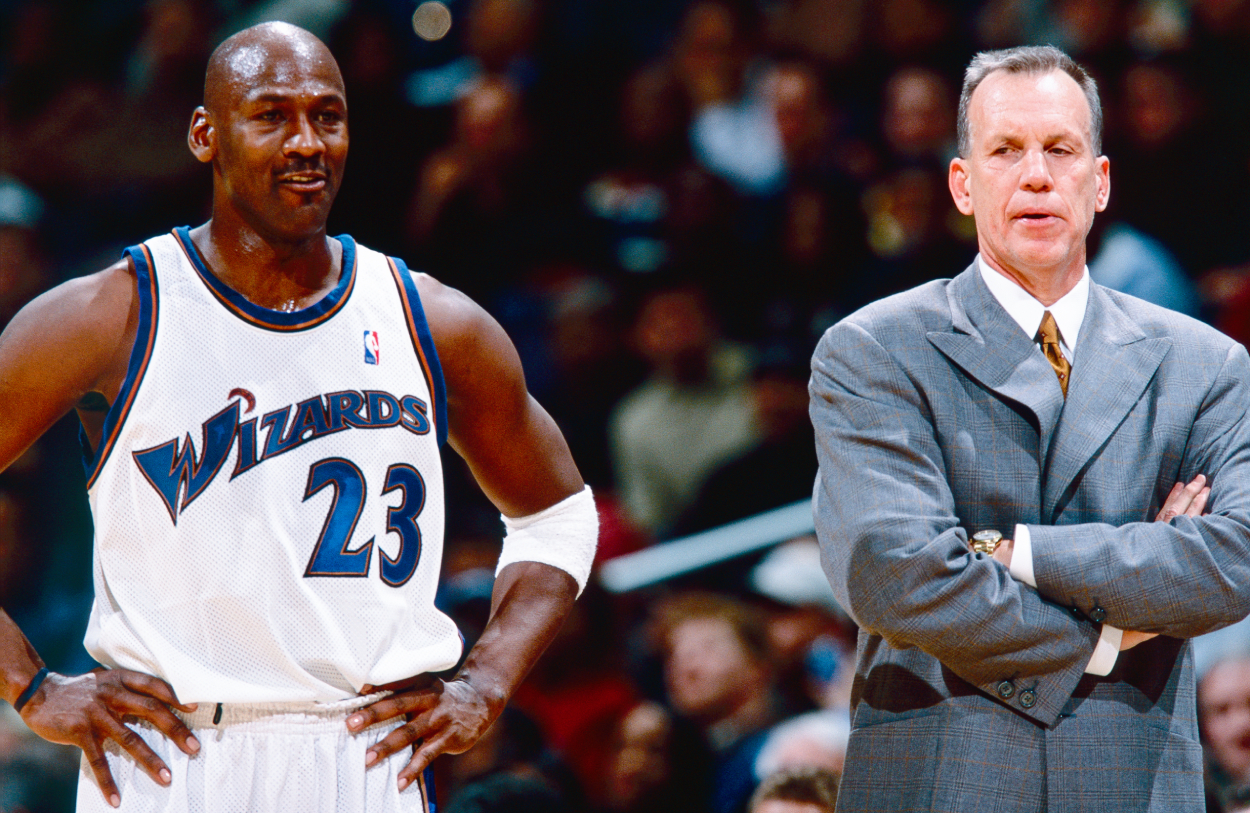 Jordan first retired after the 1992-93 NBA season to pursue a professional baseball career. After an unsuccessful one-year attempt of hooking on with the Chicago White Sox and hitting .202 at the Double-A level, he returned to basketball. It was as if he didn't miss a beat.
He played the final 17 games of the season, guiding the Bulls to a 13-4 record and into the playoffs. Chicago fell to the Orlando Magic in the Eastern Conference semifinals. The next three seasons belonged to Jordan and the Bulls, who pulled off their second three-peat of the decade.
It was when the Bulls broke up that Jordan started to break down. He retired again after his sixth championship. In 2000, he returned as a part-owner and president of basketball operations for the Washington Wizards. A year later, he was back on the court playing for the Wizards.
After a three-year hiatus, Jordan clearly wasn't the dominant force he was with the Bulls, but he still put up some impressive numbers. In his two seasons with the Wizards, he averaged 21.2 points per game, down 10 points from his days with the Bulls. His field-goal percentage also dropped significantly from 50.5 with the Bulls to 43.1 with the Wizards.
Doug Collins referred to Michael Jordan as a luxury car and no longer a sports car
He was a step or two slower, but Jordan could still play. After three years away from the game, he showed he could still have spurts of playing at the Jordan level. Consistency became a problem. After scoring a career-low six points in a game against the Indiana Pacers, he became the oldest player in league history to score more than 50 points when he put up 51 against Charlotte in the following game.
Coming back from a three-year layoff caused many doubts. Doug Collins, who coached Jordan and the Bulls from 1986-89 and then coached him with the Wizards, was one person who didn't have those doubts.
"People had their doubts," Collins said to Sports Illustrated in 2002, "but I knew that if Michael was going to do this, he thought he still could play pretty damn well."
Collins saw the Jordan of old up close, and he saw the more experienced and craftier version with the Wizards. He compared the two. "It's a luxury car and no longer a sports car," Collins said.
Jordan learned to adapt well to life after Air Jordan
The spring in his step may have diminished, but Jordan still was better than most. He was still one of the hardest workers on the Wizards, and that rubbed off on some of the players.
"When you see how hard he works and watch how he conducts himself, you want to do the same," guard Tyronn Lue said back then. "That's the kind of stuff that rubs off on all of us."
Charles Oakley, a friend of Jordan's and a player on the Bulls when MJ was with Washington, said Jordan's experience would win out over an athletic young gun.
"Michael couldn't have been so great if he wasn't so good fundamentally," Oakley said. "He's showing that in basketball, an old head can beat a young pair of legs."
By Jordan's standards, his two seasons with the Wizards weren't the best, but he proved that a luxury car was much more effective than many of those other high-priced sports cars.