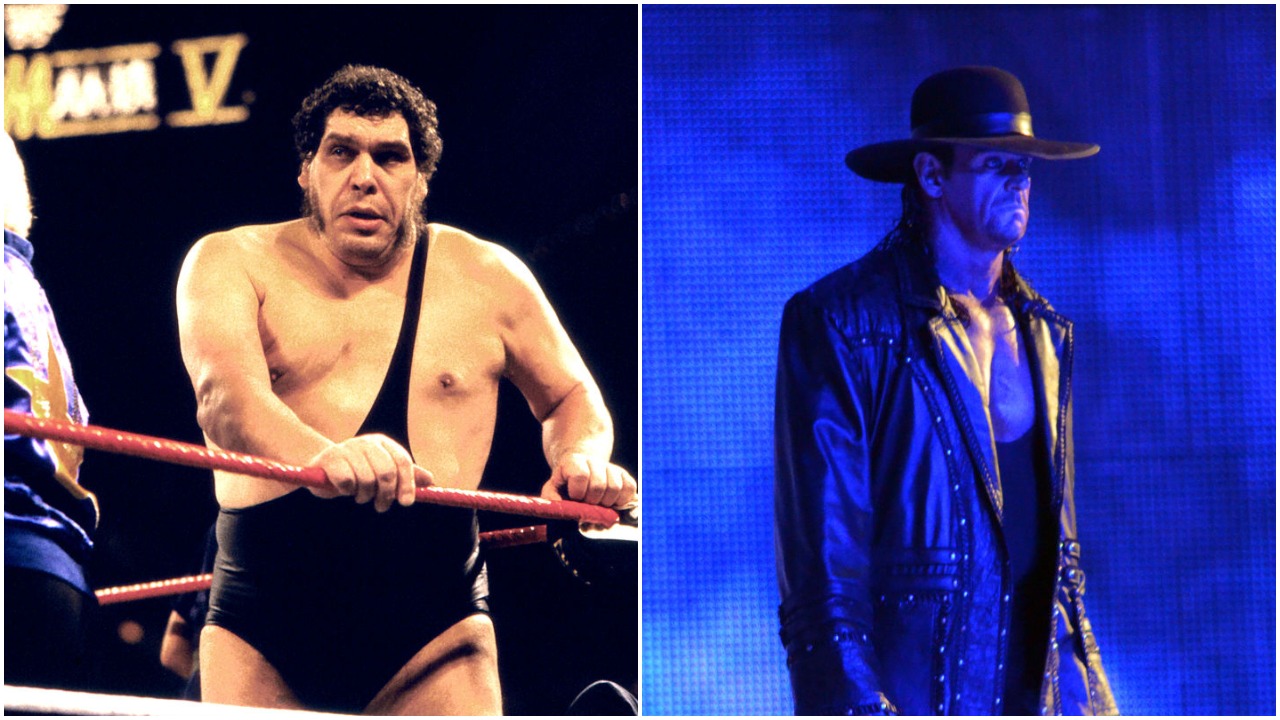 Andre the Giant Wanted to Wrestle The Undertaker and Had a Secret Storyline in Mind
The Undertaker once revealed that WWE Hall of Famer Andre the Giant once wanted to have a match with him and had a storyline in mind.
The Undertaker is one of the biggest and most well-respected superstars in WWE history. But there was one man who was literally bigger and commanded perhaps the most respect of anyone in the storied history of professional wrestling, Andre the Giant.
As it turns out, the Eighth Wonder of the World wanted a matchup with The Deadman and even had a storyline in mind, a storyline that he never told anyone.
The Undertaker came to WWE when Andre the Giant was physically breaking down
After working for various promotions in the late 1980s, including WCW, Mark Calaway came to WWE in 1990 and was rebranded as The Undertaker, making his debut at Survivor Series. It didn't take long for the character to make it big and only a year after his debut, 'Taker defeated Hulk Hogan for the WWE title at Survivor Series in 1991, one of a few legends he took out in his early days with the company, a list that also included Jake "The Snake" Roberts and "Superfly" Jimmy Snuka.
Unfortunately, by that time, Andre the Giant was breaking down physically. He wrestled his final match for WWE in May 1991 but stuck around for a few more months to help further various storylines. He made his final television appearance at SummerSlam that year, standing on crutches at ringside as The Bushwhackers defeated The Natural Disasters. He made his final WWE appearance at a house show in France in October. While The Undertaker and Andre the Giant were only in WWE together for a short time, the two struck up a friendship. Andre saw the potential in 'Taker and dreamed of one more big match.
Andre the Giant wanted a match with The Undertaker
Throughout his three decades in WWE, The Undertaker has faced off with some of the biggest names the business has ever seen. Hulk Hogan. Ric Flair. Stone Cold Steve Austin. Shawn Michaels. Triple H. The Rock. Brock Lesnar. The list goes on and on and on. But he obviously never got the chance to step in the ring with Andre the Giant. With Andre's failing health, it just wasn't something that could take place, although the Eighth Wonder of the World dreamed of it happening, as The Undertaker once told Pastor Ed Young on the Wrastlin' series on YouTube.
"I never got the chance to wrestle Andre. By the time that I got there, his health was really in decline. He wrestled a few times and it was funny because Andre was really old school.

"Andre didn't like big guys either — he loved me, thank goodness. But for most big guys, he thought they were arrogant or bullies or whatnot, but he had his way with a lot of guys that you would be like, 'Oh, that's a pretty tough guy,' [but] Andre would set him straight. Anyway, he liked me and, you know, I guess we always think we got one [match] left in us, you know.

"He'd come in, he's Andre The Giant. Biggest star that's ever [been] at that time in wrestling. Worldwide phenomenon, he was always the first guy in the locker room.

"He was always there, he would love to sit there and play cribbage and I'd come in and say, 'Hey boss, how you doing today?' [He'd say], 'Good. You know, one day, kid, me and you. I have this idea.' 'Oh really, boss? Tell me about it.' And he'd never tell me."

The Undertaker on Andre the Giant
And Andre never did tell 'Taker what his plan was.
The Eighth Wonder of the World never revealed his idea to anyone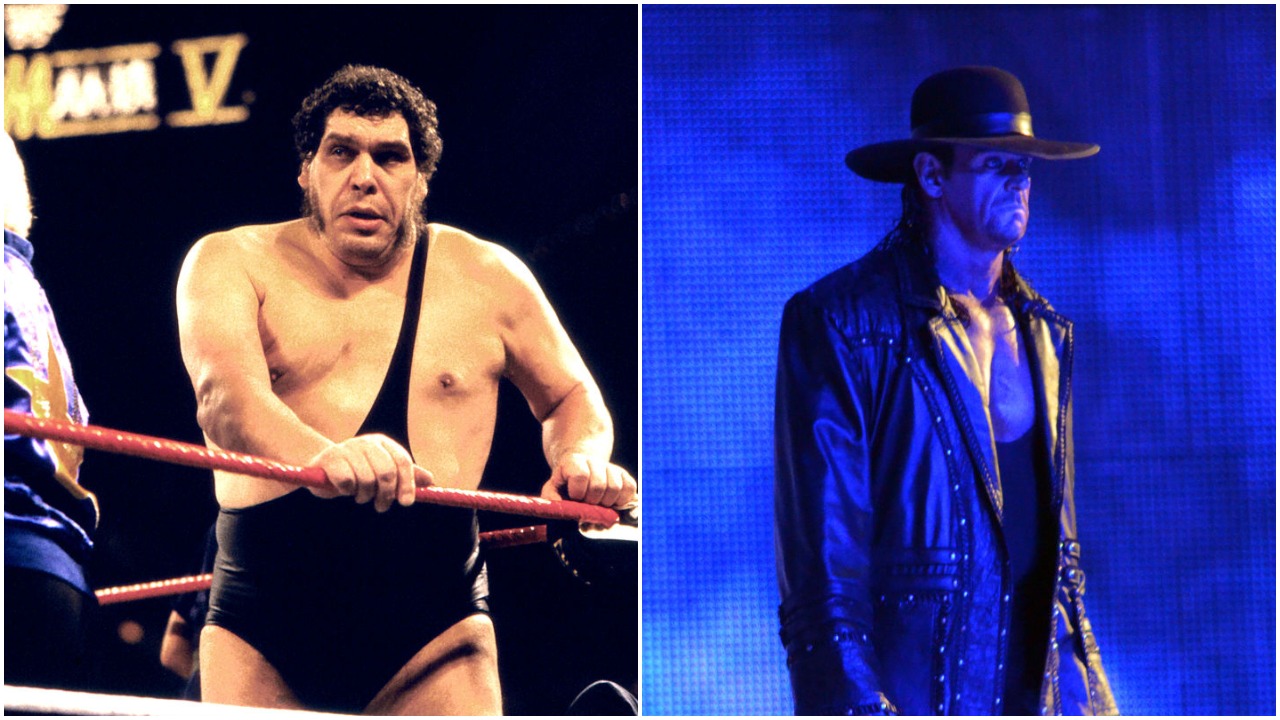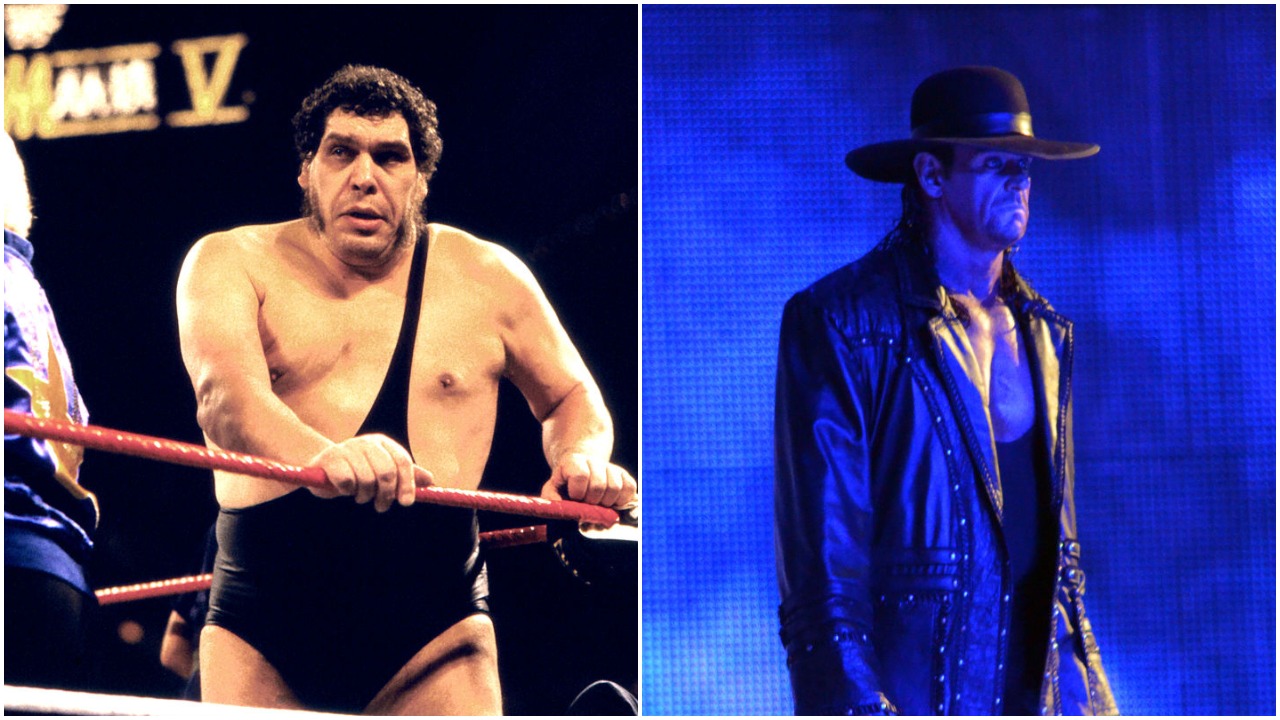 The Undertaker went on to reveal that Andre the Giant never revealed the storyline to anyone. The Deadman said that after Andre tragically passed in 1993 that he tried to get the answer from Tim White, a longtime WWE referee and Andre's caretaker for years. But 'Taker never got his answer.
"A good friend of mine to this day, his name is Tim White, he drove Andre around, he was one of the referees, and I had asked Tim all the time: 'Did he ever tell you?' I would ask and he'd never tell me.

"He was old school in that because he didn't want anyone else to do it because he thought he was going to get to a point where he could get back in the ring and we could do something that would be a big deal.

"No one knows what it was, but you know, he ended up passing away and he never let me know. I wonder to this day, 'Man, I bet it was good.'"

The Undertaker on trying to learn Andre the Giant's secret storyline idea
Just imagine the possibilities.