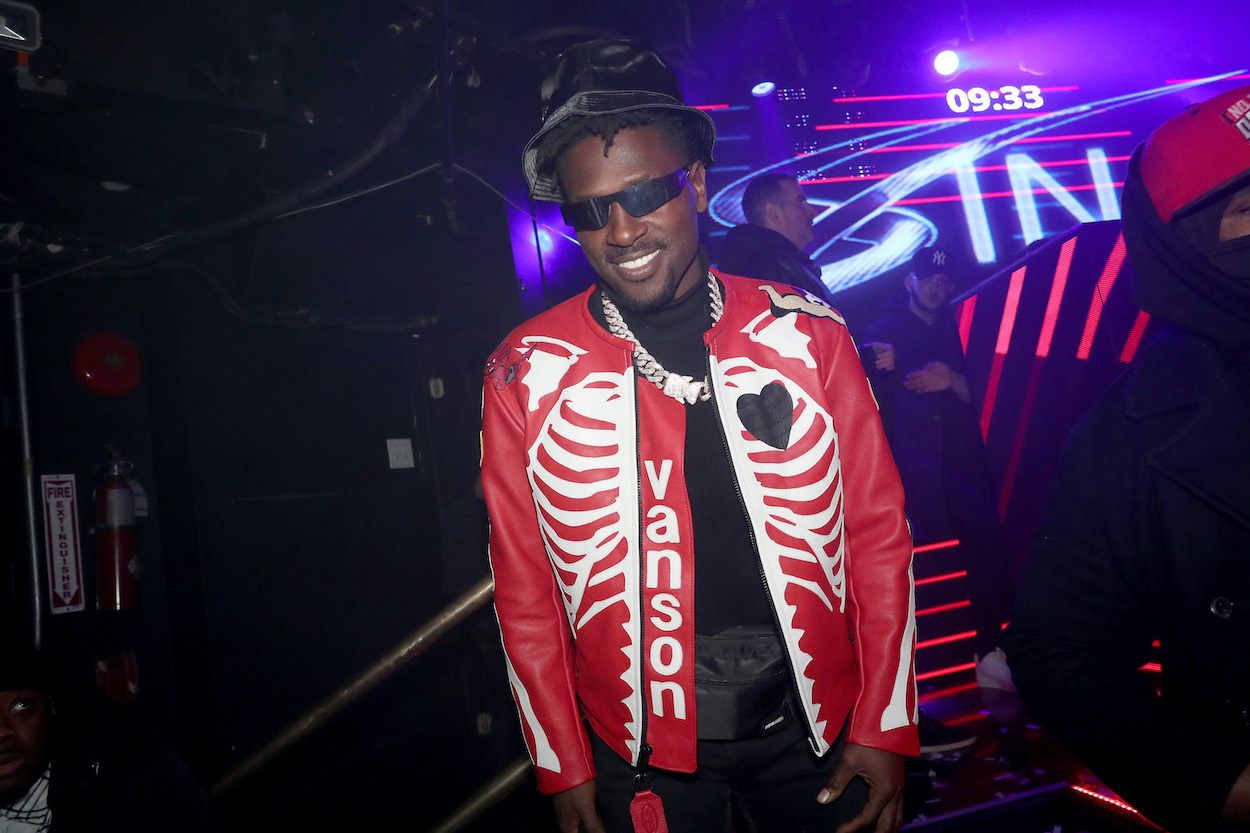 Antonio Brown Might Be Going to the Super Bowl After All Following a Questionable $2.1 Million Ticket Purchase
Antonio Brown is claiming to have paid $2.1 million to attend the Super Bowl with Kanye West, but there's a good chance he's making it all up, which is very on-brad for AB.
If you thought Antonio Brown walked out of your life when he walked off Tampa Bay Buccaneers sideline midgame, you'd be wrong. Brown is doing his best to say in the news, and his latest move to do that is posting a receipt for $2.1 million worth of Super Bowl tickets.  
The invoice may be for him and Kanye West to attend the Big Game at the Los Angeles Rams' SoFi Stadium together. Or, it could all be entirely made up. Either way, as with everything involving AB, it's a head-scratching story.
Did Antonio Brown cost the Tampa Bay Buccaneers a trip to the Super Bowl?
The last time we saw Antonio Brown at an NFL game, he was skipping shirtless through the end zone at MetLife Stadium. The four-time All-Pro wideout either quit midgame or head coach Bruce Arians kicked him off the team, depending on who you believe.
Either way, Brown wasn't part of his team's playoff run after the Week 17 debacle.
Fast forward to the NFC Divisional Round, where the Buccaneers took on the LA Rams. Without Brown or WR Chris Godwin, who went out for the year in Week 15, Tom Brady and company struggled.
The Tampa Bay offense picked up just seven first downs in the first half to LA's 15. They also converted just two of seven first downs (28.6%). Brady struggled ealry too. He was 10-of-22 for 112 yards and an interception. The result was a 27-3 in the third quarter.
Then, as Brady does, he turned it on. The Buccaneers offense scored 24 unanswered points to tie the game with just 42 seconds left.
Matthew Stafford led the Rams on a dramatic late field goal drive to win the game and eliminate the Buccaneers from the playoffs. However, you can't help but wonder about the outcome if Brown was in uniform.
With another weapon on the outside to complement Rob Gronkowski and Mike Evans, do the Bucs fall in a 24-point hole? Is Brown worth three points on the final tally? Is he worth seven?
These are all unanswerable questions. That said, it's hard not to think that if Brown were in the lineup, the game would have played out differently if not turned out differently.
It wasn't to be, though, and now the Rams are in the Super Bowl. And Brown might be there, too.
Brown may be attending the Big Game at a huge cost
Since Antonio Brown left that fateful Week 17 game, he hasn't quietly faded into obscurity. In the weeks since he skipped out of the NFL, Brown has partied with rappers, sat courtside at NBA games, and doled out NFL analysis and life advice on Cameo.
Now, in the latest outlandish Brown news, it looks like the former (?) football player will be at the Super Bowl in Los Angeles. And, if he is, it comes with a huge price tag.  
Brown posted a receipt for Super Bowl tickets on his Instagram. The bill is for a $2 million "Owners Suite" for 18 people and six "Front Row Lower VIP" seats. These six seats have an individual price of $32,500 per ticket, which comes to $195,000. All-in, the invoice shows that Brown paid nearly $2.2 million for Super Bowl tickets.
The question is, how authentic is the receipt?
The date on the bill says 2/7/21, which would make it for last year's Big Game. Darren Rovell of the Action Network, who put a pic of the Instagram post on Twitter, seems to be confused about the validity of Brown's bill.
When someone pointed out the date, saying it was for last year, Rovell tweeted, "No it's not. Typo." However, about 10 minutes later, the sports business reporter tweeted, "Yeah it's the wrong date. He still posted it. Have no idea whether it's real or not."
The plot thickens when you look at who the invoice is for. It's addressed to "Booming Productions, Donda Sports, President AB" According to Jordan Rose at Complex, Brown is now part of Kanye West's Donda Sports venture, so there may be some validity to the ticket purchase.
Whether the receipt is real or not, we'll find out soon enough. The NBC Super Bowl cameras will surely track down Brown and Kanye if they are indeed in the building.
The wide receiver's chances of getting back in the NFL are getting slimmer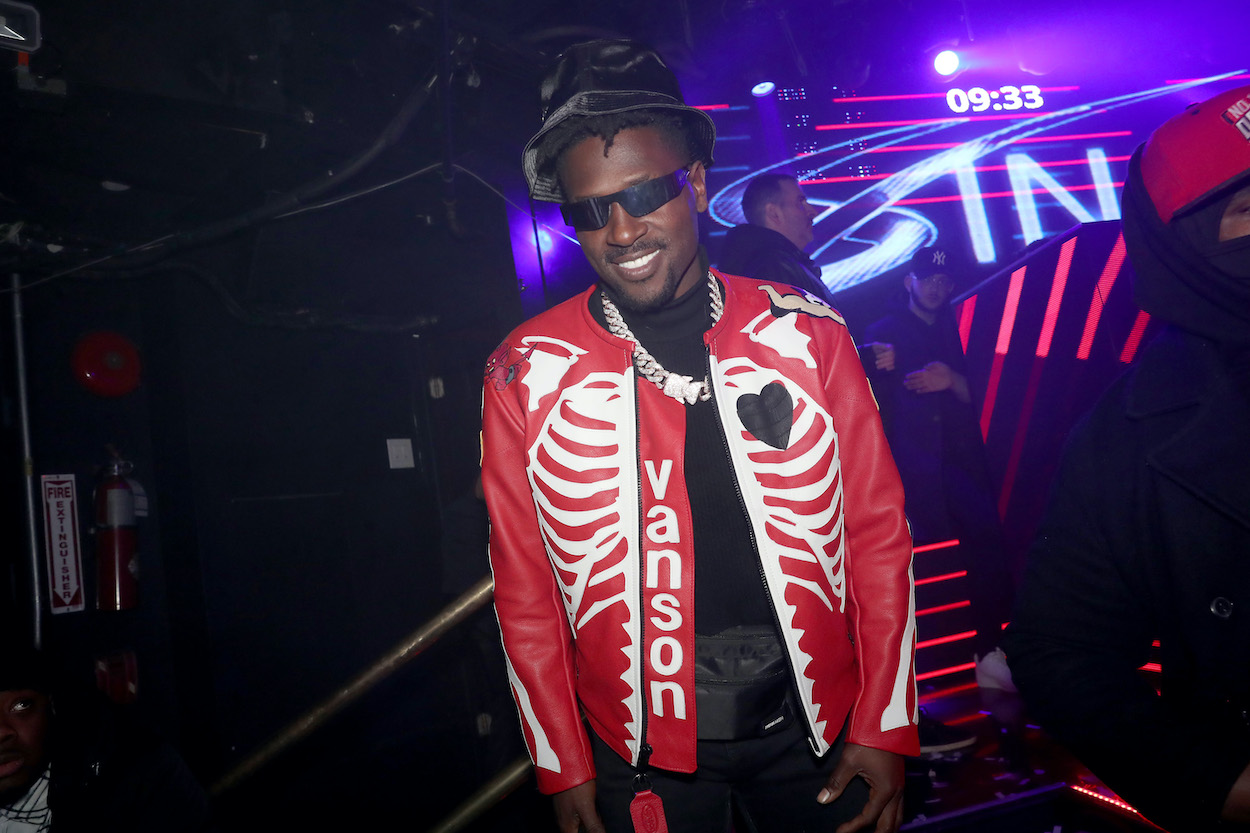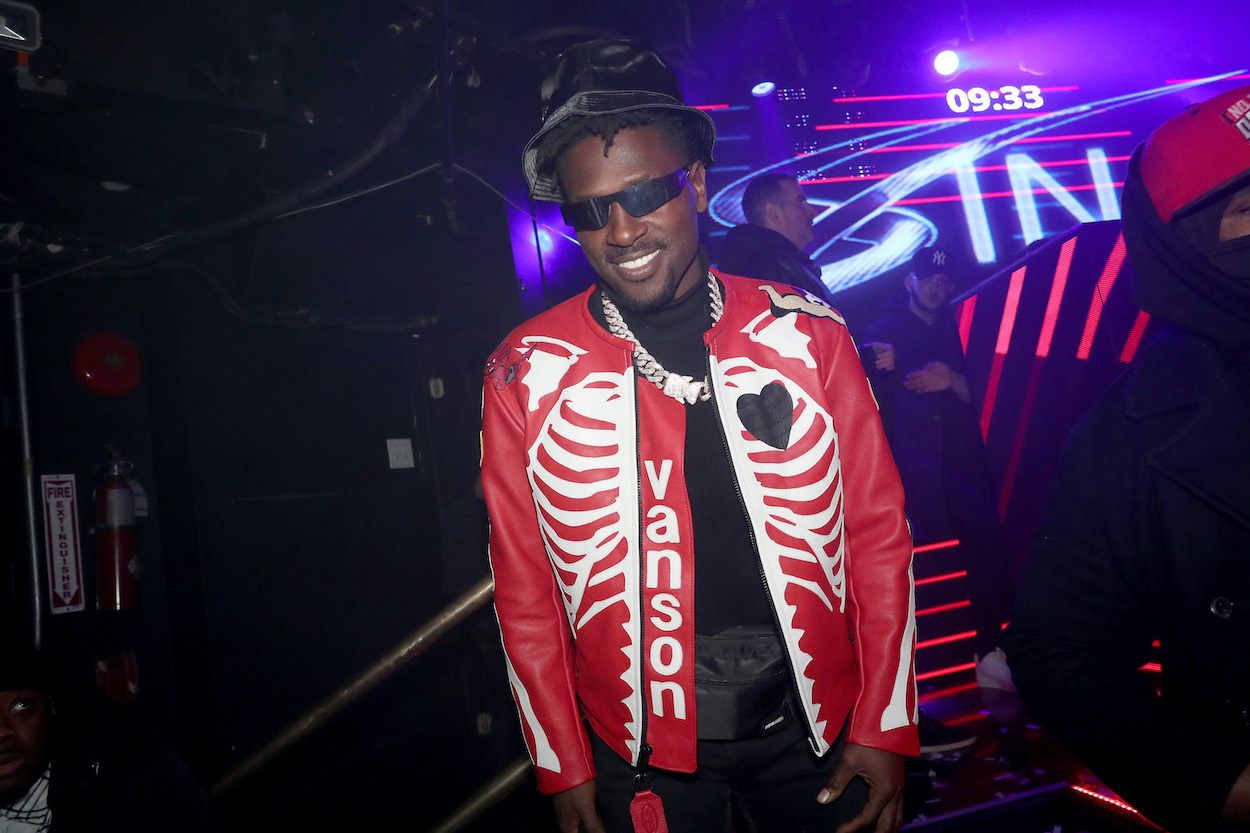 After leaving the Tampa Bay Buccaneers during a game, Brown's made no secret of the fact that he doesn't feel like he's at the end of his career as a professional football player.
Brown, who has 928 catches for 12,291 yards and 83 touchdowns, even knows what team he wants to play for next. The former Pittsburgh Steeler wants to head back to the NFC North to play with his cousin, Marquise "Hollywood" Brown, Lamar Jackson, and the Baltimore Ravens.
The 32-year-old star even posted a photoshopped picture of himself in a Ravens jersey on his Twitter account.
While the Ravens do need help at the WR position, it's becoming increasingly unlikely that Antonio Brown is the answer. The former Central Michigan Chippewa has long been a distraction to his teams, but from his exit to his social media antics, he's now likely more trouble than he's worth.
All NFL teams live in constant fear of the dreaded D-word (distraction), and AB is absolutely that. It certainly seems like his time as a player is over, and paying for tickets might be his only avenue left for getting into an NFL game.
All stats courtesy of Pro Football Reference