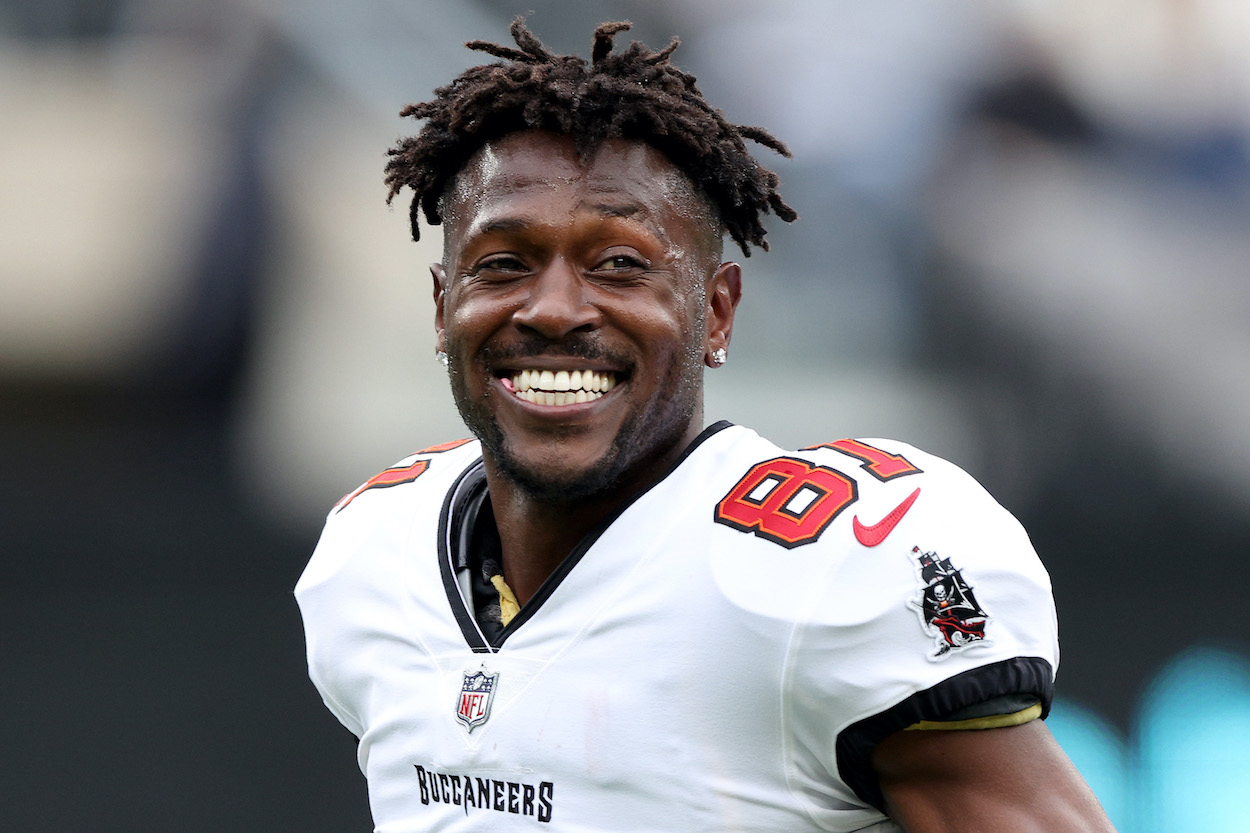 Antonio Brown Takes 1 Last Shot at Tampa Bay Buccaneers, Trolling His Former Team After Shocking Playoff Exit
Former Tampa Bay Buccaneers WR Antonio Brown took a completely uncalled-for (and hilarious) shot at his old team after its playoff loss.
Antonio Brown's absence from the Tampa Bay Buccaneers in the Divisional Round of the NFL playoffs is a big part of the reason Tom Brady and company couldn't get it done this season. After the game, instead of offering support or even congratulations for a hard-fought game, what did Brown do? Troll his former teammates online.
The Tampa Bay Buccaneers crashed out of the playoffs without their star players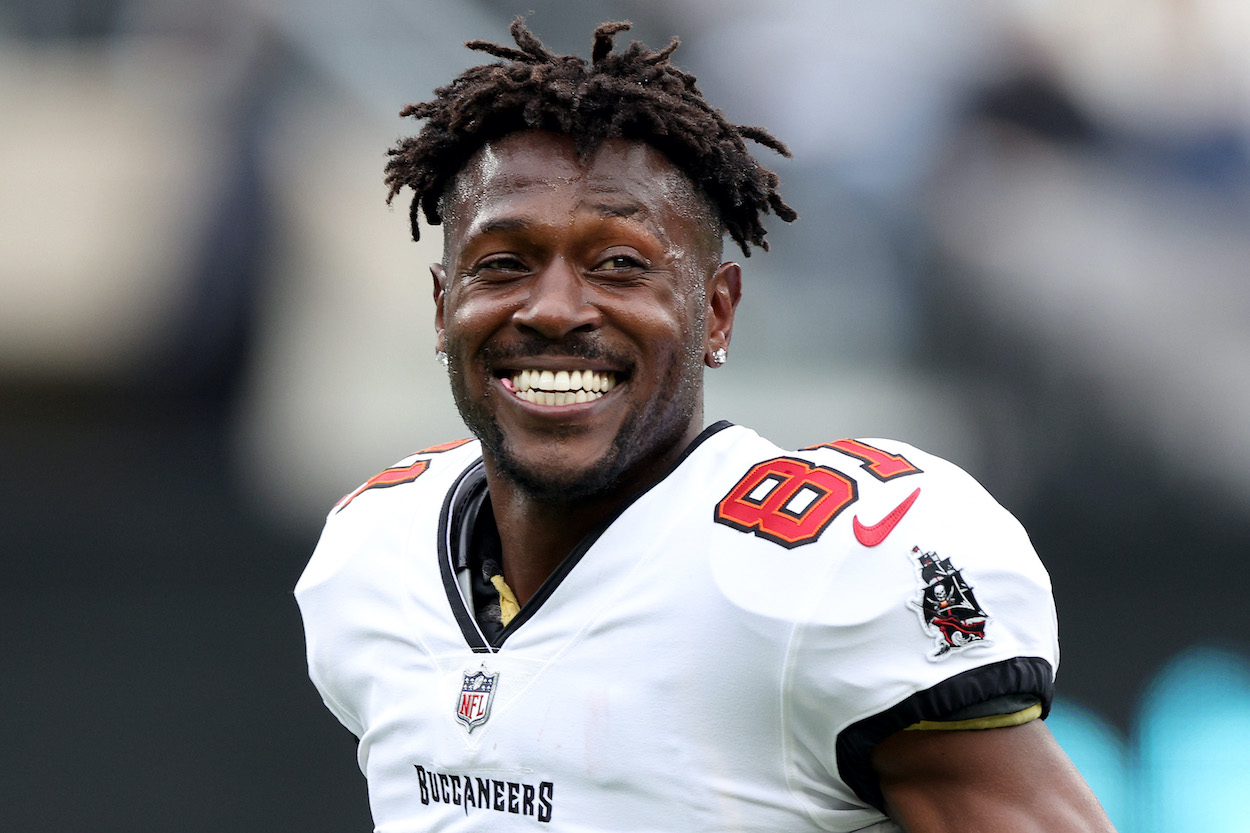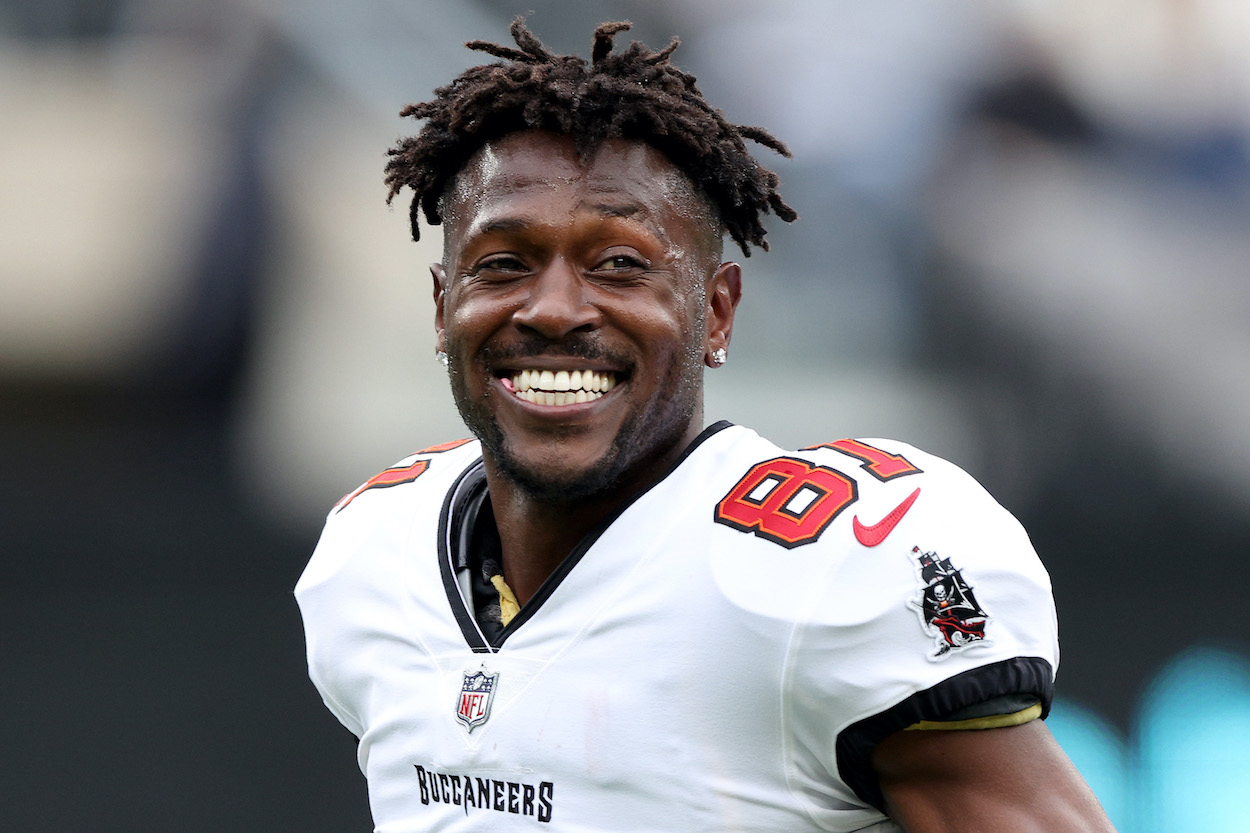 Repeating as Super Bowl champion is hard. The last teams to do it were the 2003-04 New England Patriots. That's what the 2021 Tampa Bay Buccaneers were up against this season.
Despite the odds stacked against them, the Bucs rose to the challenge early in the year. They held off the feisty Dallas Cowboys in the first football game of the NFL season and didn't look back. The Buc compiled a 10-3 record through Week 14
That's when the wheels started falling off.
In Week 15, the New Orleans Saints shockingly upset Tom Brady and company 9-0 on Sunday Night Football. What's worse is that the Buccaneers lost WR Chris Godwin (for the season), RB Leonard Fournette (for the regular season), LB Lavonte David (for three games), and WR Mike Evans (for Week 16).
If losing two wide receivers in one game wasn't enough, the Buccaneers would lose wideout Antonio Brown in Week 17. Brown either quit, or head coach Bruce Arians kicked him off the team — depending on whose story you believe — in the second half of a game at MetLife Stadium against the New York Jets.
The losses continued into the playoffs. The biggest missing piece for the Divisional Round loss to the Rams was LT Tristan Wirfs. The Rams pass rush sacked Brady three times on Sunday, thanks in no small part to Wirfs' absence.
In the end, the Buccaneers just didn't have the manpower to defend their title, which surely frustrated Bucs fans as much as it thrilled Antonio Brown.
Antonio Brown meme'd himself to take a shot at his former team
Since that fateful third quarter at MetLife Stadium when Antonio Brown skipped shirtless off the field, the mercurial wide receiver has engaged in a (mostly) one-sided war of words with his former franchise, his former coach, and even his former quarterback.
There seems to be no love lost between him and Bruce Arians — who Brown accuses of forcing him to play through a painful ankle injury — or even Tom Brady, who Brown has both praised and dismissed at various points in this saga.
It's evident that, overall, Brown has contempt for the entire franchise, which makes his move on Saturday somewhat unsurprising.
The internet has taken the photo of Brown side-stepping through the end zone, shirtless, with his arms raised, and made it a meme. The most popular meme of the WR is that picture photoshopped to look like Brown is holding a sign.
After the Buccaneers' leas-second field goal loss to the Rams, Brown shared a meme of himself.
On his @AB84 Twitter account, the currently unemployed player shared a meme of himself in MetLife holding up a sign that reads, "Bucs eliminated." Above it, he wrote, "I can't," with a laughing emoji.
Will the talented WR get one more chance in the NFL? 
As the NFL season winds down, the next question in the Antonio Brown saga is, will he play football this year?
He's already shot down offers from the upstart USFL. That means, if he does play, he only wants to do it in the National Football League.
Brown is a seven-time Pro Bowl and four-time All-Pro pass-catcher who is 24th all-time in receiving yards with 12,291. He also had a productive 2021 season with 42 catches for 545 yards in just seven games.
However, Brown will be 34 when the 2022 season starts. On top of that, there is, well, everything on top of that.
The former Pittsburgh Steeler has been vocal that he still wants to play, even naming Lamar Jackson — who plays with Antonio's cousin, Marquise "Hollywood" Brown — as the QB he wants to play with next.
Despite the fact he wants to play, his antics in 2021 may preclude that from happening.
NFL teams hate "distractions," and Brown is the biggest d-word in the league over the last few years. That said, pro football rewards winning and talent over all else, and if a team thinks AB can help them win, he could be back (fully clothed) on an NFL field soon.
The best guess for Brown's swan song is that he doesn't start the season in a training camp, but mid-year, when a team gets desperate, they give Antonio Brown a call.
All stats courtesy of Pro Football Reference