Are NASCAR Windshields Bulletproof?
Many changes to NASCAR Cup Series cars over the years have been inspired by obvious safety considerations, even if they're not readily apparent. The Next Gen car, for instance, moved the driver's seat slightly closer to the center of the cockpit, reducing the potential danger from hits to the left side.
Other safety measures aren't as clear even if the parts themselves – namely, windshields – are.
A snarky comment that showed up on Twitter on Friday got us wondering whether those NASCAR windshields, which we so rarely think about, are bulletproof.
The answer is "definitely maybe."
NASCAR reporter shuts down a rabble-rouser with the 411 on windshields
The most important NASCAR-related feed on Twitter is that of Fox Sports reporter Bob Pockrass, a fountain of breaking news and background material courtesy of his vast institutional knowledge and connections in the industry. Consequently, Pockrass is the guy fans often go to with their questions, the latest being what's felt like a hundred inquiries about the status of Chase Elliott's waiver request.
Unfortunately, he also attracts crackpots and assorted troublemakers. One reared his head Friday morning with comments about the inaugural Cup Series street race on Independence Day weekend in Chicago.
"I don't see target practice on the Chicago schedule?? Will they use bulletproof windows on the cars? Will pit crew members be required to wear bulletproof vest??" the troll wrote.
Pockrass generally doesn't engage such fools, but he couldn't resist this time, throwing out two facts and a zinger:
"Racing in a city location is an attempt to broaden the fan base. No matter crime rate, bad things can happen at any venue. But I wouldn't expect you to know that, just like you didn't know that the windshields already are bulletproof (in case of flying debris from other cars)."
Bada-boom.
NASCAR windshields aren't made of glass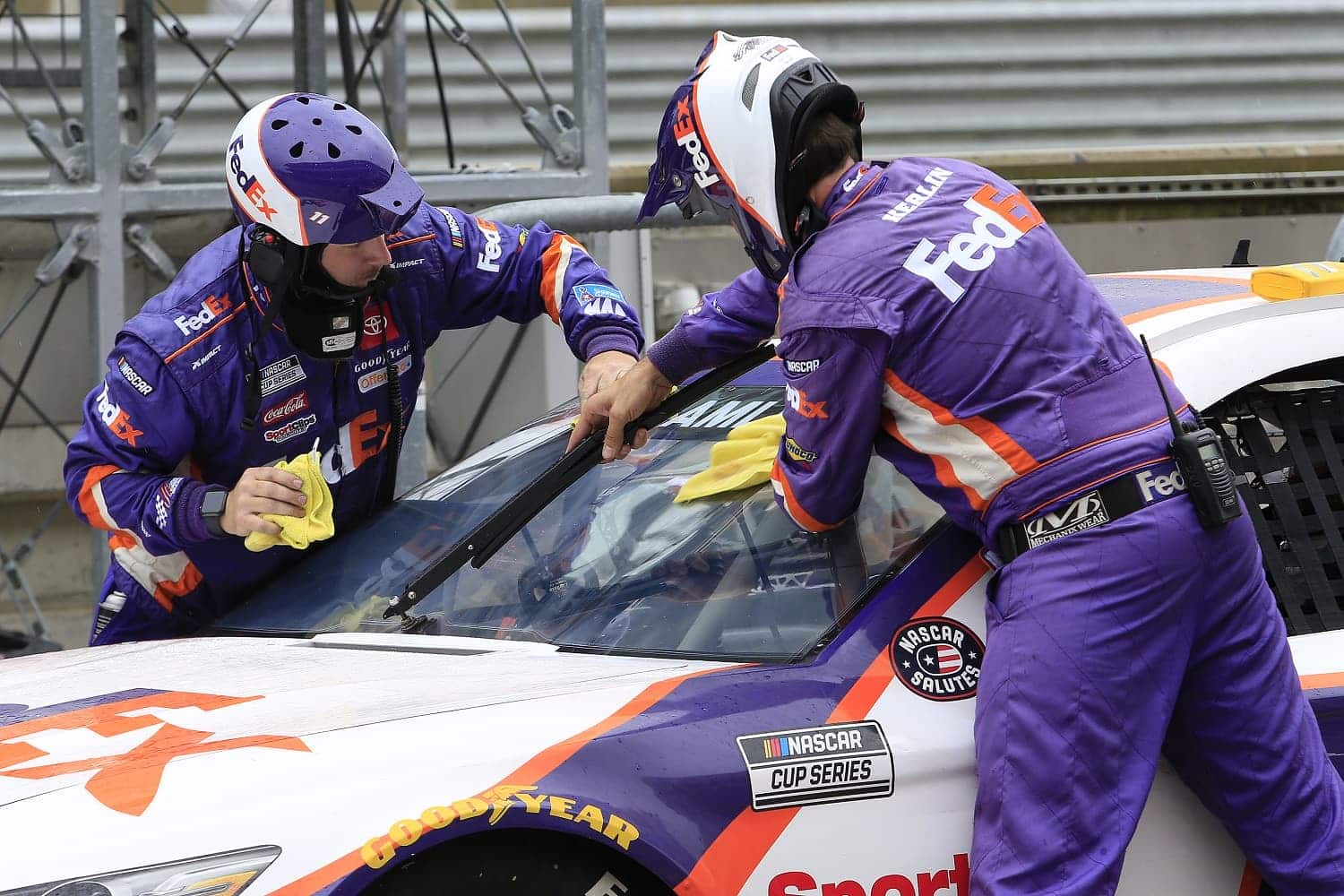 At the risk of stating the obvious, passenger cars are nothing like the Fords, Toyotas, and Chevys we see racing on NASCAR tracks each weekend. Windshields are no exception.
While tempered glass is generally the rule of thumb for the rest of passenger cars, the front windshield is made of laminated glass, favored because of the strength created by two layers of glass fused together by a layer of plastic. In the event of a serious accident with an impact to the front windshield, it will crack but not disintegrate into a shower of shards putting passengers at risk.
NASCAR gave up on glass long ago and has embraced new technology with each model rollout. The Gen 6 car that made its debut in 2013 introduced upgraded Lexan windshields, which are polycarbonates – i.e., consisting of multiple layers. The whole assembly is barely more than a quarter-inch thick.
Lexan, the same material used on fighter jets, is remarkably good at stopping car parts sheared off in wrecks from reaching drivers. Its drawback, however, is that it scratches easily. Racing teams get around that with clear plastic sheets that they peel off one at a time during pit stops, which also clears away oil, other fluids, and dirt that accumulate.
The material in windshields is bulletproof, but …
Though the combination of materials may differ, bulletproof glass relies upon the same polycarbonate approach that NASCAR uses in its front windshields. The harder outer layer disperses the energy and flattens the tip of the bullet. The softer layer of glass provides elasticity so the glass flexes instead of shattering.
The thickness of the polycarbonate determines the degree of security. According to Armormax, which specializes in armoring vehicles, the thickness of a NASCAR windshield might be sufficient to stop a single round fired from a 9mm handgun.
However, those car windshields are child's play compared to the thick glass that typically separates bank tellers from customers. Those barriers can be five times as thick or greater and foil a bad guy carrying an AK-47.
Horror stories about Chicago violence aside, we'll bet the under on the number of spectators at the July street race toting anything along those lines.
Got a question or observation about racing? Sportscasting's John Moriello does a mailbag column each Friday. Write to him at [email protected]