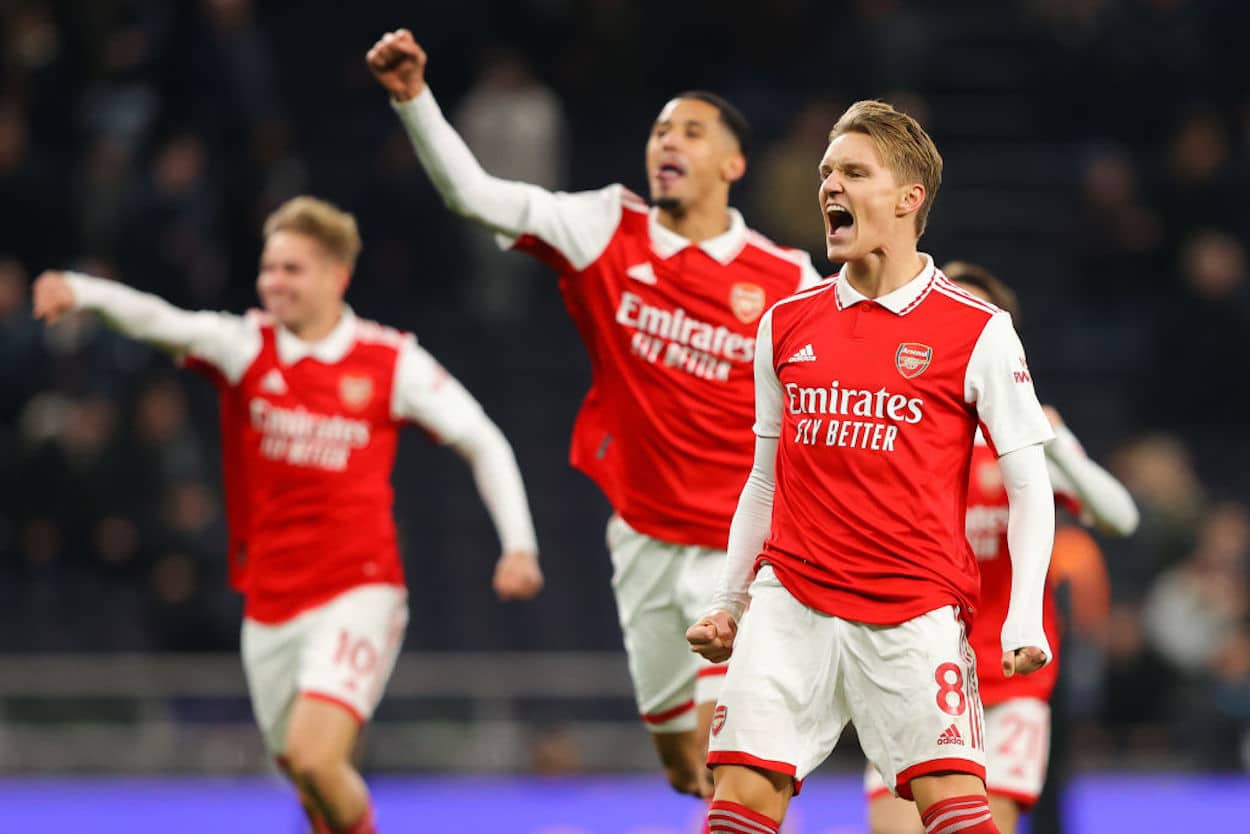 Arsenal Title Odds: Where Do the Gunners Stand After a Dominant North London Derby?
While there's still roughly half of the Premier League season left to play, Arsenal fans will be dreaming of a title. What do the odds say, though?
One of the quirks that North American soccer fans need to wrap their mind around is the lack of a postseason. At the end of the Premier League campaign, for example, whichever club is sitting in first place takes home that title. While you could argue that eliminates some of the drama — you can't get a wild-card team making a playoff run — it does allow us to get a cleaner look at how things will play out. Let's use Arsenal's title odds as an example of that reality.
Mikel Arteta's Gunners have looked good this season, and a dominant North London Derby win has everyone on the red side of the capital feeling pretty good. But what do the analysts and oddsmakers say about Arsenal's chances of winning the league?
Winning the North London Derby gives Arsenal an eight-point cushion at the top of the table
When a team puts together a special season, there are certain moments that stand out in hindsight. Assuming Arsenal don't collapse in embarrassing fashion between now and May, Sunday's North London Derby could be one of those.
Armed with the knowledge that Manchester City lost in their derby on Saturday, the Gunners headed to Tottenham. Home teams have owned the North London Derby as of late — Arsenal hadn't won at Spurs since 2014 — setting up a challenging afternoon.
And while no rivalry match is ever completely comfortable, things went pretty close to perfect from Arteta's perspective. His side dominated the first half, sprinting to a two-goal lead, and managed things from there on. While Spurs grew into the match and applied some pressure in the second stanza, Arsenal's defense was equal to anything that came their way.
At full time, the celebrations spoke for themselves. Not only did Arsenal win, doing the league double over Tottenham for the first time in what feels like an eternity, but they did so in style. And, as noted above, the victory stretched their lead over Manchester City to eight points.
Arsenal title odds: The Gunners are looking good after Sunday
Given how they collapsed last year and the fact that the schedule will only get busier, Arsenal supporters won't want to get ahead of themselves and start thinking about the end of the season. The statistical models and bookmakers, however, are feeling rather positive about the club.
538's Premier League model now gives Arsenal a 55% chance to win the Premier League Title and a 99% chance of finishing in the top four. Manchester City, the biggest threat to the Gunners, have a 36% chance of lifting the trophy in May.
Scott Willis' Cannon Stats produced similar numbers. There, Mikel Arteta's young squad have a 57% chance of winning the league as compared to City's 39%.
And if you trust the bookmakers ahead of the statistical models, they're largely in favor of Arsenal, too. A January 16 update on Vegas Insider pegs Gunners' title odds at -120. City are admittedly close behind (+137, with the next closest club at +1200), but the North London club is the favorite.
Arsenal fans, however, won't be counting any metaphorical chickens in January
While it's undeniably better to be at the top of the table than anywhere else, Arsenal supporters probably won't be too interested in hearing what the title odds are in mid-January. As last year's collapse showed, those numbers can be limited. Most models are built assuming that the most likely result will happen. Part of the joy of sports, however, is that an upset can unfold any time two teams take the pitch. Once a few unexpected results roll in, those percentages can change rather quickly.
It's also worth noting that both 538 and Cannon Stats have Manchester City as the best team in the Premier League, while Arsenal sits in second. While there can be flaws to those sorts of assertions — 538 still lists Liverpool as the third-best Premier League team, despite their struggles — it is a valuable reminder. Pep Guardiola's side may seem slightly off as compared to previous years, but you should overlook the likes of Kevin De Bruyne and Erling Haaland at your own peril.
Beyond that, there's simply a long way to go in the soccer season. Arsenal still have 20 matches to play, plus at least one more FA Cup match and an unknown quantity of Europa League dates. Add some limited depth into the equation — Thomas Partey remains virtually irreplaceable, and we know the club is looking for further attacking depth in January — and things can feel rather tenuous.
With all of that being said, though, it's better to be atop the pile than chasing the pack. Arsenal's eight-point lead means that they do control their own destiny; even two losses against City wouldn't completely eliminate that cushion. And while it's probably not a wise idea to book the open-top busses just yet, Gooners everywhere will be relishing this position.
In the U.S., contact the National Council on Problem Gambling helpline at 1-800-522-4700.