The Atlanta Falcons Just Created a Pivotal Advantage Over the Rest of the NFL With a Strategic Move That Has Nothing to Do With Football
Success in the NFL this year is going to depend on much more than just the play on the field. With the new coronavirus (COVID-19) guidelines in place for this season, teams with higher vaccination rates will be in a more advantageous position in the coming months.
Before this week, no NFL team could claim its entire locker room was fully vaccinated, but the Atlanta Falcons just created a competitive advantage and squashed their biggest fear by becoming the first team with a vaccination rate of 100%.
The NFL's COVID-19 guidelines put immense pressure on players to get vaccinated
The 2020 NFL season was largely a disaster due to COVID-19. Multiple games had to be postponed and rescheduled, Pro Bowl-caliber players missed games after testing positive for the virus, and a majority of NFL teams lost more than $100 million in revenue over the course of the year.
It wasn't entirely the league's fault. The NFL was forced to make up rules and guidelines on the fly while trying to keep its players, coaches, and staff members as safe as possible. But despite all those challenges, Roger Goodell was still able to hand out a Lombardi Trophy at the end of it all.
This year, however, the NFL isn't going to settle for postponements and more lost revenue.
The league sent a memo to teams last month that basically told players and coaches they must be vaccinated without specifically saying it. In short, the memo stated that if games cannot be rescheduled due to a COVID-19 outbreak caused by unvaccinated players, the team with the outbreak will forfeit and be credited with a loss for that game. Additionally, the team that forfeits will be responsible for the financial losses of the canceled game, and players on the team will not be paid for that week.
The NFL plans on finishing the 2021-22 season in 18 weeks, and no accommodations will be made to reschedule games outside of that window.
So, players who decide to go through with the season without getting vaccinated run the risk of handing their team an automatic loss, costing their teammates a payday, and making their team owner fork over tens of millions of dollars.
Oh look, here's a quick translation of the explosive memo.
"Get the vaccine… or else."
Atlanta Falcons create pivotal advantage with 100% vaccination rate
After teams received the COVID-19 memo from the NFL last month, vaccination rates started to skyrocket. Most teams around the league are now above 90% at this point, but none have been able to reach 100.
Until now.
On Tuesday, Zach Klein of WSB-TV reported via Twitter that the Falcons have become the first NFL team to reach a vaccination rate of 100%. That means every player in the locker room doesn't have to take a daily COVID-19 test, they don't have to wear masks around the team facility, and they won't have to quarantine if they come in close contact with someone who tests positive.
It also means the Falcons won't be in danger of receiving any of the punishments laid out in the NFL's July memo even if a COVID-19 outbreak starts in the locker room. The league will be much more lenient with vaccinated players who might test positive this season.
Atlanta did an exemplary job getting everyone in the building on the same page, and it should pay dividends down the road.
Every NFL team is now above a 75% vaccination rate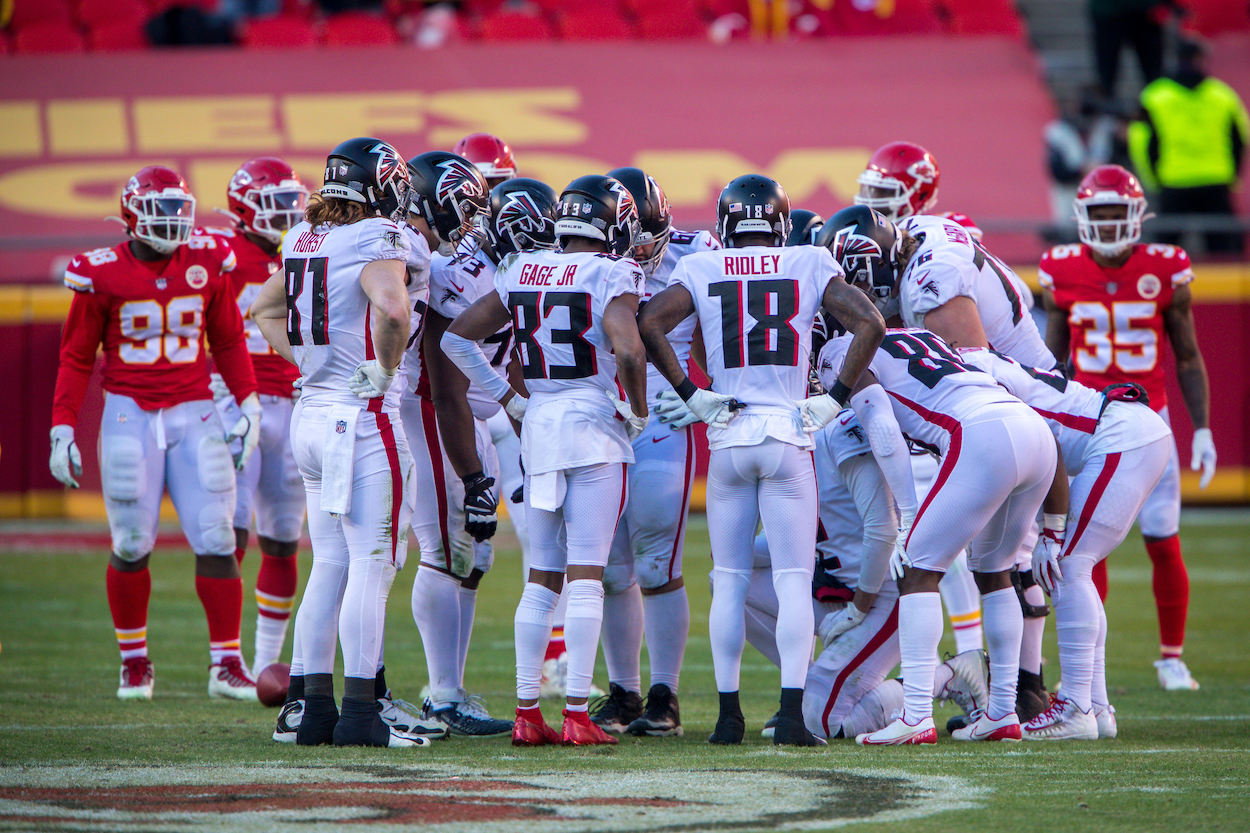 The Falcons may be the only team in the NFL with a fully vaccinated roster, but many other clubs should reach that milestone soon.
As of Saturday, every NFL team has a vaccination rate of 75% or better, according to Jeremy Fowler of ESPN. Fowler also reported that 25 teams are above 90% and 15 teams are above 95%.
If players want to do what's best for their team this season, they'll all be vaccinated by Week 1.