Austin Hill Is Looking Like the Next Chase Briscoe of the NASCAR Xfinity Series
Austin Hill is the breakout NASCAR driver of the early 2023 racing season with two wins in the first three Xfinity Series races, as he looks to produce a season-long highlight reel that could finally get him to the Cup Series much the same way a great Xfinity Series season helped a current contender get to the sport's highest level.
Hill accomplished the rare feat of dominating a superspeedway race when he won the pole and the race on February 18 at Daytona International Speedway. He won the first stage and led a race-high 39 laps despite having to start from the back of the field because radio issues forced him to pit road during the pace laps.
With his spot in the playoffs likely already secured, Hill went to Auto Club Speedway the following week and started from the pole position after rain canceled qualifying. He finished that race seventh but then returned to Victory Lane in Week 3 at Las Vegas Motor Speedway after he passed Chandler Smith with two laps to go.
Austin Hill is in position to possibly dominate the Xfinity Series this season
Hill's playoff spot is completely locked in now with multiple victories, but his season is about more than just a spot in the NASCAR Playoffs for the fifth straight season. Hill has a chance to dominate the series in a manner that would force Cup Series owners to pay attention despite the fact that he is already 29 years old and past the age when most Cup Series prospects get full-time deals.
Hill didn't run his first full Truck Series season until 2018, when he was 24 years old. He went winless and missed the playoffs that season, but he won multiple races each of the next three seasons in the truck series and did the same a year ago to earn Rookie of the Year honors in his first full Xfinity Series campaign.
Still, both of his 2022 wins were in superspeedway-style races, so his strong showing at Fontana and win at Las Vegas might begin to dissolve the narrative that he is merely a good driver in superspeedway races.
Chase Briscoe needed a terrific 2020 Xfinity Series season to continue his NASCAR career
Hill's season could end up looking much like current Cup Series driver Chase Briscoe's 2020 season in the Xfinity Series. Briscoe was 25 years old at the time and had won a race in either the truck or Xfinity series in each of the previous three seasons, but he had yet to surface to the top of the list for Cup Series teams as a driver ready for that promotion.
"I feel like this is my make-or-break year," Briscoe said before the 2020 season began. "If I go win eight or so races, then I feel like it shows I'm ready for Sunday. If I only win one or two races, I'm probably out the door and not racing anymore."
He then went out and won a series-high nine races, including the spring race at Las Vegas. Briscoe ultimately finished runner-up to Austin Cindric for the series championship that season, but his nine wins in Stewart-Haas Racing's No. 98 Xfinity Series car was enough to earn him a full-time ride in the organization's No. 14 Cup Series machine for 2021.
Hill could draw interest from several different Cup Series organizations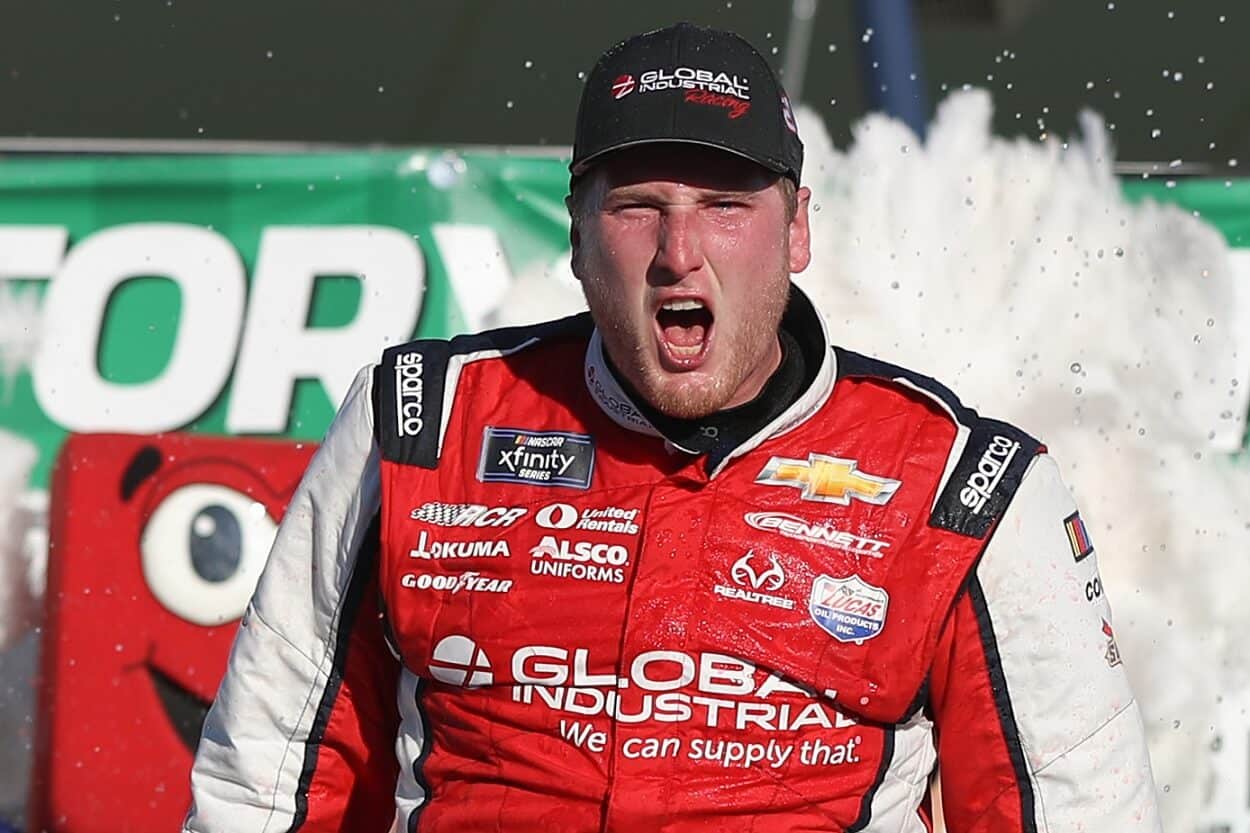 Hill currently drives the No. 21 car in the Xfinity Series for Richard Childress Racing, which would have to procure a charter to run a third team in 2024 to keep Hill because Childress' grandson Austin Dillon isn't going anywhere, and Kyle Busch just signed a multi-year contract to drive for the organization.
Regardless, Hill has consistent sponsorship from Bennett Transportation that could help his cause in talks with other teams during the upcoming Silly Season.
SHR could come calling with Kevin Harvick set to retire at the end of the season, and that organization has already shown a willingness to add a driver who dominates in the Xfinity Series. Joe Gibbs Racing also might have an opening if Martin Truex Jr. and/or Denny Hamlin don't return to the organization next year.
Hill could also wind up with a smaller team that would be in greater need of the sponsorship he could bring with Bennett. Perhaps the Wood Brothers part ways with Harrison Burton after potentially two underwhelming seasons. Organizations such as Kaulig Racing or 23XI Racing could also attempt to field a third car full-time.
Either way, Austin Hill has set himself up for not only a championship run this season but also a chance to follow Briscoe's unique path to the Cup Series if Hill is able to maintain the speed that has made him one of the early favorites for the 2023 Xfinity Series championship.