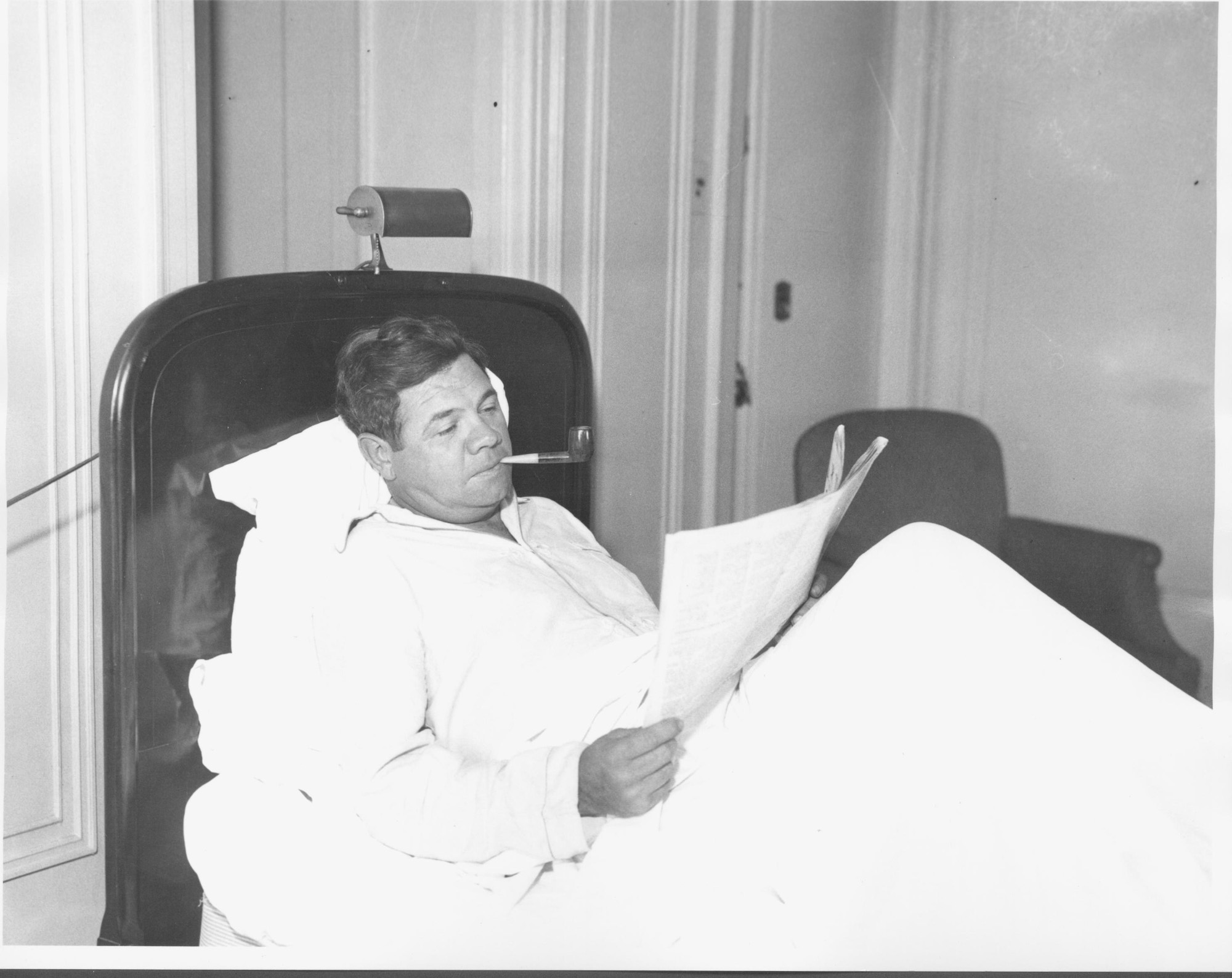 Babe Ruth Was Ravaged By a Rare Form of Cancer Before His Tragic Death
While Babe Ruth seemed like a super hero on the baseball diamond, he was ravaged by a rare form of cancer and died tragically in 1948.
Over time, certain athletes become larger than life figures; among those stars, few men became bigger than Babe Ruth. Thanks to his prolific power, the Great Bambino became one of American sport's first celebrities. All of his fame and fortune, however, couldn't change one simple fact: the Babe, as a human being, was eventually going to die.
In 1948, that reality came to pass. While Babe Ruth was a hero on the field, even he couldn't beat cancer.
Babe Ruth's rags-to-riches story
Even today, Babe Ruth still stands tall as one of baseball's iconic figures. That status, at least in part, stems from his rags-to-riches story.
George Herman Ruth was born in Baltimore, Maryland in 1895 and grew up speaking German. While he wasn't an orphan, he did find himself St. Mary's Industrial School for Boys; although he was there to learn discipline and a trade, he also got an athletic education. Ruth proved to be a prolific talent on the baseball diamond and, in 1914, signed a contract with the International League's Baltimore Orioles.
While Ruth made a name for himself with his hometown team, he wouldn't remain in Baltimore for long. The Orioles had a hard time attracting fans and, faced with financial difficulties, had to start liquidating assets. One of those was their young pitcher; Ruth's contract was sold to the Boston Red Sox.
After finishing the 1914 season in the minors, Babe made the Red Sox squad the following spring. Although he blossomed into a star pitcher, Ruth also developed a reputation as a dangerous home run hitter. Everything changed in 1919, though, when World War I reduced the number of available players; Ruth began playing the field more and more often and, thanks to his prolific batting, never left the lineup.
Taking things to the next level with the New York Yankees
Babe Ruth, of course, didn't spend the rest of his career with the Boston Red Sox. After the 1919 season wrapped up, the club sold their star player to the New York Yankees. From there, the rest is baseball history.
By the time he arrived in the Bronx, Ruth had stopped pitching and become the power-hitting outfielder we envision him as today. He lived up to that billing, batting .376 with 172 hits, 54 home runs, and 135 RBIs during the 1920 campaign; the Bambino, however, was just getting started.
With each passing season, Ruth kept adding to his impressive resume. In 1923, he hit .393 and drew 130 walks, en route to AL MVP honors; in 1927, he famously belted 60 home runs over the course of the campaign. The Bambino also helped the Yankees win four World Series titles during his time in the Bronx.
Ruth eventually left the Yankees and, after a brief stint with the Boston Braves, called it a career in 1935. He played 2,503 games over his 22 years in the big leagues, batting .342, slugging 714 home runs, and becoming a national icon in the process.
Babe Ruth's battle with cancer and tragic death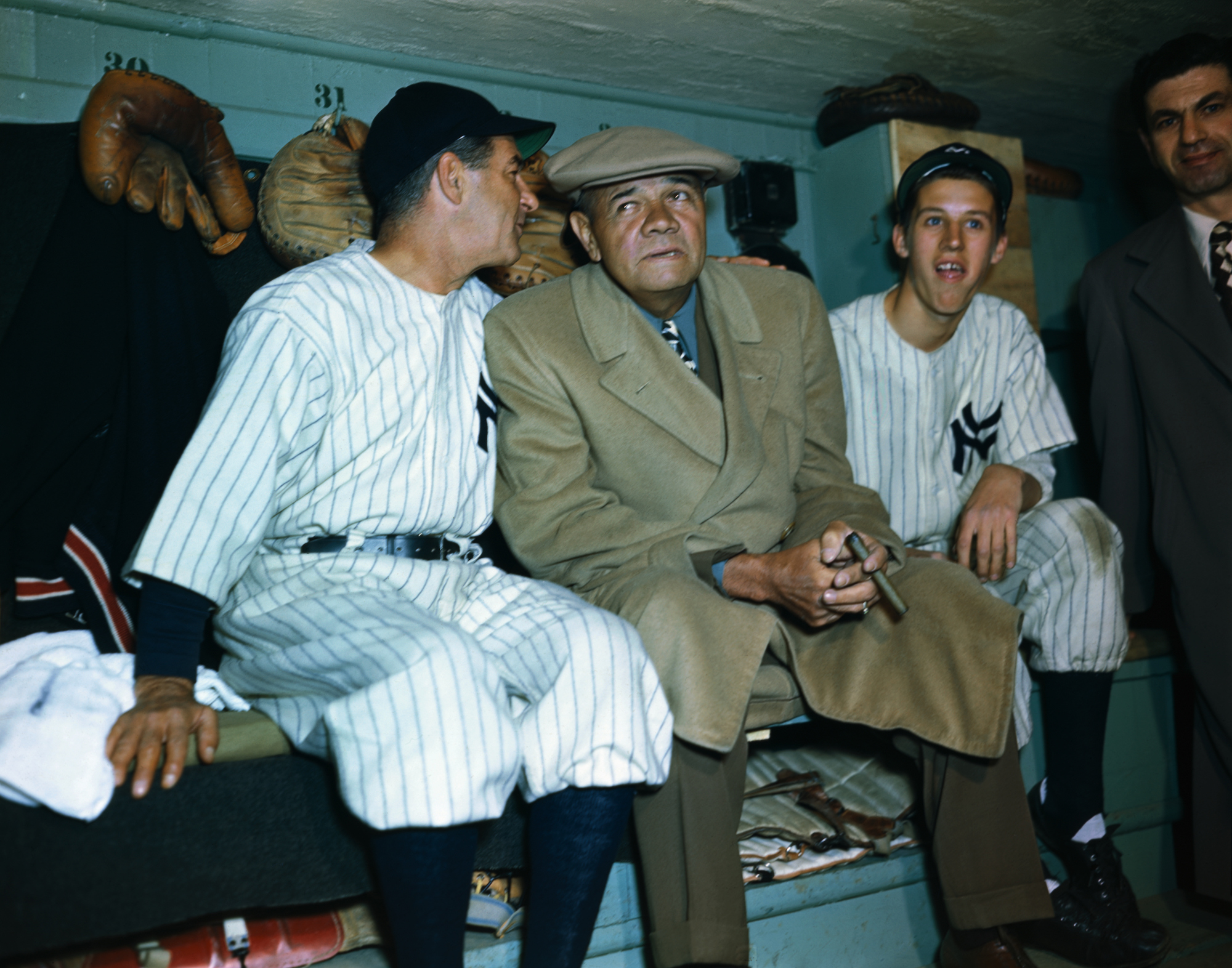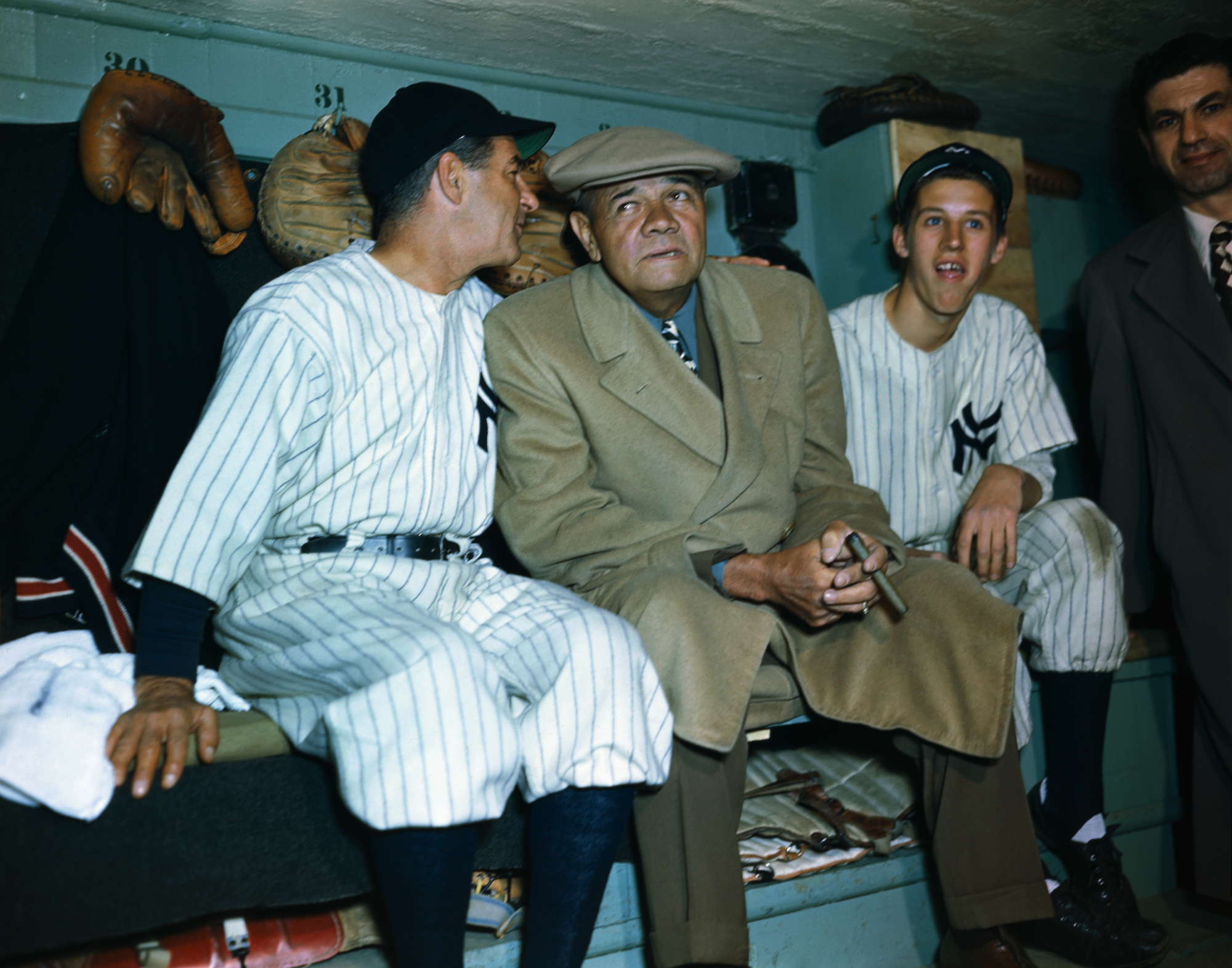 During his career with the New York Yankees, Babe Ruth became larger than life character, capable of crushing massive home runs without breaking a sweat. For all of his superhuman feats, though, he was still a mortal man.
As documented in Wayne Stewart's biography of the slugger, Ruth began to experience medical issues in 1946; he developed pain over his eye, struggled to swallow, and had trouble speaking. Doctors ultimately determined that Babe had cancer and tried to cure him with a variety of treatments.
At the time, it was believed that Ruth developed throat cancer from his drinking and smoking habits, but that may not be the case; as noted by the New York Times, Babe probably died of a rarer form of cancer, nasopharyngeal carcinoma. Whatever the issue was, though, the disease took its toll.
For all of his on-field strength, Ruth became a shell of himself. "At Babe Ruth Day at Yankee Stadium in 1947, the baseball hero of the generation stood before an admiring crowd, deep in pain and emaciated from advancing cancer, not yet aware of what ailed him," the same New York Times story remembered. "In the dugout moments before, clad in a topcoat and golf hat, he suffered a coughing spell, then, pulling himself together, walked to home plate, mentally recalling the day Lou Gehrig had made the same trip."
"In a broadcast heard around the world, Ruth spoke slowly and extemporaneously in a raspy voice," the account continued. "You know how bad my voice sounds," Ruth told the roaring crowd. "Well, it feels just as bad."
A little over a year later, Babe Ruth died. He was 53 years old.
Stats courtesy of Baseball-Reference