Bad News for Free-Agent RBs, Super Bowl Confirms Paying a Back More Than $2.5M Is Stupid
Seventh-round rookie running back Isiah Pacheco was one of the stars of the Kansas City Chiefs Super Bowl 57 victory. He was the team's leading rusher with 76 yards and a touchdown, and all it cost the Chiefs was a $724,777 cap hit. This isn't unique to the 2022 champions, either. Looking at past Super Bowl champs, no team has won with one of the highest-paid RBs in the league leading the way. And that could be bad news for this year's crop of big-name free-agent RBs.
The leading Super Bowl rushers have all been cheap in recent years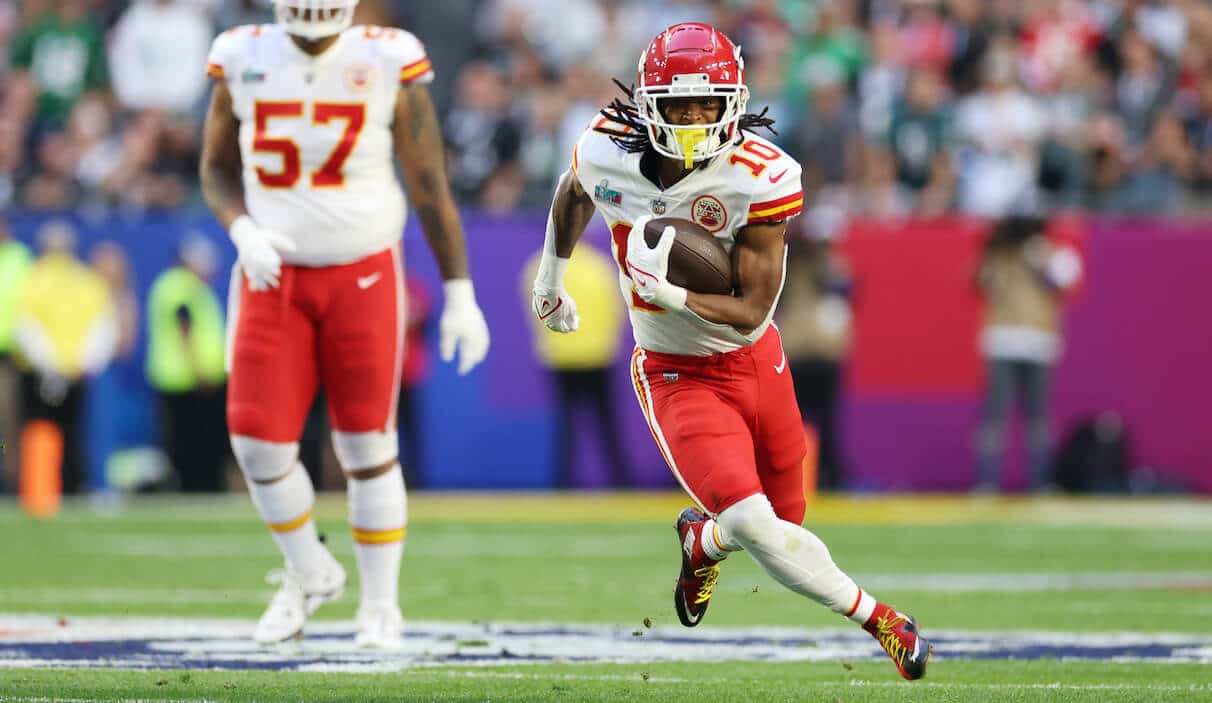 In the 2022 season, 32 NFL running back had a cap hit of $2.5 million or greater. At $724,777, Isiah Pacheco came in as the 99th highest-paid RB in the league.
This isn't a new phenomenon either. The last eight Super Bowl leading rushers for the winning teams have all counted for $2.5 million or less against the cap. Here is a look at those players:
| | | | | |
| --- | --- | --- | --- | --- |
| Year | Super Bowl Champ | Player | Rushing Yds | Cap Hit |
| 2021 | Los Angeles Rams | Cam Akers | 21 | $1,402,962 |
| 2020 | Tampa Bay Buccaneers | Leonard Fournette | 89 | $2,500,000 |
| 2019 | Kansas City Chiefs | Damien Williams | 104 | $1,733,333 |
| 2018 | New England Patriots | Sony Michel | 94 | $1,750,308 |
| 2017 | Philadelphia Eagles | LeGarrette Blount | 90 | $1,250,000 |
| 2016 | New England Patriots | LeGarrette Blount | 31 | $1,025,000 |
| 2015 | Denver Broncos | C.J. Anderson | 90 | $589,167 |
| 2014 | New England Patriots | LeGarrette Blount | 40 | $257,647 |
The 2013 Super Bowl had Seahawks wide receiver Percy Harvin as the leading rusher and Marshawn Lynch right behind him, and they both made over $2.5 million that season.
The moral of the story is that Super Bowl-winning teams simply don't pay big money for running backs. They let other teams spring for the highest-paid RBs. And that could spell bad news in 2023 as some big-name free-agent RBs hit the market.  
The 2023 free-agent RBs looking to become the highest-paid RBs 
In 2023, there are currently 23 running backs scheduled to have a cap hit of $2.5 million or greater next season. The top five highest-paid RBs by cap hit right now are:
Aaron Jones, Green Bay Packers: 20,020,000
Ezekiel Elliott, Dallas Cowboys: $16,720,000
Derrick Henry, Tennessee Titans: $16,367,647
Alvin Kamara, New Orleans Saints: $16,034,165
Nick Chubb, Cleveland Browns: $14,850,000
Now, several — if not all — of these backs will likely have their contracts restructured this offseason, and some, like Ezekiel Elliott, may get cut for cap purposes. However, this gives you a good idea of the highest-paid RB numbers that 2023's free-agent RBs will be shooting at.
There are several free-agent RBs in 2023 who could command north of $15 million this offseason to put their names on this list. Saquon Barkley, Josh Jacobs, Tony Pollard, and Miles Sanders fit into this category.
After that, several more will be looking for significantly more than $2.5 million. David Montgomery, Devin Singletary, Alexander Mattison, Samaje Perine, and Jamaal Williams are some names to watch there.
However, it is buyer beware on the running back market because, as Isiah Pacheco and the Chiefs once again demonstrated in the Super Bowl, paying a running back big money not only doesn't guarantee a Super Bowl, it may actively work against a team winning one.