Tony Pollard Contract: Where the Cowboys RB Ranks Among 2023 Free-Agent Running Backs
For a while now, the best running back on the Dallas Cowboys hasn't been the highly-paid Ezekiel Elliot. It's Elliott's backup, Tony Pollard, that has been the more explosive ball carrier. Pollard has 105 more yards this season on 11 fewer carries and made the Pro Bowl over his Cowboys counterpart. So, as we prepare for the Tony Pollard free-agent offseason, let's look at the Tony Pollard contract, his career earnings, and where he ranks among the 2023 free-agent running backs crop.
Tony Pollard contract and career earnings 
Memphis native Tony Pollard stayed close to home for college, playing three seasons for the Memphis Tigers. In college, he came in as a wide receiver and returned kicks, and lined up at running back as well.
In 2019, the Cowboys picked Pollard No. 128 overall in the fourth round as a backup to Ezekiel Elliott, who the team selected three seasons earlier at No. 4 overall.
As a fourth-round pick, the initial Tony Pollard contract was a four-year, $3,187,780 contract. That included a $667,780 guaranteed signing bonus, $667,780 guaranteed, and an average annual value (AAV) of $796,945.
This season, the Pro Bowl RB has a base salary of $965,000. His cap hit is $1,131,945, and the dead cap value of the deal is $166,945.
Getting what will ultimately become over 1,000 rushing yards, 300-plus receiving yards, and 12 total touchdowns from a player for just over $1.1 million is one of the best deals in the entire NFL. Heading into the Tony Pollard free-agent offseason, though, the Cowboys now have a dilemma.
What do they do next year?
Ezekiel Elliott is set to make $16.7 million next year, and cutting him would save around $5 million. Do the Cowboys cut him? Keep him? Renegotiate and try to re-sign Pollard as well?
It will be a tough choice for Jerry Jones and company this offseason, but in just a few months, the Tony Pollard free-agent tour begins. But where does he rank among the rest of the 2023 free-agent running backs?
Top 10 NFL free agent QBs in 2023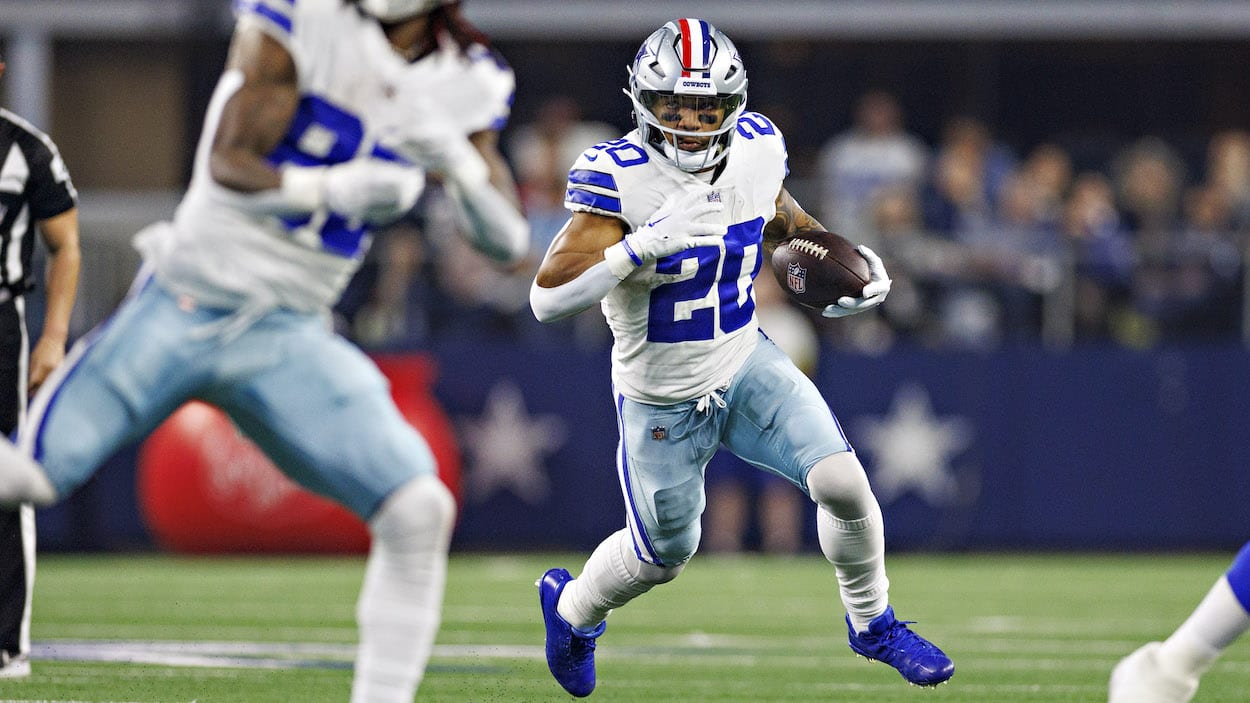 Teams looking for a new running back next season will have several options. There is the RB draft class in next year's draft and some 2023 free-agent running backs to choose from.
Handing out a Tony Pollard free-agent deal is one option this summer, but the Cowboys RB is the No. 3 runner available on the market. Here are the top 10 2023 free-agent running backs:
Josh Jacobs
Saquon Barkley
Tony Pollard
Miles Sanders
Jamaal Williams
David Montgomery
Devin Singletary
D'onta Foreman
Kareem Hunt
Samaje Perine
The 2023 free-agent running backs class is one of the most fascinating in recent memory. At the top, you have two generational backs in Josh Jacobs and Saquon Barkley. Having them in a starting lineup can change an offense. However, they both have a lot of miles already, and health could be an issue, which is tough when a team will likely have to pay them $14 million a season or more.
The next three (or four if you want to include David Montgomery) are less proven but also fresher. They will be slightly chapter than Jacobs or Barkley, but they could develop into the next stars. That said, making them RB1 instead of putting them in a committee could expose some flaws.
After that, it's just about what flavor you like, as the six (or seven) through 10 are best suited as a 1A in a committee.
No matter what happens, the fact is, the next Tony Pollard contract is going to be a big one after the 2023 free-agent running backs class shakes out.