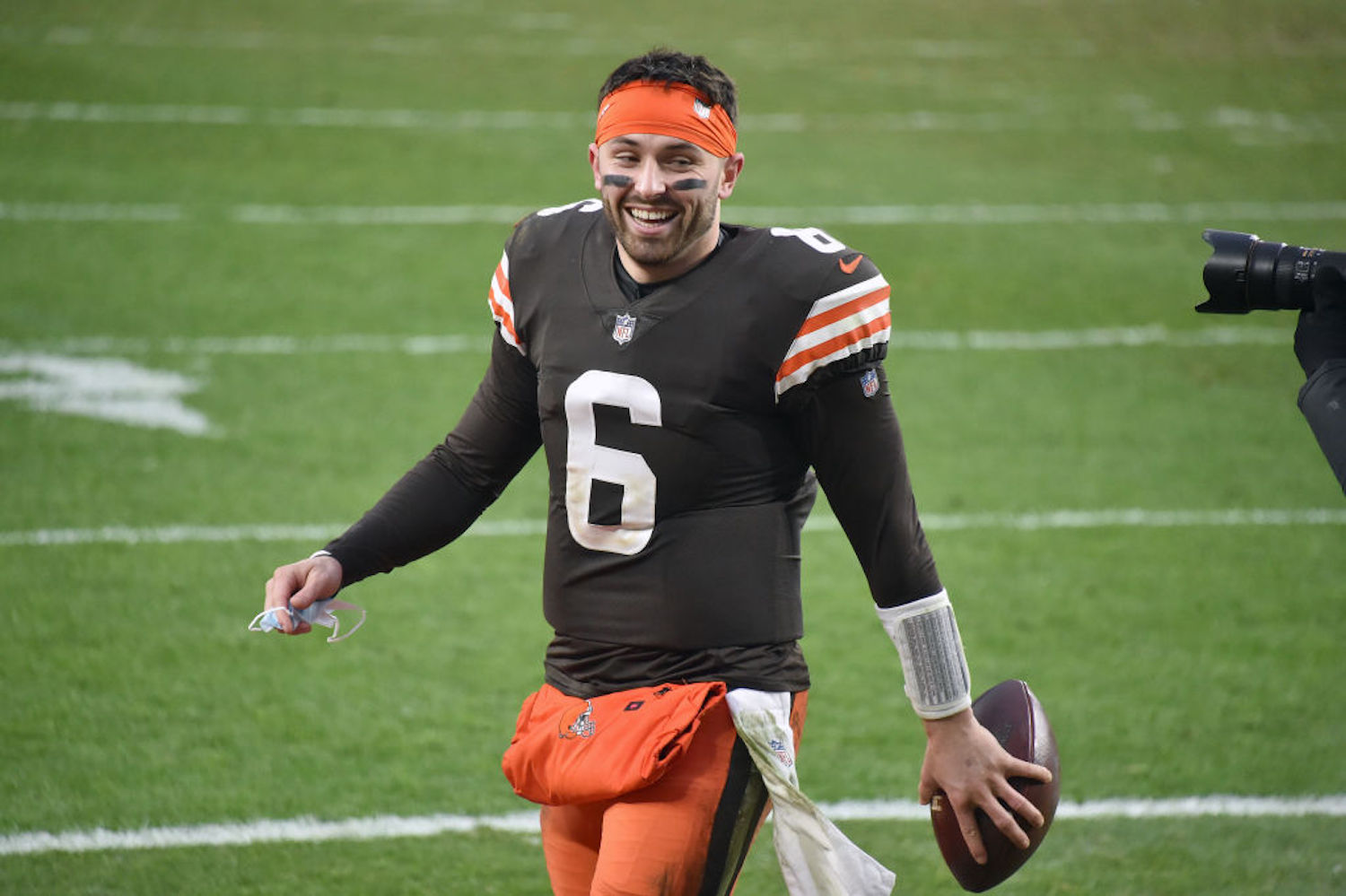 Baker Mayfield Expertly Trolled Colin Cowherd With Playoff-Clinching Play Call
Colin Cowherd has never been a believer in Baker Mayfield, so the Browns clapped back at the Fox Sports host with a genius play call.
Colin Cowherd has never been a huge fan of Baker Mayfield. From his off-the-field issues at Oklahoma to his cocky personality, Mayfield just seems to rub Cowherd the wrong way. So when the Browns had the chance on Sunday to clinch their first playoff berth since 2002, Mayfield took the opportunity to troll the Fox Sports host with the game-winning play call. Who's got the last laugh now?
Colin Cowherd and Baker Mayfield don't get along
Colin Cowherd's disdain for Baker Mayfield dates back to his college days at Oklahoma. When Mayfield planted the school flag on Ohio State's home field and grabbed his crotch while talking trash to the Kansas sideline, Cowherd was convinced the QB was too immature to succeed in the NFL.
Cowherd has continued his attack on Mayfield's character and skill into the NFL. After Mayfield was drafted No. 1 overall in 2018, Cowherd wrote on Twitter, "Marginal size and athleticism isn't a NUMBER ONE pick. In any draft. In any sport." That's when Mayfield finally snapped. "Well it happened bud. Have a nice day!" he responded under Cowherd's tweet.
The two went back and forth after the draft until Mayfield went on The Herd to confront his media rival. A year later, Mayfield had some harsh words for Cowherd in an interview with Complex.
"He's supposed to bring out facts and he chooses to put out irrational opinions," Mayfield said. "People can say what they want, they can say I'm not really supposed to comment on this, but a liar is a liar and a guy that is really just full of it needs to be put in his place."
Cowherd called Mayfield a Mazda, not a Maserati
In one of his most famous Mayfield rants, Cowherd compared the QB to a Mazda after he was drafted No. 1 overall. The FS1 personality said No. 1 picks need to be Maseratis, but Mayfield wasn't one.
"When you're a No. 1 pick, I want you to be a Maserati, not a Mazda," Cowherd said in 2018. "Baker's a Mazda in the NFL. He looked overwhelmed physically. He doesn't have a great arm. Couldn't outrun a lineman. Nothing wrong with a Mazda. I've driven a Mazda. I like Mazda. But you pay $85,000 for a car, that's a No. 1 pick. You pay $85,000, (are) you bragging about the cup holder?"
Apparently, Mayfield kept that comment in his back pocket for two years, and he finally found the perfect time to use it.
Baker Mayfield trolled Colin Cowherd with the Browns' playoff-clinching play call
On Sunday afternoon, Baker Mayfield clinched a postseason berth for the Browns by running for a first down late in the game against the Pittsburgh Steelers to seal the win. The play call for that playoff-clinching run? Maserati.
That's how you stick it to your haters.
Cowherd caught wind of the play call a day later, and he might finally be joining the Baker fan club.
"The news today just tickles my little soul, one of the final plays of the games by the Browns was called Maserati. He called it because when he got drafted I said that he was more 'Mazda' than 'Maserati,'" Cowherd said Monday. "They had a little play with Baker running around, you know they always tell you that they don't listen. I think I am back supporting Baker Mayfield. The fact that he does that, that is great. I love it, I love that he did it, and I love that it became public. I love that Baker Mayfield called a play Maserati because I called him a Mazda. We don't do stuff like that much on the show for that to happen but once it does, we are going to acknowledge that we love it."
Apparently, all it took to squash their beef was some expert trolling by Mayfield and company.