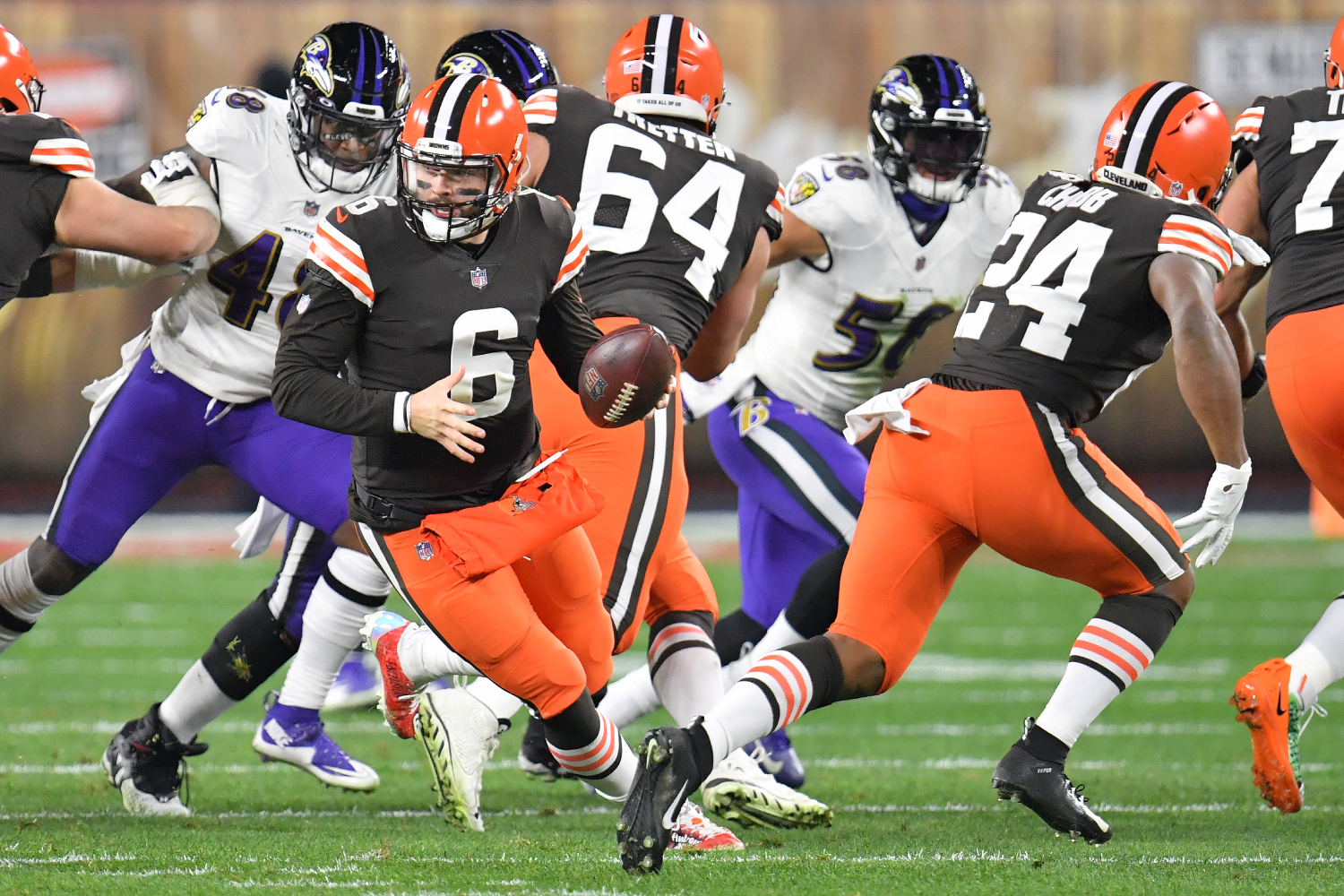 Joe Judge Loves Baker Mayfield's Game and His Bleeping Attitude
New York Giants head coach Joe Judge loves Cleveland Browns quarterback Baker Mayfield's game and his bleeping attitude.
Baker Mayfield was facing a tough test this season. He had been doubted by many after the Cleveland Browns took him with the first overall pick in the 2018 NFL draft. In two seasons, the Browns hadn't won more than six games in a season with Mayfield at the helm. All eyes have been on Mayfield in 2020 and he's passed that test. New York Giants' first-year head coach Joe Judge has always been impressed with the former Heisman Trophy winner.
Baker Mayfield and the Browns are a legitimate threat
After two straight seasons of six wins, Baker Mayfield needed to step up in 2020. He's done just that. In Mayfield's first year, the 6-10 season was considered a success. The Browns had gone winless in 2017 and they took that No. 1 pick that comes with it and selected Mayfield with the first overall pick.
In 2019, the Browns took a step backward. In the offseason, they surrounded Mayfield with some serious talent at wide receiver, adding Odell Beckham Jr. and Jarvis Landry. The Browns went 6-10 for the second straight year and Mayfield drew some serious criticism. He threw 21 interceptions as many questioned if he was the right guy to lead the team.
This season, Mayfield has taken charge. He's guided the team to a 9-4 record and a very likely playoff berth. Cleveland hasn't made the playoffs since 2002. Mayfield has thrown 23 touchdown passes with just eight interceptions.
Joe Judge and the Giants have overcome a rough start
Joe Judge became the head coach of the New York Giants this year after serving as an assistant under Bill Belichick with the New England Patriots. Judge and the Giants struggled right out of the gate. Not only did the Giants lose their best offensive player in running back Saquon Barkley for the season, but they also lost their first five games.
The Giants picked up their first win of the season in Week 6, defeating the Washington Football Team 20-19. After dropping their next two games by a combined three points, the Giants won four straight. The Giants put themselves back in the playoff picture as they improved to 5-7 in a very weak NFC East.
The Giants fell to the Arizona Cardinals 26-7 last week, ending their four game win streak. At 5-8, they remain one game out of first place behind the Washington Football Team. Washington is riding a four-game win streak.
Judge very impressed with Mayfield and the Browns
Joe Judge and the New York Giants are in a battle for the postseason despite a 5-8 mark. Judge knows in order to get that sixth win this week, he'll have to go through Baker Mayfield and the Cleveland Browns. Judge has nothing but praise for the Cleveland quarterback.
"Obviously, I've watched this guy for several years,'' Judge said to Cleveland.com. "The thing that stands out about him above all is this guy is an elite competitor. He really is. He's a tough dude. You know his story. How he went through college, had to walk on twice, earn two starting jobs. Look, it's no coincidence this guy is having tremendous success in the National Football League. I love the f—ing attitude he plays with, I love the chippiness he plays with.
"This guy extends plays. One thing he does that's really fun to watch — and you want to eliminate that fun element when you're playing him — but when he's really condensed in the pocket, he finds those small seams. A lot of quarterbacks who you say are mobile quarterbacks rely on really just losing ground and gaining the edge and really using their speed. This guy does a great job of playing freeze tag in a phone booth and coming out the winner." Judge will have to find a way to contain Mayfield to keep the Giants' playoff hopes alive.