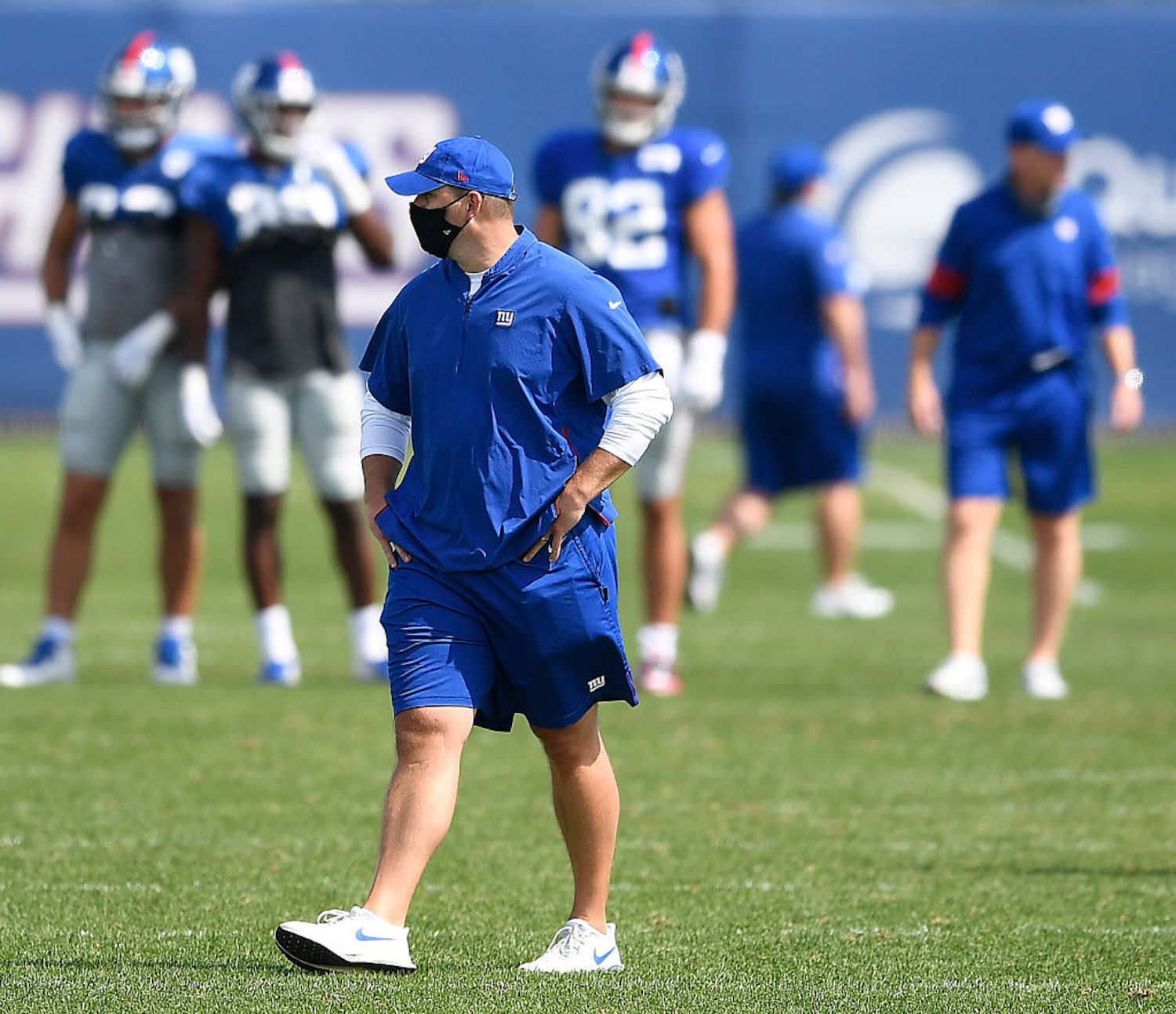 Giants Head Coach Joe Judge Is Using Tennis Balls to Fix a Major Problem With His Defense
The Giants were one of the worst defensive holding teams in the NFL last season, so Joe Judge employed a unique to cut down on penalties.
The New York Giants have just one winning season in the last seven years. In the last three seasons, the Giants have a combined 12-36 record and two last-place finishes in the NFC East.
New York made its first move to get back to prominence in the NFL when it hired head coach Joe Judge, and he's already bringing his unique coaching style to the practice field. The other day, defensive players were spotted with tennis balls taped to their hands. And no, it wasn't a rookie prank. Judge believes the tennis balls will help fix a major problem with the Giants' secondary.
The Giants were one of the worst defensive holding teams in 2019
The Giants had numerous problems all over their defense last season, but penalties were some of the biggest. More specifically, defensive holding penalties killed New York all season.
The Giants committed 11 defensive holding penalties in 16 games last season. That marked the fourth-most in the entire NFL in 2019. Three of the teams ahead of the Giants in that category even played more games than New York last season.
Defensive holding is such a crippling penalty because of the automatic first down that comes with it. The infraction is only a five-yard penalty, but automatic first downs can kill defensive momentum and give the offense new life on a stalling drive.
Judge understands the importance of cutting down on these penalties, and he's getting creative with new ways to stop them from happening.
Joe Judge had defensive players tape tennis balls to their hands to stop them from holding
In a wildly unique strategy, Judge held practice earlier this week with tennis balls taped to the hands of the defensive backs. The method is meant to teach safeties and cornerbacks to jam opposing wide receivers without grabbing their jerseys.
Hey, you can't hold a receiver if your fingers are locked into place, right? It might be odd, but Judge wants to do anything he can to stop defensive holding penalties in 2020.
Judge is intent on cutting down penalties for the Giants in 2020
Judge seems to have a zero-tolerance policy when it comes to penalties. You can't control the talent on a football team, but you can control their discipline.
"We're not going to accept penalties," Judge said when asked about the tennis balls. "So we'll find any little trick we can to teach them."
The Giants were actually one of the best teams last year in terms of avoiding penalties on both sides of the ball, but defensive holding was their biggest weak spot. Judge clearly did his research before focusing on the team's biggest areas of concern.
Judge's methods might be outside the box, but he's putting a clear emphasis on controlling what the team can control in 2020. He doesn't want the Giants to beat themselves like they've done so often in the past few years. Let's see if it pays off.