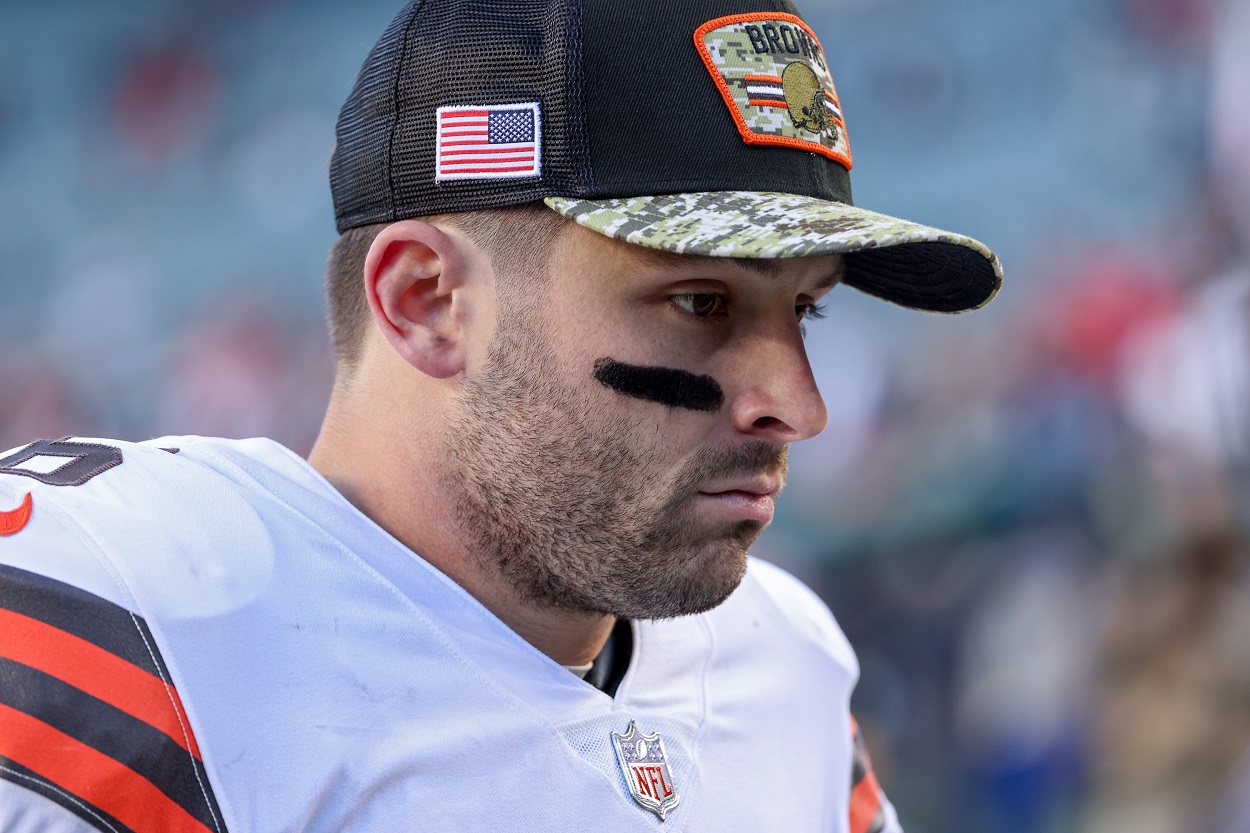 'Disrespected' Baker Mayfield Stops Himself From Expounding on Absurd Comment, Says the Seahawks Might Be His Next NFL Team
In a podcast appearance, Baker Mayfield sounded off on the Cleveland Browns, his critics, and guessed his next NFL team.
Let me make this clear from the get-go. I like Baker Mayfield. I really do. Did I think the Cleveland Browns should have used the No. 1 overall pick on him four years ago? Nope, sure didn't.
Yes, the 2017 Heisman Trophy winner did some fantastic things at Oklahoma and put up some ridiculous numbers. Come on, 4,327 passing yards with 43 touchdowns against just six picks his senior year was absurd. But I honestly didn't think he'd be that big of a deal in the NFL.
No one should put him in that "great" category or even call him a top-10 QB at this point, but Mayfield has been solid enough during his four-year run in Cleveland. In just his third season, he led the freaking Browns, a team that went 1-31 in the two seasons before his arrival, to an 11-5 record and a postseason victory over the rival Pittsburgh Steelers.
That's a pretty big deal.
OK, so the 2021 campaign didn't go as smoothly for Baker and the Browns as they finished with an 8-9 record and missed the postseason. But Mayfield was also hurt for a big chunk of the year. Again, I'm not saying he's the greatest QB in the NFL, but he's a better option than Case Keenum or Nick Mullens.
But it was made clear by the Browns to Mayfield following the season that he's not a better option than Deshaun Watson, for whom Cleveland traded nearly a month ago. The troubled former Texans signal-caller was then given the largest guaranteed contract in NFL history.
As you can imagine, this doesn't sit well with Baker, who remains in The Forest City as the Browns have yet to trade him, although he seems to think he knows where he's going. That was one of a few topics Mayfield discussed on a rather interesting recent podcast appearance.
He sounded off on his soon-to-be former franchise and also on his critics in a moment that could have been worse had he not stopped himself. Baker also spoke about where he might play next.
Let's dive in, shall we?
Baker Mayfield feels 'disrespected' by the Cleveland Browns
Mayfield recently made an appearance on the Ya Neva Know podcast and was asked if he felt disrespected by the Browns' front office, and this was his response:
"I feel disrespected. 100%. Because I was told one thing and they completely did another. That's what I'm in the middle of right now."

Baker Mayfield
He went on to say how he's had "four different head coaches in four years" and a "bunch of different coordinators," which is true. And it's not surprising that Mayfield feels the way he does. Again, he took a franchise that hadn't won a postseason game since it was rebooted more than two decades ago and made it relevant again.
And overall, the Browns probably could have handled things a little better. But it also seems they might have thought they were out of the running for Watson before the shocking news came down that they'd acquired him. So maybe Cleveland didn't have much time to tell Baker what was happening.
And from purely a football standpoint — let me clarify that it's only from a football standpoint, not an ethical one — Cleveland did the right thing here. Simply put, Deshaun Watson is a better quarterback than Baker Mayfield and gives the Cleveland Browns a better chance to win football games. Period.
It's not a new thing that the NFL is a business. The Browns made a business decision, and that's that.
Mayfield thankfully stopped himself after making an absurd comment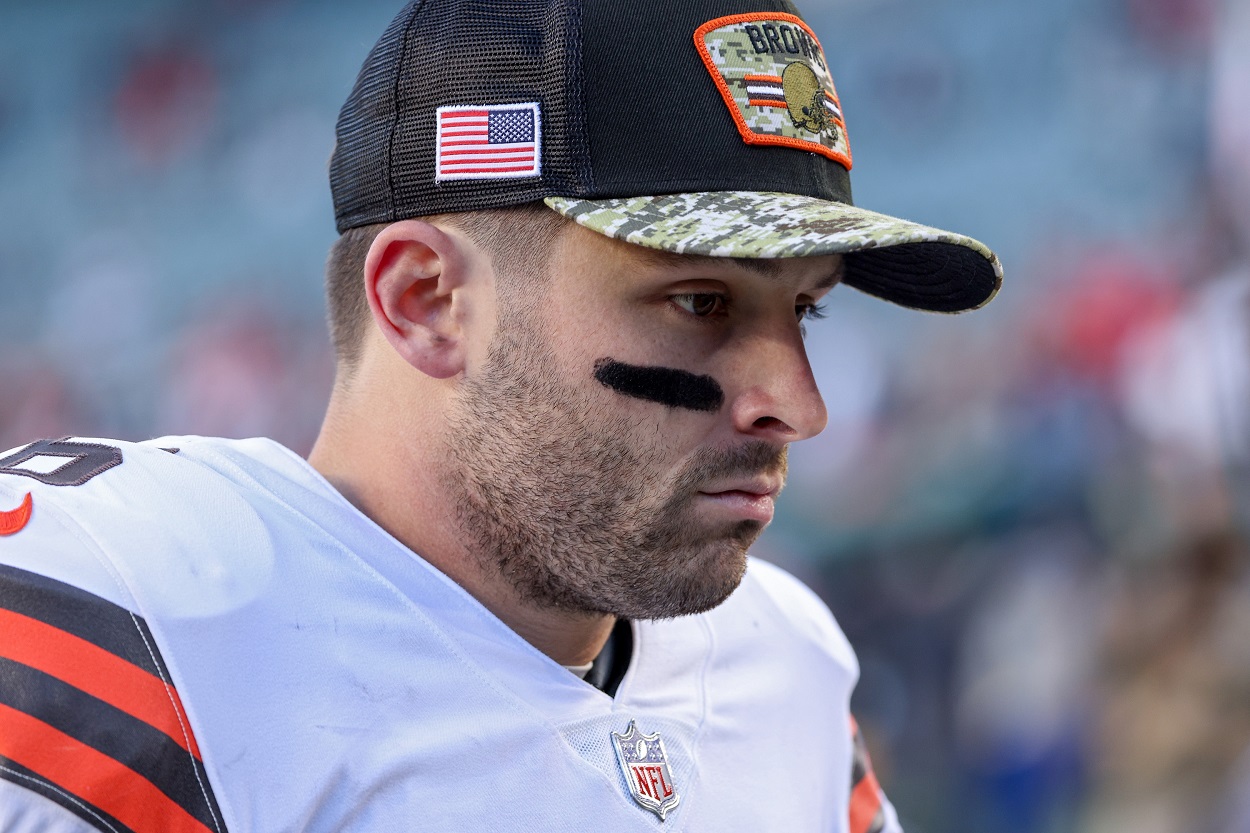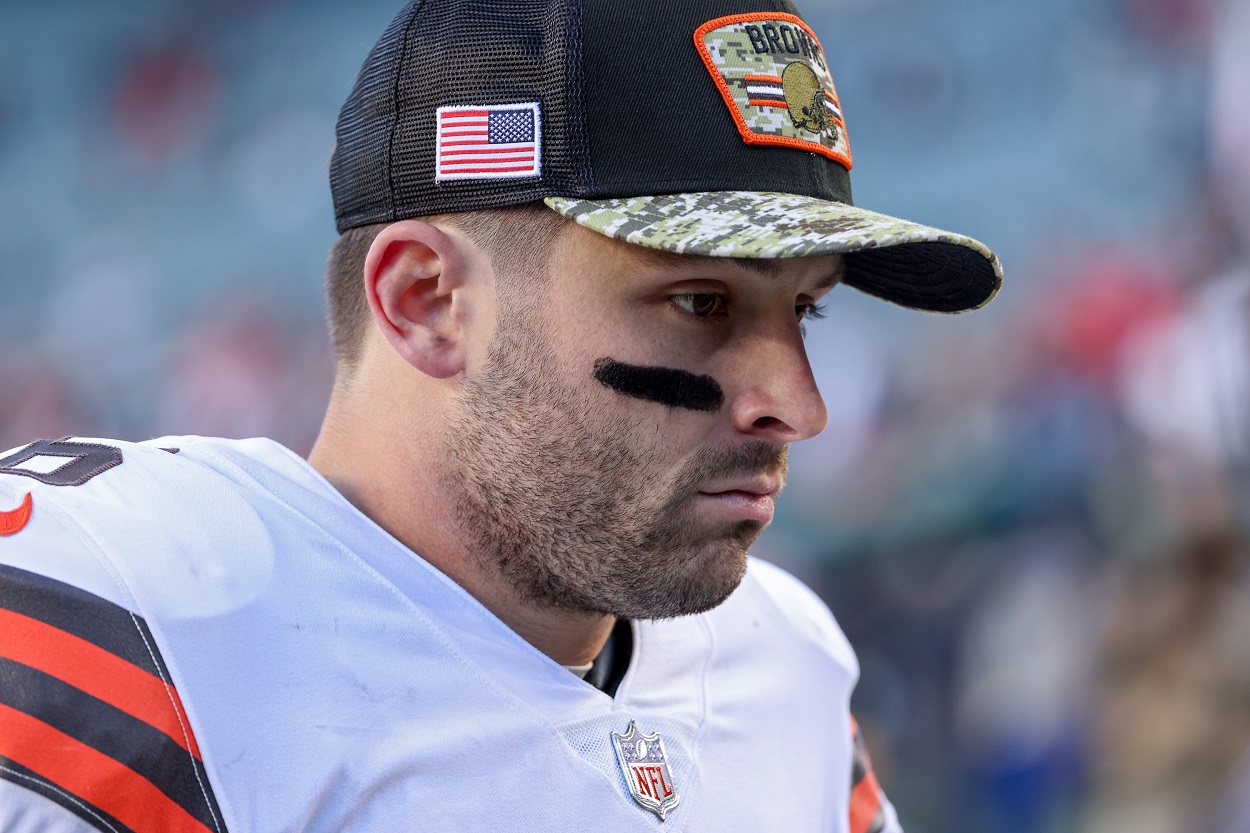 A little over an hour into the show, the discussion turned to what was described by the host as the "human element of athletes" and how "out of touch" sports fans can be. For context, Mayfield was discussing how his injuries limited what he could and couldn't do on the football field.
Obviously, you can't do as much when you're injured and typically don't perform as well. And that can lead to boos from the crowd or criticism from idiot sportswriters like me, right?
So Baker goes into a speech on how lucky he was to grow up where he did and get his degree but noted what he called the "sad stories" of others who may not have much else outside the game of football. And this is where it went:
"When people are so critical of it, it's like these guys are — that's the way they — I would love to show up at somebody's cubicle and just boo the s*** out of them and watch them crumble."

Baker Mayfield
Oh, that could have gotten ugly had he continued down that path. But Baker quickly caught himself and said, "I'm wrong for saying that." Now, the host and producer went on for another 20 seconds or so, but Mayfield smartly didn't really chime in.
It certainly can't be fun to get booed by tens of thousands of people on live television or to read negative things written about your job performance. But that's what you sign up for as a professional athlete. And it's exponentially worse when you're an NFL quarterback, arguably the most scrutinized position in sports.
And while it's not even close in volume, it's like how I signed up to have people tell me how much I suck when they don't agree with one of my takes. I'm guessing I'll get some of those types of comments from this piece. But here's the difference. Mayfield is set to make $18.858 million in 2022.
Do you know how much I'm set to make in 2022? Less than $18.858 million. But I'll tell you what, Baker. If you want to come to my home, pay far too much to watch me work, and boo me, I'll let you. I'll even let you spend $15 for one of the beers in my fridge. And here's another thing — my job is more challenging than yours when there's noise involved. Suck it up.
Mayfield's at least right in that he was wrong for saying it. But we're cool.
Baker guesses the Seahawks will be his next NFL team but has no real idea
As to where Mayfield believes he'll next be taking snaps, here's what he had to say:
"If this would've been about a week and a half ago, I would've said Indianapolis. Seattle would probably be the most likely option. But even then, no idea.

"I'm ready for the next chapter."

Baker Mayfield
At this point, the Seahawks do seem to make the most sense as a landing spot for Mayfield. With Russell Wilson now with the Denver Broncos, Pete Carroll has Drew Lock and Jacob Eason to choose from, and Baker is an upgrade over both. Of course, the hard part in getting Mayfield to the Pacific Northwest is that pesky $18.9 million salary, which has apparently been the issue in the trades Cleveland has entertained.
So we'll all just have to wait and see how this thing plays out. Overall, I genuinely enjoyed Mayfield's appearance as it was really just a few things he said with which I took issue. As I said, I really do like the guy and hope he lands in a spot where he can do some good.
But if I don't see a Progressive commercial that involves Baker moving, we're going to have a problem.
Stats courtesy of Sports Reference; Contract info courtesy of Spotrac.