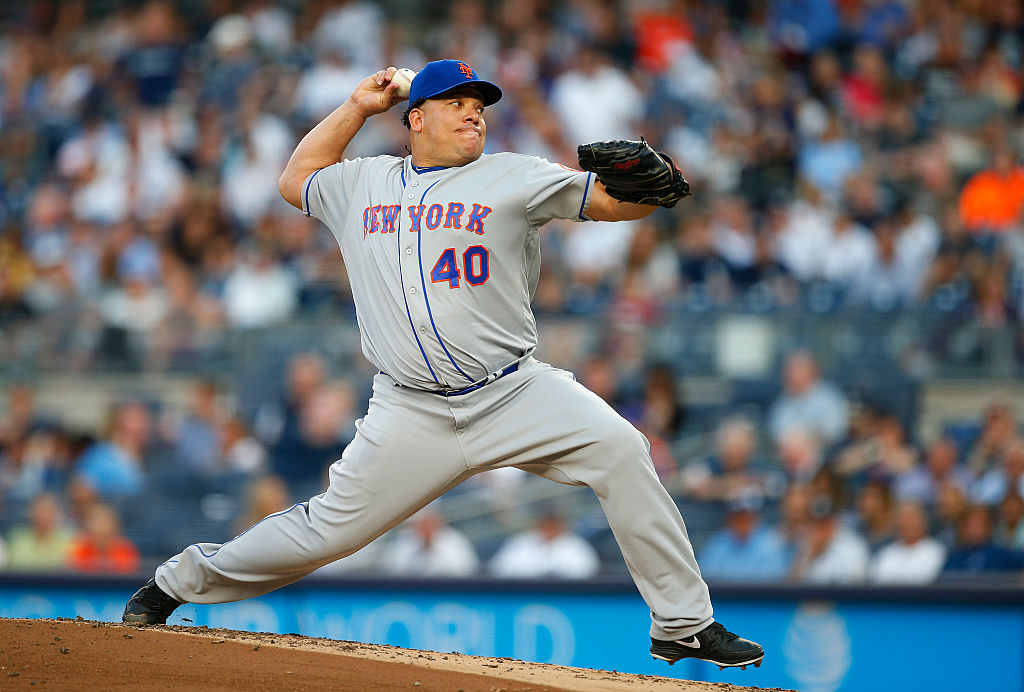 Bartolo Colon's Tough Childhood Set the Stage for His $117 Million Major League Baseball Career
While we now know him as 'Big Sexy,' Bartolo Colon grew up working with his father in the Dominican Republic. That labor, however, set the stage for his MLB career.
Professional athletes, like superheroes, need a good origin story. Michael Jordan honed his competitive fire playing against his older brother; Derek Jeter grew up watching the New York Yankees and dreamed of playing in pinstripes. Growing up in the Dominican Republic, however, things were a bit different for Bartolo Colon.
While the ageless MLB pitcher, who last plied his trade for the New York Mets, didn't have a fairy tale childhood, everything worked out for the best. Colon's youth featured plenty of hard work, but that set the stage for his $117 million Major League Baseball career.
Bartolo Colon's successful baseball career
For most baseball fans, Bartolo Colon has become a cult figure. While everyone loves watching the seemingly out of shape 'Big Sexy' take the mound or swing for the fences, he's more than a sideshow act; he's a successful pro.
Colon's MLB odyssey started in 1993 when he signed with the Cleveland Indians as a free agent. He spent several years in the minors before making his big league debut in 1997; with the Tribe, he developed into a capable starter, going 18-5 during the 1999 campaign and tossing a one-hitter in 2000.
Colon was traded to the Montreal Expos at the 2002 trade deadline; after that, the pitcher started bouncing around the league. He played out the 2002 campaign with the Expos, then spent the following season with the Chicago White Sox. Big Sexy then joined the Los Angeles Angels for four seasons before suiting up for the Red Sox, White Sox, Yankees, and A's. No matter where he went, though, he kept pitching.
In 2014, Bartolo Colon inked a deal with the New York Mets. The pitcher would find some stability in Queens, spending four seasons in the borough and becoming a fan favorite, before moving on; he then spent time with the Braves, Twins, and Rangers before leaving Major League Baseball for the Mexican League.
How a challenging childhood set the stage for baseball success
For almost 30 years, Bartolo Colon has been plying his trade as a professional baseball player. Growing up in the Dominican Republic, however, things were much different.
As detailed by Dan Barry in a 2015 New York Times feature, Colon hails from "a hillside village on the outskirts of Altamira called El Copey, which has one main road and dozens of squat houses under zinc roofs and coconut trees." While he always loved baseball, work came first; a young Bartolo, tasked with delivering coffee beans for his father, would sometimes park his donkey on the side of the road to steal a few innings with other boys.
That work, however, set the stage for Bartolo Colon's big league success. Picking coffee beans gave him strong wrists; turning a crank to pulp the beans toughened his arms and shoulders. "From childhood, he was very strong," the pitcher's father, Miguel Valerio Colon, explained, according to Barry. "He was capable of pulping up to 1,000 crates of coffee beans in a day."
Colon also developed an eye for pitching by throwing rocks at fruit hanging from local trees. "Throwing at coconuts and mangoes," he remembered. "But the coconut was the most difficult."
After that humble childhood, Bartolo Colon has made good
While pulping coffee beans and throwing rocks at coconuts isn't the most conventional training method, it worked out for Bartolo Colon. Not only did his strength and work ethic help him make it to the big league, but it gave him the staying power to earn a nice chunk of change in the United States.
According to Spotrac, Colon has made just under $117 million during his 21 seasons in the show. While most of that came from the Angels, where he spent his prime seasons, and the Mets, where he recently settled for four seasons, the veteran pitcher has received paychecks from 11 different organizations. He could find himself on a Major League payroll again soon if his attempted comeback gets off the ground.
While there's no telling what the future holds—even Big Sexy can't outrun Father Time forever—one thing is clear: baseball fans from Anaheim to El Copey would love to see Bartolo Colon take the mound again.
Stats courtesy of Baseball-Reference