Being Asian Apparently Made Eugene Chung Too White To Coach an NFL Team
If the story recounted by a former New England Patriots lineman who went on to work on two Andy Reid staffs is accurate, then the league might as well throw out the Rooney Rule when it comes to NFL coaches.
Pittsburgh Steelers patriarch Dan Rooney most assuredly did not intend for minority hiring to slip into a caste system. Eugene Chung swears that happened when he applied to return to coaching recently.
A team told Eugene Chung he's 'really not a minority'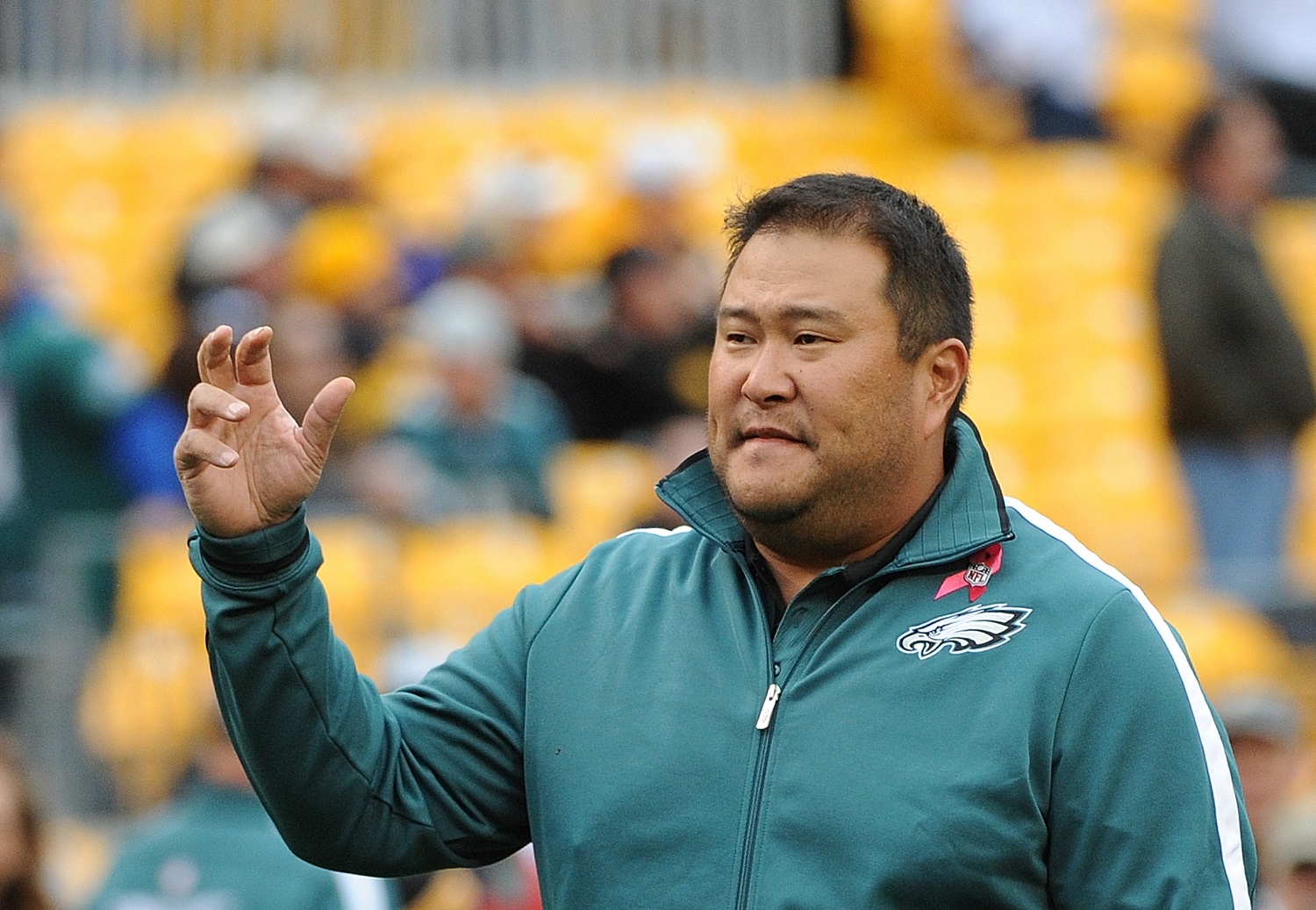 Chung, who played guard for three teams after entering the NFL in 1992 as a first-round draft choice by the Patriots, told the Boston Globe a shocking story about a failed job interview from this NFL offseason.
The league already attracts criticism annually because teams hire relatively few head coaches and coordinators who aren't white. The fact that Kansas City Chiefs offensive coordinator Eric Bieniemy struggles to land interviews for head coaching positions was a storyline leading up to Super Bowl 55.
At that time, NFL.com calculated that Black coaches filled only three of 27 vacancies over the last four hiring cycles. In a league in which Black players hold two-thirds of the roster spots, Black coaches earned only 11 percent of the available coaching staff jobs.
And then there's Chung, who was born in Maryland to Korean parents. A remark during his interview for a coaching spot – he's been out of the league for two seasons — with an unidentified team floored him.
As Chung ran through his coaching resume consisting of 10 seasons with the Chiefs and the Philadelphia Eagles – one might figure that being part of Reid's coaching tree carries some weight — the interviewer stopped him cold.
"It was said to me, 'Well, you're really not a minority,'" Chung told the newspaper.
"I was like, 'Wait a minute. The last time I checked, when I looked in the mirror and brushed my teeth, I was a minority.' So, I was like, 'What do you mean I'm not a minority?'"

Eugene Chung
Chung challenged the person interviewing him
Once Chung push back on whether people of Asian descent are minorities, the interviewer dropped another bomb, the former Virginia Tech star said.
"You are not the right minority we're looking for," the interviewer reportedly said.
Chung said he sought clarification, at which point the interviewer began backtracking.
"It was absolutely mind-blowing to me that in 2021, something like that is actually a narrative."
Afterward, Chung, 51, reflected upon fighting unconscionable battles for much of his life. Living in a predominantly white neighborhood in Virginia as a youth, he heard racial slurs and insults from schoolmates. He said asking teachers to intervene seldom produced results.
"I was told, 'Just go back to your seat, it'll be OK. I'll take care of it,'" Chung told the paper. "Nothing was done. I've been thinking about that and what's been going on. Nothing has changed when it comes to that."
What is the NFL's Rooney Rule?
The NFL adopted its original Rooney Rule – Pittsburgh Steelers owner Dan Rooney's response to seeing Tony Dungy (Tampa Bay Buccaneers) and Dennis Green (Minnesota Vikings) fired in 2002 – to open more opportunities for minority coaches. At its outset, the rule required teams to interview at least one minority candidate for certain coaching vacancies.
Owners have tweaked the Rooney Rule several times since. The rule now covers key positions in the front office, requires additional interviews for minority candidates when a head coaching vacancy arises, and offers teams bonus draft picks for filling some positions with candidates other than white males.
The Los Angeles Rams became the first team to earn a pair of third-round draft picks by virtue of the Detroit Lions hiring away Brad Holmes to become their general manager after the 2020 season.
Like Sportscasting on Facebook. Follow us on Twitter @sportscasting19.