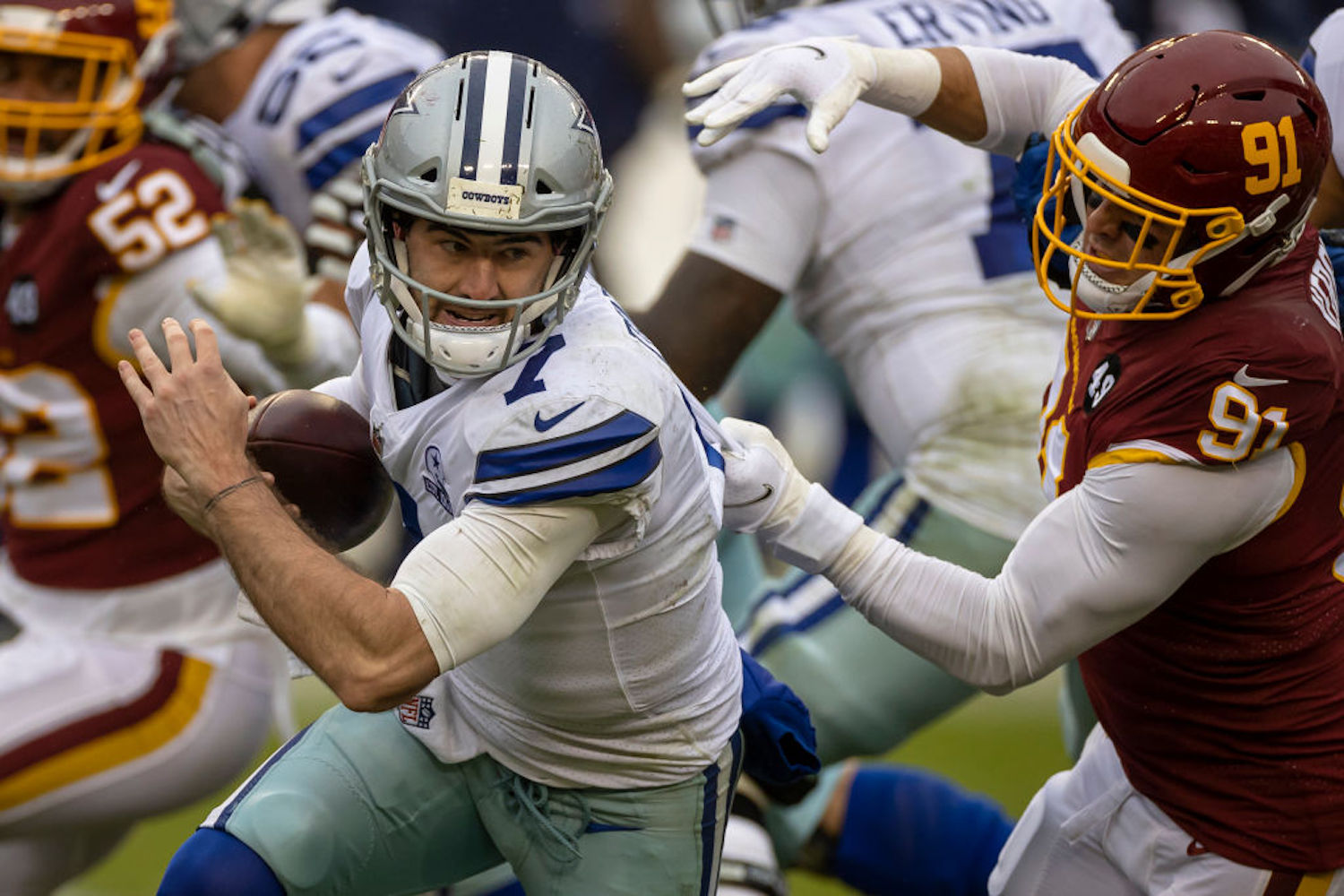 Ben DiNucci's College Coach Believes He's Ready for 1st NFL Start: 'He's Unflappable. He's Got an Edge'
Ben DiNucci will get his first NFL start Sunday night against the Philadelphia Eagles, and his college coach at JMU believes he's ready.
Dallas Cowboys rookie QB Ben DiNucci didn't expect to see the field at all in 2020 after starting the year third on the depth chart. After Dak Prescott and Andy Dalton both went down with injuries, though, DiNucci has been thrust into action in Week 8.
DiNucci will make his first NFL start Sunday night when the Cowboys travel to Philadelphia to face off with the Eagles. Dallas fans might not be teeming with confidence with the rookie getting the start, but DiNucci's college coach believes he's ready for the biggest game of his life.
Ben DiNucci will make his first NFL start on Sunday night
Not many people knew the name Ben DiNucci a few weeks ago. But every football fan will learn about the rookie QB on Sunday night. After Dalton was ruled out this week due to a concussion, DiNucci will officially make his first career NFL start in primetime against the Eagles at 8:20 p.m. ET.
DiNucci saw some game action last week against the Washington Football Team after Dalton left the game with a concussion. He only attempted three passes in relief, but he completed two of them for 39 yards.
The Cowboys will need to trust DiNucci to air it out a bit more against the Eagles on Sunday night. Dallas can overtake the top spot in the NFC East with a win.
DiNucci's college coach has high hopes for the QB
There are plenty of unknowns surrounding DiNucci's first NFL start. How will he handle the pressure of playing in primetime? How much will the Cowboys even let him throw the ball? Dallas selected the QB in the seventh round of the 2020 NFL draft, and they didn't expect him to even see the field this season.
Ian Rapoport of the NFL Network searched for some of those answers by talking to DiNucci's college coach at James Madison, Curt Cignetti. Cignetti isn't too nervous at all for DiNucci's first start. In fact, he has plenty of confidence in the young QB.
"Here's Ben DiNucci," Cignetti said. "A guy with a lot of confidence, borderline cocky, a lot of energy. He's unflappable, he's got an edge. He's also got a lot of different releases like Philip Rivers. He's smart, man, and he's going to go in there with confidence. The biggest thing is, he's not going to go in there with big eyes. He's going to be jacked and ready to go."
The JMU family will be watching DiNucci's debut intently
Cignetti will be watching intently as DiNucci kicks off his NFL career on Sunday night, but he won't be the only one. The James Madison head coach said the entire JMU family will be on edge watching their former QB's pro debut.
"If there wasn't COVID, we could put the Cowboys game on the Jumbotron and pack thousands of people in this stadium to watch this game," Cignetti said.