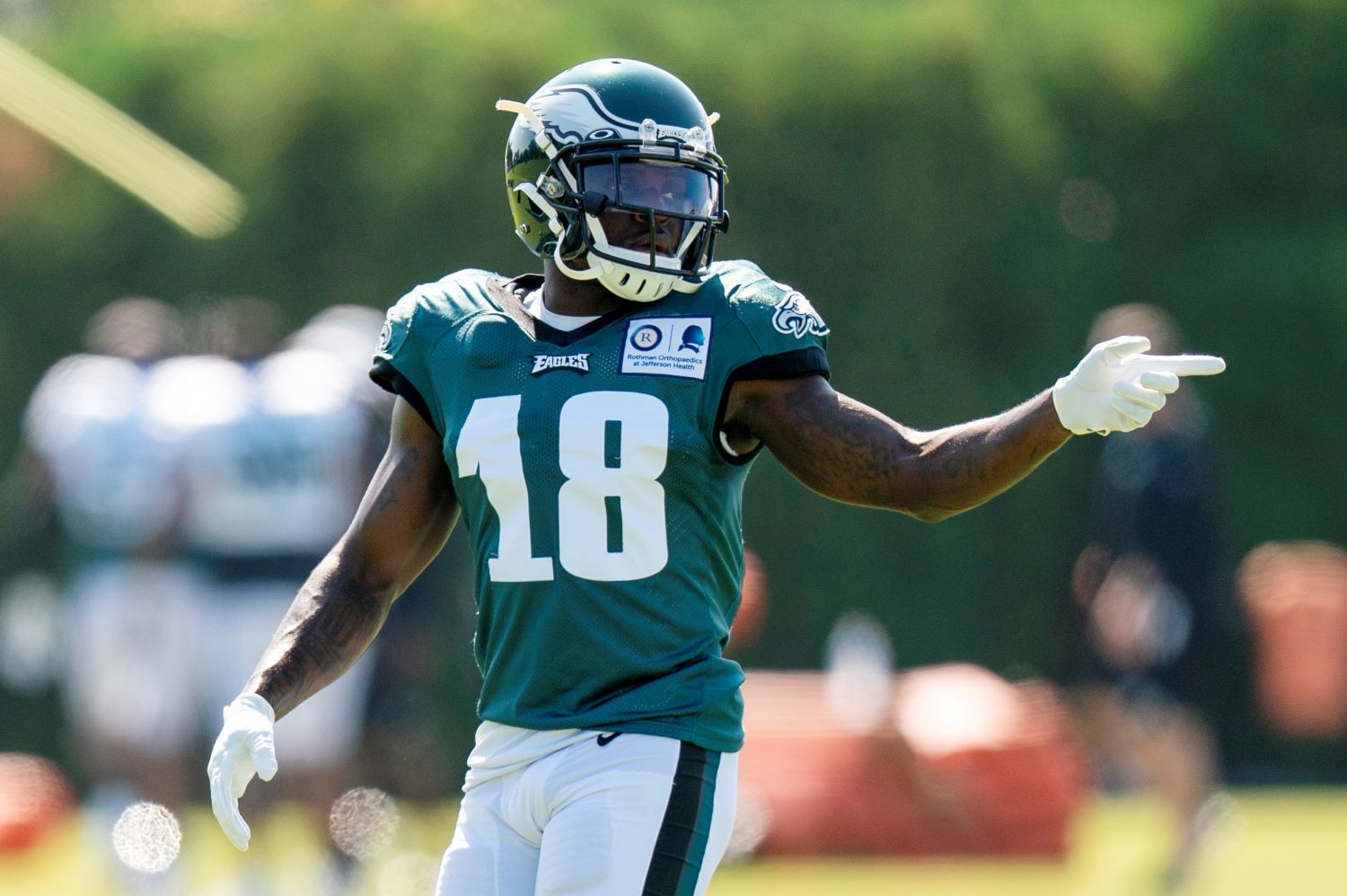 The Philadelphia Eagles Just Received a $13 Million Boost to Their Offense
With talented rookie WR Jalen Reagor cleared to return, the Philadelphia Eagles just received a $13 million boost to their offense.
As the Philadelphia Eagles prepare to take on the Dallas Cowboys on Sunday Night Football, the team just received a $13 million boost to their offense. With rookie Jalen Reagor cleared to return to action, Carson Wentz will finally have his newest weapon available.
But can the promising rookie make an immediate impact after missing so much time? Or will the long layoff result in a lack of chemistry between Wentz and Reagor?
Injuries have played a major role in Philadelphia's slow start
Although the Eagles currently sit in first place in the NFC East, they have had major issues on offense all season. Doug Pederson's squad ranks just 23rd in scoring (23.3 points per game) and 25th in total yards. Last year, the Eagles ranked 12th and 14th, respectively.
Injuries have been a major problem for Philadelphia. Pro Bowl guard Brandon Brooks tore his Achilles in the offseason. Starting left tackle Andre Dillard watched his season end before it began due to a torn biceps. Plus, Jason Peters—who originally re-joined the team to replace Brooks before moving back to left tackle—landed on injured reserve in early October.
To make matters worse, Carson Wentz has not had his best weapons available. Veteran receiver Alshon Jeffery has yet to play a down after missing six games in 2019. Dallas Goedert and Zach Ertz each sustained injuries that have caused them to miss time.
DeSean Jackson recently landed on IR after suffering a nasty ankle injury. Jalen Reagor hasn't played since Week 2 because of a torn ligament in his thumb.
As a result, Wentz has struggled mightily in his fifth year in the league. The 28-year-old has completed just 58.6% of his passes for 1,760 yards. His 10 interceptions put him in a first-place tie with Kirk Cousins. Plus, Wentz and Joe Burrow have each been sacked 28 times—six more than the next closest quarterback.
The Eagles just received a $13 million boost to their offense
In desperate need of some reinforcements, the Eagles just received a $13 million boost to their offense. On Thursday, Geoff Mosher of Inside the Birds reported via Twitter that Jalen Reagor will play Sunday night against the Cowboys.
Of course, Eagles fans haven't seen the first-round pick on the field in a while. The former TCU star underwent thumb surgery to repair a torn ligament and has missed the team's last five games.
Back in April, Philadelphia made Reagor the fourth wide receiver taken in the 2020 NFL draft. The explosive playmaker signed a four-year, $13.3 million contract and was expected to make an instant impact. However, his thumb injury has prevented him from getting valuable reps with Wentz.
The 21-year-old can't afford to have any more setbacks moving forward. Because if the Eagles plan on staying atop the NFC East, they need their first-round pick to step up quickly.
Can Jalen Reagor help Carson Wentz take down the Cowboys on Sunday?
Considering he hasn't played a down since mid-September, it will be interesting to see how Jalen Reagor performs on Sunday. At least he gets a tasty matchup against a Cowboys defense that has failed to stop anyone this season.
Dallas currently ranks dead-last in many major statistical categories. No team has surrendered more rushing yards per game (178.3) than the Cowboys. Mike McCarthy's team has allowed nearly 35 points per game—a two-touchdown increase over last year's mark of 20.1.
The Eagles should make a concerted effort to get Reagor some early touches. It would be smart to give him some opportunities to run after the catch via a swing pass into the flats or a screen designed to get blockers in front of him. His 4.47 speed could also help him get open on a few deep shots from Wentz.
Though he lacks the size most teams look for in a WR1, the 5-foot-11, 206-pounder showed tremendous playmaking ability in college. Let's see if Reagor can translate that success to the NFL as he returns to action for the first time since Week 2.
If he can turn into a consistent threat, the Eagles may just have enough firepower on offense to maintain their spot atop the NFC East.
All contract information courtesy of Spotrac. All statistics courtesy of Pro Football Reference.