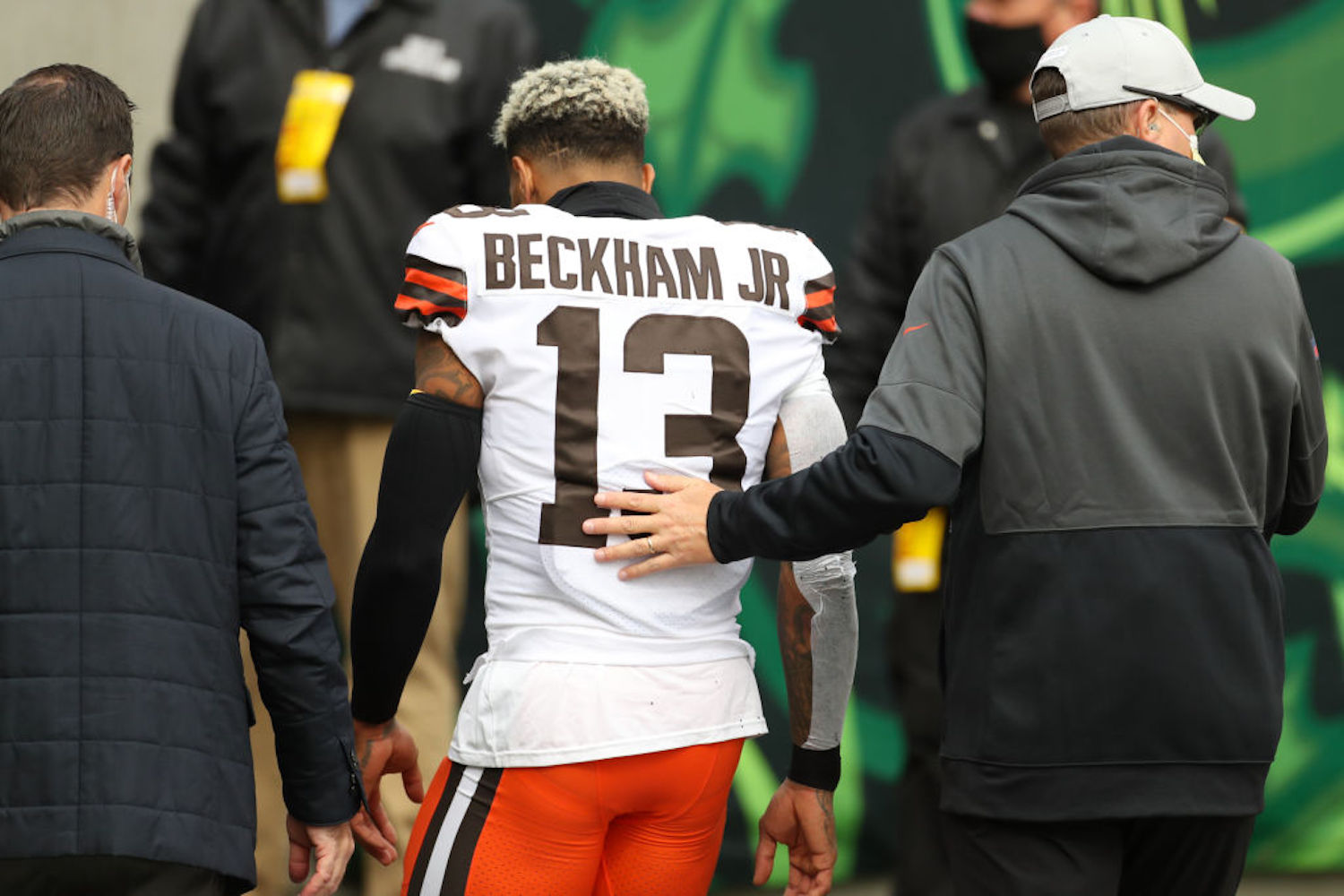 Odell Beckham Jr. Might've Played His Final Snap for the Cleveland Browns
Odell Beckham Jr. is out for the season with a torn ACL, but he might never play another snap for the Cleveland Browns.
Odell Beckham Jr. won't play the rest of the season after suffering a torn ACL last Sunday, and he might never suit up for the Cleveland Browns again.
Ian Rapoport of the NFL Network is reporting the Browns could be moving on from Beckham as soon as this offseason, and it makes plenty of sense. Beckham is owed $12 million guaranteed when the 2021 league year begins in January. If the Browns can't trade Beckham before that deadline, they might cut ties with the star wide receiver to save a few bucks.
Odell Beckham Jr. hasn't clicked with the Browns
When the Browns traded for Beckham last year, they expected him to jump into the starting lineup and be the superstar playmaker he's been since he entered the league in 2014.
That's not exactly the Beckham they got. The WR recorded a career-low 1,035 receiving yards and four touchdowns in 2019. Before last year, Beckham didn't have a single full season without scoring at least six touchdowns. He had over 1,300 receiving yards and double-digit touchdowns in each of his first three seasons with the New York Giants, but he just wasn't the same player in the orange and brown.
Beckham never really clicked with QB Baker Mayfield in Cleveland, which is surprising considering the success he had with an aging Eli Manning. The Browns didn't get the return on investment they expected with Beckham, and they might be moving on from the experiment after the season.
Beckham might've played his final snap in Cleveland
The Browns are set to play their first full game without Beckham in the lineup when they face the Las Vegas Raiders on Sunday afternoon. According to Ian Rapoport of NFL Network, Cleveland might've played their final game with the star wide receiver on the field.
Rapoport appeared on NFL Gameday Sunday morning and spoke about the Browns' future plans in regards to Beckham.
From my understanding, there's a very real possibility that he has played his final game with the Cleveland Browns. Based on his contract, they cannot cut him if they did want to move on. He's got $12 million that is going to be fully guaranteed right around the start of the league year when he is not yet healthy enough to be moved. Beckham has never really fully embraced Cleveland. He's never had a good rapport with Baker Mayfield, and as we saw last week, they may be playing better without him.

Ian Rapoport
If the Browns decide to shop Beckham in the offseason, there a few teams who should get them on the phone right away.
Where could Beckham end up?
There are numerous teams who could use a playmaker like Beckham on the outside. The New England Patriots immediately come to mind. The Pats have been one of the worst passing teams in the NFL this season, and Julian Edelman isn't getting any younger.
Carson Wentz could also use another game-breaker in Philadelphia. The Eagles are limping through the season with DeSean Jackson and Alshon Jeffery constantly injured.
And what about the Washington Football Team? A duo of Beckham and Terry McLaurin would be lethal in the NFC East, and Beckham would undoubtedly like to stick it to his old team twice a year.
Beckham's $90 million contract won't be enticing to many general managers off a torn ACL, but plenty of teams could use Beckham's speed and elusiveness on offense.
All stats courtesy of Pro Football Reference