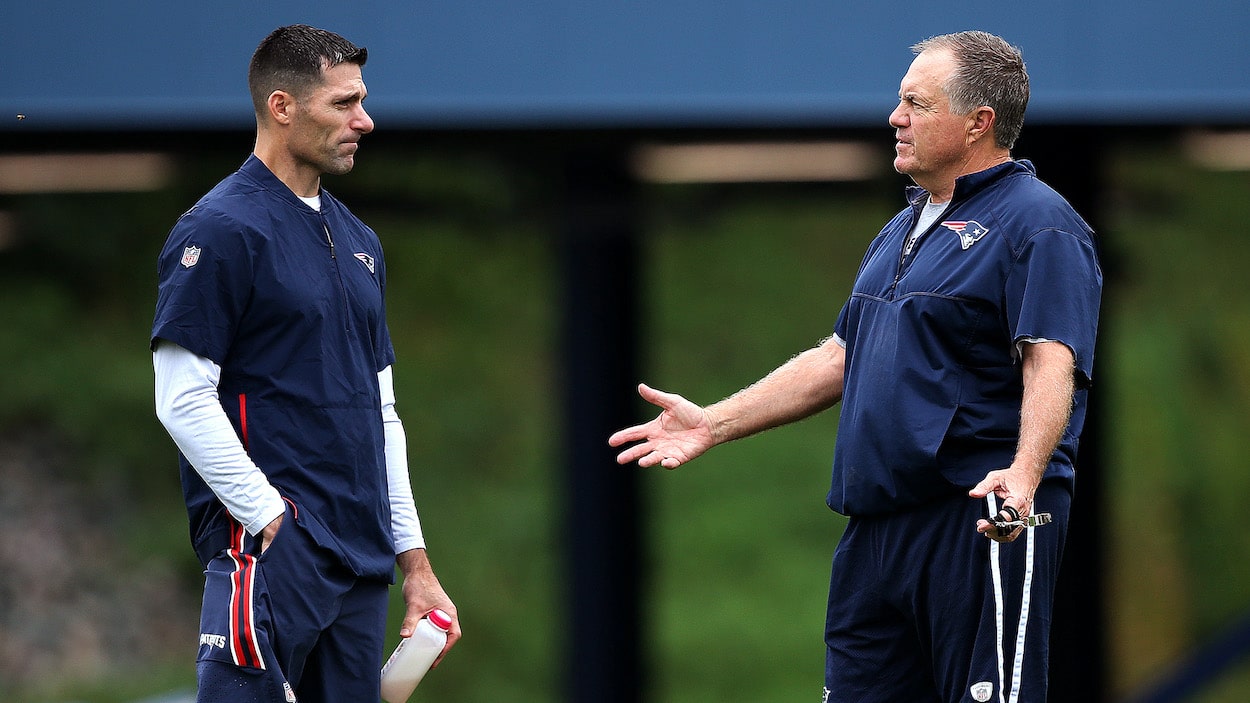 Bill Belichick Had a Young Staffer Whose Job Was to Write Down What John Madden Said, and Now Nick Caserio is an NFL GM
The kid who used to write down everything John Madden said for Bill Belichick worked his way up to become one of the NFL's 32 general managers.
It's no secret that New England Patriots head coach Bill Belichick does everything he can to gain even the slightest edge on his opponents. In the early 2000s, one of those tricks was having a staffer write down everything announcer John Madden said during a game to see if he gave away any of the Patriots' opponent's secrets. At one point, the staff member responsible for this job was current Houston Texans general manager Nick Caserio.  
Bill Belichick wanted to know everything John Madden said during a broadcast
John Madden is the greatest football color commentator of all time. The former Raiders head coach brought an in-depth knowledge of the game that was second to none. He also shared that knowledge with NFL fans without dumbing it down.
Madden also had incredible relationships throughout the league. Players and coaches shared more with him about their strategy, game plans, and rosters than any other TV personality.
The legendary announcer would then share those nuggets during his broadcasts to give fans an insider feel for the game.
In the early 2000s, there was someone else paying attention, too, though.
On a recent episode of the Pat McAfee Show, current Houston Texans GM Nick Caserio shared that one of his first jobs as a young New England Patriots staffer was to get those famed Madden nuggets to his coaching staff.
"That first year [with the Patriots], my job was to write down everything that John Madden was saying and then run it into the press box," Caserio told McAfee. "Because sometimes — you know what it's like. Coaches share with different people, so my job was to run to the press box and say, here's what Madden's talking about."
The former Patriots personnel assistant didn't reveal whether Belichick was worried about Madden giving away his secrets or trying to gain some knowledge of his opponent's game plan. Either way, having a staff member dedicated to Madden's commentary is very on-brand for Belichick.
The rise of Nick Caserio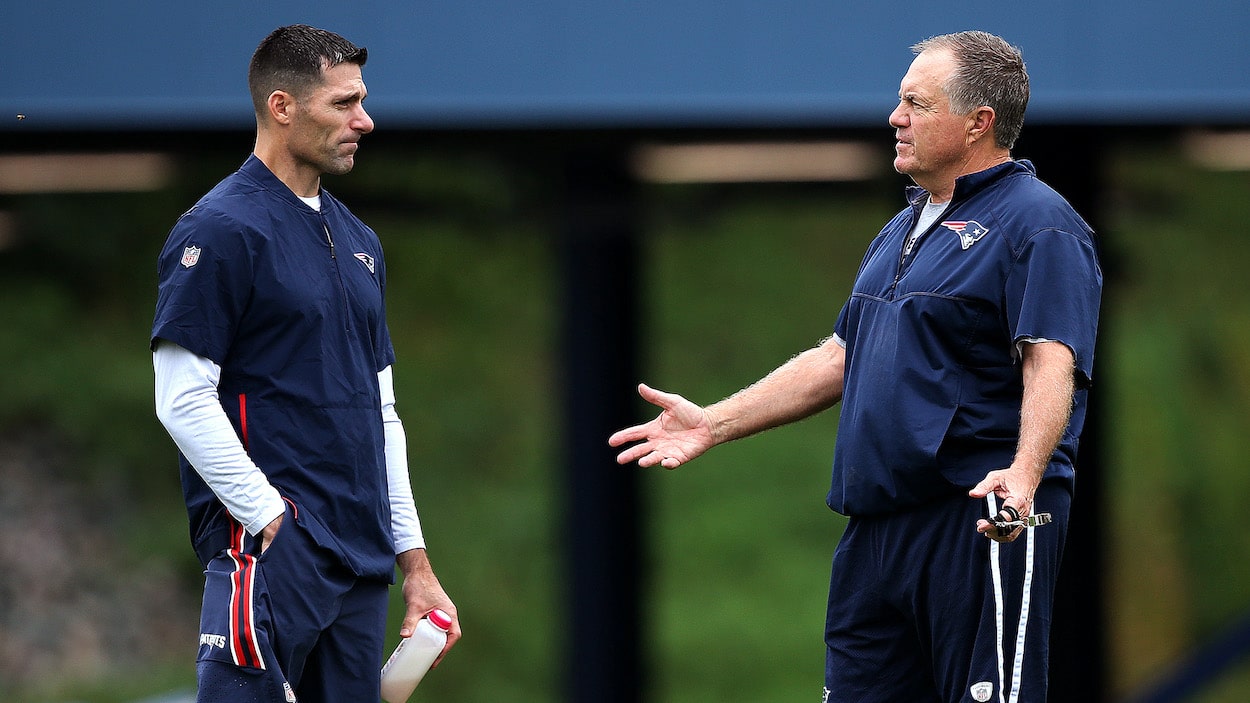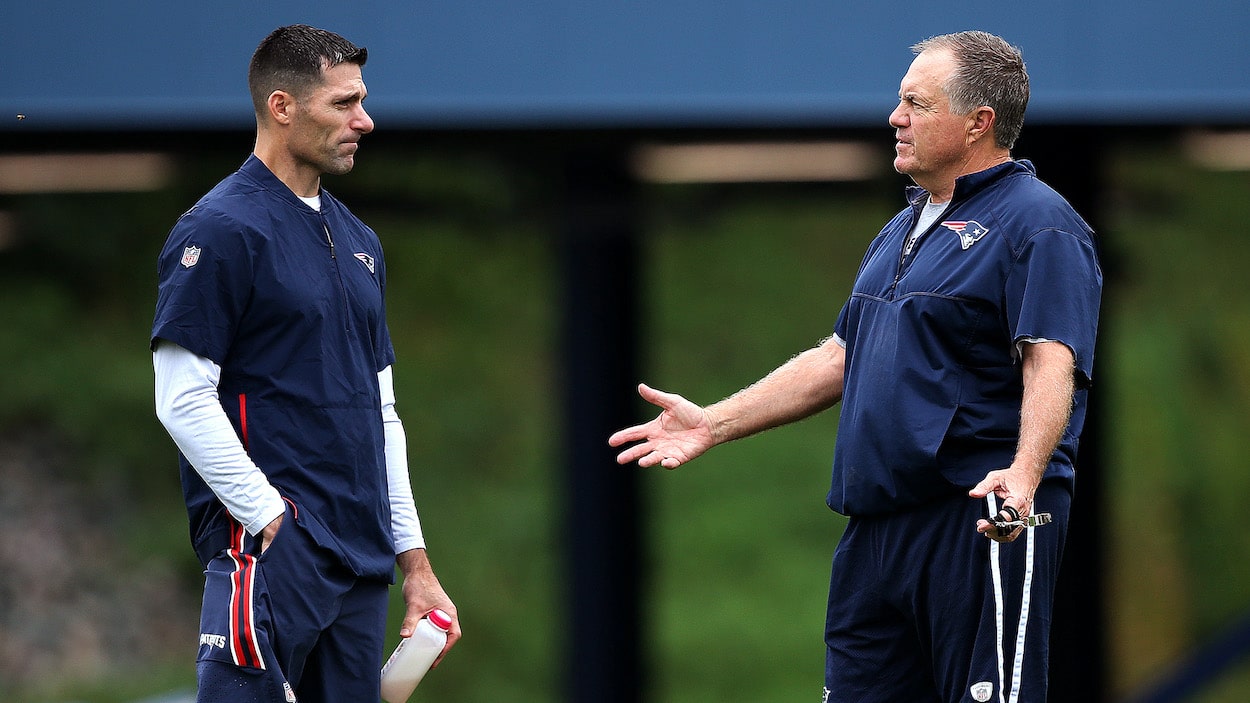 Houston Texans GM Nick Caserio took a fascinating path to become one of the NFL's 32 general managers. The Ohio native played quarterback at Division III John Carroll University in his home state from 1995 to 1998.
In addition to Caserio, those Blue Streaks teams had two other names that will be familiar to NFL fans. NFL linebacker London Fletcher and Las Vegas Raiders head coach (and former Patriots offensive coordinator) Josh McDaniels were Caserio's teammates.
After graduating and pursuing a job in finance, Caserio decided to get back into football. From 1999 to 2001, he served as a grad assistant at Saginaw Valley State and Central Michigan. Then, in 2001, his old teammate McDaniels came calling, and Caserio took a job as a personnel assistant and area scout with the New England Patriots.
Caserio worked his way up to Director of pro/player personnel by 2004 and held that job until 2020. Over that time, he became one of Bill Belichick's most trusted confidants and sounding boards. The partnership led to five Super Bowls.
It's Caserio who claims five (not six) because that first season, he was just the John Madden transcriber and doesn't take any credit.
In 2021, Caserio left New England and became GM of the Houston Texans. So far, he's drafted promising young quarterback Davis Mills and extracted a king's ransom from the Cleveland Browns in the Deshaun Watson trade.  
While he sometimes wears a coach's headset during Texans games, the GM didn't reveal whether he has a staffer dedicated to writing down everything Troy Aikman or Cris Collinsworth says.
Like Sportscasting on Facebook. Follow us on Twitter @sportscasting19 and subscribe to our YouTube channel.