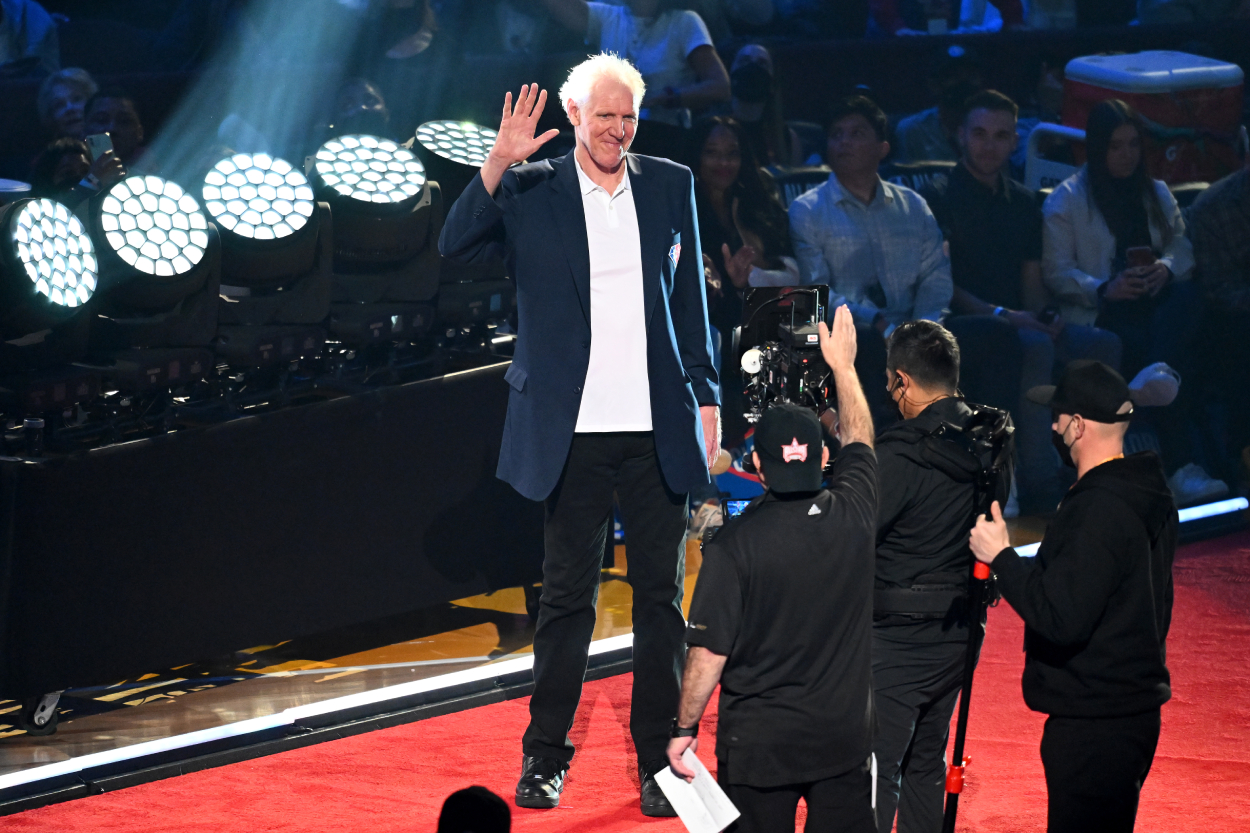 Bill Walton Gushed Over Nikola Jokic Like Only Bill Walton Can
Bill Walton heaped praise on Nikola Jokic the only way he knows how.
Bill Walton was surrounded by stars during NBA All-Star Weekend. Many of the league's 75th Anniversary Team were on hand to watch today's current group of stars do their thing in Cleveland.
During Saturday's practice before the game, Walton, one of those top 75 players, was seen laughing and joking with Denver Nuggets star Nikola Jokic. When asked about what he thought about the Nuggets' versatile center, Walton gushed over him in classic Bill Walton style.
Bill Walton always wears his heart on his sleeve
Walton is an emotional guy. When he's proud of something or he's impressed by someone, he'll lay it on thick. It's no act. It's genuine Bill Walton.
Walton's NBA career was marred by injuries after he averaged a double-double through the first four years with the Portland Trail Blazers. He missed three of the next four seasons, and the one season he played, he was limited to 14 games.
The 6-foot-11 center out of UCLA led the Blazers to a championship during the 1976-77 season when he led the league in rebounding (14.4) and blocks (3.2) while averaging 18.6 points. After that, his career was loaded with frustration.
Walton found a home in Boston during the 1985-86 season, but his role was completely different. He came off the bench to spell future Hall of Famers Robert Parish and Kevin McHale, yet he played a major role in Boston's third championship of the decade. When he reflects on that title, his teammates, ad the Boston fans, he beams with pride.
"Our fans would not ever let us quit," a giddy Walton told former Celtics forward Brian Scalabrine on a 2020 podcast. "What remarkable human beings in that Celtics Nation. Here we go Celtics, here we go.
"We had a great team, and we loved each other. We loved the way we played and we knew we could get the job done. We'll take our chances. We'll take our chances anywhere against anybody, anytime. We had it all. We had size, strength, power, finesse, skill, discipline, talent."
Bill Walton gushed about Denver Nuggets star Nikola Jokic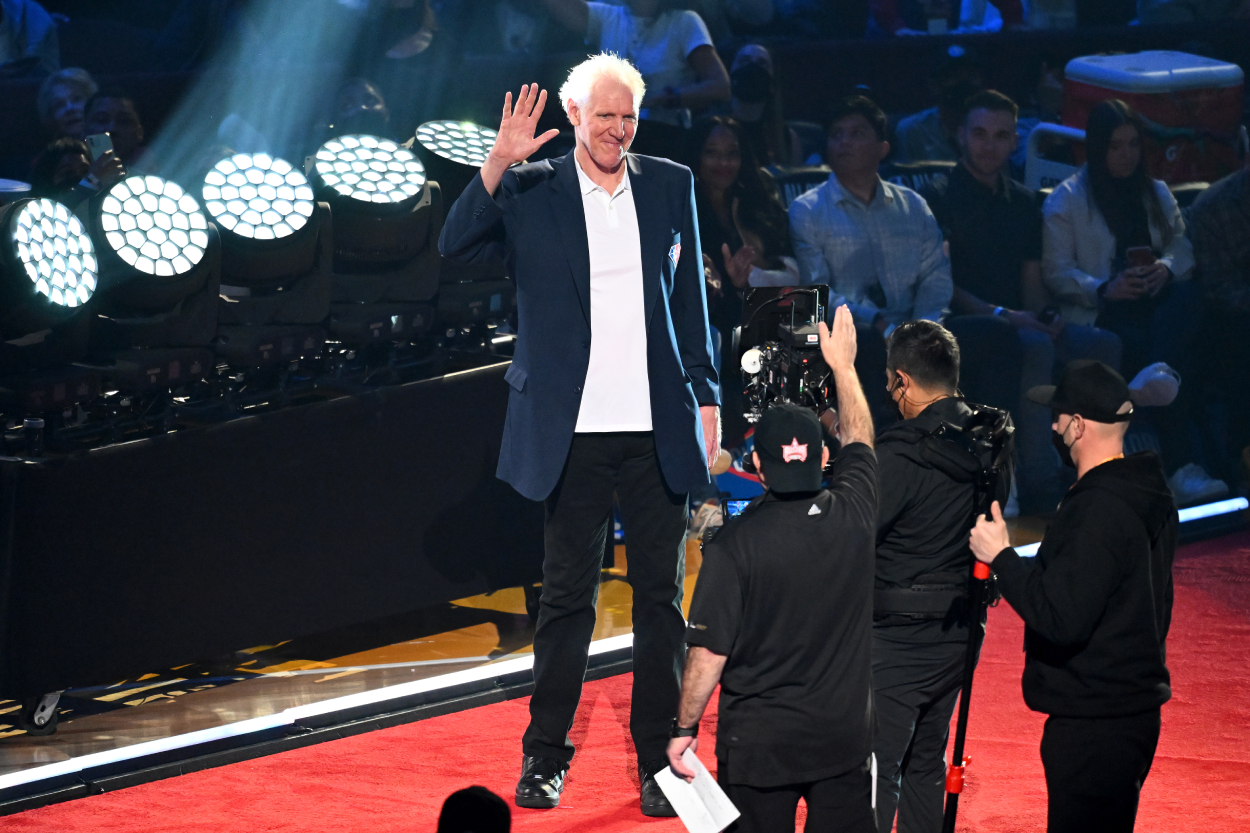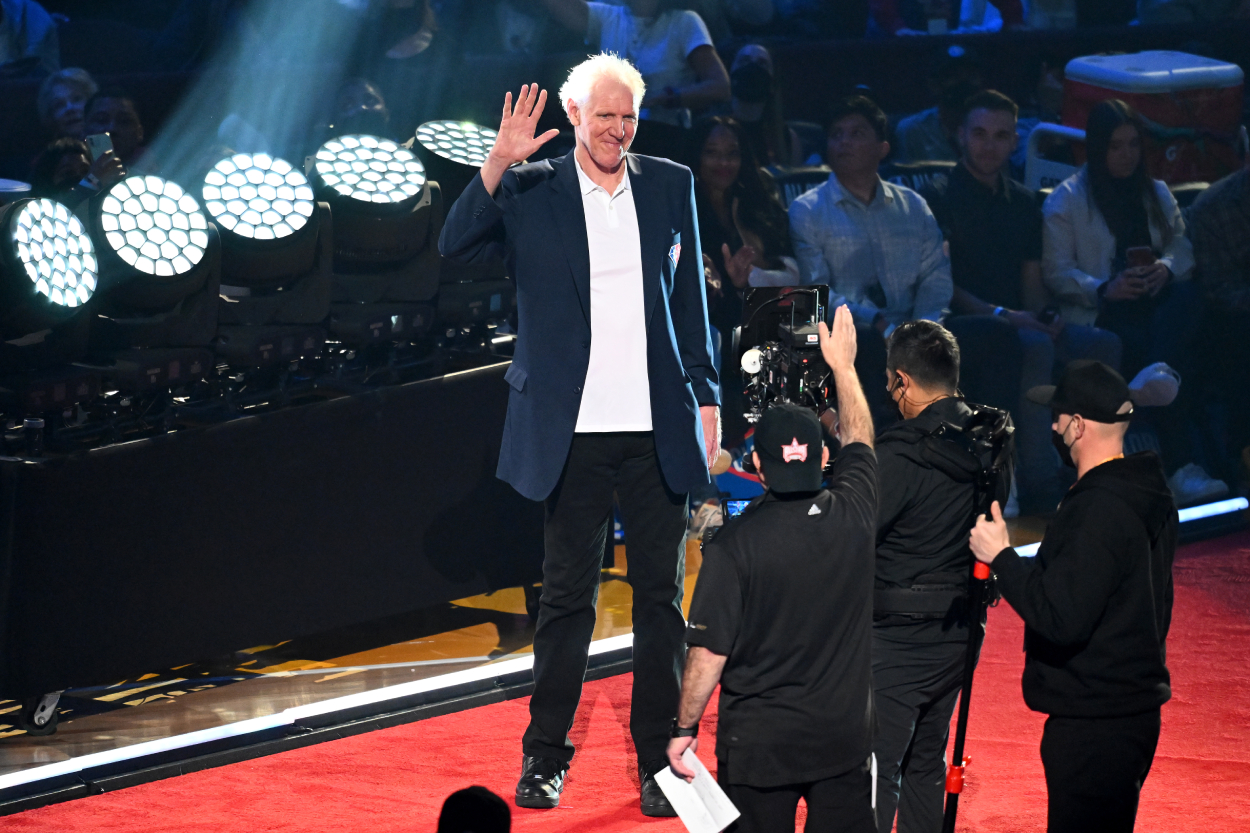 After Walton and the reigning MVP were seen joking around at Saturday's practice, reporters asked Walton what he thought of Jokic. Once again, Walton went all out in his description of the Nuggets All-Star.
"I just said how proud I am of him and how happy I am for him and what he's been able to do to create the life, to create the world, and to move our universe to a better place," Walton said, per Mike Singer of The Denver Post. "And the style, the grace, the elegance, the dignity, the class that he brings each and every day, and it's just a fresh ray of sunshine."
Walton wasn't done.
"I was thrilled to be able to say hello to him because I'm a huge fan, and I'm so grateful for the way he plays because it represents the best of the human spirit in terms of inclusion, in terms of opportunity, team, sacrifice, discipline," Walton said. "He's just really, really great. He is brilliant."
There was more.
"The imagination, he is a creative genius, and he sees things that other people don't see," Walton said. "His sense of timing and skill and position and balance and all the things that I love in life, he just represents it.
"It's a privilege for me to watch him play basketball. He is Colorado. He's a pioneer. He's an innovator. He is a creator of a new and better path to tomorrow."
This isn't the first time Walton went overboard in praising Jokic
Back on Oct. 25, 2018, the Nuggets traveled to Los Angeles to face the Lakers. Walton found some time in his busy schedule to attend the game and went out of his way to meet Jokic. According to Nick Kosmider of The Athletic, Walton went on the court during warmups and asked for a photo. It was Walton who was star-struck.
"He's a beautiful player who plays a mental game," Walton said. "He has what seems to have been lost in the world, which is peripheral vision. When you walk down the street in life, when you drive a car in life, when you ride a bike in the world on a street, it is staggering the lack of peripheral vision. But Nikola Jokic is the antidote to so many of our problems in the world."
Walton wasn't done.
"When you see someone like a Nelson Mandela or a Martin Luther King or a Mahatma Gandhi, someone who sees the future before anyone else does, knows how to get to where they need to be, where they want to be, that is Nikola Jokic," he said. "Happiness begins when selfishness ends. In a game that has been taken over by incessant dribbling for yourself, Nikola Jokic is such a breath of fresh air. And it's his imagination. Watching him play basketball is like watching Bob Dylan come up with a song."
There was more.
"When you watch Nikola Jokic play, you feel good about life," he said. "You feel good about the world. You believe that tomorrow is worth fighting for."
Walton is clearly a big fan of Jokic. He explained why as only he can.