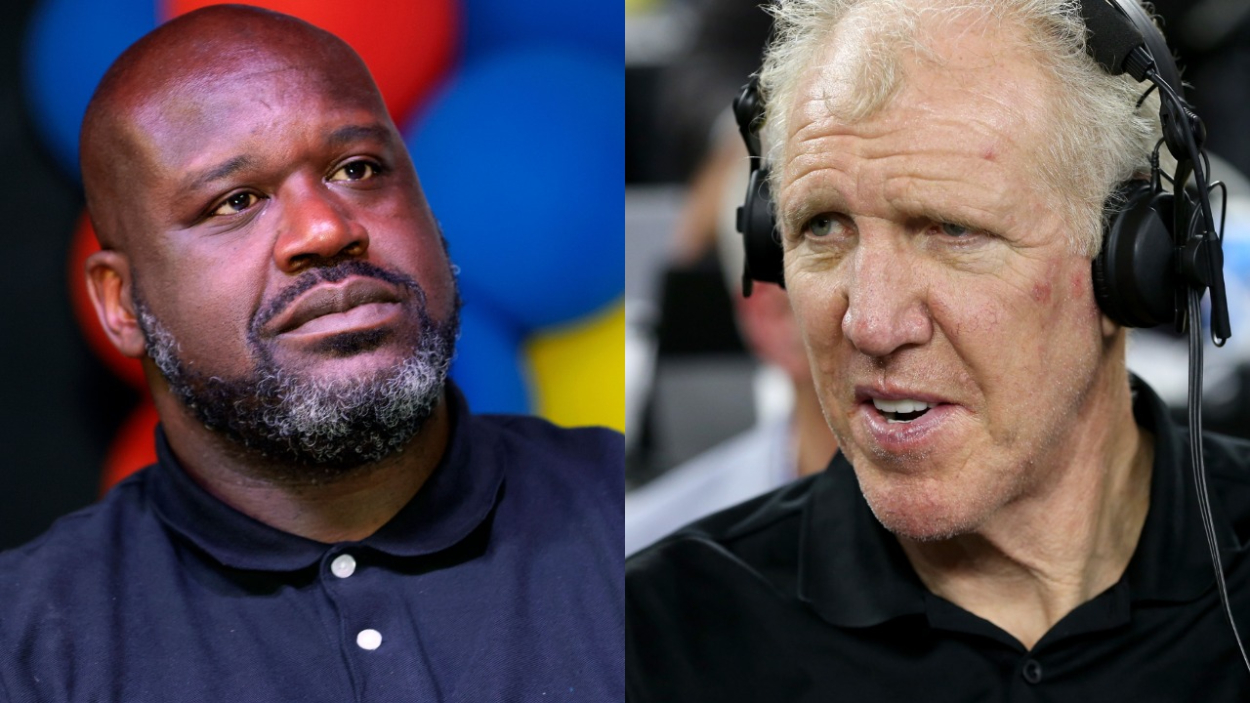 Shaquille O'Neal Questions Bill Walton's Spot on NBA's 75th Anniversary Team
Several players who deserved to be on the NBA's 75th Anniversary Team didn't receive the recognition. However, Shaquille O'Neal wonders if Bill Walton actually deserved the spot given to him.
The NBA released its 75th Anniversary Team this season, in which it revealed the 75 greatest players in league history. There were numerous stellar players on the list, but several legends were also snubbed, including guys like Klay Thompson, Kyrie Irving, Dwight Howard, and Tracy McGrady.
However, if you want those players to be on the team, you have to take others off it, and Shaquille O'Neal knows the perfect person: Bill Walton.
In a recent podcast appearance, O'Neal questioned Walton's spot among the NBA's 75 greatest players ever, and he gave McGrady his endorsement, specifically over his fellow big man.
Shaquille O'Neal and Tracy McGrady discussed the NBA's 75th Anniversary Team
Shaquille O'Neal became one of 76 players to earn a spot on the league's 75th-anniversary team (a tie resulted in 76 players instead of 75). Current and former players, coaches, executives, WNBA legends, and journalists helped pick the team.
However, Tracy McGrady, who earned seven All-Star selections and led the NBA in scoring twice throughout his career, was one of the notable snubs.
He recently discussed it on the Feb. 25 episode of The Big Podcast With Shaq.
"I definitely wasn't mad; I was shocked, I was definitely shocked," McGrady said before answering Shaq's question on which players who received spots didn't deserve it. "… Some of the guys that's playing in today's game, I think they could have been on whatever that next list is going to be, top 100 or whatever."
He continued: "I was shocked; I wasn't upset. At the end of the day, being top-75 will never trump being a Hall of Famer."
So, who is someone the voters could have left off the team in favor of McGrady?
Shaq knows a guy.
Shaq questioned Bill Walton's spot on the NBA's 75th Anniversary Team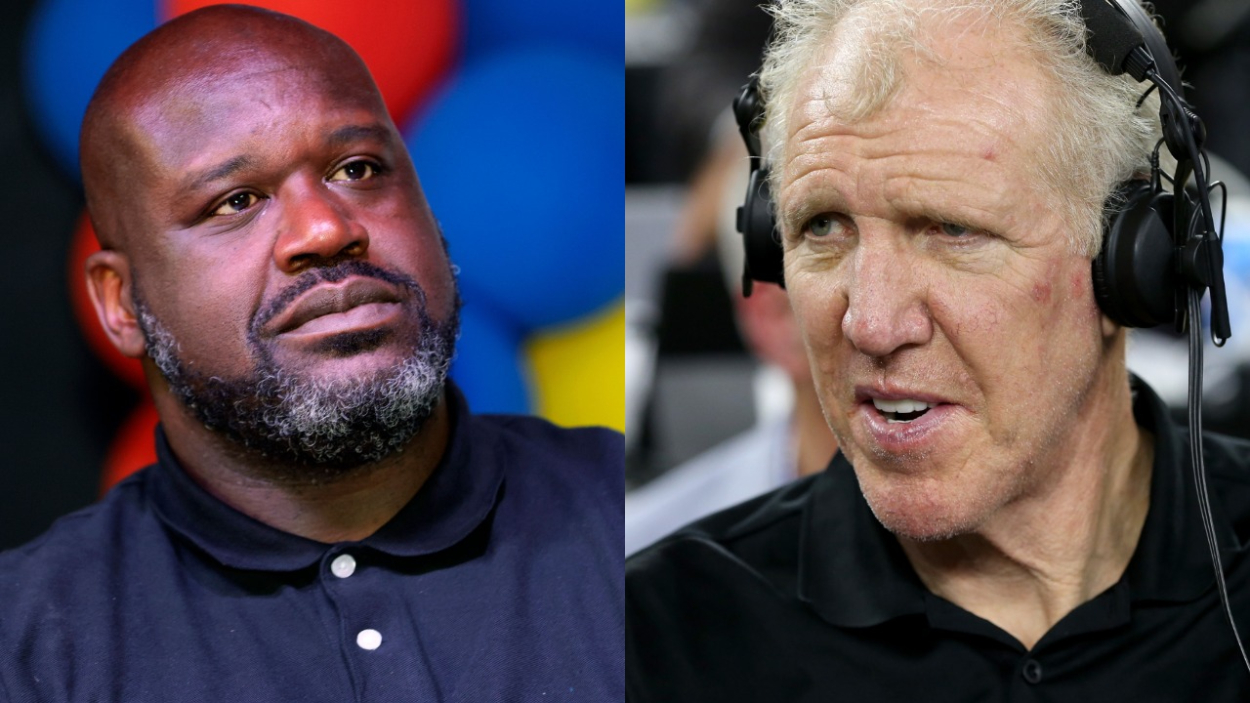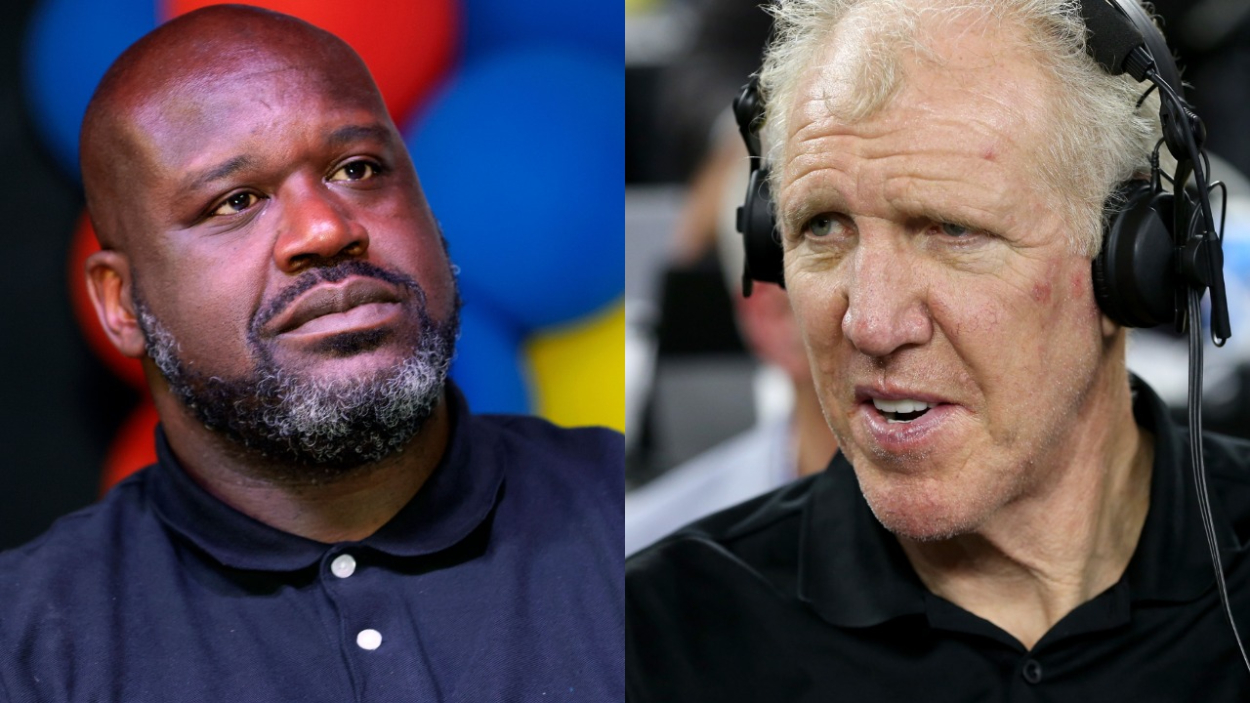 While discussing the team with McGrady, Shaq made sure to throw some shade at Hall of Famer Bill Walton, who he has had beef with in the past.
"You know who I've always had a problem with? Bill Walton," O'Neal said. "Why he only got 6,000 points in the NBA? Like, really?"
McGrady agreed, saying, "I think a lot of people have a problem with that." And Shaq's co-star on his podcast, Entertainment Tonight host Nischelle Turner, took O'Neal's remark a step further.
"If you're gonna pick Bill Walton and Tracy McGrady, it's Tracy McGrady eight days a week, all day every day," she said.
And Shaq, almost in unison, also said, "All day every day."
So, numerous people seem to have a problem with Bill Walton being on the NBA's 75th Anniversary Team. But are their arguments valid?
Comparing Bill Walton and Tracy McGrady
From the surface, it looks like Bill Walton has a better resume than Tracy McGrady.
He's a two-time NBA champion and former Finals MVP. Walton also won a league MVP award and was the 1985-86 Sixth Man of the Year.
McGrady? He didn't win championships or MVPs, but he did win the 2000-01 Most Improved Player Award.
However, upon closer examination, T-Mac has a much better resume.
Walton only earned two All-Star selections in his career, while McGrady earned seven. The former also only averaged 13.3 points during his years in the NBA, while McGrady averaged 19.6.
Here's a look at some of their other stats.
Total points: Bill Walton – 6,215; Tracy McGrady – 18,381
Total rebounds: Bill Walton – 4,923; Tracy McGrady – 5,276
Total assists: Bill Walton – 1,590; Tracy McGrady 4,161
Career averages: Bill Walton – 13.3 points, 10.5 rebounds, and 3.4 assists; Tracy McGrady: 19.6 points, 5.6 rebounds, and 4.4 assists
McGrady's total numbers are skewed a bit compared to Walton's because he played in almost twice as many games as Bill, who dealt with numerous injuries throughout his career. T-Mac played in 938, while Walton only appeared in 468.
However, longevity and durability should mean something, and Walton's prime only lasted three seasons.
All in all, numerous players likely deserved a spot on the NBA's 75th Anniversary Team. But Shaq might have a point when questioning Walton's status as one of the greatest players of all time.
Stats courtesy of Basketball Reference