Boston Celtics: Does Jaylen Brown Hold a Grudge Against Stephen Curry? Cedric Maxwell Believes So
Former Boston Celtics star Cedric Maxwell believes Jaylen Brown holds a grudge against Stephen Curry.
Boston Celtics star Jaylen Brown doesn't forget. At least that's what former Celtics player Cedric Maxwell believes.
Maxwell recently gave his unfiltered thoughts on the 2022 NBA Finals between his former team and the Golden State Warriors. First, Max said the Celtics "absolutely" can beat the Warriors because Golden State has a lot of "tuxedo players" who don't want to play physical basketball.
Then he said he believes Brown is holding a grudge with Warriors star Stephen Curry. He said it all went down a couple of years ago but remains fresh in Brown's memory.
Can Jaylen Brown and the Boston Celtics take a commanding lead over the Golden State Warriors?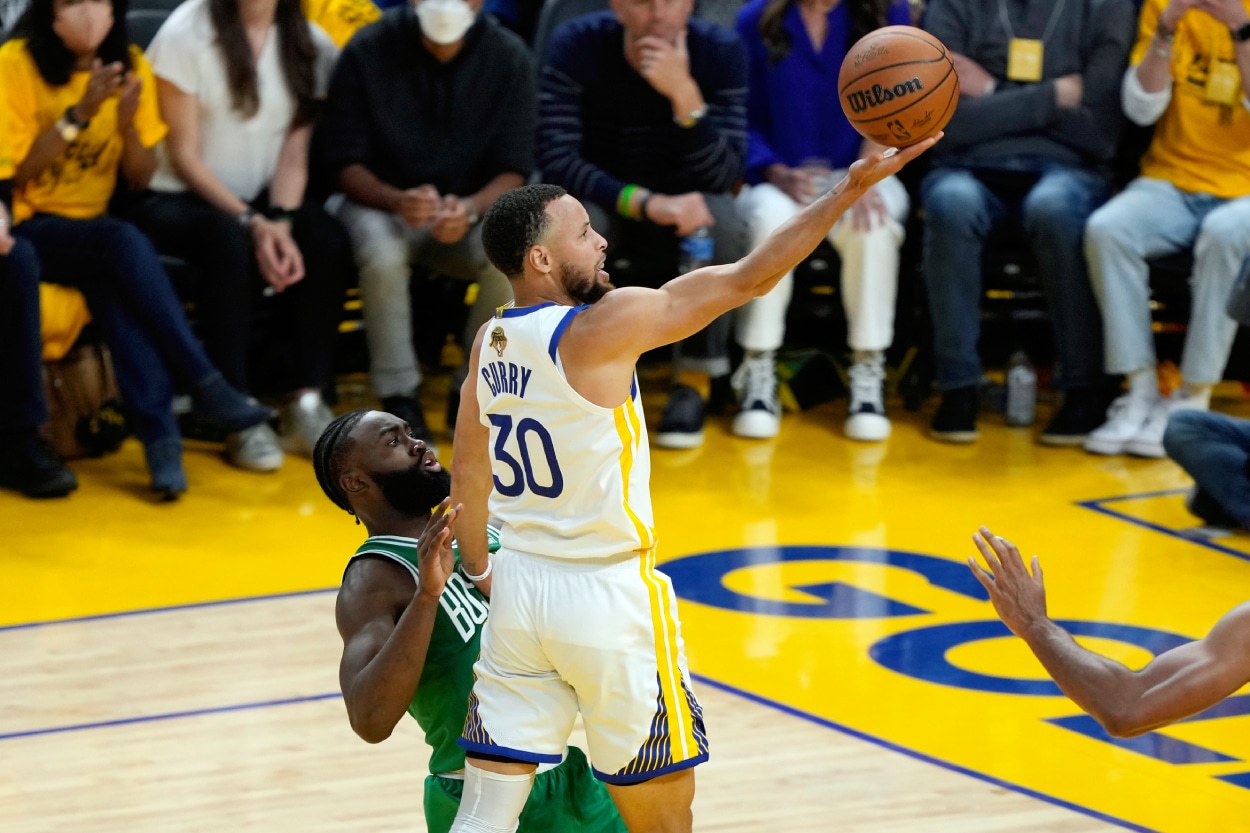 If there was ever a see-saw battle in the NBA Finals, Game 1 between the Celtics and Warriors was it. It was a game of runs, and Boston's final one allowed the Celtics to steal homecourt advantage from the Warriors.
After the Celtics rallied in the second quarter to claim a two-point halftime lead, the Warriors took over. Golden State put up 38 points in the third quarter and took a 12-point lead into the fourth quarter. Not to be outdone, the Celtics racked up 40 points in the final period, outscoring the Warriors by 24 points. Boston claimed the series opener 120-108.
Al Horford led the Celtics with 26 points. Brown finished with 24, and Derrick White had 21.
"I felt like the guys kept finding me time after time," Horford said, per ESPN. "Also, Derrick White hit some tough shots there, too," Horford said. "I was just getting the looks, knocking them down. That's that."
Despite the fourth-quarter collapse, Curry believes his team will bounce right back.
"It's not ideal but I believe in who we are and how we deal with adversity, how we responded all year, how we respond in the playoffs after a loss," Curry said. "So learn a lot from that fourth quarter, obviously they made a lot of shots. It seemed like they didn't miss 'til deep into the fourth.
"When you have a team that just finds a little bit of momentum like they did and they keep making shots, it's tough to kind of regain that momentum."
The Celtics did what they needed to do by grabbing a road win. They'll look to take a commanding 2-0 series lead on Sunday before heading back to TD Garden for a pair of home games.
Does Brown hold a grudge against Curry? Cedric Maxwell thinks so
Maxwell, who played eight years with the Boston Celtics and now does radio work for the team, gave his thoughts on the series. Before Game 1, he said he believes the Celtics can beat the Warriors because they are more physical. Maxwell called the Warriors "tuxedo players," saying they shied away from contact.
"I love this opportunity the Celtics have because (the Warriors) are tuxedo players," Maxwell said. "(The Warriors) don't want to be touched. They want to play a clean, smooth basketball game, very much like this team I played against — the Los Angeles Lakers in '84. They didn't want to be touched, and they wanted to play with finesse, showtime."
Maxwell then said he believes Brown might be holding a grudge against Curry.
"I hope they find this little thing where Steph Curry mocked Jaylen Brown about two or three years ago," Maxwell said. "He shot a jump shot on him and started pointing in his face.
"They didn't give him any kind of technical or anything. Will that come back and bite him in the behind? I think Brown still has a grudge with that."
The Celtics don't need any additional motivation. They are a team that's dealt with adversity all season long. Boston is three wins from winning what would be a league-record 18th championship banner. That's enough motivation for these guys.
Like Sportscasting on Facebook. Follow us on Twitter @sportscasting19 and subscribe to our YouTube channel.