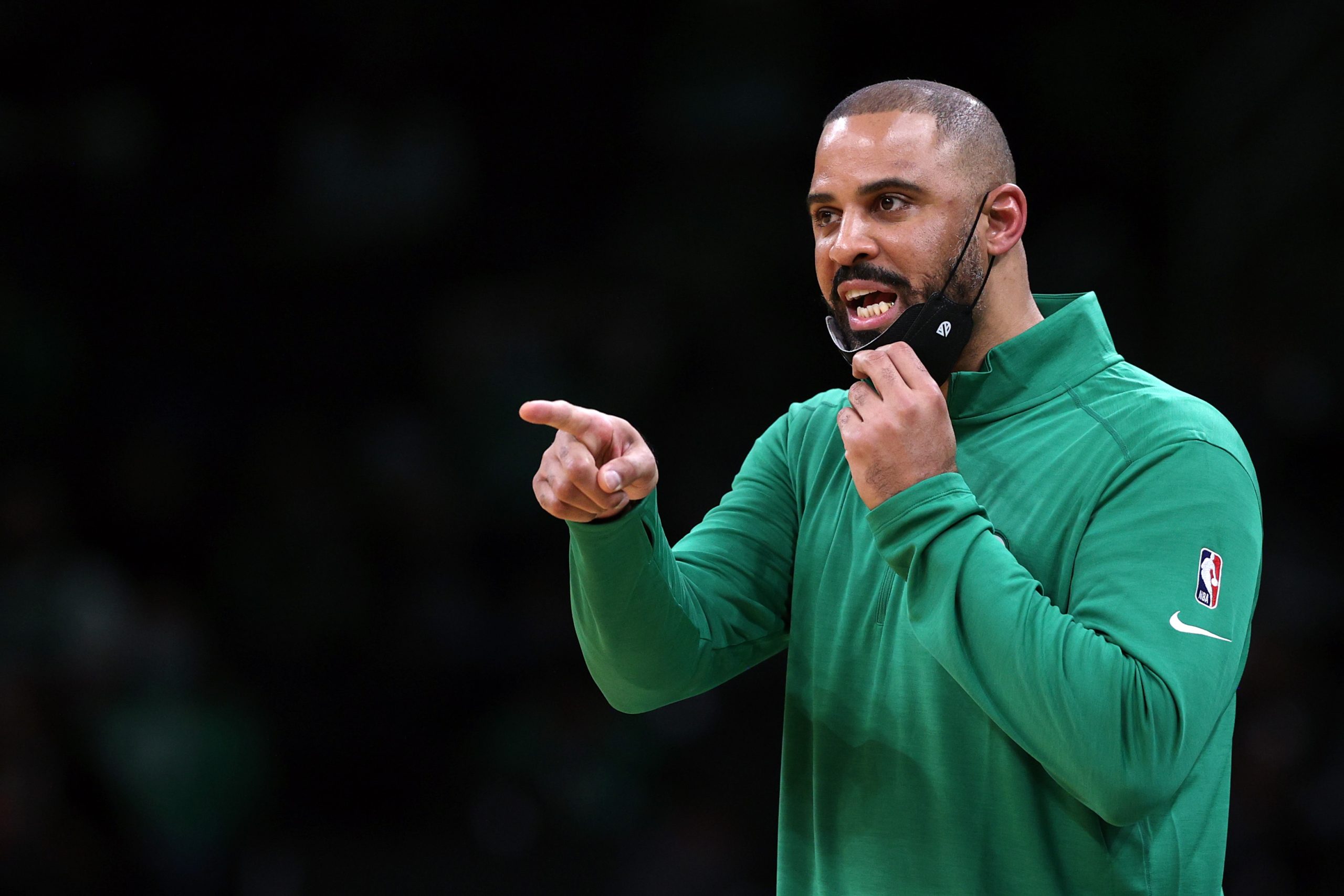 Boston Celtics New Coach Ime Udoka Explains Surprising Choice for 5th Starter in Preseason Opener
Celtics coach Ime Udoka explains the surprising choice for his team's fifth starter in Monday's preseason opener.
It's been an offseason of change for the Boston Celtics. Gone is Danny Ainge, the former president of basketball operations. Brad Stevens moved out of the coaching box and into Ainge's front-office slot. Ime Udoka has come in from the Brooklyn Nets to take over for Brad Stevens.
Kemba Walker is also gone. Al Horford has returned. Jayson Tatum, Jaylen Brown, Marcus Smart, and Robert Williams are four definite starters. In Monday's preseason opener against the Orlando Magic, Udoka had a surprising choice for his fifth one.
The Boston Celtics weren't sharp but pulled out a win over the Orlando Magic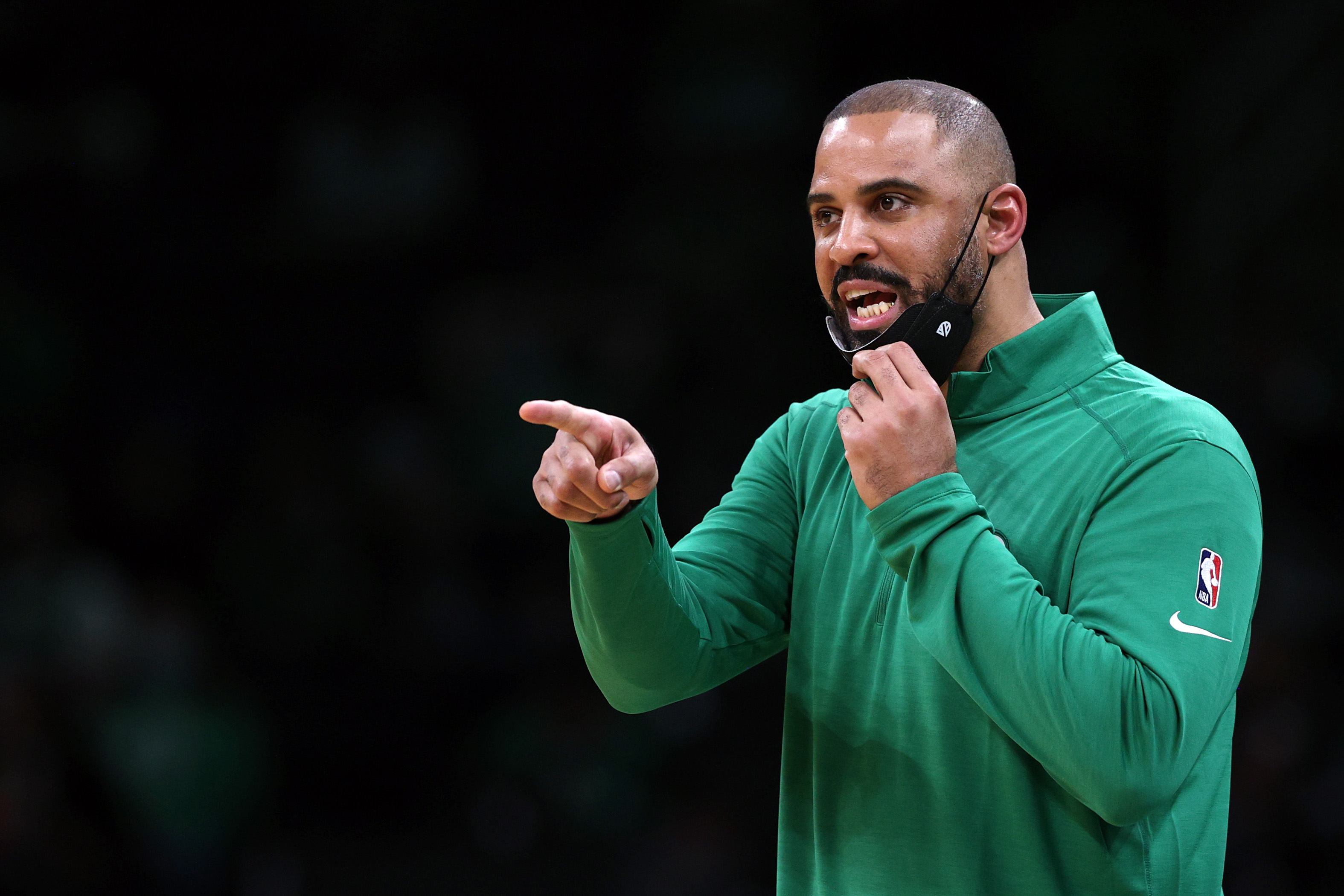 Udoka knew what it was like playing at TD Garden as an opponent. Last year, he was an assistant with the Nets and saw the hostile crowd first half in Game 4 of the opening round of the playoffs. That was when full-capacity seating was allowed for the first time during the 2020-21 season. With former Celtics guard Kyrie Irving on the Nets, the crowd was tough on him and the Nets.
Udoka was excited to see what it would be like on the other side.
"It's probably the most excited I've ever been for a preseason game. I can say that," Udoka said Monday, according to The Boston Herald.  "The fact that the fans are back is a big thing. Last year in our Brooklyn series was the first time they had fans in the building here and you could feel the excitement. 
"So although it's just a preseason game for us, we do have new coaching staff, new personnel, and we want to kind of get that jelling pretty quickly with only four games to play. So it's a good vibe. We're happy to get to playing against someone else, some different coverages than what we've been seeing in training camp."
The Celtics shot just 35% from the floor in the opener. Romeo Langford drained a 3-pointer with 13 seconds left to give the Celtics a 98-97 victory in Udoka's coaching debut.
Ime Udoka explains his surprising choice for the Boston Celtics fifth starter
When the Celtics took the court Monday against the Magic, newcomer Juancho Hernangomez joined Brown, Tatum, Smart, and Williams in the starting unit. Although it was only the first preseason game, it was interesting to see Hernangomez, a 6-foot-9 forward acquired in a trade with the Memphis Grizzlies, get the nod.
Udoka had many options, including Horford or Grant Williams, if he wanted to go with size. He also could have used Aaron Nesmith or Josh Richardson. The coach settled on Hernangomez and said it was more experimental than anything.
"Juancho's a guy that fits into that role with some of the younger wings we have as well as Grant Williams," Udoka said before the game, according to Mass Live. "So, as I mentioned the other day, we'll tinker with some lineups and look at different combinations."
Hernangomez, who played last with the Minnesota Timberwolves, played 17 minutes and finished with six points and four rebounds. In August, he was traded to the Grizzlies in a deal for Patrick Beverley. Three weeks later, he was on the move again, winding up in Boston.
Udoka praised Horford and suggested he may wind up as that fifth starter
Horford returned to Boston this season after playing with the Celtics from 2016-2019. He signed a free-agent deal with the Philadelphia 76ers and then was traded to the Oklahoma City Thunder. The Celtics brought him back to Boston this offseason in a trade for Kemba Walker.
Udoka said they already know what they have in Horford, who could be in the starting role when the regular season rolls around.
"Al has done what he's done all preseason since he came back," Udoka said, per Mass Live. "In open gym, he looks great. He's a steady force for those guys out there. Al can do a lot of things out there, so we know who we have now and we're going to tinker with some more of the lineups. But like I said, don't read too much into who we start and who we're playing. We know what we have in Al with that group."
Udoka is still learning and is expected to experiment with various rotations as the team gets familiar with one another. It looks like that season of change in Boston is continuing and likely will stay that way throughout the season.