The Boston Celtics Hope to Learn From the Philadelphia 76ers Mistakes With an Excited Al Horford
Al Horford made it clear he's happy to be back with the Boston Celtics. Now the Celtics hope they can turn him back into the Horford of old. First-year Celtics coach Ime Udoka believes Horford will be a major piece of the offense. He'll use the mistakes of the Philadelphia 76ers to better utilize Boston's big man.
Al Horford excited to be back with the Boston Celtics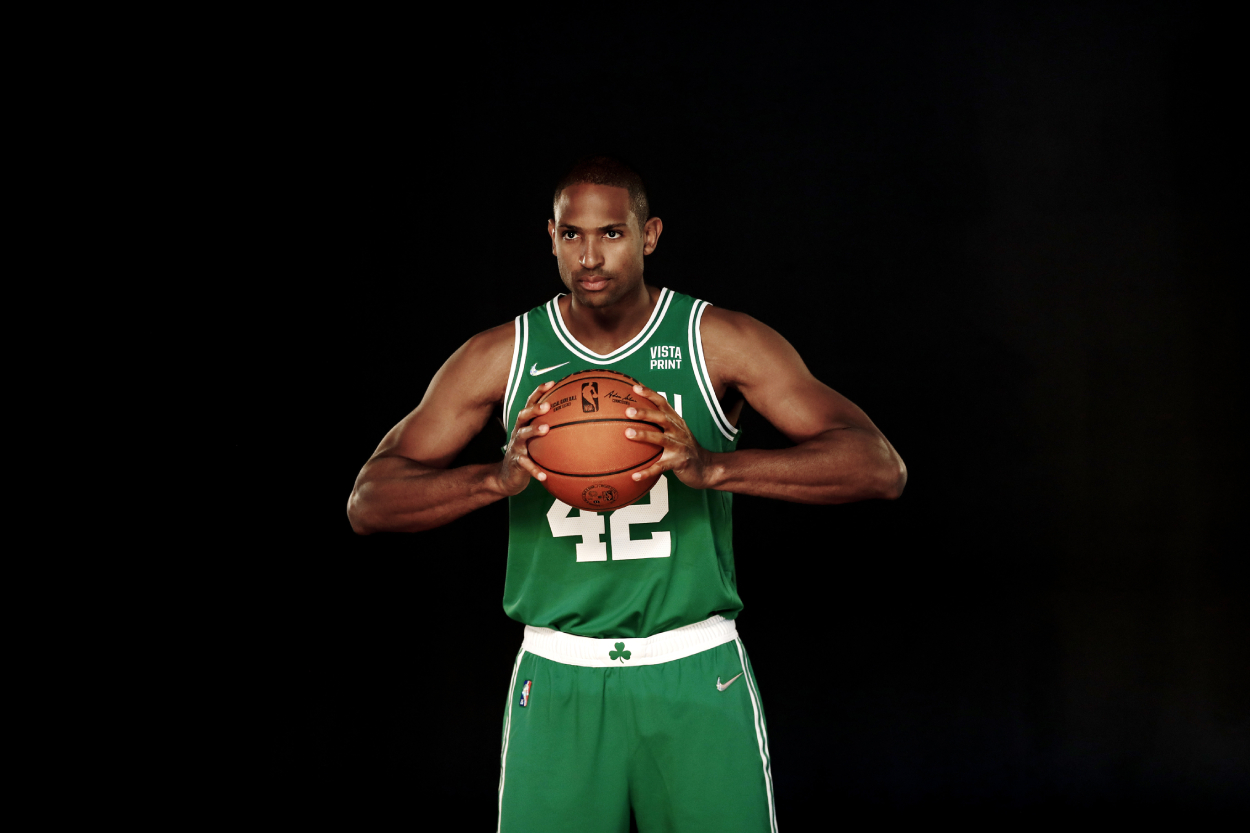 Horford spent three seasons with the Celtics, and the team was hoping to bring him back after his contract ran out. Three hours into free agency, however, the 6-foot-9 center delivered a blow to the Celtics when he signed with the rival Sixers. Philadelphia inked Horford to a four-year deal worth over $100 million. It never worked out in Philly.
In his only season with the Sixers, Horford averaged 11.9 points and 6.8 rebounds in 67 regular-season games. He became a salary dump when Philadelphia traded him to the Oklahoma City Thunder in December 2020. With Oklahoma City, he played just 28 games. The team shelved him for the remainder of the season in order to develop their younger players.
During this offseason, the Celtics traded disgruntled Kemba Walker to Oklahoma City in exchange for Horford. Horford is thrilled to be back in Boston, a city that embraced him during his three years with the team.
"For me, it's a bigger appreciation of knowing where I'm at," he said during Media Day on Monday, per CLNS. "I was always very grateful to be here, but I think that now, even more, I'm just happy to be here and to understand what we have here. I'm just happy to be back here."
The Boston Celtics will learn from the Philadelphia 76ers mistake on how to better use Al Horford
Since Horford left Boston, he hasn't been a major factor in the NBA. Udoka said he will learn from the mistakes the Sixers made with Horford to make him a big part of the offense. Udoka was an assistant coach with the Sixers in Horford's only year in Philly.
Udoka expects Horford to be a big part of the offense, even suggesting the offense may run through him. The plan for the Celtics is to have him take advantage of mismatches.
"He's a big that can handle the ball, pass the ball as well as shoot it," Udoka said during the team's media session. "We can initiate offense through him in a lot of different areas on the court from the high post to the elbows or down in the post in general.
"Some of the things I mentioned in Philadelphia were teams putting their big on Joel (Embiid) and two-guards on him at times, and we didn't always take advantage of that. I told him to be who he is. He got back to that somewhat in Oklahoma City last year, and we're looking to take advantage of that.
"Teams want to put a small on him or something like that, we'll definitely try to make them pay more often."
Horford said sitting out last year with Oklahoma City was difficult
Last season was a frustrating one for Horford. Playing just 28 games when he was more than capable of being on the court was difficult to swallow. He averaged 14.2 points and 6.7 rebounds per game but never saw the court for much of the season because he wasn't in the Thunder's future plans.
He didn't whine or sulk. Instead, he made the best of it.
"Sitting out last year, it was tough," Horford said. "You always want to be out there and you always want to play. What I did was I just took that time to really focus on working on my body, making sure that I was taking steps to be in the best position that I could.
"One of the things about the Thunder organization with (GM) Sam Presti and the owner Mr. (Clay) Bennett, they were great with me. They knew how I felt about having the chance to play back here. Nothing's ever guaranteed, but I was happy they were able to work it out and bring me back here."
RELATED: Brad Stevens Reveals Early Transition to Celtics' Front Office Was 'Like Drinking From a Fire Hose'