Boston Celtics Rookie Dee Brown Pumped Up His Shoes and the Crowd for an Unexpected Slam Dunk Contest Victory in '91
Dee Brown was the young gun on an aging Boston Celtics team during the 1990-91 NBA season. The Celtics took the Jacksonville guard with the 19th overall pick in the 1990 NBA Draft. Brown was supposed to be part of the next wave of Celtics stars as Larry Bird, Kevin McHale, and Robert Parish got older and became more fragile.
Brown played eight seasons in Boston, averaging 11.6 points and 4.0 assists. He never became the next great Celtics star, but he made one heck of an impact as a rookie during the 1991 NBA Slam Dunk Contest.
Dee Brown made a name for himself at the 1991 Slam Dunk Contest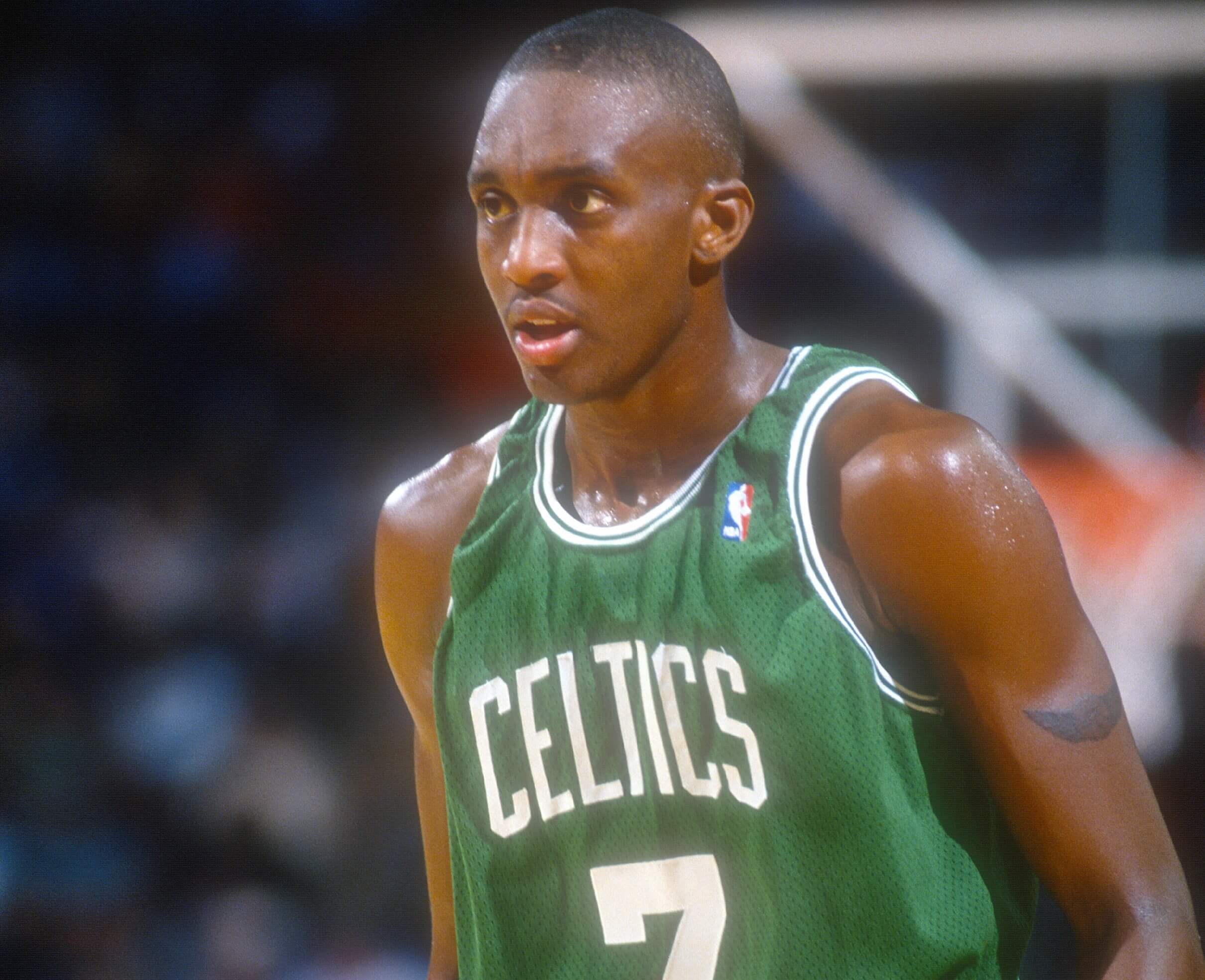 Brown was going up against some heavy hitters in the 1991 NBA Slam Dunk Contest. Seattle SuperSonics star Shawn Kemp was the favorite heading into the event, but Brown also faced stiff competition from Rex Chapman and fellow rookie Kendall Gill, among others. In all, eight players took part in the three-round contest.
Outside of Boston, Brown was relatively unknown. Kemp was the big draw.
"Before we got going, I remember sitting in the stands with Shawn Kemp where all the contestants were," Brown told Chad Finn of Boston.com in 2016. "Fans were coming over, and everyone was asking for autographs. Some knew who I was because they were Celtics fans.
"I remember this one guy came over and said, 'Shawn, I think you're going to win the contest. Who's that next to you, is that your little brother?' That motivated me inside. I didn't say anything. It was funny. But I thought to myself, these guys have no clue what I can do.''
Brown pumped up the fans with some help from his sneakers
Brown played the Charlotte crowd all night, using his Reebok Pump sneakers to pump up the fans. Before his dunks, Brown bent down and pumped up the tongue of his shoes before liftoff. He wowed the crowd with his antics and met Kemp in the championship round.
He opened the final round with a two-ball dunk and followed with a 360 jam that eliminated Kemp with a dunk to spare. His final dunk took place with his eyes closed and his arm covering his eyes to prove it.
"I pulled that out on the spot," Brown told Finn. "Never practiced it. I was sitting over there thinking about what I might do, and I thought about closing my eyes. But I realized no one in the crowd would be able to tell that I was doing that. I was still thinking about it when I had to go.
"It was weird, but I'm running, and as soon as I started jump, I closed my eyes … then put my hand over my eyes … and then I just kept going until my forearm was over my eyes. It was a progression. I took off from a long way, outside the dot, I knew I was either going to make the dunk, or I was going to bounce off the side of the backboard — not the ball, me.''
Brown admitted the pumping of the shoes was also not planned.
"The pumped-up shoes, that was spontaneous. Reebok didn't tell me to do that. I had a contract with them already. I didn't know it was going to elevate the shoe wars between Nike and Reebok. I was just trying to get the crowd on my side."

Dee Brown
Gill said Brown's pump-up ploy worked off the court as well.
"I can't tell you how many people wanted to buy those shoes after he did that," Gill said, per Boston.com. "I was with Nike at the time, and even my brothers wanted Reebok instead of Nike because he did that.''