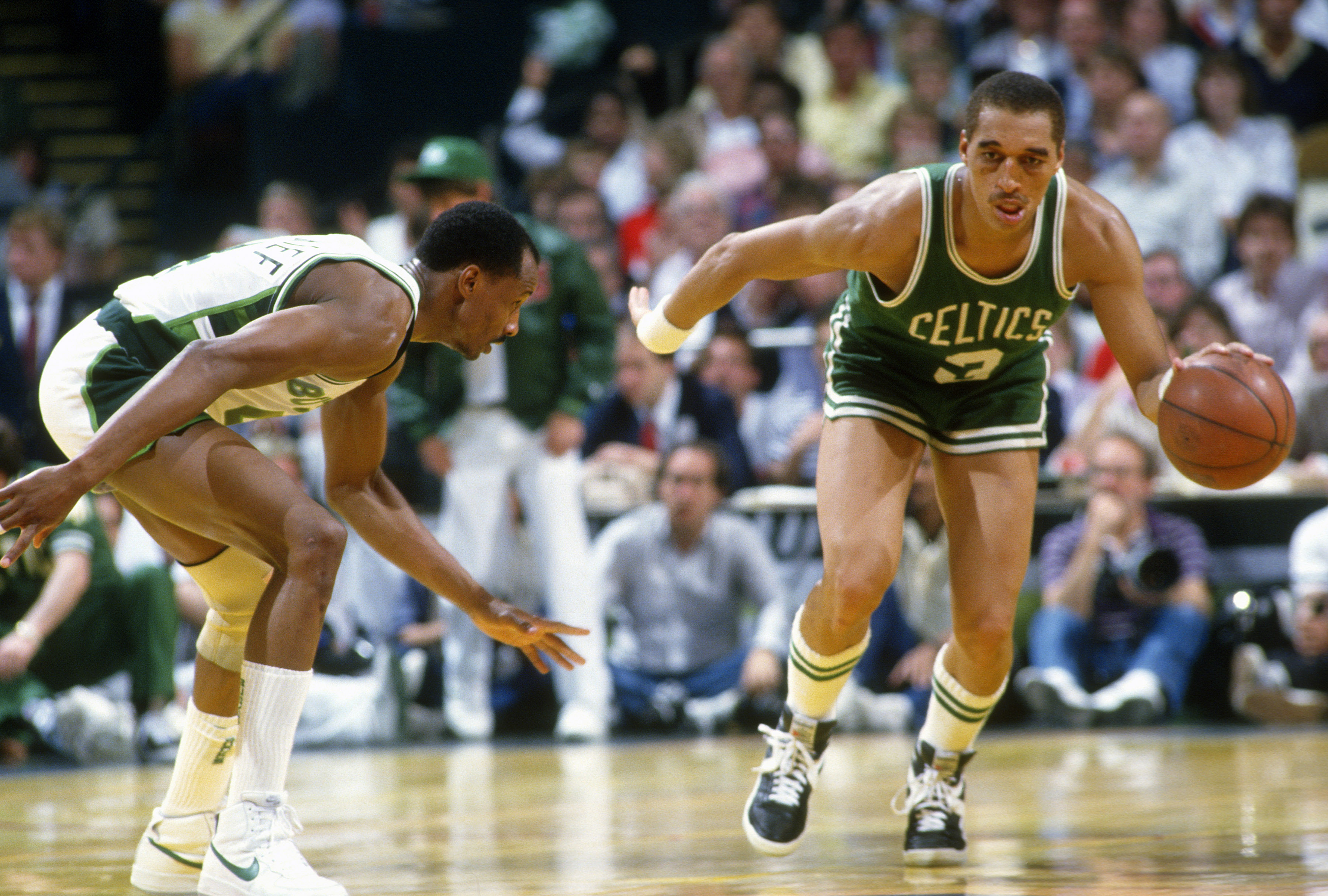 Boston Celtics: The 5 Most Underrated Players in History
While Dennis Johnson's No. 3 is retired by the Boston Celtics, he still doesn't get the credit he deserves.
To be clear, this is a list of established Boston Celtics players who were much more than one-hit wonders. While a player like James Posey made his mark in Boston during the team's 2008 championship, he played just 74 regular-season games as a member of the Celtics. That's not what this list is about. In fact, all but one of the five players on this team's list of most underrated players have their jersey number retired.
This is a collection of the top five Celtics players of all time who had well-established careers in Boston. Although these five certainly are recognized for what they did, they still fall into the underappreciated category. Here's a list of the top five Celtics players who deserve even more credit than they get.
No. 5: Cedric Maxwell was a Celtics star before the Big Three came along
Cedric Maxwell was known for more than telling his team to jump on his back during Game 7 of the 1984 NBA Finals. While he led the Celtics in scoring that game with 24 points in a title-clinching 111-102 victory, Maxwell's Boston legacy began well before that.
Selected by the Celtics in the first round of the 1977 NBA Draft (No. 12 overall) out of UNC Charlotte, Maxwell played 16.8 minutes in his rookie year but put up 7.8 points and 5.8 rebounds. In his first full year as a starter in the 1978-79 season, Maxwell averaged 19.0 points and 9.9 rebounds.
The following season, Larry Bird joined the team. While all the attention was on the hyped-up rookie from Indiana State, Maxwell quietly averaged 16.9 points and 8.8 rebounds. At the 1980 NBA Draft, Red Auerbach swung a deal with the Golden State Warriors that brought in Robert Parish and Kevin McHale, forming a Big Three, which should have been labeled as a Big Four, with Max included.
Boston went on to win its first title of the decade, knocking off the Houston Rockets in the 1981 NBA Finals. Maxwell was named the MVP of the series. While Bird, McHale, and Parish got most of the credit for Boston's run in the 1980s, Maxwell proved he could play with the big boys.
No. 4: Bill Sharman was overshadowed by Celtics stars Bill Russell, Bob Cousy, and Tommy Heinsohn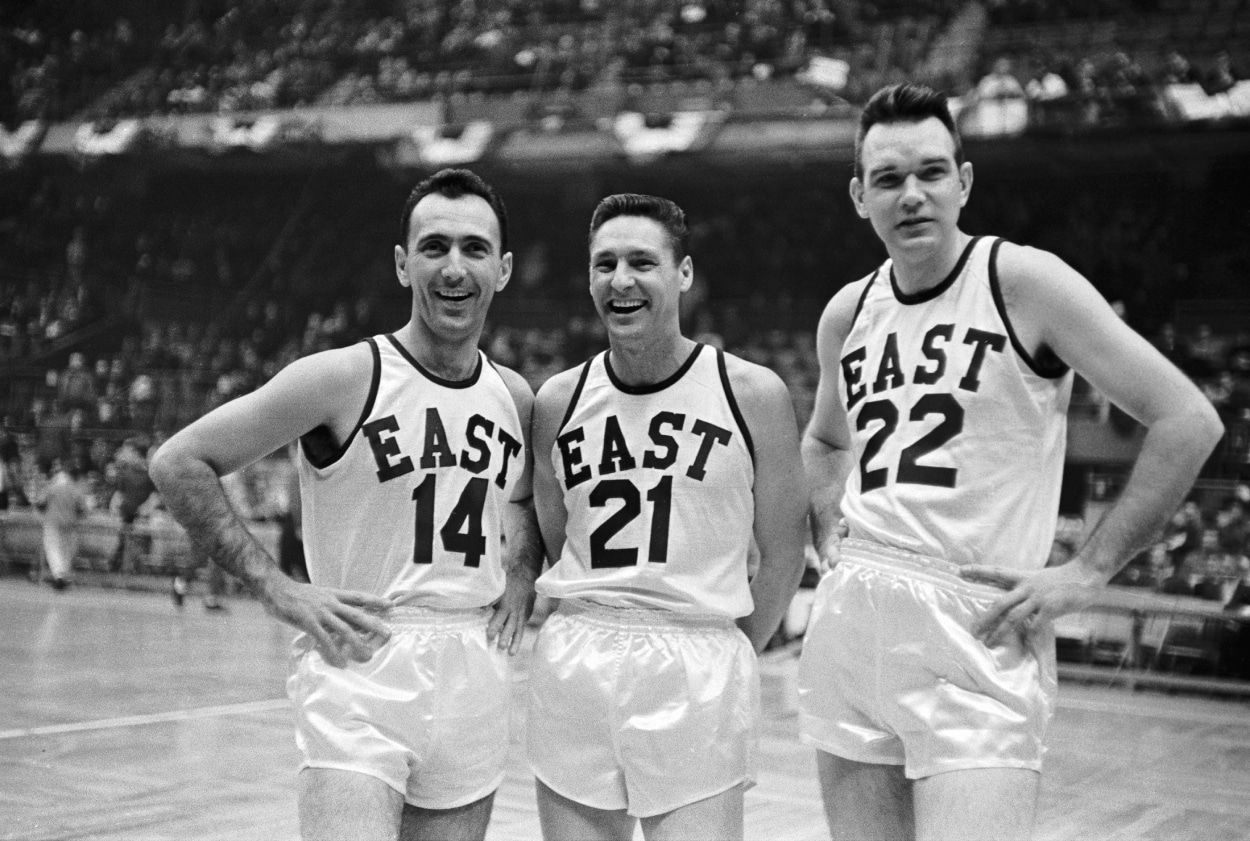 Bill Sharman is a member of the Naismith Memorial Basketball Hall of Fame, inducted as a player in 1976. He was also inducted as a coach in 2004. Sharman played 11 seasons in the NBA, all with the Celtics. He was an eight-time NBA All-Star and a four-time champion.
While the Celtics began their dynasty by winning the first of their 11 championships in 13 seasons in 1957, it was Bill Russell, Bob Cousy, and Tommy Heinsohn, who got most of the ink, and rightfully so.
Sharman, the 6-foot-1 shooting guard out of USC, quietly did his thing. His numbers spoke for themselves. He averaged 17.8 points in his career. His best statistical season came during the 1957-58 season when he put up 22.3 points and guided Boston to the championship round, where they lost to the St. Louis Hawks.
Sharman may have been the best free-throw shooter in his day. He led the league in free-throw percentage seven times, including five straight seasons. His career free-throw percentage is 88.3%.
No 3: Rajon Rondo made the 2008 Celtics championship team go
The Celtics struggled mightily in the 2006-07 season, finishing in last place in the Atlantic Division with a 24-58 record. That came after Boston went 33-49 the previous season. Danny Ainge, the team's former president of basketball operations, had enough.
He brought in Kevin Garnett and Ray Allen in two separate trades. Garnett, Allen, and Paul Pierce formed Boston's first Big Three since Bird, McHale, and Parish. In their first year together, they went 66-16 and defeated the rival Los Angeles Lakers in the 2008 NBA Finals for their first championship since 1986.
While Garnett, Allen, and Pierce drew most of the attention, it was point guard Rajon Rondo who made the team go. Rondo was in his second year in the NBA. During that championship season, Rondo averaged 10.6 points, 5.1 assists, and 4.2 rebounds. He also shot 49.2% from the floor while running the show.
Rondo played nine seasons in Boston. He had a knack for coming up big when the games counted most, earning the nickname "Playoff Rondo." Twice, he led the NBA in assists when he was with the Celtics. He made four straight NBA All-Star appearances and was a four-time All-Defensive Team member.
No. 2: Dennis Johnson was the missing piece to the Celtics puzzle
After the Celtics won their title in 1981, they lost to the Philadelphia 76ers in the conference finals in 1982 and then fell in the conference semis to the Bucks in '83. Boston took a chance on Dennis Johnson, who had worn out his welcome in both Seattle and Phoenix with his attitude.
That all changed when he arrived in Boston. Not only did he check his attitude at the door, but he also played a major role in helping the Celtics knock off the Lakers for the 1984 NBA title.
For most of the series, the Lakers dominated. A Gerald Henderson steal in Game 2 prevented the Celtics from being down 3-0 in the series. Johnson struggled offensively early in the series. In Game 4, head coach K.C. Jones decided to have Johnson guard Magic Johnson. That made all the difference.
With DJ's focus on stopping Magic, he didn't overthink his offensive game. In the final four games of the seven-game series, Johnson scored 22, 22, 20, and 22 points.
For his Boston career, Johnson averaged 12.6 points and 6.4 assists but made his mark on defense.
No.1: Dave Cowens played much bigger than he was
Dave Cowens has the accolades. He's a Naismith Memorial Basketball Hall of Famer. His No. 18 jersey is in the rafters of TD Garden, and he was an eight-time NBA All-Star.
Cowens was a 6-foot-9 center. He played against the giants. While he wasn't as big and strong as those seven-footers, he was much quicker and used that to his advantage.
"One of my great pleasures was watching him wear down the Bob Laniers, Lew Alcindors (Kareem Abdul-Jabbar)," former Celtics reporter Bob Ryan said, per The Athletic. "He would just run, run, run, run, and by the fourth quarter, he would still be running, and their tongues would be hanging out. His game was a game of attrition."
Cowens played 10 seasons with the Celtics. He was named MPV during the 1972-73 season when he racked up 20.5 points and 16.2 rebounds.
For his Celtics career, he averaged 18.2 points and 14.0 rebounds. He's a member of the NBA's 75th Anniversary Team, and he accomplished all of it by outworking everyone.
Like Sportscasting on Facebook. Follow us on Twitter @sportscasting19 and subscribe to our YouTube channel.