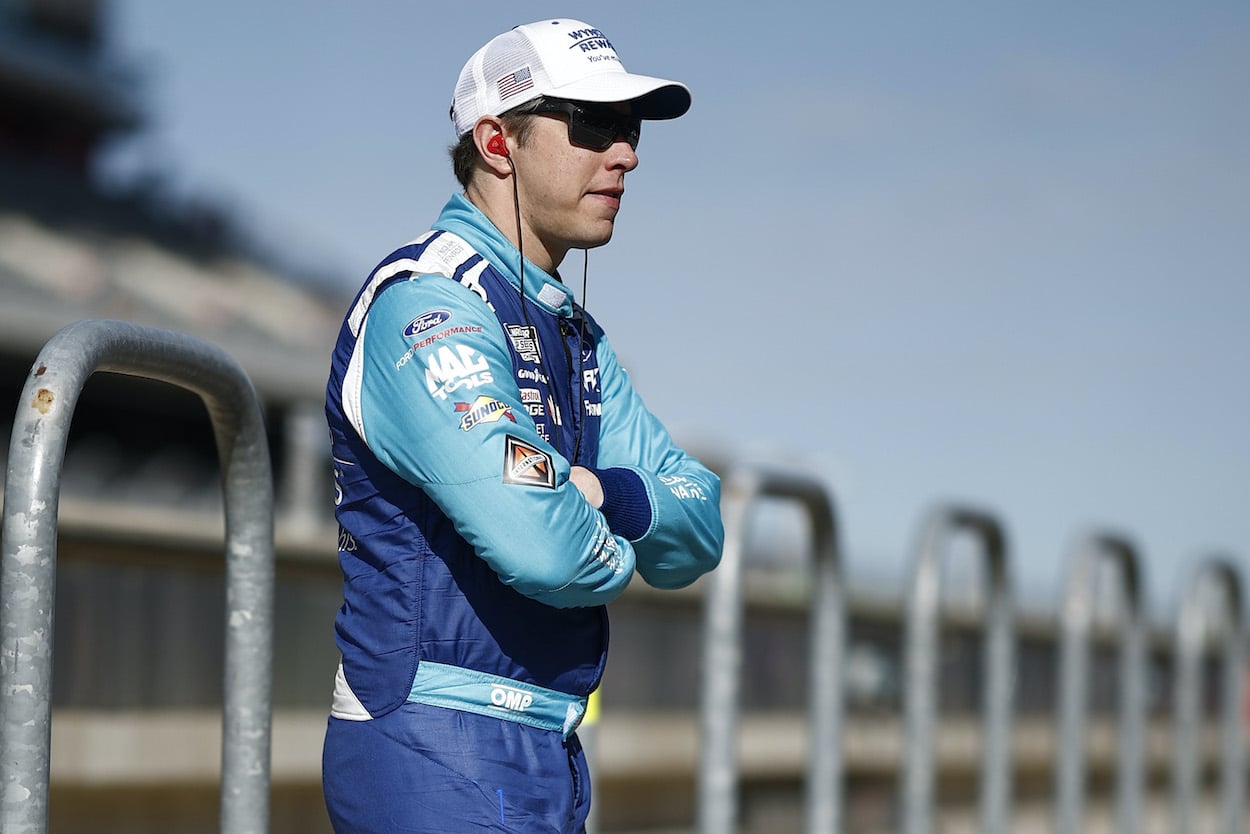 Brad Keselowski Reveals Some Drivers Are Testing Bio-Instrumentation Suits During Races to Capture Data in NASCAR Initiative to Improve Safety 
Brad Keselowski recently revealed that he's currently part of a NASCAR study where he wears a special bio-instrumentation suit during races that measures specific data.
Brad Keselowski is in his 14th full-time season in the NASCAR Cup Series. He's seen a lot of big changes in that time, including the most recent coming last year with the introduction of the Next Gen car. Unfortunately, the new car and all its technology still had unintended consequences, with two drivers sitting out and missing races due to concussions from rear impacts.  
NASCAR officials responded in the offseason to improve the car by making it less rigid in the back end in the rear clip. While that was a reactive move, the governing body is also proactive and constantly seeking ways to protect its product – the drivers – through various initiatives that result in design enhancements and improved technologies. The RFK Racing co-owner recently revealed to reporters that he's currently part of an initiative where he wears a special bio-instrumentation suit that provides specific data to NASCAR.
NASCAR reacts to issues with Next Gen car
As much grief as NASCAR received in 2022 for drivers Kurt Busch and Alex Bowman missing races due to concussions, and deservedly so, league officials wanted to fix the problem as much as anyone because, after all, the drivers are the product. People come to see them. They make the money. Their absence is not good for the bottom line.
Unfortunately for everyone involved, but especially the drivers suffering the effects of the larger impacts, those changes were slow in coming. And while there's no doubt NASCAR's engineers and safety teams were diligently working behind the scenes to address the problem, the front-facing portion of the organization, in particular President Steve Phelps, was slower to react and admitted as much in October on NBC's Countdown to Green prerace show at the Charlotte Roval.
"As great as the Drivers Advisory Council has been, there's nothing that is as good as having an all-driver meeting, right," Phelps said a day after officials met with all the drivers in what was described as a "tense" meeting. "And we probably should have had one months ago to try to deal with the safety issues and what the drivers were feeling in the race car. That's on me. 
"With that said, we're going to have all-driver meetings for the rest of the year. We're going to do them on a weekly basis. I thought the meeting was incredibly productive. The drivers were candid. We showed them a path forward. 
"For example, on the rear of the car to try and take out some of the stiffness that exists. A bigger crush panel. But overall, listen, we want to hear what they have to say. We care about what they say and we're going to continue to iterate on the car to make it safer."
Brad Keselowski reveals he's wearing a bio-instrumentation suit
Brad Keselowski has more of a vested interest in NASCAR than most drivers, serving as a driver and team co-owner like Denny Hamlin at 23XI Racing. The 2012 Cup Series champion cares as much about improving his position by making a certain race line work as he does improving his organization's bottom line.
With that unique perspective, he wears his owner's hat and is mindful of dollars spent, but also wears a driver's helmet and recognizes that there should be no expense spared when it comes to safety. That's why he's participating in one of NASCAR's latest initiatives where he wears a special suit during the race that provides certain data to officials.   
"NASCAR is trying to better understand the environment that the drivers are going through during the race weekend," Keselowski said before racing at Circuit of the Americas. "They have a number of initiatives to try to help capture data that will hopefully inform them to make the cars to be an environment that is not friendly to the drivers, but be a little bit less — I don't want to say lethal — but we're right on the edge of hurting drivers. I think they're trying to be more cognizant of what's driving that to some extent."
The RFK driver said there are various measureables collected.
"Depending on what suit and how much you wear, there's sweat, there's internal body temperature, and of course, heart rate are the three key metrics," he said. 
Data-gathering mouthpieces used in last two years
Keselowski wearing a bio-instrumentation suit is one initiative. Another that started last year and is continuing into 2023 is the use of mouthpieces. 2022 Daytona 500 winner Austin Cindric has worn a special mouthpiece every race this year.
"NASCAR has worked with a few different groups to get the mouthpiece sensors," Cindric said. "When it comes to acceleration and Gs, the closer you can get to the driver's head — even closer than the earpiece sensor — obviously, the accelerometer that's inside the car gives you more accurate data on what the body is experiencing. 
"That's just another way we try and learn through sports. NASCAR has made that accessible to every driver that wants to participate. I've ran it in pretty much every race so far this year, just to get a comfort level with it, and obviously, having a baseline of some data on my own experiences in case I ever needed it." 
As much as drivers are quick to complain about NASCAR for its inconsistencies in rulings and all-too-frequent missteps, it's undeniable the governing body is looking out for the drivers' best interest and actively seeking ways to improve the race conditions.
After all, they're protecting their bottom line. And that's something Brad Keselowski can appreciate. 
For the latest breaking news and information about NASCAR's three national series, check out @kdsportswriter on Twitter.