RFK Racing Has Clearly Turned a Corner
RFK Racing has endured a long rebuilding period after the glory years of the early 2000s, but co-owner Brad Keselowski and teammate Chris Buescher might be on the verge of a long-awaited rebound for what used to be one of NASCAR's powerhouse organizations.
Co-owner Jack Roush brought then-Roush Racing to the Cup Series in 1988 with Mark Martin as the driver. Martin went winless that first season but won the organization's first race in October 1989 at Rockingham Speedway, finished third in the 1989 points standings, and won six pole awards, which still stands as a record for the organization.
Martin improved to three wins the following year and scored a runner-up finish for the 1990 championship that Dale Earnhardt won by 26 points after NASCAR penalized Martin's No. 6 team 46 points for an illegal carburetor spacer after it won the second race of the season at Richmond Raceway.
Jack Roush had to wait 25 years for a Cup Series championship, then won back-to-back titles
Martin never won a Cup Series title, even though he finished third or higher in the points standings eight times during his 19-year career at Roush Racing. Roush had to wait until 2003 to celebrate a Cup Series championship when Matt Kenseth won the final Winston Cup championship under the season-long points system.
Roush then won the first Chase for the Nextel Cup title the following year with Kurt Busch and had a driver finish runner-up for the championship four more times between 2005-11.
Carl Edwards lost the 2011 title via a tiebreaker when Tony Stewart won for the fifth time in the 10-race postseason to capture the championship at Homestead-Miami Speedway. Greg Biffle finished fifth in the standings in 2012, but Roush has not placed a car higher than 13th in the points standings since 2014.
Ricky Stenhouse Jr. won a pair of superspeedway races in 2017 to reach the playoffs, and Ryan Newman snuck into the 2019 playoffs without a victory. Otherwise, success has been non-existent for the storied organization.
Fenway Sports Group became a co-owner of the organization in 2007 to help provide finances in a sport that was exponentially getting more expensive. Still, Roush-Fenway Racing dropped to a mid-pack organization, at best, by the mid-2010s anyway.
Keselowski then came aboard as co-owner and driver of the No. 6 car in 2021 to coincide with NASCAR's debut of its Next Gen car model that would shift parts production from individual teams to a single supplier, which, in theory, would limit at least some of the advantages larger teams had long held in the sport.
Keselowski's first season with the once-again renamed RFK Racing was underwhelming. He and Buescher won their Daytona 500 qualifying races, but they had both missed the main event for the Clash at the Los Angeles Memorial Coliseum two weeks earlier.
Keselowski ended up ninth in the 2022 Daytona 500 after leading a race-high 67 laps, although the organization dealt with some controversy about modifications it had made to the wheels of its cars. NASCAR chalked up the incident to a misunderstanding and did not level penalties, but the sanctioning body came down hard a month later when it levied a 100-point penalty for a tail panel modification.
Keselowski registered only two more top-10 finishes before a fifth-place run in October at Homestead with only two races left in the season.
Chris Buescher started to build momentum for RFK Racing in 2022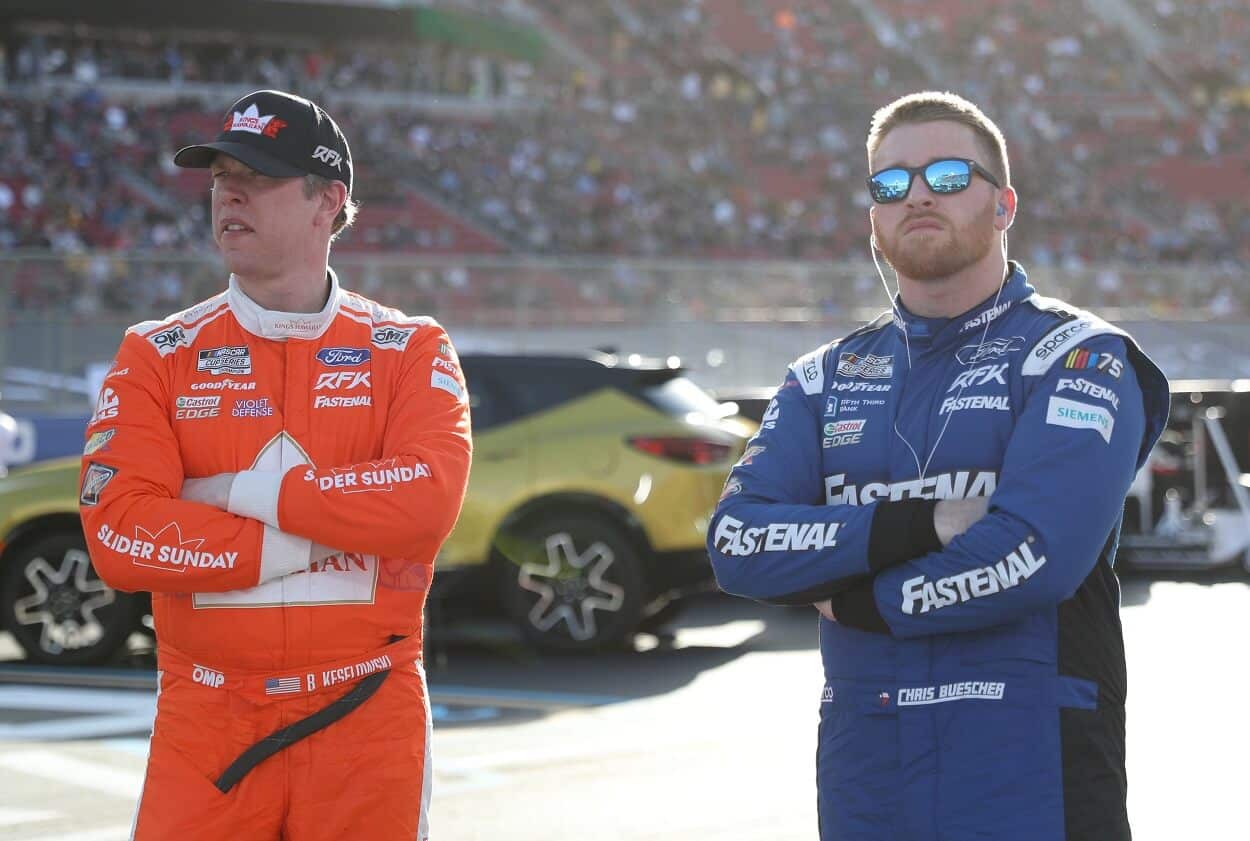 By May, Buescher started to show some promise in the No. 17 car when he won the pole at Dover Motor Speedway. He finished eighth in that event and ran second in June at Sonoma Raceway.
Buescher also finished third at Richmond as he made a bid to reach the playoffs. He came up short in that effort, as race winners filled all but one of the 16 playoff spots, but he had the organization's most significant triumph in five years three weeks later.
He started the night race at Bristol Motor Speedway nondescript in 20th, but he worked his way to the lead by Lap 130 of the 500-lap event. Buescher eventually took the lead for good with 61 laps left and totaled a race-high 169 laps led to score his second career victory and first for RFK Racing since Stenhouse won the summer 2017 race at Daytona International Speedway.
Keselowski and Buescher came out strong in the Daytona 500 again this year. Both were inside the top five until the final wreck in double overtime ended Keselowski's hopes. Buescher still finished fourth.
Perhaps more telling was RFK Racing's performance Sunday at Auto Club Speedway in Fontana, California, where Keselowski finished seventh and Buescher finished 13th.
Those results might not typically stand out, but that is substantially better than their 27th- and 35th-place results a year ago. Buescher is now sixth in the points standings, and Keselowski sits ninth.
The 2023 season has obviously just begun, but an organization that has long been seemingly lost might finally be finding its way back toward the front of the field on a consistent basis.