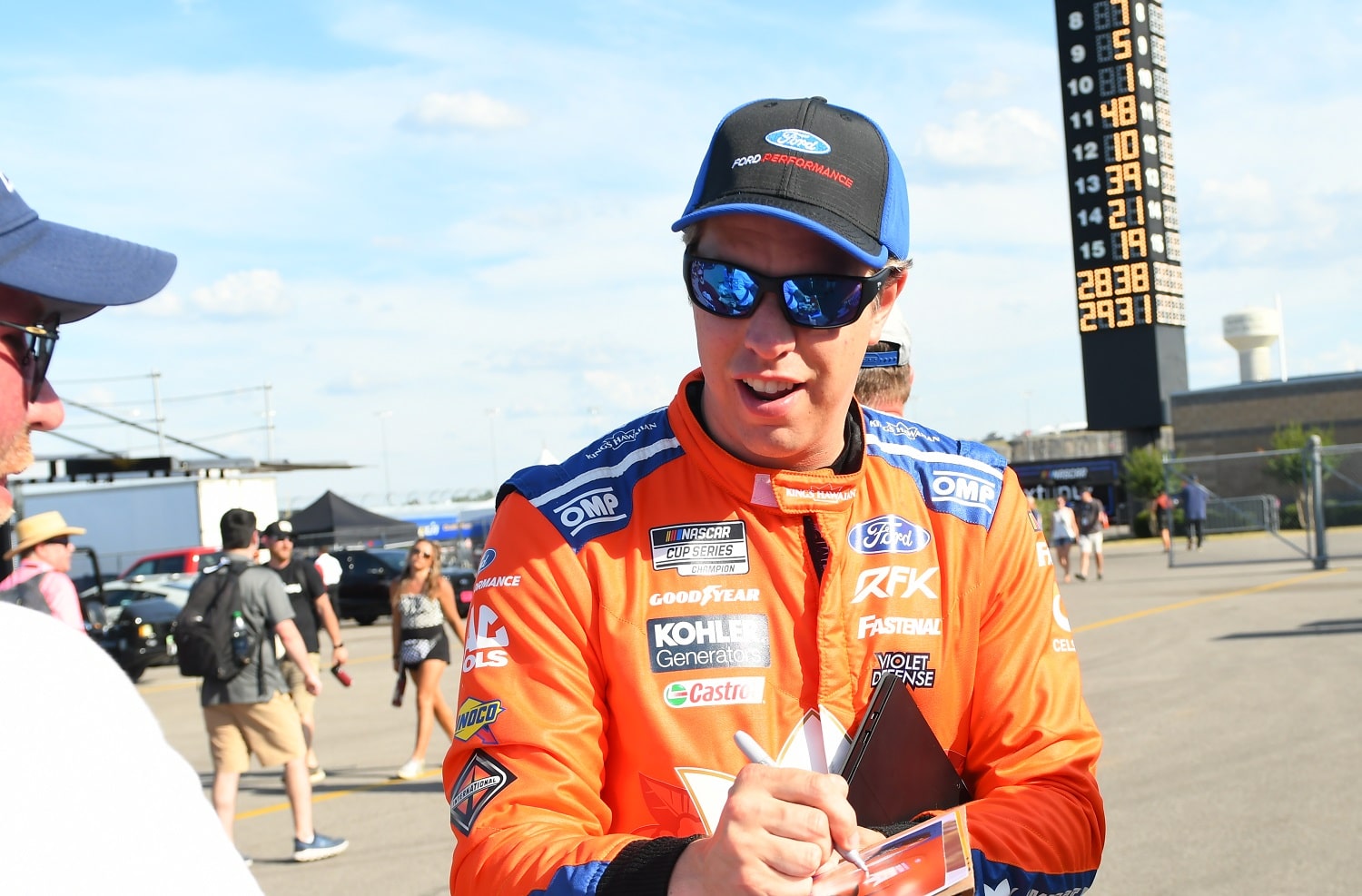 Brad Keselowski's 'Solution' for the Latest RFK Racing Failure Is Doomed From the Start
Brad Keselowski accepted blame for his disappointing finish at Road America, but he was working under less than ideal conditions.
Year 1 with the new team has been a huge disappointment for Brad Keselowski, who is heading toward his worst showing in 13 full-time NASCAR Cup Series seasons.
It's been hard for fans of the No. 6 Ford to watch. Adding to the disappointment, it was also difficult for fans to hear last weekend at Road America. And though he may be losing races on a regular basis, at least Keselowski is maintaining a sense of humor with his solution to the latest glitch.
The clock is ticking on Brad Keselowski's playoff hopes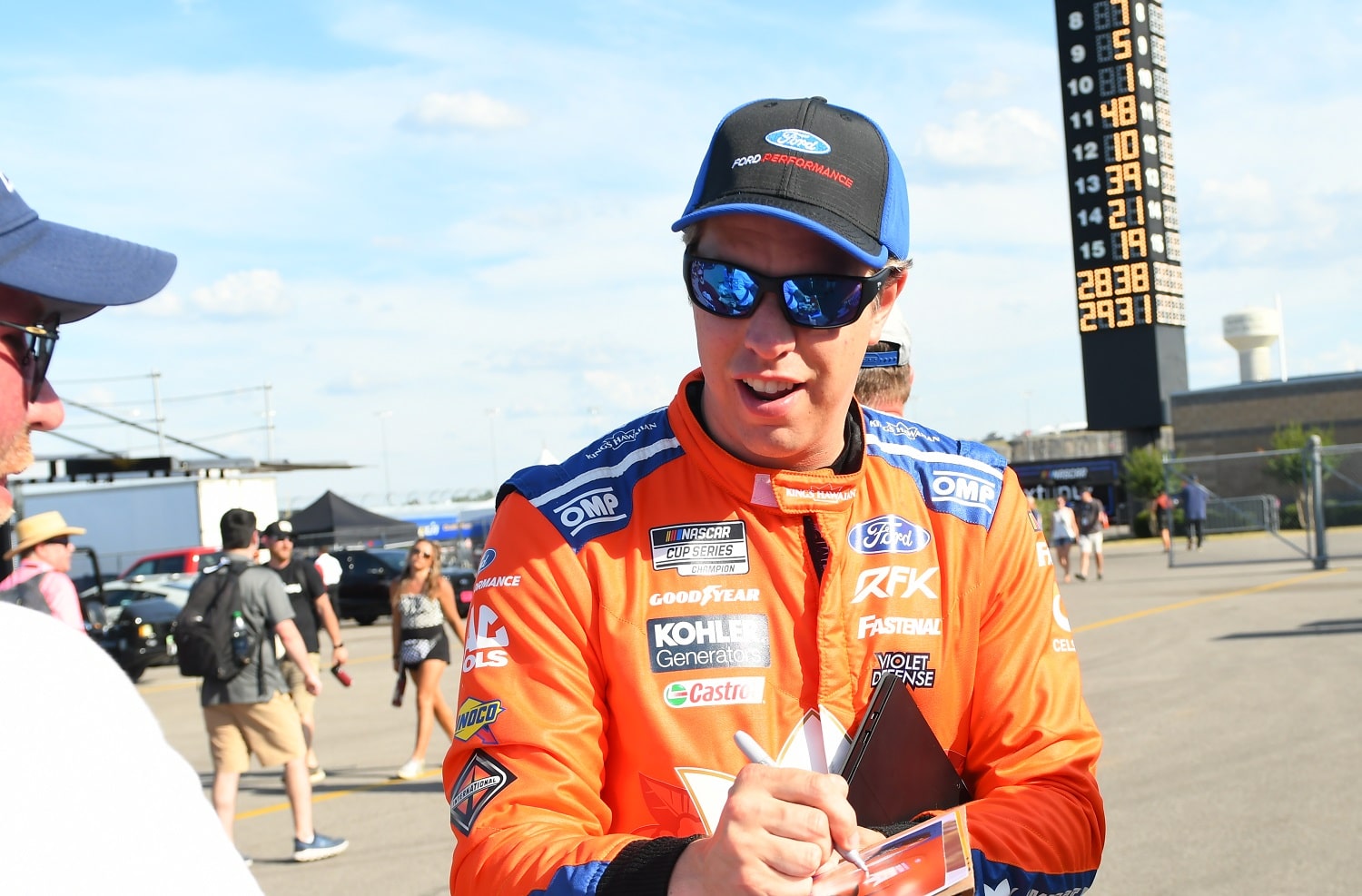 Brad Keselowski and the No.6 Ford have been non-entities in the 2022 NASCAR Cup Series, constituting one of the significant surprises of the season. Few expected him to hang close with the leaders in the standings in the first year with the former Roush Fenway Racing outfit, which has struggled for several years. But 30th place in points has been a shock. Even after restoring the 100 points that NASCAR penalized the team, he would still rank 24th.
Keselowski, a co-owner at RFK Racing, has known since NASCAR handed down the penalty that winning was his only way into the playoffs, and he has only eight shots remaining. A veteran driver can never be discounted, but Keselowski's best results have been ninth at the Daytona 500 and 10th at Sonoma. He's been as likely to finish 29th or worse as he has 12th or better.
Last week saw Keselowski place 33rd at Road America, four laps down when Tyler Reddick took the checkered flag.
"Wish I could redo that one because I know we were capable of a top-5 result," he wrote on Twitter. "Unfortunately it was a couple of my mistakes on pit road and trying to make up ground that cost us. It isn't over yet though."
Pit road wasn't the only problem area for Brad Keselowski
The Road America result was a disappointment for Brad Keselowski, for sure. But the obstacles went beyond what the driver suggested about his performance on pit road.
As noted by a follower on Twitter, Keselowski's radio communication with his team was virtually nil. That was a disappointment for fans who pay a small fee to NASCAR to hear the audio feeds of their favorite drivers. It sometimes offers insight into what's happening that television announcers either don't hear or don't relay in a timely fashion.
The tweeter seemed to fault NASCAR, but Keselowski absolved them of blame.
"Not NASCAR's fault," Keselowski responded online. "We had bad radios the whole race. Got to figure this one out. I couldn't hear either."
That prompted a response from Chris Gabehart, the crew chief for Denny Hamlin since 2019: "Welllll… there is a better way."
Without missing a beat. Keselowski responded:
Tin cans?

Brad Keselowski
Somehow, we don't see that working on even short tracks like Bristol or Martinsville, let alone the four-mile Road America circuit.
All stats courtesy of Racing Reference.
Like Sportscasting on Facebook. Follow us on Twitter @sportscasting19 and subscribe to our YouTube channel.