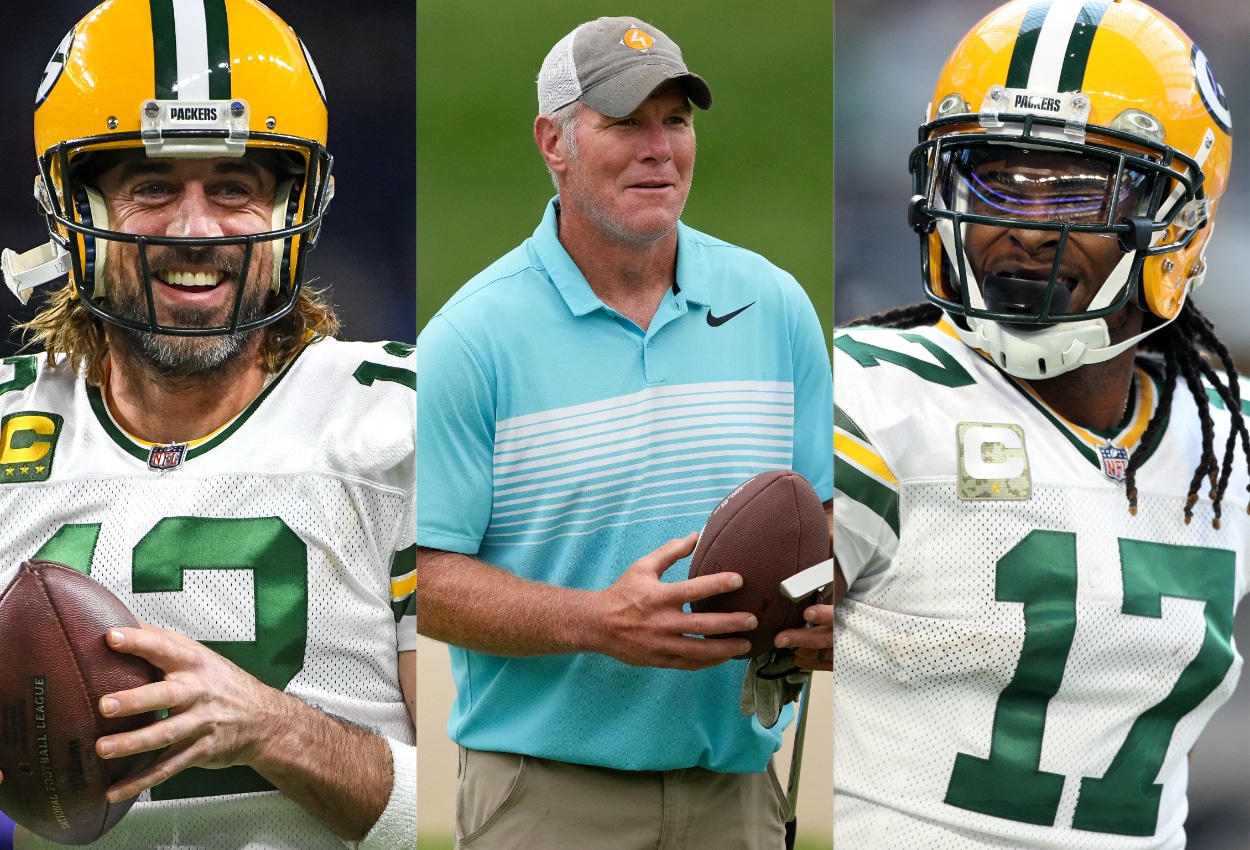 Brett Favre Ridiculously Believes Aaron Rodgers Will Be Just Fine Without Davante Adams
The Green Bay Packers no longer have Davante Adams after sending him to the Las Vegas Raiders, but Brett Favre believes Aaron Rodgers will be just fine without him.
The two-time reigning MVP no longer has the person who made him the Most Valuable Player.
Aaron Rodgers had been tremendous in each of the last two seasons, but the Green Bay Packers quarterback wouldn't have had all his success without Davante Adams. They made each other better.
However, Rodgers' former teammate, Packers and NFL legend Brett Favre, thinks the QB will be just fine without his top weapon following the trade that sent Adams to the Las Vegas Raiders earlier this offseason. Favre essentially thinks Rodgers won't miss a beat.
Brett Favre thinks Aaron Rodgers will be OK without Davante Adams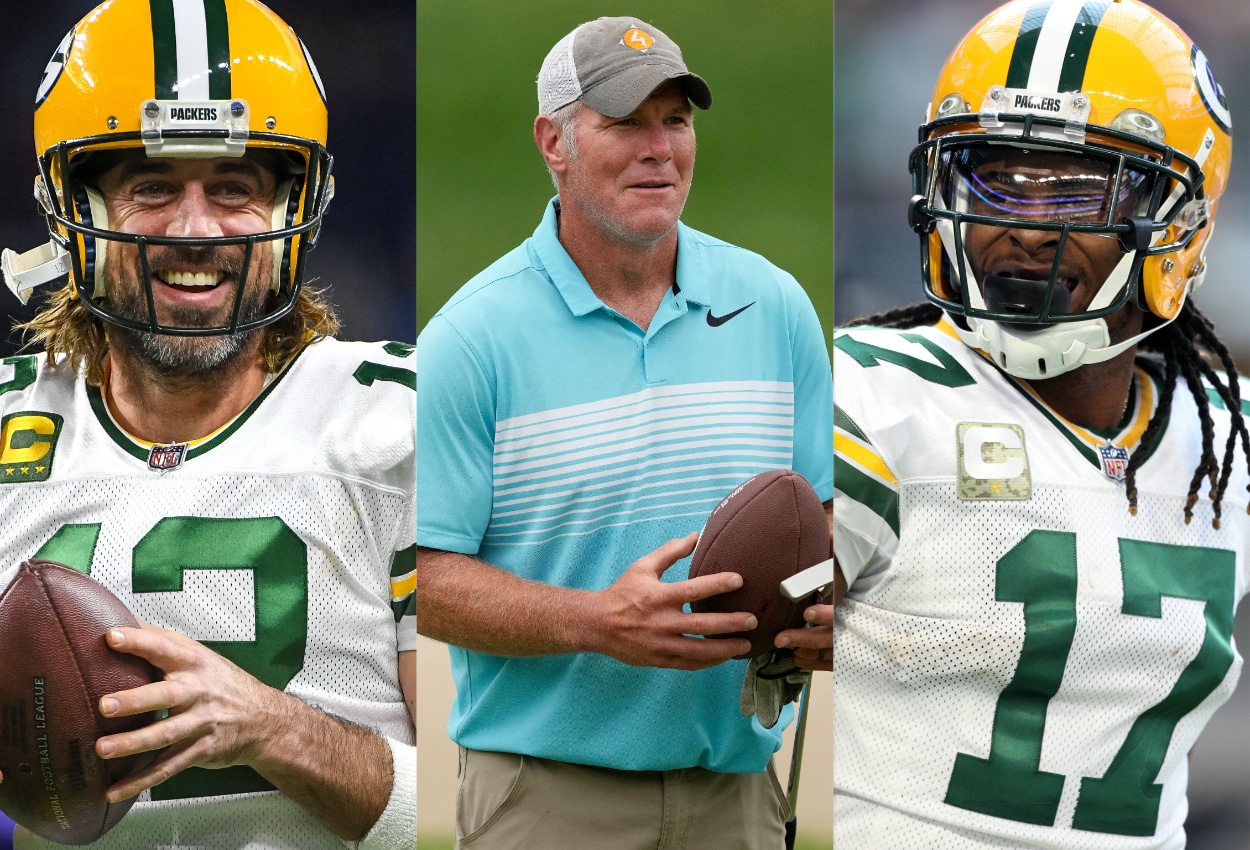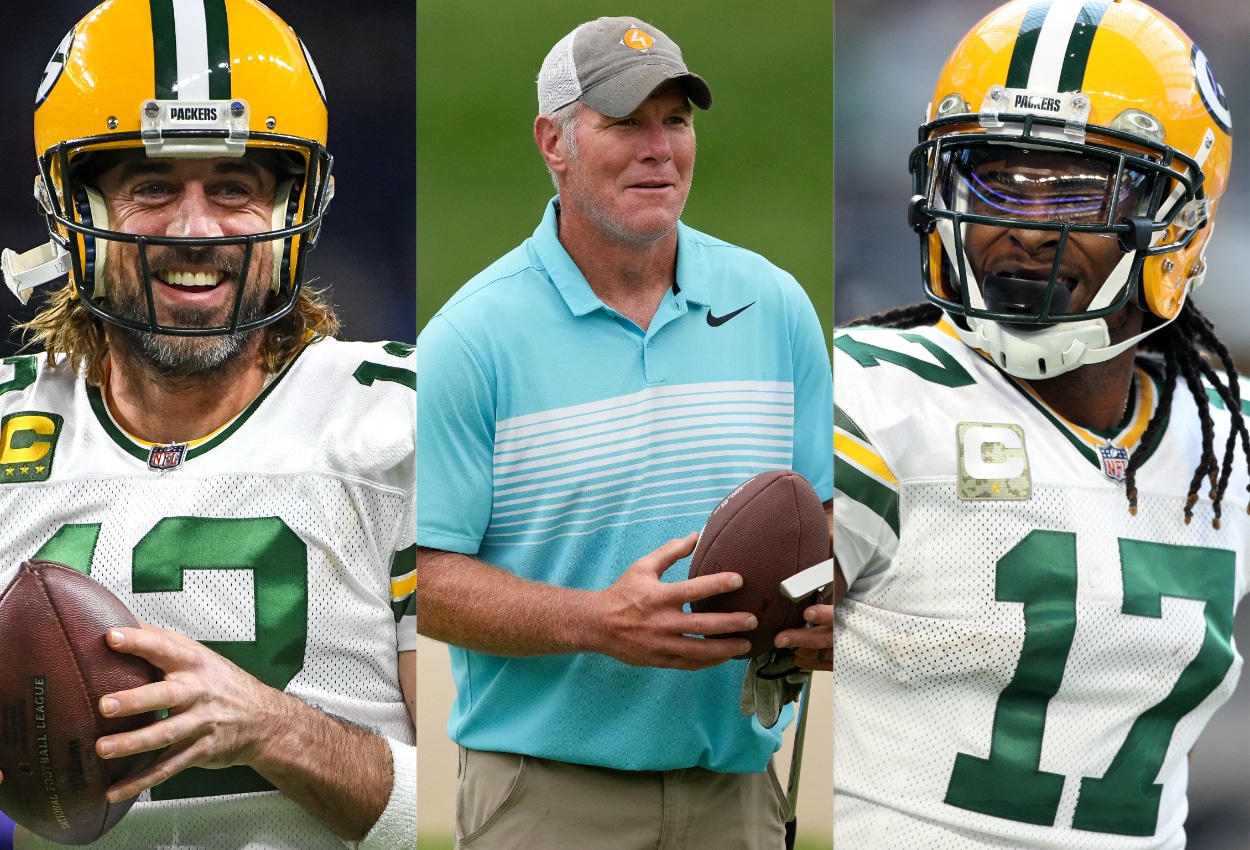 Aaron Rodgers has been the best player in football the last two seasons. In 2020, he threw for 4,299 yards, 48 touchdowns, and five interceptions on his way to his third career MVP award. And in 2021, he won the trophy for the fourth time with 4,115 yards, 37 touchdowns, and four interceptions.
But before those campaigns, you may remember that his numbers dipped in the previous seasons. He only had 25 and 26 touchdowns in 2018 and 2019.
So, what led to his resurgent play? Davante Adams had the best years of his career, catching a combined 238 passes for 2,927 yards and 29 touchdowns in 2020 and 2021.
The trade that sent Adams to the Raiders this offseason could significantly impact Rodgers, one of the best quarterbacks in NFL history. That's especially the case with the Packers not doing a great job of addressing the now glaring hole at receiver in the draft. But Brett Favre, another all-time great, thinks Rodgers will be OK.
"It's hard to replace a great player like Davante Adams; it's hard to replace Aaron Rodgers; you don't replace those players, you plug someone in and hope that the others can take up the slack until that person finds their own way," Favre said to TMZ Sports. "Aaron's too good. Much like Tom Brady has gone into every season and managed to just systematically tear teams apart with whoever, it doesn't matter. And that will be the case with Aaron. Aaron will have a tremendous year. Barring injury, he'll play like he always does."
Favre added that he thinks an even better running game will take some pressure off Rodgers in 2022. But he also said he doesn't believe Adams will have the same success with Raiders QB Derek Carr this upcoming season as he did with A-Rod in the last two.
"It's just hard to shift gears, especially from a player as prolific as Aaron Rodgers," he added.
Favre made some decent points. Carr is talented but not as great as Rodgers, so it's hard to see Adams having as much success as he did in the past seasons, no matter what he thinks about Carr's ability. But the Hall of Famer's comment about Tom Brady isn't totally accurate.
It doesn't matter how good you are; if you're a QB, talented pass catchers make you better. Brady had just 4,057 yards, 24 touchdowns, and eight interceptions in his final season with the New England Patriots in 2019. Other than Julian Edelman, he had no consistent threats in the passing game that year. With a loaded Tampa Bay Buccaneers offense in 2021, Brady threw for an NFL-leading 5,316 yards and 43 touchdowns.
Aaron Rodgers and Davante Adams will continue posting solid numbers, but they made each other better. It's hard to imagine either of them having as great of seasons as they did in previous years.
Stats courtesy of Pro Football Reference