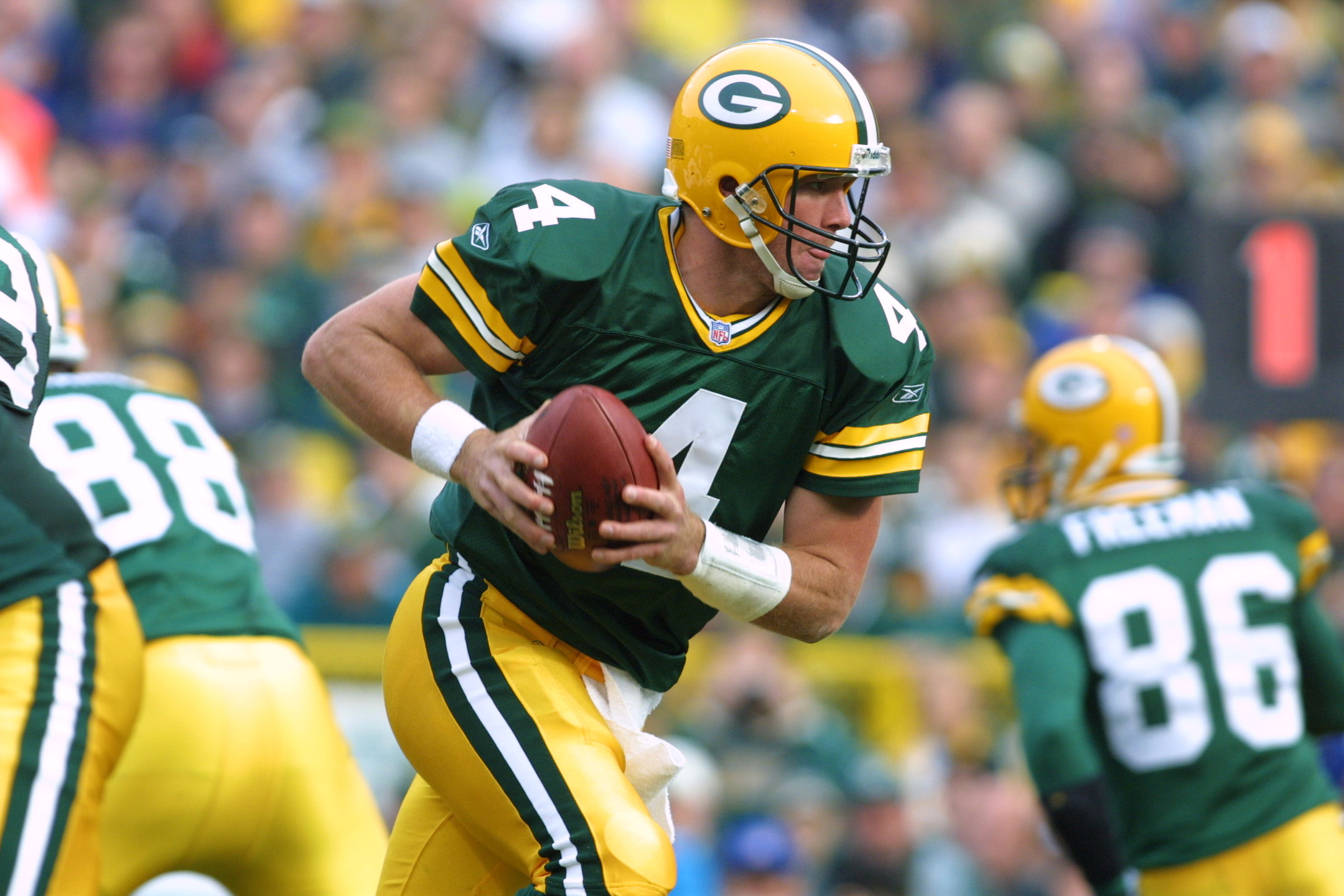 Brett Favre Has Advice for Tom Brady Adjusting to His New Setting
Former Green Bay Packers quarterback Brett Favre has some advice for Tom Brady as he adjusts to his new setting.
Tom Brady probably doesn't need any football advice. The six-time Super Bowl champion has been through it all in his 20 seasons in the NFL. He's seen every defense and every gimmick imaginable. Brady, however, finds himself in unfamiliar territory as he begins a new chapter by playing for the Tampa Bay Buccaneers. Brett Favre, who played 16 years with the Green Bay Packers before moving on to the New York Jets and Minnesota Vikings, offered Brady some advice when it comes to starting over.
Favre's ending with the Packers
Things got very interesting in Green Bay in 2005. Longtime Packers quarterback Brett Favre was given a dose of reality when the Packers selected Aaron Rodgers with their first pick in the 2005 NFL draft. The Packers then went out and had, by far, their worst season under Favre, going 4-12.
In 2017, however, Favre guided the Packers to a 13-3 record and a home game in the NFL title game against the New York Giants. The Packers lost the game in overtime and Favre threw a costly interception in the extra session. Two months later, Favre formally announced his retirement.
In July of 2008, ESPN reported Favre "had the itch" to return, but the Packers had already committed to Rodgers. Favre reported to training camp, creating a lot of tension. Both sides decided it was best to part ways. Later that week, the Packers traded Favre to the New York Jets for a conditional fourth-round pick.
Tom Brady's departure from the Patriots
There's no bigger winner in the NFL than Tom Brady. The former New England Patriots quarterback won six Super Bowls and racked up three MVPs during his 20 years in New England. At age 43, Brady will begin season No. 21 in the NFL, but he won't be playing with the only team he's ever known in the NFL.
For the first time since 2010, the Patriots failed to reach the AFC title game. New England was one-and-done in the playoffs for the first time in 10 years when the Tennessee Titans came into Foxboro and stunned Brady and the Pats. That game was the final one Brady would ever play in a Patriots uniform. With Brady being a free agent and the Patriots struggling mightily with salary-cap space, it only made sense for the then-42-year-old quarterback to find a new home.
Brady signed a two-year, fully-guaranteed deal worth $50 million with the Tampa Bay Buccaneers in March. Brady's signing also brought former teammate Rob Gronkowski out of retirement. Gronkowski, Brady's longtime tight end, also hooked on with the Bucs after the Patriots and Buccaneers worked out a trade in April.
Favre's advice to Brady on starting over
Brett Favre and Tom Brady are two very different types of quarterbacks. Favre is a guy who took chances. He would sling the ball downfield and would recklessly throw his body all over the field. Brady was the more conservative type with short passes and would take a sack rather than risk the interception. Despite the differences on the field, they faced similar situations at the end of their careers as they moved on from their longtime homes.
Favre said the transition to Tampa would likely be a difficult one. "First of all, I think Tom is awesome," Favre told Fox Wilmington. "He and Joe Montana are by far, head over heels, in a class by themselves, and so Tom has nothing to prove. I think it's going to be very difficult, based on the present circumstances, to get any chemistry with the guys before he actually plays. Now, can Tom play? Absolutely. I think the key component to the whole thing is if they can protect Tom like New England has protected him.
"It's like zero to 100 in a second, when they finally say, OK, we're starting and here we go. He's going to have very limited time to adjust to everything. That's really the hardest part, but if anyone can do it, Tom can do it. (Protection) is really the key component. If Tampa Bay can protect him, there's no doubt that he can just shred teams up and down the field. He's got tremendous weapons at his disposal now. The question is, without all the practice time and the group stuff that you normally would get, can they get that in a short amount of time? That remains to be seen."