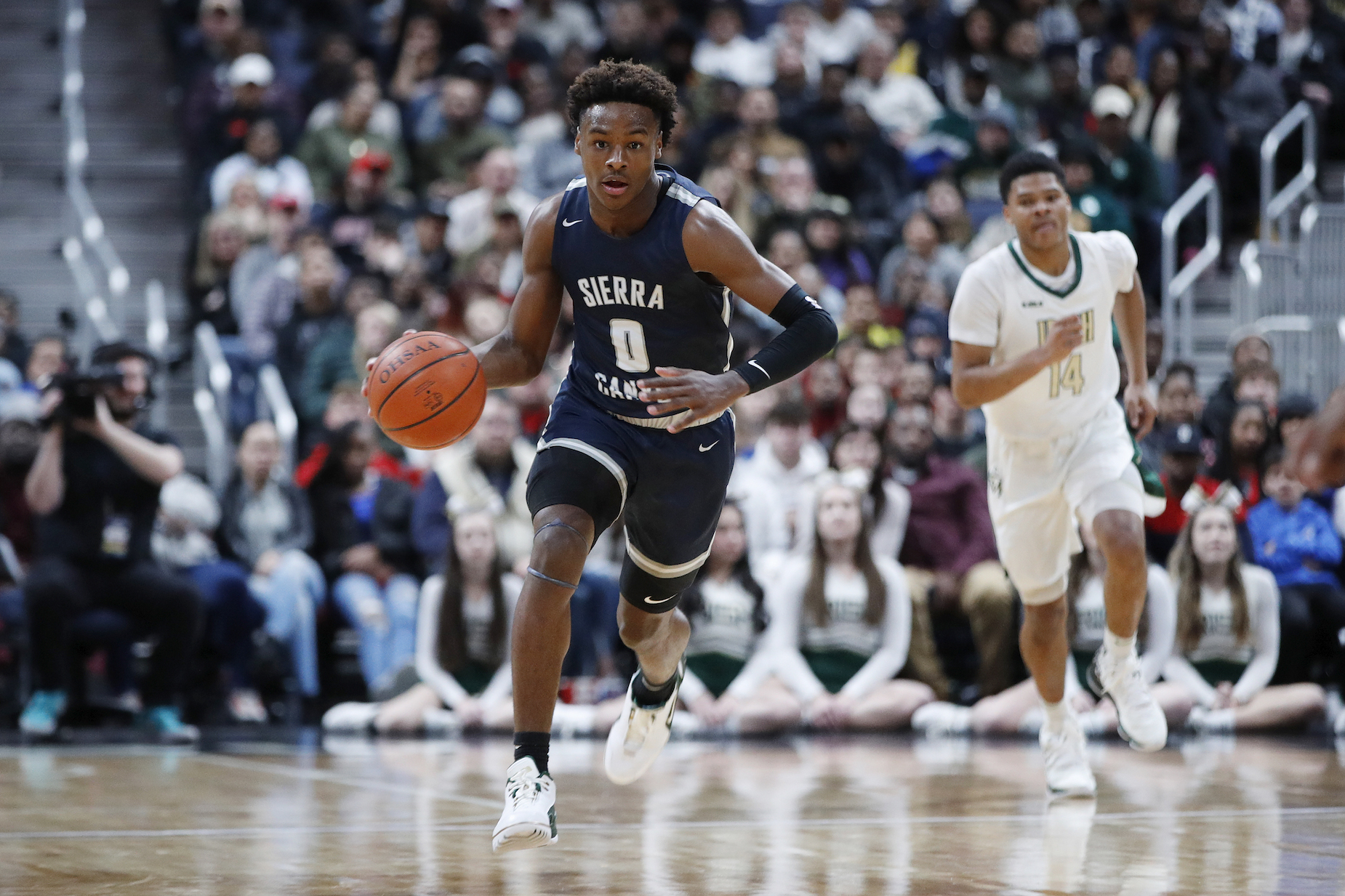 Bronny James Followed In LeBron's Footsteps and Called Out an NBA Player 20 Years His Senior
Bronny James is only a teenager, but he's already following in LeBron's footsteps and calling one one particular NBA veteran.
While Bronny James has become a bit of a celebrity in his own right, he still has quite a bit in common with his famous father. Most of the similarities are pretty obvious; both are literally named LeBron and play basketball. Beyond those links, though, Bronny is also following in his dad's footsteps in a more colorful way.
Although LeBron is a universally respected star, he's still rubbed a few people the wrong way during his time in the pros. Bronny recently picked up one of his dad's beefs, calling out a player 20 years his senior.
Bronny James is already following in LeBron's footsteps
As long-time basketball fans will remember, LeBron James started gaining national attention during his time at St. Vincent-St. Mary High School. Almost two decades later, Bronny James is following in his father's footsteps.
Bronny is only a freshman at Sierra Canyon High School, but he's already garnering rave reviews. "I first saw him last summer and was struck by his poise and ability to navigate all the craziness around him," Eric Bossi of Rivals.com explained. "That poise is still there, and Bronny has now grown to 6-foot-2, has a great frame, is a budding athlete, and has the game to play at the point or shooting guard position."
Basketball fans have also taken notice of the presumptive heir to King James' throne. Bronny's Instagram account boasts over five million followers; some of his highlight packages have been viewed more than a million times on YouTube. While those videos might not sound that impressive compared to the NBA's biggest stars, it's worth remembering that James is only a freshman in high school. If he's commanding this level of attention now, who knows where he'll be in college, let alone the pros.
Bronny James called out Joakim Noah
As you'd assume from his age, Bronny James is pretty active online. The teenager even streams on Twitch, where he shares some of his NBA opinions.
Earlier this summer, Bronny named his five favorite NBA players, not counting his father; for reference, he picked James Harden, Giannis Antetokounmpo, Damian Lillard, Anthony Davis, and Kevin Durant. On a recent stream, though, the teenager was much less complimentary.
After watching highlights of the Lakers-Clippers game from the NBA bubble's opening night, Bronny set his sights on Joakin Noah. Despite the forward's veteran status—he's 20 years older than the teenager—James didn't pull any punches.
"Why does Joakim Noah look homeless? Why does he look homeless?" Bronny wondered aloud. "Bro, they have a barbershop in the bubble. Go to the barbershop."
LeBron James has his own history with Joakim Noah
Bronny James wasn't the first member of his family to call out Joakim Noah, though. The veteran forward has had some beef with LeBron over the years.
As charted by Ashish Mathur of ClutchPoints, the feud seems to have started in 2010 playoffs, when Noah took offense to LeBron's on-court behavior. During the same series, the Bulls forward also called out the city of Cleveland during one of his press conferences.
When LeBron hit free agency, Noah reportedly tried to pitch him on joining the Chicago Bulls; James apparently ignored his called and joined the Miami Heat. The two had a few more clashes during various playoff series, with things eventually dying down.
If the Lakers and Clippers meet in the playoffs, though, LeBron and Joakin Noah could revive their beef. If nothing else, Bronny James will get another chance to call out the NBA veteran.