Bruce Arians Is Delusional With His Recent Tom Brady Take
It's one thing for a coach to stick up for his player. It's another thing to go overboard while doing so. Tampa Bay Buccaneers head coach Bruce Arians got a little carried away recently when praising quarterback Tom Brady. Arians took things a bit too far when it came to Brady and the race for the NFL's MVP.
Tom Brady is right in the middle of the MVP race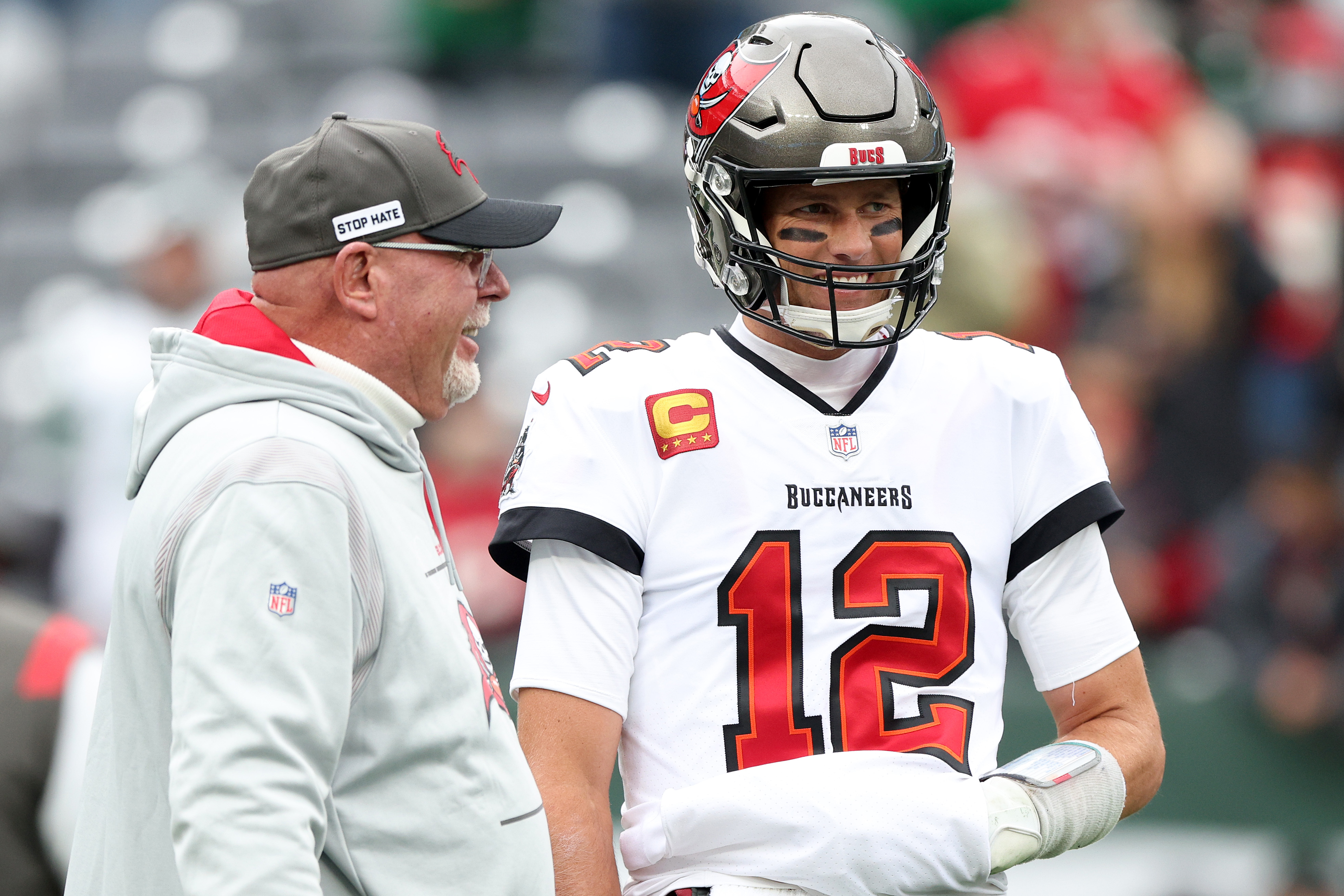 Brady is right in the mix when it comes to the 2021 NFL MVP. The 44-year-old quarterback put together yet another stellar season in guiding the Bucs to a 13-4 regular-season record and the No. 2 seed in the NFC.
He lit up the stat sheet in his 22nd season in the NFL. Brady led the league with 5,316 passing yards and was also tops in touchdown passes with 43. He's shown no signs of slowing down in his second year with the Buccaneers. Loaded with weapons, Brady threw the ball a league-leading 719 times and averaged an NFL-best 312.7 yards per game.
The Bucs begin their second season Sunday when they host the Philadelphia Eagles. It will be a rematch of their Week 6 meeting when the Bucs defeated the Eagles 28-22.
In that game, Brady threw for 297 yards and a pair of touchdowns. Eagles defensive coordinator Jonathan Gannon knows he's in for a challenge trying to stop Brady, who is seeking his fourth MVP.
"This guy, he's a trained killer and he knows how to play good offense and what he needs to do to keep his offense on track, so it's going to be a big-time challenge," Gannon said of Brady, per The Associated Press.
Bruce Arians gets a little carried away in his recent Tom Brady take
Yes, Brady had an MVP-type season but so have others. Green Bay Packers quarterback Aaron Rodgers led his team to the top seed in the NFC. Los Angeles Rams wide receiver Cooper Kupp, Cincinnati Bengals quarterback Joe Burrow, and Indianapolis Colts running back Jonathan Taylor are also candidates for MVP.
Arians, however, believes there is only one player deserving of the honor and that's Brady. Arians recently said it would be a "travesty" if Brady didn't come away with his fourth MVP.
"I think if he doesn't get it, it's a travesty," Arians said Monday, according to ESPN. "Most completions ever, 5,000 yards, touchdowns — the whole nine yards."
Travesty might be a little severe, but that's not even what makes Arians look foolish as he backs up his talented quarterback. What he followed up with next makes Arians' argument quite ludicrous.
"To me, it's not even a close race," he actually said.
Aaron Rodgers is the favorite to win the 2021 MVP
For Arians to claim the race for MVP isn't close is absurd. Brady isn't even considered the favorite. He may have more passing yards and touchdown passes, but Rodgers will likely win his fourth MVP this year instead of Brady. Rodgers also deserves it.
In 188 fewer passing attempts than Brady, Rodgers tossed 37 touchdown passes and collected 4,115 passing yards. He sat out one game after testing positive for COVID-19 and that resulted in one of the Packers' four losses.
Both Rodgers and Brady had a clunker of a game. Rodgers' came Week 1 in a 38-3 loss to the New Orleans Saints. Since that game, Rodgers has only been picked off two times. Brady's tough outing came in Week 15 when the Bucs were blanked by the New Orleans Saints in a 9-0 loss.
Brady backers will stress that he lost his top two receivers, Mike Evans and Chris Godwin, in that game. Running back Leonard Fournette also was injured. That may be true, but Rodgers played Week 8 without his top three receivers and went into Arizona and defeated the previously unbeaten Cardinals 24-21.
Arians making a case for Brady to win the MVP isn't foolish. Saying the race isn't even close shows the Bucs coach might be a bit delusional.