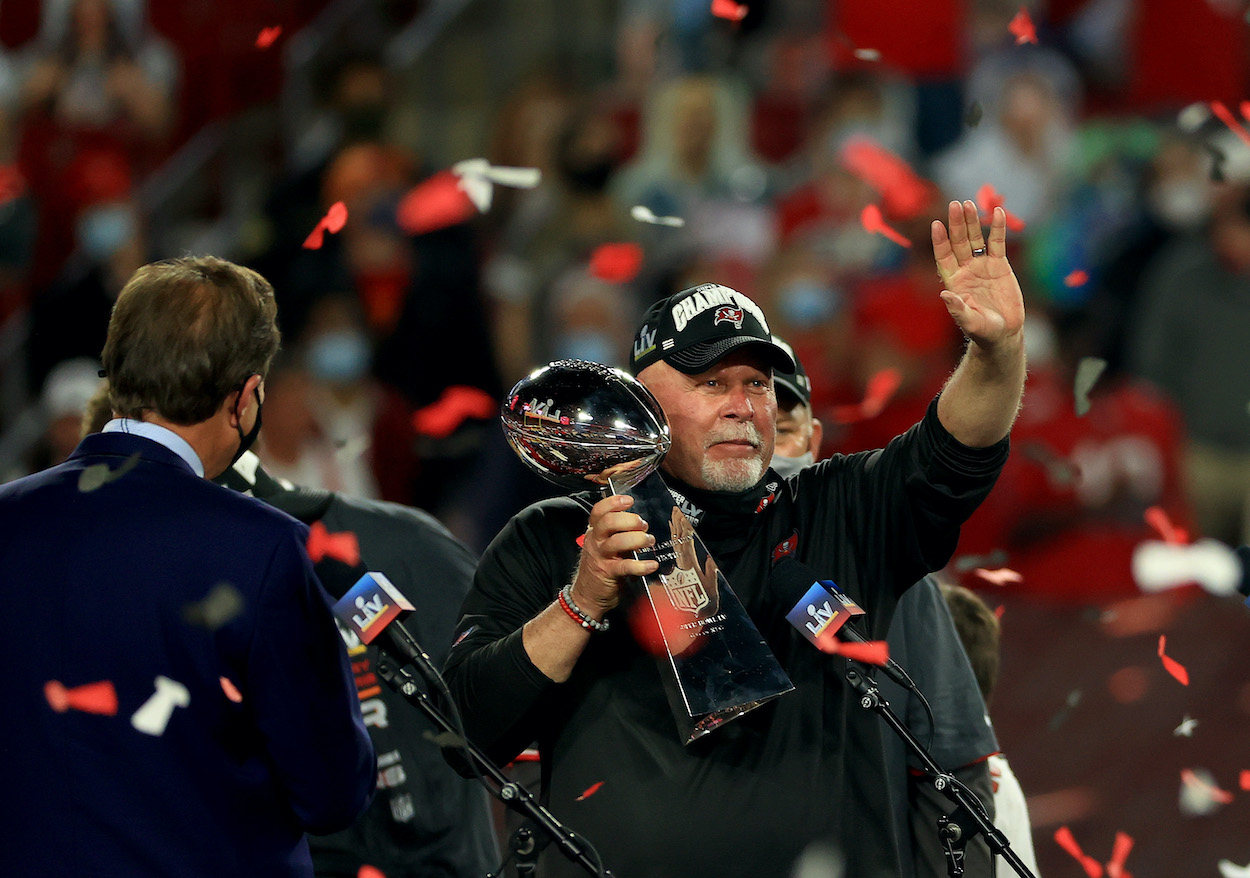 Bruce Arians Fulfills a Painful Promise He Made to the Tampa Bay Buccaneers if They Won the Super Bowl
Tampa Bay Buccaneers head coach Bruce Arians promised his team he would get a tattoo if they won the Super Bowl, and he finally paid up.
When the game clock reached zero on Feb. 7 earlier this year and the Tampa Bay Buccaneers were officially named Super Bowl 55 champions, head coach Bruce Arians didn't have a care in the world. It's every football coach's dream to be in the position he was in that night, and he didn't take it for granted.
But when he woke up the next morning and recovered from the daze of the festivities, Arians realized he needed to fulfill a promise he made his team before the Super Bowl. On Tuesday, he finally made good on that painful promise.
Bruce Arians led the Buccaneers to their first Super Bowl win since 2003
Most NFL fans didn't give the Buccaneers a chance against Patrick Mahomes and the overpowered Kansas City Chiefs offense. But Bruce Arians and defensive coordinator Todd Bowles put together a flawless gameplan, and Tampa Bay cruised to a 31-9 victory.
Arians led the Buccaneers to their first Super Bowl victory since 2003, and he could barely believe what he accomplished.
"I think I'd a been smoking something illegal to really imagine this," Arians told reporters after the game. "I just can't thank Jason [Licht] enough and the Glazer family for giving me this opportunity and my coaching staff. I mean they are outstanding. I don't do anything, man, they do it all and we have great, great players. And again, Jason gets all the credit for the roster and I just try to get out of the way and not screw it up."
Before his triumph, though, Arians made a promise to the Buccaneers that he would get a tattoo if they won the Super Bowl. Time to pay up, coach.
Arians fulfills his promise of getting a tattoo
It may have taken him almost two months, but Bruce Arians finally fulfilled the promise he gave his team before winning the Super Bowl. On Tuesday afternoon, Arians posted a picture of his new tattoo, and it looks great.
"I'm a man of my word- "when we win the Super Bowl, I will get a tattoo" well I got mine and I love it!! #SBLV #superbowlLVchamps," Arians wrote in the Twitter post.
Arians and the Buccaneers are having a flawless offseason
Heading into the 2021 offseason, the biggest focus for the Buccaneers was re-signing their star players and keeping the magical group they assembled around for a little longer. Arians even said so in his post-Super Bowl press conference.
"I think the biggest thing is keeping our guys," Arians said. "You know, do what we can, make sure that we keep our guys here and hit a home run in free agency, just with our guys. Maybe an outside guy, just keep our guys and then Jason will hit another home run in the Draft, and we'll continue to build this football team. And you know, we don't have many weak spots if we get the guys back that we want back and need back."
Well, that's exactly what they've done. Tampa Bay has re-signed almost all of its top free agents this offseason, and all 22 starters will be returning to the team for another year.
With their massive success in free agency and now Arians' new ink, the Buccaneers are having one heck of an offseason.