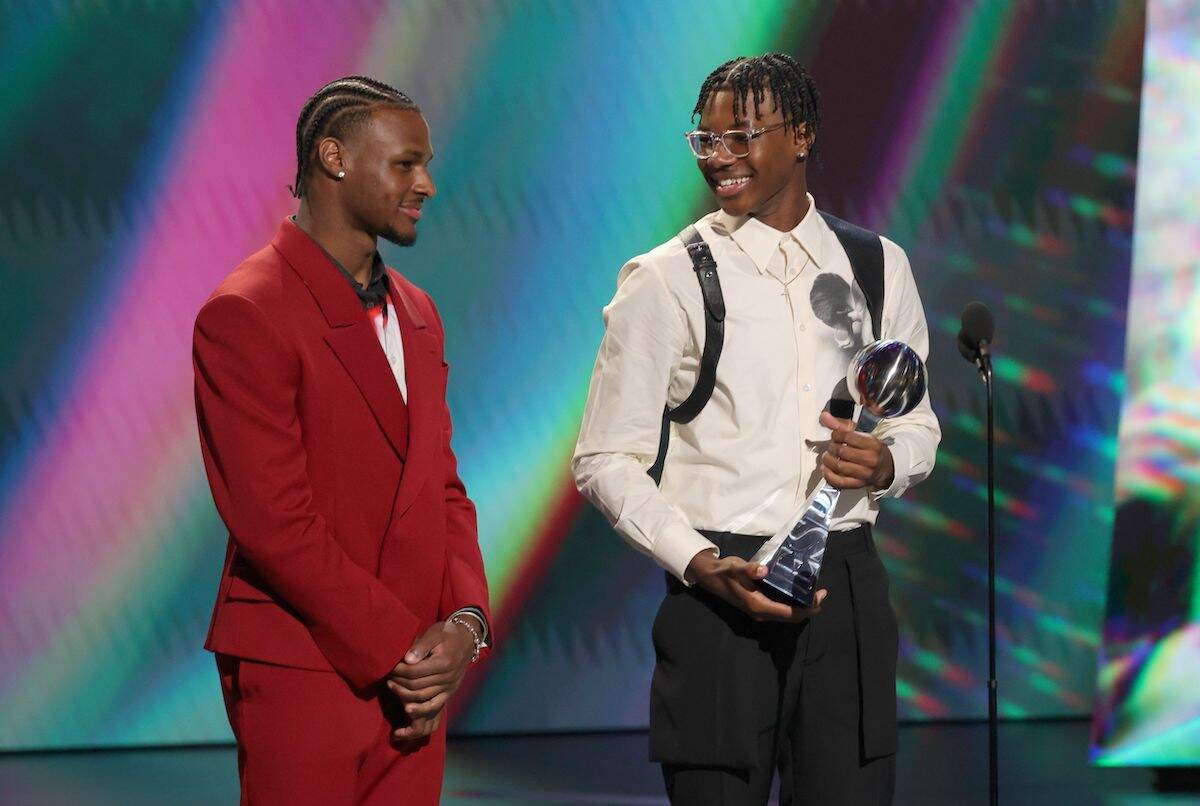 Bryce James Height: LeBron James' Youngest Son Is Already Taller Than His Older Brother, Bronny
Lately, the younger James brother has turned heads. Bryce James' height might be more like his father LeBron's than anyone expected.
Los Angeles Lakers superstar LeBron James has not one but two kids vying to live up to his immense legacy in the NBA. While that's a lot of pressure to put on teenagers, so far, both sons have held up under the spotlight.
Both Bronny and his younger brother Bryce James are already getting compensated handsomely for their efforts. There has been plenty of hype surrounding Bronny over the years. LeBron's 18-year-old eldest son always had the best shot of living out his goal of playing in the NBA at the same time as his dad.
However, lately, the younger James brother has been turning heads. Bryce James might be looking a little more like his famous father than anyone expected.
Bryce James' height
The first thing anyone will notice about Bryce James these days is his height. LeBron, a 6-foot-9, musclebound giant, remains a formidable physical presence on the court. Even as a lanky teenager, Bryce can impose himself similarly against fellow high school players.
South China Morning Post reports that the younger James brother hit a growth spurt over the last year. Bryce has been big throughout his teenage years. But the jump in size recently is almost shocking. News reports from less than a year ago listed the young phenom as 6-foot-4. Currently, Bryce James' height is 6-foot-6 and counting, making him three inches taller than Bronny already.
He has yet to fill out his frame, but that will come with time and a little work, of course. Scouts are clearly betting big on Bryce's ability to transform into an NBA-ready star. He already got his first Division I offer, which will undoubtedly be the first of many.
Bryce is clearly a hot commodity even as a high school player, given that his name, image, and likeness (NIL) valuation has already reached $1.2 million.
Bryce James' age
Bryce James' age (16) marks him as the younger brother, but he's the middle child overall. Bronny, the eldest, is 18 and starting his first year of college at the University of Southern California.
Bryce is two years younger, currently playing varsity high school ball at Notre Dame High School. Then there is their much younger sister, Zhuri. The 8-year-old hasn't made an athletic splash yet, but she's already had some great moments in the public eye.
Zhuri has amassed a social media following by showing off a different side of the James household, often alongside her mother Savannah James. She's shown little interest in basketball so far but has an affinity and talent for volleyball.
Bryce vs. Bronny James
Bryce and Bronny make for an interesting pair to compare, given their family legacy and differences as players. Neither is a clone of LeBron, despite spending their lives training under the four-time NBA champion. In a pop culture sense, they'll always be measured against LeBron, but they've already started cutting their own paths as players.
Bronny, primarily billed as a point guard, fielded six Division I offers before settling with USC. The high-ranking prospect continues to improve year-over-year, with an aptitude for intelligent passes. His shooting still needs work, but he is likely nowhere near his ceiling.
The younger Bryce is a different kind of player. Sports Illustrated reports that the massive high schooler is already capable of threatening drives to the rim that clear out his competition on the way. The shooting guard has a more natural jump shot, too. But he struggles as a playmaker and defender, putting him slightly behind where Bronny was at his age.
Both have strong prospects for the NBA draft in the coming years. It isn't just their famous names driving the hype, either. Scouts see something in both of LeBron's sons, so we'll likely see the name "James" on jerseys in the NBA for years to come.