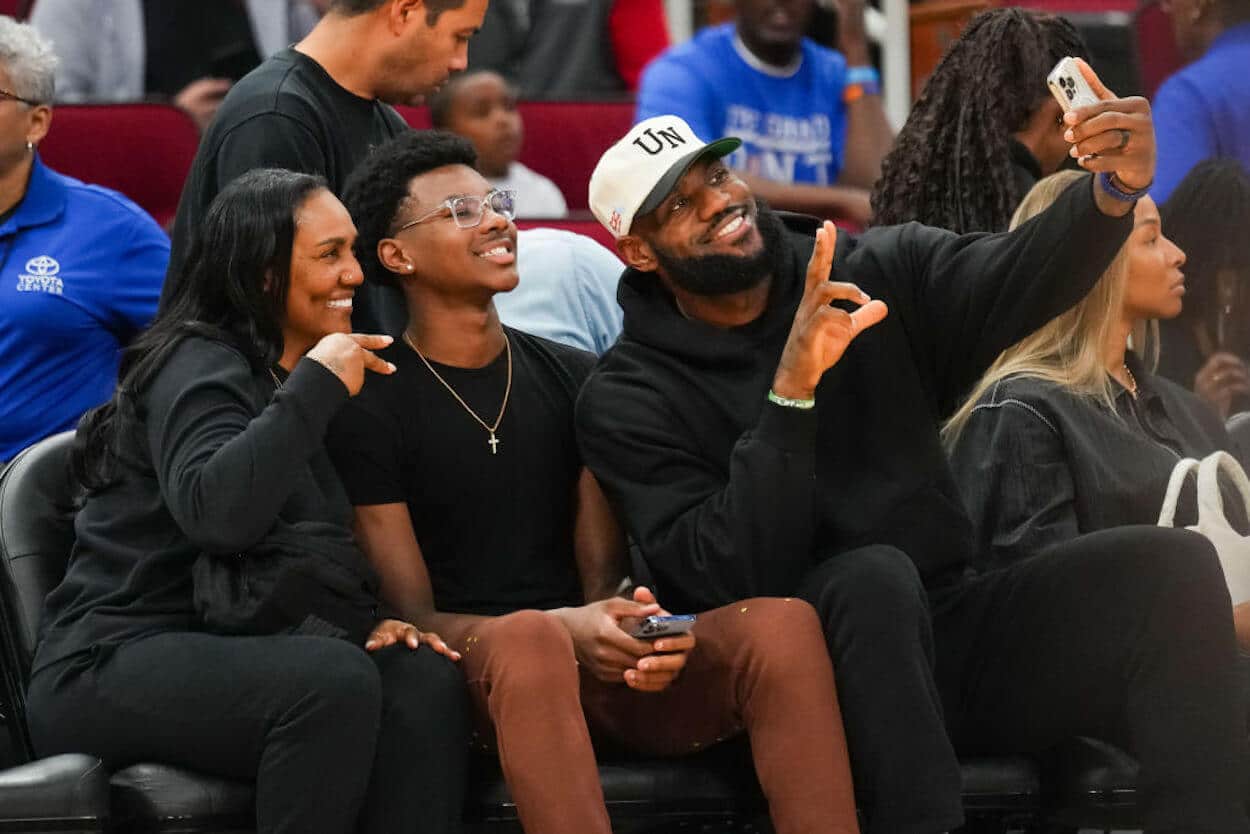 Bryce James and His $1.2 Million NIL Valuation Prove Just How Much the Basketball Landscape Has Changed
Bryce James may only be a high school athlete, but he's already capable of cashing in on his famous name.
While he's still a bit removed from (potentially) becoming an NBA player, Bryce James is already in a position that most people would only dream of. As LeBron James' youngest son, the teenager already has access to generational, but his last name also means he can start earning his own money. In fact, the teenager already has a $1.2 million name, image, and likeness (NIL).
And while it's easy to gawk at that dollar amount and call it a day, we're going to take things a step further. By looking at James' NIL valuation and the chatter around the NBA's one-and-done rule, we can see just how the basketball landscape has changed (and why things will only continue to evolve.)
Bryce James can already command over $1 million in NIL money
Whether you like it or not, professional sports have become a big-time business. These days, though, the cash can start flowing before you even enter the league.
While there was a time when earning money would destroy your NCAA eligibility, athletes are now allowed to cash in on their name, image, and likeness, essentially signing endorsement deals. Bryce James may still be in high school, but he's already reaping the rewards of his fame.
According to the On3 NIL 100, the teenager's name, image, and likeness are worth an estimated $1.2 million. While that might not sound like much, especially when you consider his famous father's NBA earnings, it's rather impressive when you consider the context. Bryce sits 18th on the list, standing tall above college athletes. Given that his star — and his social media following — will only increase as he gets older, it's safe to assume his bottom line will also swell.
For context, the top spot in On3's ranking belongs to Bryce's older brother, Bronny James. His name, image, and likeness are worth an estimated $6.8 million before playing a single NCAA game. It's not unreasonable to imagine Bryce reaching those levels, especially as he steps further into the limelight.
That money, for better or worse, changes the basketball landscape
At this point, NIL money isn't that new. We've gotten plenty of think pieces, interviews, and hot takes about how that compensation is, depending on your perspective, either a good or bad thing. It is undeniable, however, that the sports landscape has changed.
Let's use Bryce James' potential NIL income to consider one aspect of the NBA: its infamous one-and-done rule, which says players have to be a year removed from high school to enter the Association.
There was a time when it looked like that rule was bound for the scrap heap. Every summer, we'd hear talk about how it was unfair and denied capable players a chance of turning pro. Adam Silver even suggested that the one-and-done era would come to an end sooner rather than later (h/t The Washington Post).
That chatter, however, has gone silent. Players still can't enter the Association straight from high school; if you felt like the rule was forcing them to attend college and keep NCAA basketball alive, that hasn't changed. So what is different? NIL money.
There was a time when earning more than $1 million in a single season was unthinkable. Now, you can do that before even entering the collegiate ranks.
If players can cash in during their year in college, it's a bit more palatable to spend a year between high school and the NBA. In extreme cases, like Bronny's, you could even take home more in NIL money than you would in rookie salary. (The rise of alternative pathways like the G-League Ignite has also changed things, but that also boils down to providing athletes with compensation for their services.)
Beyond that, you can trace out all sorts of hypotheticals related to player power. At the NCAA level, maybe fringe-level athletes will prefer to be a big fish in a smaller pond rather than playing a smaller role at a power school. In the early days of their professional careers, perhaps players will be more willing to be on themselves in contractual stand-offs; it's easier to take a risk, after all, when you banked several million dollars during your high school and college days.
That's not to say that the power will shift completely away from the NBA, though. Beyond the prestige of the league — every player wants to make it to the Association and prove their abilities there — the money will also continue to scale on that side of things. As broadcast deals get larger, the players will also take home larger pieces of the pie.
So, what does the future hold exactly? At this point, there's no way to know. Bryce James and his NIL valuation, however, do prove that we're in an entirely new era.
Money, like it or not, changes everything.