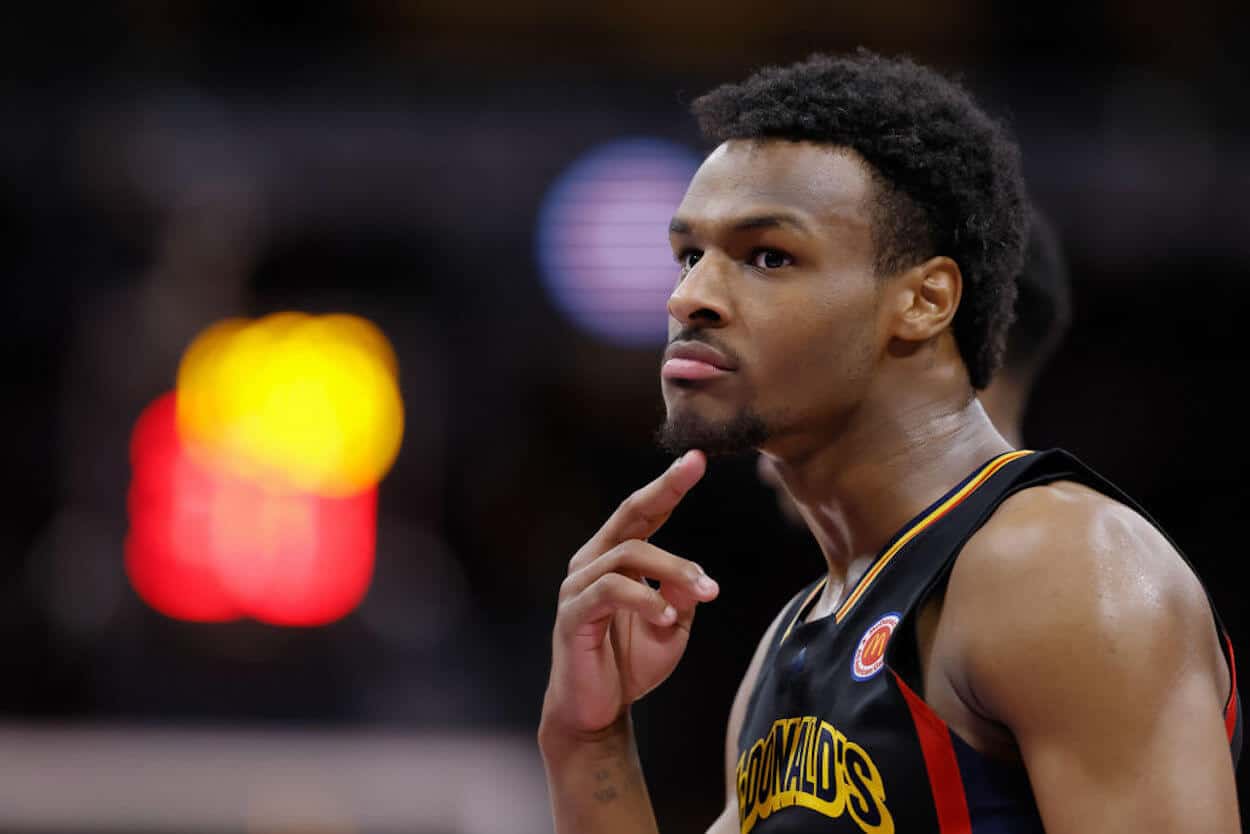 Bronny James Needs to Step Up if He Wants His NBA Salary to Match His Current Earnings
While playing in the NBA will be a dream come true, Bronny James will probably see his paycheck shrink in the Association.
While he's still at least a year removed from becoming an NBA player, Bronny James has already spent plenty of time in the spotlight. As the son of the one and only LeBron James, basketball fans have been following the teen's trajectory for years. The ultimate goal, it seems, is for father and son to team up on the NBA hardwood, and that potential reality gets closer with each passing day.
And while seeing Bronny and LeBron play professional ball together would seem like a Hollywood ending to King James' career, there is a bit of metaphorical rain that could fall on that parade. The USC Trojan could end up taking what amounts to a pay cut to play with his famous father.
Think that sounds impossible? Well, welcome to the world of name, image, and likeness (NIL) money.
Bronny James' NIL valuation clocks in at $6.8 million and should only get larger
While NIL deals are still a relatively new feature of the NCAA landscape, that hasn't stopped college athletes from cashing in. Bronny James is yet to play a game for USC, but he's already sitting atop that financial leaderboard.
According to the On3 NIL 100, which estimates the top 100 NIL valuations, Bronny's name, image, and likeness are worth a combined $6.8 million. That might sound jarring — being a five-star college recruit is impressive, but it's only one step in the road to becoming a professional athlete — the number does make sense when you get down to brass tacks.
If you're a company looking for endorsement deals, it's tough to get bigger, at least in the college ranks, than LeBron James' son. Even if fans aren't that familiar with Bronny yet, they'll definitely know his dad. Furthermore, the teenager has sizable social media followings — a shade under 13 million when you combine TikTok and Instagram — meaning he's more than capable of reaching his own audience.
And those eyeballs are ultimately what translate into dollar signs.
It's also worth noting that the younger James is something of an unknown commodity at this point; again, he's yet to play a game for USC. Should he become a key part of the Trojans lineup and become a fixture within NCAA highlight reels, it's easy to imagine his NIL value continuing to climb.
Based on the NBA rookie scale, Bronny will have to be a top-five pick to avoid what amounts to a pay cut
Whether it's fair or not, the perception around basketball is that the biggest stars go to college, bide their time for a year, and then make the jump to the NBA. While that move is associated with a big-time paycheck, Bronny James' NIL money changes the calculus.
As laid out above, the prospect is already capable of making a shade under $7 million, and that number should only increase when he hits the NCAA hardwood. That number stacks up favorably against most of his possible NBA rookie salaries.
In the Association, rookie contracts exist on a scale, with each draft pick receiving a contract worth a maximum salary. While there's some wiggle room there — first-round picks can sign for up to 120% of the rookie scale amount allotted to their position — it does give us an idea of the dollars and cents.
Looking at the 2024 draft's scale, things start at a $10,482,500 first-year salary and descend from there. If we assume that Bronny's NIL valuation stays at $6.8 million, that means the fifth overall pick is his cut-off point. Should he fall any lower, he'll be taking home less money as a rookie than he did in college. (For context, the sixth overall pick is pegged at $6,245,600.)
Can Bronny reach break into the top five? While it's possible — especially when you consider that drafting him will increase your team's chances of landing LeBron — he'll probably need to step up during his time at USC and during the pre-draft process to get there. The teenager does possess some legitimate skills, but he's yet to show that he can be a franchise player at the NBA level.
In February 2023, ESPN's Jonathan Givony wrote about "why Bronny James is projected as a top-10 pick," and that's one of the more-optimistic assessments thus far. In April 2023, Krysten Peek of Yahoo Sports put the Trojan in the 24th spot; NBA Draft Room slots Bronny in at 28th overall.
Ultimately, though, money won't be an issue
While it's a quirk of the new NCAA landscape that Bronny James can actually make more money in college than he will as an NBA rookie, that's exactly what this situation is. It's a quirk, and when push comes to shove, the numbers shouldn't really matter.
At the risk of making declarations about someone else's money, Bronny is in a good financial position. If we assume the NIL valuation is accurate, making at least $6.8 million during a single year of college is a good start. That earning power also suggests that he'll be able to land some endorsement deals in the NBA, at least shortly after he's drafted.
While performance will ultimately matter — if he goes years without making an impact, commercial offers will probably start to dry up — he'll enter the league with leg up when it comes to endorsement deals. If we assume those ramp up even further once he turns pro, it's possible that the teenager will ll be making more money than ever before, even with a what amounts to a pay cut on the salary front.
Beyond that, it's important to remember that every first-round pick does earn a nice chunk of change. Even if James were to enter the Association as the 30th pick, he'd still earn more than $2 million as a rookie. Would that sting when the top pick is making more than $10 million during the 2024-25 season? Of course, but it's still a more than respectable sum.
And, when push comes to shove, LeBron James has piled up massive sums of money during his time in the sporting spotlight. While some NBA players are hesitant to simply hand money to their kids, King James' success does provide quite a bit of wiggle room; it's not the end of the world if Bronny has to take what amounts to a pay cut en route to his NBA career.
As the cliches all say, there's more to a career than simply earning money. While that may be true, Bronny James is already off to a good start by that metric.