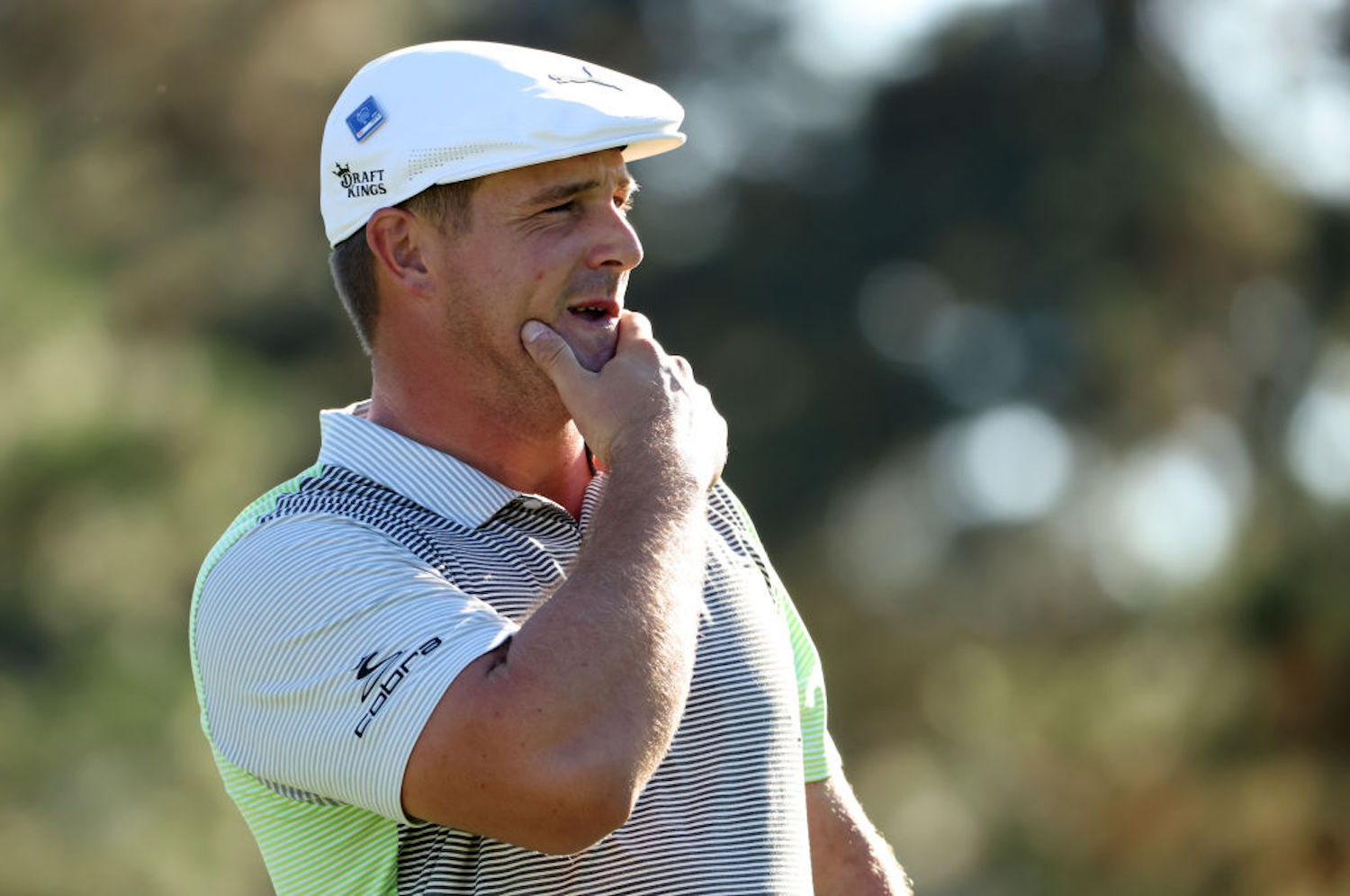 Bryson DeChambeau Gets Humbled By Long-Drive Champion Who Hits 8-Iron 300 Yards
Bryson DeChambeau is the longest hitter on the PGA Tour right now, but he was in awe watching a long-drive champion hit a 300-yard 8-iron.
Bryson DeChambeau is already the longest hitter in PGA Tour history, but he was recently shown up by a long-drive champion who can hit his irons farther than most golfers can hit their driver. DeChambeau was in awe watching Kyle Berkshire crush his 8-iron over 300 yards into a golf simulator, and he even got some useful tips from the bomber.
Bryson DeChambeau has turned golf into his own home run derby
About a year ago, Bryson DeChambeau came up with an ingenious plan to improve his golf game. 'What if I just hit the ball farther than anyone else on the PGA Tour?' he thought. So, that's exactly what he did.
DeChambeau started working out more rigorously and has since bulked up to 240 pounds. He gained 20 pounds of muscle while in quarantine alone over the summer, and his driving distances skyrocketed in the process.
During the 2019 season, DeChambeau averaged 302.5 yards per drive, which is an above-average mark on Tour. But in 2020, that number grew exponentially to 322.1 yards per drive. He finished the season with the farthest driving distance average in PGA Tour history.
But he's far from finished. Through three events this season, Dechambeau is averaging an absurd 337.8 yards per drive. He might not stop until he reaches 400.
Kyle Berkshire is the No. 1 long-driver in the world
Bryson DeChambeau is a dominant driver of the golf ball compared to other PGA Tour players, but he still has nothing on professional long-drive competitors. On the World Long Drive Tour, there's only one club needed, so all the golfers work on is hitting bombs.
Kyle Berkshire is the Bryson DeChambeau of the World Long Drive Tour. He's the No. 1 ranked long-drive competitor in the world, and he routinely pumps drives over 450 yards in competition. Whereas DeChambeau is thrilled with a 400-plus-yard drive on the course, Berkshire would be humiliated by a drive so poor.
Berkshire already has multiple wins on the World Long Drive Tour at 24 years old, and he'll only be getting better after working out with DeChambeau.
DeChambeau gets humbled by Berkshire during a workout
On Monday, a video surfaced online of Bryson DeChambeau working out with Kyle Berkshire and Garrett Clark from the YouTube channel, GM Golf. The three players hit the golf simulator after their workout to see how far they could hit the ball with certain clubs, and they put on a show.
Berkshire picked up an 8-iron and started swinging out of his shoes to hit as far as humanly possible. He might've actually reached the peak. On one rep, Berkshire unleashed an 8-iron that flew 302 yards, according to DeChambeau's golf simulator. DeChambeau, who was holding the camera for the swing, couldn't help but laugh.
Knowing DeChambeau, this encounter will probably just make him work harder to improve his distances on the course. Don't be surprised if he's pumping 400-yard drives and 250-yard 8-irons regularly on Tour soon.
All stats courtesy of PGA Tour