Bubba Wallace Is the Favorite to Set a Unique NASCAR Playoffs Mark in 2023
Bubba Wallace could be the only NASCAR Cup Series driver to make his first postseason appearance in 2023.
Bubba Wallace had the best season of his Cup Series career by many measures in 2022, and he is now positioned to build on that in 2023 to potentially become the only new face in the 16-driver NASCAR Playoffs field.
Wallace set career highs this past season with five top-five finishes, 10 top-10s, 150 laps led, his first career pole award in August at Michigan International Speedway, and a 19th-place finish in the points standings.
Bubba Wallace scored a win for the second straight season in 2022
He also won his second race at the sport's top level with a triumph at Kansas Speedway when he dominated the final 43 laps of the event in the No. 45 car for 23XI Racing. One of the few drawbacks to that victory was that it came in September, two weeks after the playoff field was set, so the win did not affect his title chances.
It did help advance the No. 45 car to the second round of the playoffs in the owners' standings, at least. Wallace had switched to the No. 45 from his usual No. 23, so the organization would have a shot at the owners' championship after Kurt Busch had to sit out the final 16 weeks because of a head injury sustained in a qualifying crash in the No. 45 machine in July at Pocono Raceway.
Wallace's Kansas win also gave him a full victory experience after his first Cup Series win was a rain-shortened affair the year before at Talladega Superspeedway, although that win also came during the playoffs, so it had no bearing on his ability to compete for the season championship.
Wallace began his Cup Series career at Richard Petty Motorsports
Wallace was in his first season with 23XI Racing after three full seasons in the No. 43 car for Richard Petty Motorsports. He managed only a single top-five in each of those seasons and topped out at 22nd in the points standings in 2020, his final season with the organization.
Success came slowly for Wallace in 23XI Racing's debut season. He did not produce a top-10 finish until the 19th race of the 2021 campaign when he ran fifth at Pocono.
His 2022 season started much the same. He led 12 laps and finished second in the season-opening Daytona 500 but then did not return to the top 10 again until the May race at Kansas a dozen races later.
Wallace started to consistently put together strong runs throughout the summer, however. He finished third in July at New Hampshire Motor Speedway to kick off a string of four-straight top-10 runs.
That late regular-season surge got him inside the top 20 in the points standings, but the lack of a regular-season win ultimately kept him out of the postseason for the fifth straight season.
He and 23XI Racing have some legitimate momentum heading into 2023, though, and that could help make Wallace the only first-time playoff driver next year.
Wallace tops the list of drivers without a playoff appearance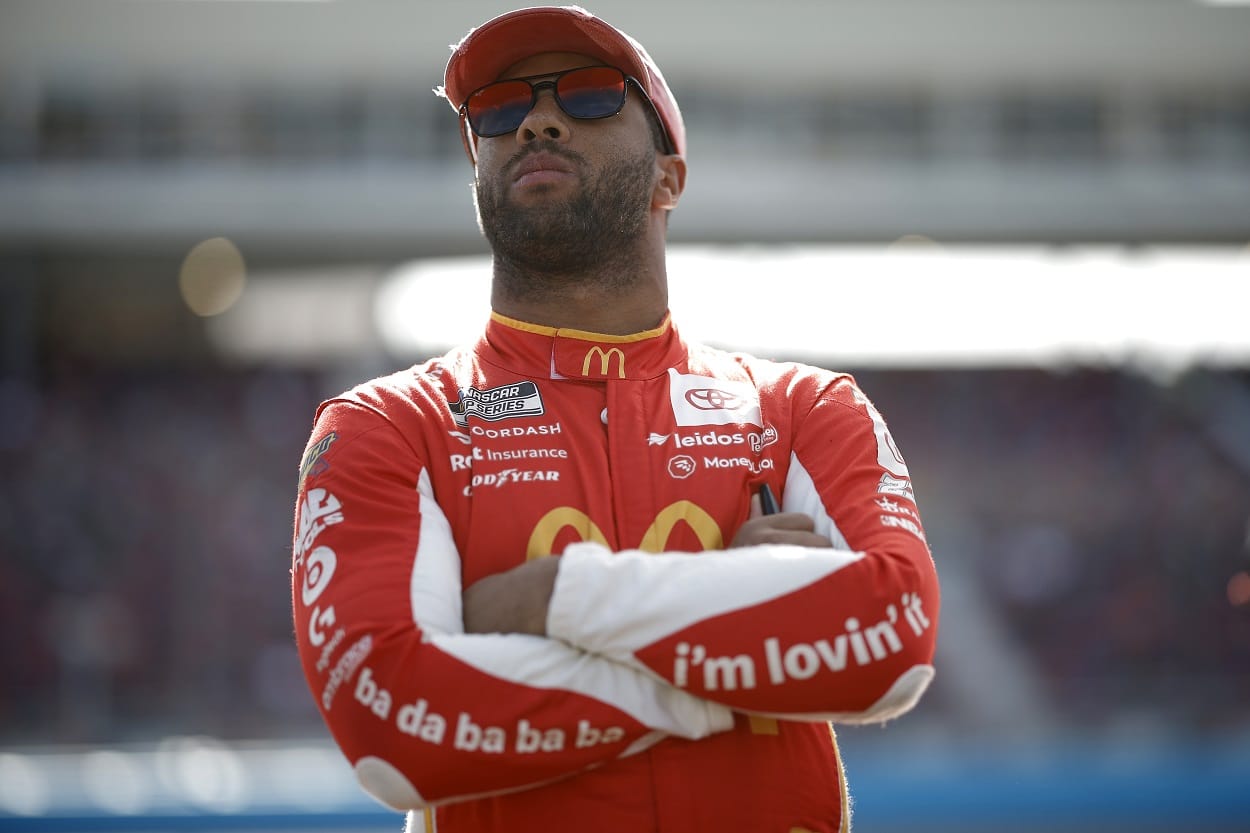 Wallace is one of only nine current full-time drivers in the Cup Series without a single playoff appearance in their career, but he should be considered the most likely driver to remove himself from that list next season.
Justin Haley ranked second among that group with a 22nd-place finish in the 2022 points standings in his first full season. He is strong at superspeedway-style racing, so he might be able to pop into the playoffs with a win at one of those five regular-season events, but he managed only four top-10s total in 2022.
Harrison Burton and Todd Gilliland were rookies last year who both had a single top-five and two top-10s. They would need substantial improvement to be playoff contenders in 2023. 
Ty Dillon, Corey Lajoie, and Cody Ware all drive for bottom-feeder teams and have just 13 top-10s in 13 combined full-time seasons. Maybe one of them could also surprise at a superspeedway-style race, as LaJoie nearly did in July at Atlanta Motor Speedway, but that is likely their only faint hope.
Ty Gibbs will be a rookie with Joe Gibbs Racing in 2023 and might be a factor to win a race, given he will be in top-tier equipment and won 11 of his 51 career Xfinity Series starts the past two years.
Ryan Preece will take over the No. 41 car at Stewart-Haas Racing for Cole Custer next year and could have an outside shot at the playoffs, but he will have to improve a team that has not finished better than 25th in the points standings the past two years.
All told, the Cup Series playoff field could look quite similar next season, even if 2022 non-playoff drivers such as Martin Truex Jr. or Erik Jones return to the postseason. The series might have to rely on Wallace for any hope of a driver who would get to experience his first playoffs when the 10-race march to the championship begins next September at Darlington Raceway.
Have thoughts on this topic? Keep the conversation rolling in our comments section below.