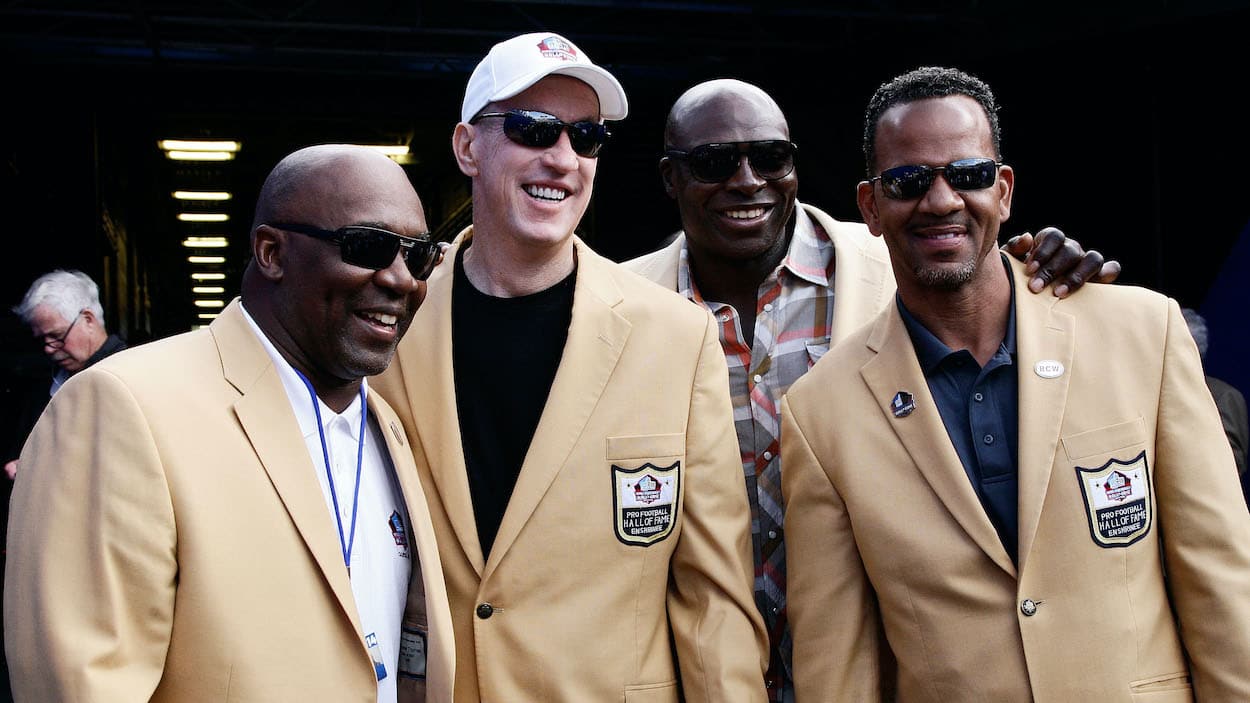 Buffalo Bills All-Time Team: Starting Lineup
The Bills all-time team starting lineup includes players from the 1970 AFL/NFL merger to current day stars, with plenty of 90s legends.
The Buffalo Bills were charter members of the American Football League in 1960 and joined the NFL as part of the AFL/NFL merger in 1970. Buffalo won back-to-back championships in the AFL but has never won a Super Bowl, despite four consecutive trips to the Big Game in the 1990s. This Bills all-time team will go back to 1970 and come up with the best 11 starters on offense and defense, three special teams players, and an all-time coach.
Buffalo Bills All-Time Team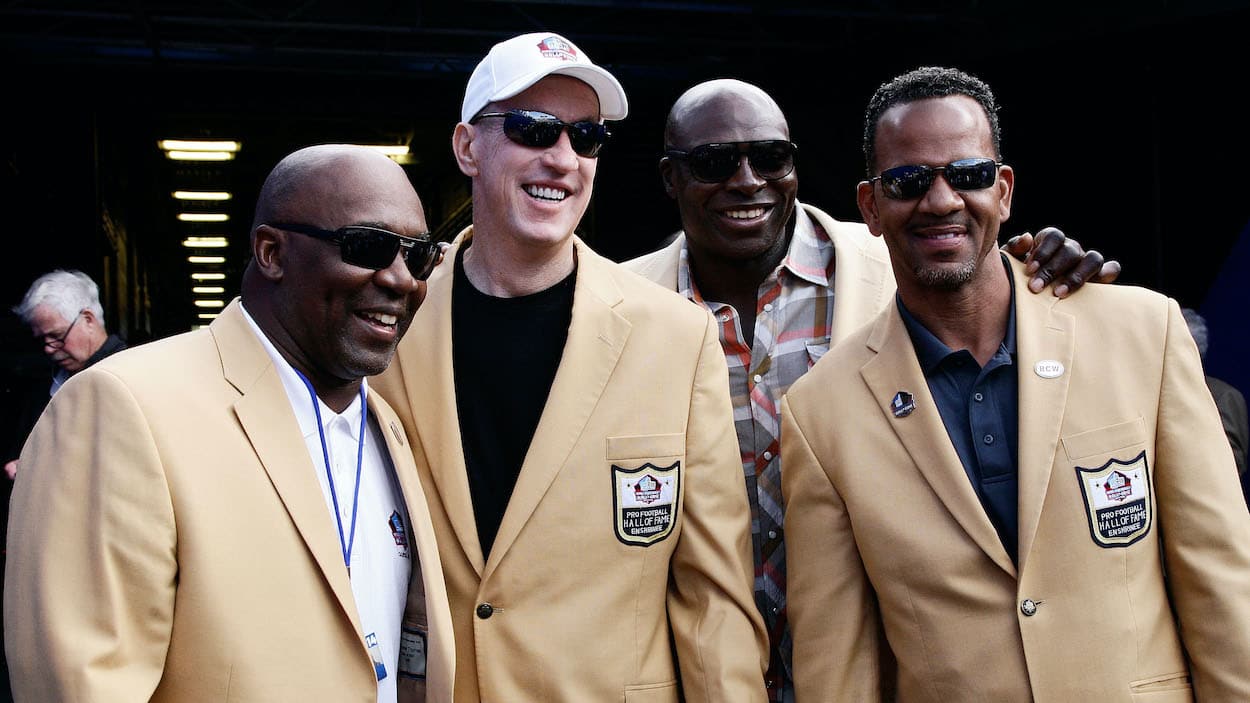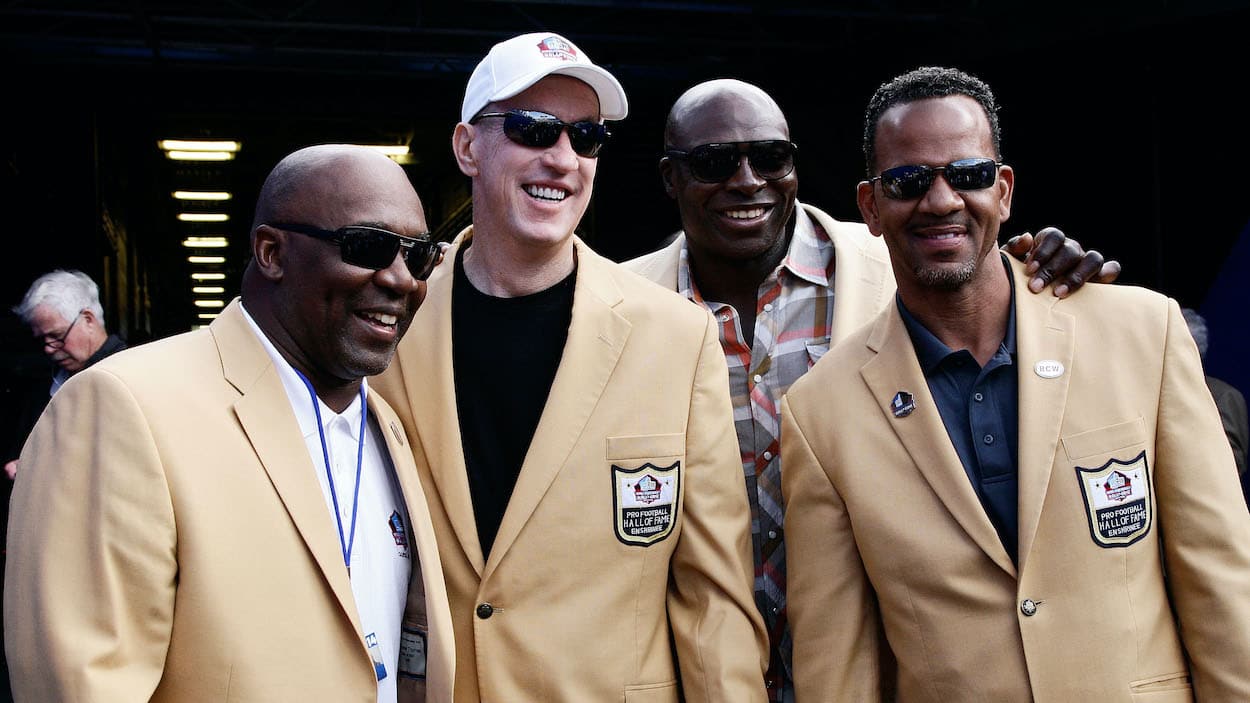 Offense 
QB: Jim Kelly (1986-96)
When it's all said and done, Josh Allen could surpass Jim Kelly as the best Bills quarterback of all time. For now, though, Allen is still striving to make the Super Bowl, and Kelly went to four.
The two are incredibly similar QBs. Kelly was a big, physical, rocket-armed signal-caller in his day who played quarterback like a linebacker. Allen is the same way in 2023, but Kelly gets the Bills' all-time team nod because he is already a Hall of Famer.
RB: Thurman Thomas (1988-99)
Look, the real answer here probably should be O.J. Simpson, but all Buffalo fans can agree "The Juice" is off of any subjective Bills all-time lists. Thurman Thomas is a fine stand-in, though, and a close second anyway.
He is a Hall of Fame running back who was a three-down back who could run and catch before that was a fashionable skillset in the NFL.
WR: Stefon Diggs (2020-22)
Stefon Diggs has only played three seasons in Buffalo, but he is already the most explosive receiver the franchise has ever had. After those three campaigns, Diggs is eighth in franchise history in receiving yards, fifth in receptions, and sixth in receiving touchdowns.
WR: Andre Reed (1985-99)
Of all those categories above that Stefon Diggs ranks in, Andre Reed is first in franchise history. He also ranks in the NFL's top 20 all-time in receiving yards, receptions, and receiving touchdowns. Reed is a deserved Hall of Famer and Jim Kelly's favorite target for all those Super Bowl years.
WR: Eric Moulds (1996-2005)
The late 90s and early 2000s were rough years for the Buffalo Bills. However, there were a few bright spots, and WR Eric Moulds was one of them. Even with horrible quarterback play for most of his Bills career, he is right behind Reed in receiving yards, receptions, and receiving touchdowns, and he made three Pro Bowls on terrible teams.
TE: Pete Metzelaars (1985-94)
The Bills' all-time team needs a tight end, but the franchise has never had a truly great one. Pete Metzelaars was crucial in the Super Bowl runs, running and blocking, but he never made a Pro Bowl. Maybe Dalton Kincaid or Dawson Knox will overtake the 6-foot-7 TE someday, but for now, it's Metzelaars.
LT: Jason Peters (2004-08)
Jason Peters only played four years for the Bills before becoming a constant complainer and forcing Buffalo to trade him. Still, during his last few seasons with the Bills, Peters was already on his way to becoming one of the best offensive tackles of his generation.  
LG: Jim Richter (1980-1993)
While most of the Bills' Super Bowl teams' players joined in the late 80s, veteran guard Jim Richter was there for the entire decade. He was the veteran presence in front of Jim Kelly, who led one of the best lines of the 90s and deserves a spot on the Bills all-time team.  
C: Kent Hull (1986-96)
Two-time All-Pro and three-time Pro Bowl center Kent Hull is one of the last few players from the four Super Bowl teams who deserve to be in the Hall of Fame. Hull was the QB of the offensive line, calling protections, protecting Jim Kelly, and running over defensive tackles to spring Thurman Thomas.
RG: Joe DeLamielleure (1973-79, '85)
Hall of Fame right guard Joe DeLamielleure is the best offensive lineman in Buffalo Bills' history. He led the "Electric Company" offensive line of left tackle Dave Foley, left guard Reggie McKenzie, center Mike Montler, right tackle Donnie Green, and tight end Paul Seymour.
This group paved the way for O.J. Simpson to run for 10,183 yards in Buffalo, leading the league in rushing four times and making six Pro Bowls. So, while O.J. doesn't make the list for obvious reasons, his pulling guard certainly does.
RT: Howard Ballard (1988-93)
Two-time Pro Bowl right tackle Howard Ballard was an underrated member of the 90s Bills offensive lines. And while Will Wolford may have been better overall, he technically played right guard and left tackle, so Ballard gets the nod at his true position.
Defense
DE: Bruce Smith (1985-99)
Hall of Fame defensive end Bruce Smith is the best defender in Bills history. He is an 11-time Pro Bowler, eight-time All-Pro, and put up 171 of his 200 career sacks for the Bills.
Those 200 sacks are the most in NFL history, and "Bruuuuuuuuuce" should keep that honor for a long time. The active sacks leader is current Bills pass-rusher Von Miller who is 34 and 76.5 sacks behind the Bills legend.
DT: Kyle Williams (2006-18)
Another bright spot in a dark time for the Bills, Kyle Williams, was incredible in the middle of the defensive line for the Bills in the early 2000s. While not many players on those teams got much recognition, NFL writers couldn't ignore Williams' disruptive dominance, and they voted him to six Pro Bowls.
DT: Fred Smerlas (1979-89)
Fred Smerlas was an iron man in the middle of the Bills defense during a relatively poor time in the 1980s. The big nose tackle started every game (102) from Sept. 7, 1980 to Sept. 20, 1987. That's the most by a nose tackle in NFL history. He also helped clear the way for Bruce Smith's early sacks in the first few years of his career.
DE: Mario Williams (2012-15)
The 2006 No. 1 overall pick and the Bills in teens were a great fit. Mario Williams never seemed comfortable in the spotlight that getting drafted ahead of Reggie Bush earned him. And those Bills teams were under the radar (and not great) but always fun to watch. Williams' 43.0 sacks in his four seasons were a big part of that.
LB: Darryl Talley (1983-94)
Darryl Talley is the all-time leading tackler in Bilsl history and was the man who roamed the middle of the field behind Bruce Smith and company on the 90s Super Bowl team. And he wasn't called "Big Chief" for nothing. He was also a leader on those defenses.
LB: Cornelius Bennett (1987-95)
Cornelius Bennett could do it all as a linebacker. He was a two-time UPI Defensive Player of the Year and finished his Bills career with 793 tackles, 52.5 sacks, 22 forced fumbles, 19 fumble recoveries, six interceptions, and two defensive touchdowns. Bennett's jack-of-all-trades play elevated the Bills D to another level and made him a player ahead of his time.
LB: Matt Milano (2017-22)
Matt Milano is the best coverage linebacker in the NFL right now, and he's finally starting to get recognized for it. The sixth-year defender made his first Pro Bowl and All-Pro team in 2023, and the Bills rewarded him with a new contract while letting his partner, Tremaine Edmunds, go in free agency.
CB: Tre'Davious White (2017-2022)
Tre'Davious White is still just 28 years old, so there is a lot of time to go to write his NFL story. However, after two Pro Bowl and one All-Pro seasons in his first four years, White is already the most dynamic cover man in Bills' history.
A Thanksgiving night ACL injury in 2021 cost him nearly a full season, but he should be back to full strength finally in 2023, which means he should compete for the title of best CB in the league next season as well.
CB: Robert James (1969-74)
Robert James is a fascinating story. He was undrafted (in a 17-round draft) and turned himself into not just a starting corner but a three-time Pro Bowler and two-time All-Pro. Unfortunately, James tore his ACL at 28, back when that was a death sentence for an NFL career. Still, for four years, he was an incredible player.  
S: Mark Kelso (1986-93)
Mark Kelso, Marvin the Martian helmet, is a little like guard Jim Richter on the offense. Kelso wasn't the flashiest or most heralded player, but he was a leader and the last line of defense on the Bills defense, and without that, the Bills don't make four Super Bowls.
S: Jordan Poyer (2017-22)
Jordan Poyer went from journeyman to All-Pro when he got to the Bills in 2017. And while 2021 was his best statistical season, in 2022, he held the defense together with string and duct tape, all while playing with his own injuries. That's why the Bills re-signed him for 2023, even at the age of 32.
Special Teams
K: Steve Christie (1992-2000)
Steve Christie is the Bills' all-time leading scorer, having kicked 1,011 points through the uprights in his career. He also helped the franchise regain faith in the position of kicker after Scott Norwood's wide right scarred every Western New Yorker for life.
P: Brian Moorman (2001-12)
The Bills punted a lot in the early 2000s. And, frankly, for several years, Brian Moorman was (by far) the best player on the team. That's not great for a team's hopes of winning games, but it is key to Moorman ending up on this Bills' all-time team.
ST: Steve Tasker (1986-97)
Buffalo got to four Super Bowls because of the incredible talent in all three phases of the game, not just two. The Bills always had outstanding special teams in the '90s, and Steve Tasker is the best special teams specialist in NFL history.
Tasker made a stunning seven Pro Bowls for his work on special teams, and he deserves to be in the Hall of Fame for his contributions to that crucial aspect of the game.
Coaches
Head coach: Marv Levy (1986-97)
"Where would you rather be than right here, right now!?"
The answer for Bills fans is nowhere, and the answer to who would you rather have coaching the Bills' all-time team is no one other than Marv Levy. The Coe College and Harvard grad went 112-70 in Buffalo and went to four Super Bowls. Levy may not have won the big one, but he is a Western New York legend.