Cam Newton Suffers Setback That Could Cost Him Millions if Mac Jones Plays His Cards Right
Cam Newton faces enormous pressure to prove Bill Belichick made the right decision to keep him around for at least one more year. After all, his first season with the New England Patriots did little to inspire confidence about his ability to play the quarterback position at a competent level.
And with Mac Jones now in the mix, Newton has a razor-thin margin for error.
Unfortunately for the former Carolina Panthers star, his recent setback could cost him more than missed practice time. Because if Jones plays his cards right, Newton could see millions of dollars disappear right before his eyes.
Cam Newton's 2021 payday depends on his ability to stay on the field
The Patriots paid the price for going the cheap route at the most important position in sports last season, as they missed the playoffs for the first time since 2008. But even though Newton largely struggled while playing on a one-year, league-minimum deal, Belichick refused to let him leave this offseason. Instead of pulling the plug on what looked like a failed experiment, he re-signed the veteran quarterback.
Just as they did with his first contract, the Patriots tied most of Newton's money to incentives. Considering how his first year in Foxborough went, it shouldn't have been a surprise that he only received $3.5 million fully guaranteed on his new contract.
Although Newton's one-year deal has a base value of $5.1 million, he can make up to $13.6 million. The Patriots must pay him $88,235.29 for each game in which he's on the active roster. With the league moving to a 17-game schedule, that means Newton can make up to $1.5 million simply by being activated.
In addition, he will earn $500,000 if he plays 60% of the offensive snaps. That bonus jumps to $1 million if he hits 90%. Plus, if the Patriots make the playoffs, Newton can collect up to $2 million based on his snap percentage.
New England also included Pro Bowl and All-Pro bonuses, as well as postseason-based incentives that can boost his payday for the 2021 season. So for Newton, staying on the field (and playing well) carries significant financial implications.
Newton suffers setback that could prove costly if Mac Jones plays his cards right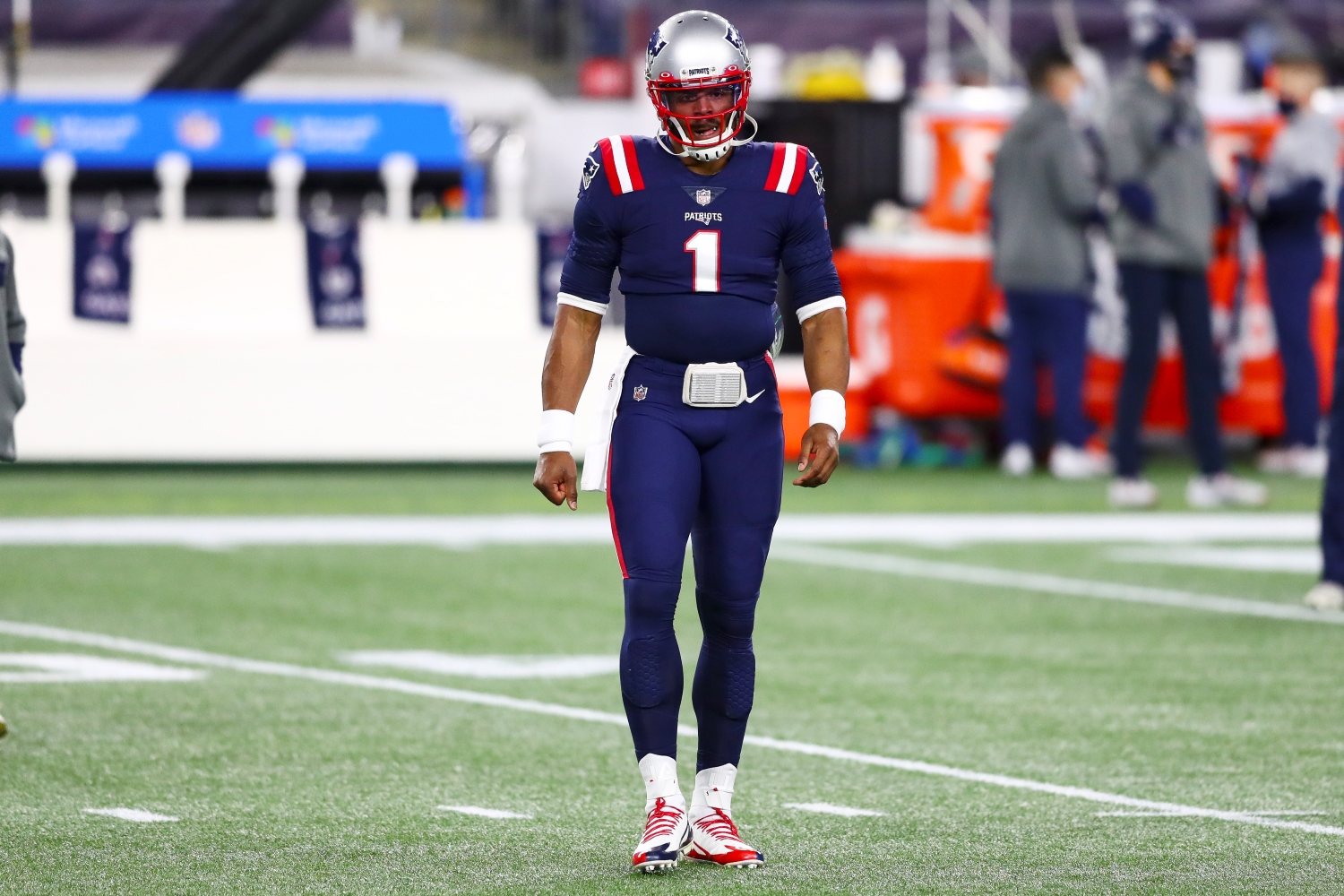 Could the Patriots end up saving a lot of money on the quarterback position this season? After Newton experienced a setback on Friday, that might just happen.
According to Ian Rapoport of NFL Network, the 32-year-old suffered a slight bone bruise after he banged his hand on a helmet during practice. Though the injury is "not considered major at all," it doesn't sound like Newton will see much action this spring.
"We may not see much more of him until training camp," Rapoport reported.
Newton's hand doesn't seem like a long-term concern, but his short-term setback could have a major effect on his bank account.
If Newton's injury prevents him from practicing for an extended stretch, Jones should take over a majority of his reps. Spending more time with the first-team offense should put the rookie in a strong position to showcase the skillset that convinced Belichick to draft him with a first-round pick. If Jones shines while Newton is on the sidelines, the Patriots will have little reason not to move forward with the young quarterback.
That scenario represents the worst possible out come for Newton's chances of cashing in on his contract incentives. Because if Jones takes advantage of increased practice reps and continues to ascend throughout the summer, he can cement his status as the team's starting quarterback much sooner than expected. And if Newton doesn't get on the field much this season, he will miss out on millions of dollars in bonuses.
The Patriots should be more than pleased if they don't have to pay Newton an extra dime
Unless Jones starts trending in the wrong direction, the Patriots shouldn't hesitate to hand the keys to the offense to the talented first-year signal-caller. Based on his college game film, he has all the traits required to run New England's offense. Intelligent, tough, and accurate, Jones seems like a picture-perfect fit for a passing attack that's predicated on getting the ball out on time to allow receivers to gain yards after the catch.
Meanwhile, Newton struggled to read defenses and make basic throws during the 2020 season. And even after all the hype about him working on his throwing motion this offseason, it's hard to imagine him suddenly becoming an elite passer in his 11th year in the league.
The best outcome for New England involves not having to pay Newton an extra dime. That will require Jones to win and retain the starting job, which doesn't look nearly as unlikely as it did when he first got drafted.
And now that he's built a Super Bowl-caliber roster, perhaps Belichick will realize his best chance of winning another ring is to do exactly what he did 20 years ago.
Of course, he can only hope that swapping out Newton for Jones works out as well as replacing Drew Bledsoe with a young, skinny kid out of Michigan by the name of Tom Brady.
All contract information courtesy of Spotrac.