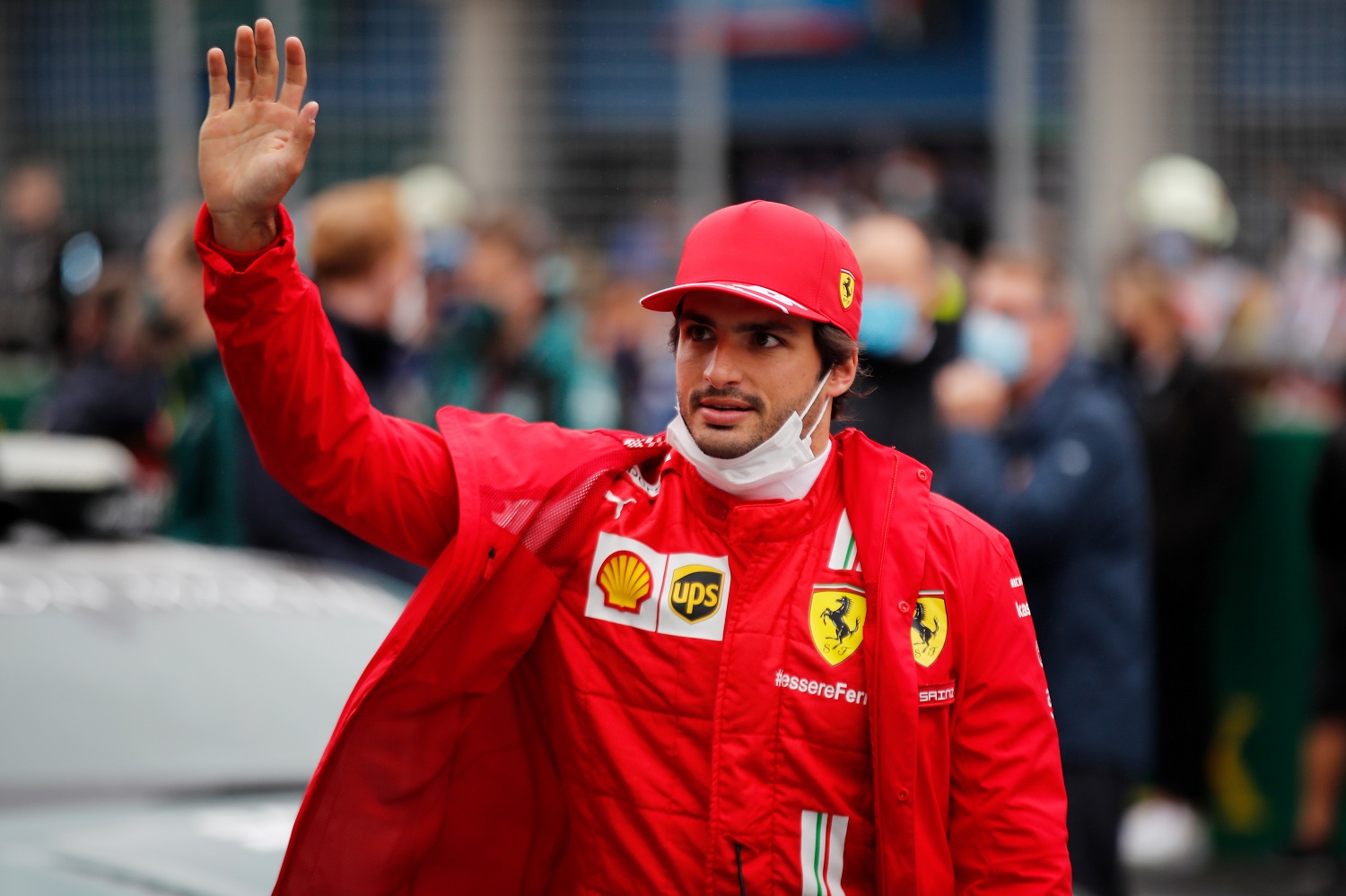 Carlos Sainz Jr.'s Biggest Adjustment on Ferrari's Formula 1 Team Has Nothing to Do With the Car or Team: 'It is Crazy, and I Love It'
Carlos Sainz moved to Ferrari before the 2021 Formula 1 season and is enjoying how friendly Italian racing fans have been. 'It's crazy, and I love it,' he says.
Given that the score is 100-0 after the U.S. Grand Prix at Circuit of the Americas, Carlos Sainz Jr. likely will never catch Lewis Hamilton in Formula 1 victories. That hardly makes the 27-year-old from Spain unique since it could take a decade or more for anyone, including Max Verstappen, to approach Hamilton's accomplishments.
Sainz is in a unique position to make his mark in a different fashion. He's the driver that one of the storied names in racing is banking on to restore its reputation.
Carlos Sainz and Charles Leclerc give Ferrari a solid driving tandem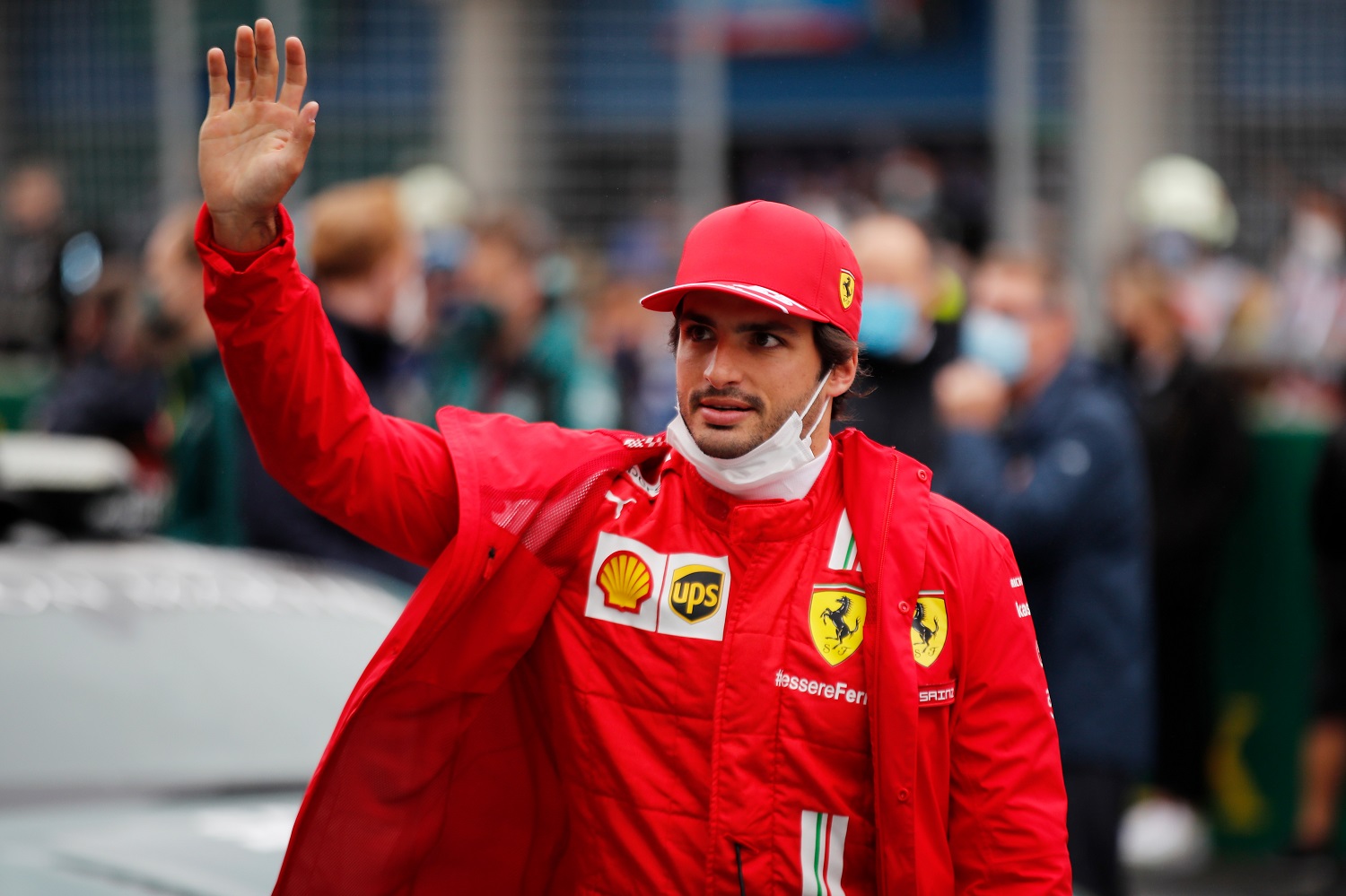 No Formula 1 team has recorded more than the 238 victories that Scuderia Ferrari has logged, and the storied Italian team has also won 16 constructors' titles and 15 drivers' championships. Once Michael Schumacher won his last series title in 2004 and then retired two years later, much of the magic left, too.
Though Kimi Raikkonen captured the World Drivers' Championship in 2007, there have been no titles since. Ferrari lured four-time champion Sebastian Vettel from Infiniti Red Bull in 2015, but his 14 race wins in six seasons never translated into a season championship.
Now, Ferrari has a solid pair of drivers as it strives to catch up to Red Bull and Mercedes.
Charles Leclerc, 24, broke into Formula 1 with Alfa Romeo in 2018 and moved on to Ferrari the following season. With two victories and eight other podium finishes in 2019, he gave the team hope for the future. Unfortunately, Ferrari's offseason program was a disappointment, and Leclerc and Sebastian Vettel struggled during the pandemic-delayed 2020 season.
When Ferrari and Vettel couldn't agree on a new contract, the team recruited Carlos Sainz from McLaren, where he posted two podium finishes in two years.
Carlos Sainz Jr. finds the adoration of Ferrari fans to be intriguing
Ferrari and Italian motorsports are synonymous. If the men's national soccer team is the No. 1 passion of the country's sports fans, then the racing outfit from Maranello in northern Italy is a clear No. 2.
As part of a racing family and a native of Spain, where racing is also a favorite sport, Sainz was ready for the attention he'd get in Italy. But what he's found has been a surprise.
"It is true that the fans in Italy are super passionate and super respectful in a way that I didn't expect," he told Motorsport.com. "I mean, even touching you or shaking your hand, for them it is something super special. They really respect you, and they really have you on a pedestal for some reason, and it's quite impactful.
"They get super nervous when you're near them, and this is a feeling that I've never had before as a driver, just how nervous people become when you're close to them.
"I tap them on the back and say, 'Come on, I'm a 27-year-old, like you. Just relax and take the pictures.' But I often take the phone from them to take it myself.
"It is crazy, and I love it."
What's next for Carlos Sainz and Ferrari?
Ferrari was a solid second to Mercedes in the 2019 constructor standings, but the organization slipped to an embarrassing sixth last season, unable to overcome early-season engine troubles.
Mercedes and Red Bull will slug it out for the 2021 championship, and Ferrari and McLaren are in a two-horse race for third.
Sainz is coming off sixth-place finishes in the driver standings the past two seasons. With the Ferrari program slowly regaining its footing with two capable drivers, and frequent top-three finisher Valtteri Bottas leaving Mercedes after the season, 2022 offers Sainz a shot to add to his three podium finishes this season and five for his career.
He should make frequent headlines, much to the delight of his Italian followers.
All stats courtesy of Racing Reference.