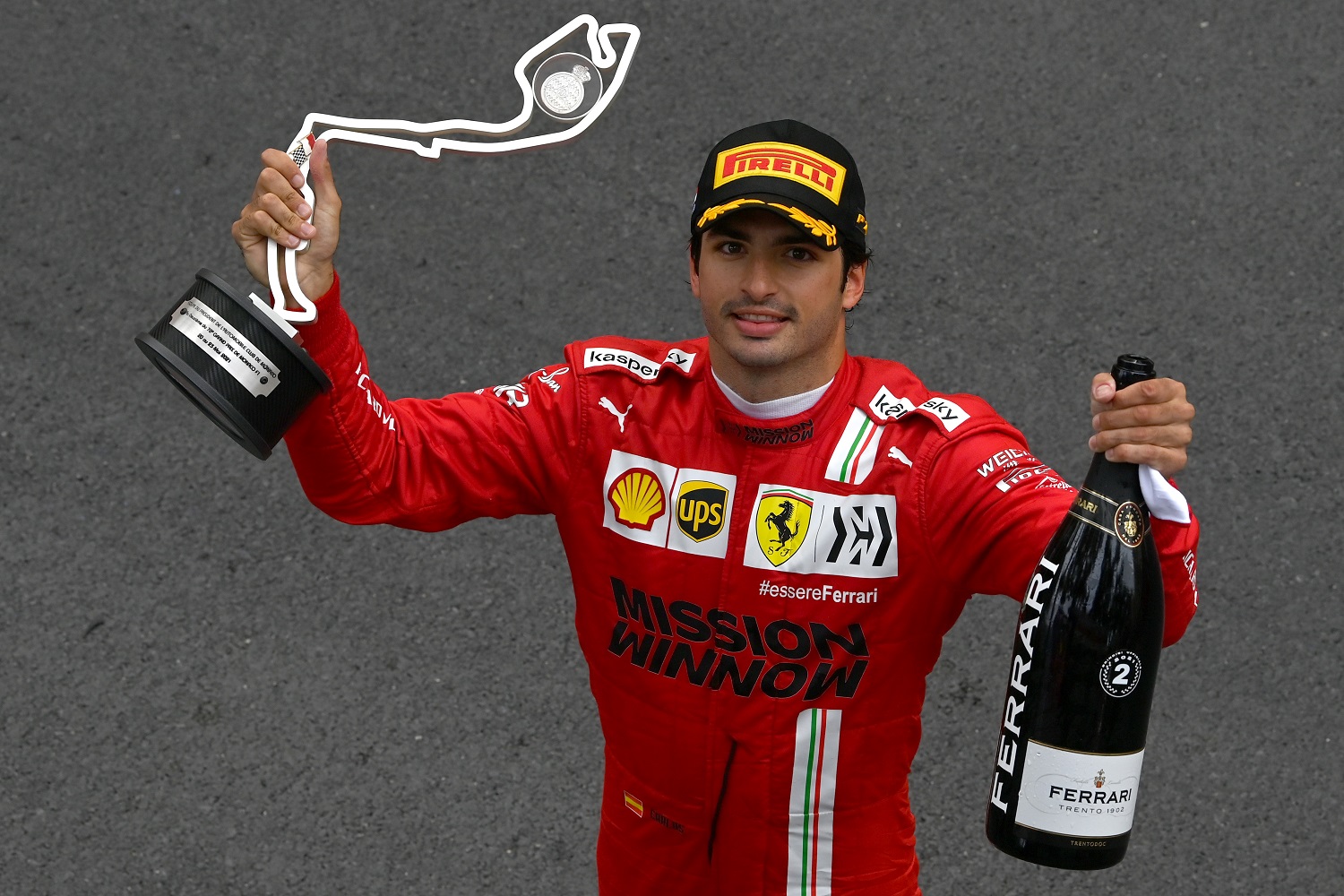 Formula 1 Driver Carlos Sainz Jr. Signed the Most Important Deal of His Life While in His Pajamas
Carlos Sainz made the move to Ferrari in the offseason. The latest driver changes position him to climb the Formula 1 standings in 2022.
The Formula 1 schedule for Sunday at Circuit of the Americas lists one race. However, there are always two races lately: Red Bull, led by Max Verstappen, vs. Mercedes, led by Lewis Hamilton, is the main event. Carlos Sainz Jr. and 15 other drivers fighting for table scraps are in the other race.
Actually, all the drivers leave the grid for one race at 3 p.m. ET for 56 laps on the 3.42-mile circuit. Verstappen and Hamilton will be the favorites as they continue to wage their battle for the World Drivers' Championship. Verstappen holds a 262.5-256.5 edge over the seven-time world champion. It's likely their contest will go down to the final race of the season on Dec. 12 at Abu Dhabi. And while that understandably drives the flourishing interest in Formula 1, the contest behind them is every bit as intriguing and exciting.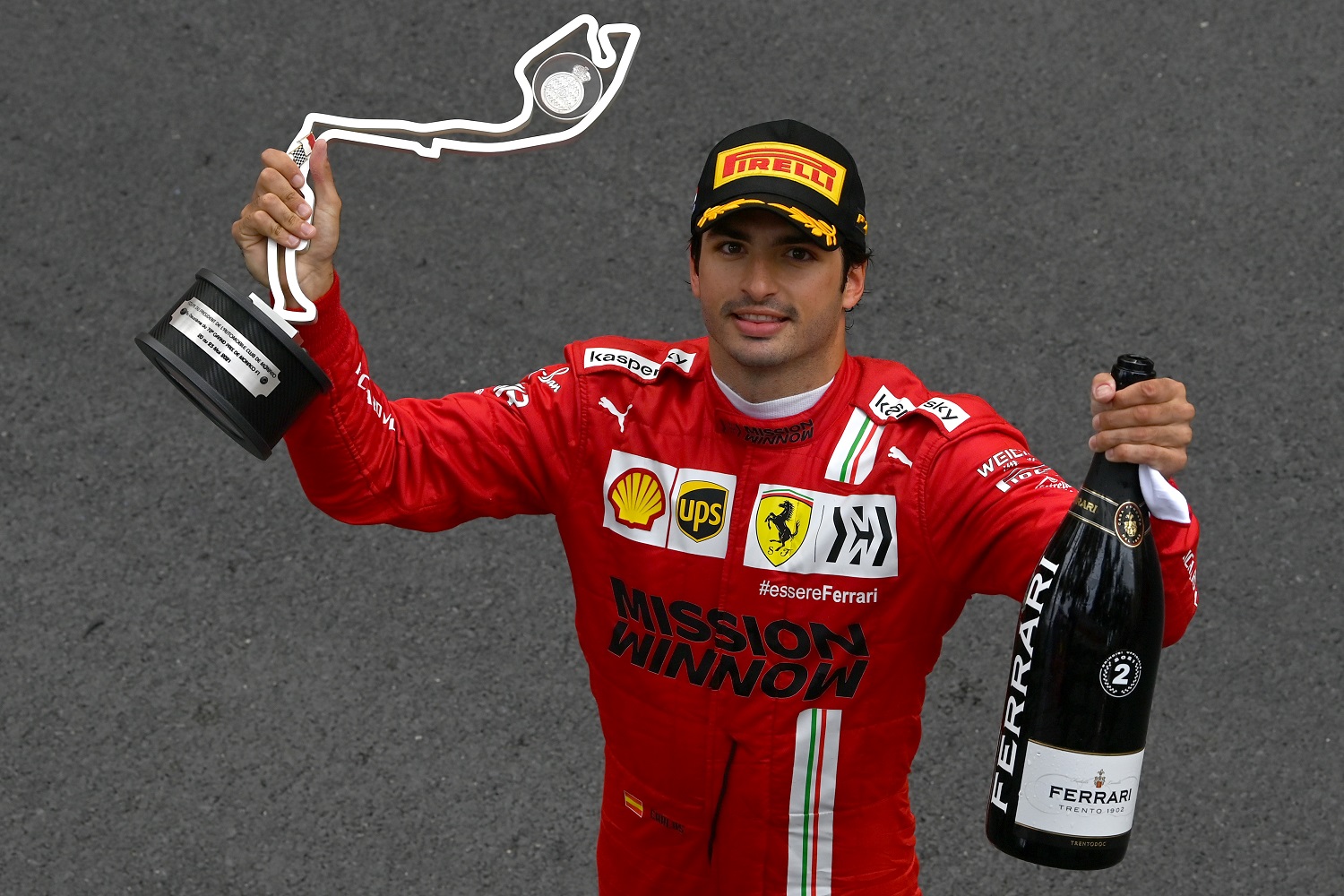 That race starts with teammates. Red Bull and Mercedes are head-and-shoulders above the other teams, even the storied Scuderia Ferrari organization, in equipment and technology. As such, Valtteri Bottas (Mercedes, 177 points) and Sergio Perez (Red Bull, 135) also reside in the top five of the driver standings.
However, Lando Norris of McLaren (145), and Ferrari's Sainz (116.5) and Charles Leclerc (116), have separated themselves into the next class of drivers, with Daniel Ricciardo of McLaren (95) close enough to be in that conversation. If they were driving with the Red Bull or Mercedes imprimatur, they would all be earning rock-star treatment rather than pop-star treatment.
Of the bunch, Sainz is the most interesting Formula 1 driver. He has bounced around quite a bit already despite being a mere 27 years old.
The short version is that Red Bull allowed him to walk from a support role. So, he marked time at Renault in 2018 before finishing sixth in points the next two seasons with McLaren. When Ferrari came calling for a replacement for Sebastian Vettel, Sainz made the move.
It's important to understand the significance of joining Ferrari. Though the organization has lost some of its luster in an era dominated by Mercedes and now Red Bull, Ferrari is a huge name in Italian and international sports. Driving for them is like a teen fan of Joe Montana signing to play quarterback for Notre Dame or a kid from the Bronx roaming the same centerfield where Joe DiMaggio and Mickey Mantle played for the New York Yankees.
One might assume a moment of reverence existed as Sainz signing the contract. Instead, it was a moment of levity after a long negotiating process via Zoom calls during the pandemic lockdown, the driver told Motorsport.com.
"We had been spending all the lockdown together with the family, and then suddenly one day I wake up around 8 a.m., and I'm still in my pajamas. I come into this room, and I see that my dad is ready with a pen. He says, 'You need to sign here. It is the Ferrari contract. And it's done if you sign.'

"So, I signed it in my pajamas at 8 a.m., just after waking up! I was like 'OK, good morning to you, too.'"

Carlos Sainz Jr.
While Ferrari remains wobbly on the technical side, Sainz and Leclerc form a formidable driving duo, and Sainz sits sixth in points entering the U.S. Grand Prix at Circuit of the Americas, with Perez and Ricciardo still in his sights.
While talented, Bottas will not score consistent podium finishes next season at Alfa Romeo the way he has at Mercedes, and replacement George Russell is unlikely to match Bottas' productivity upon arriving from Williams as the replacement.
Suddenly, then, Sainz looks like a viable candidate to battle Perez, Norris, and Leclerc for podium finishes in 2022. He could finish in the top three in points, which would put him in superstar territory.
The excitement is building for Sainz.
"We are athletes, we are self-confident, we all believe we are the best," he said, according to Grand Prix 247, "and I'm just waiting to get a bit better, a bit more at home with the team to try to perform at a higher level."
Like Sportscasting on Facebook. Follow us on Twitter @sportscasting19.