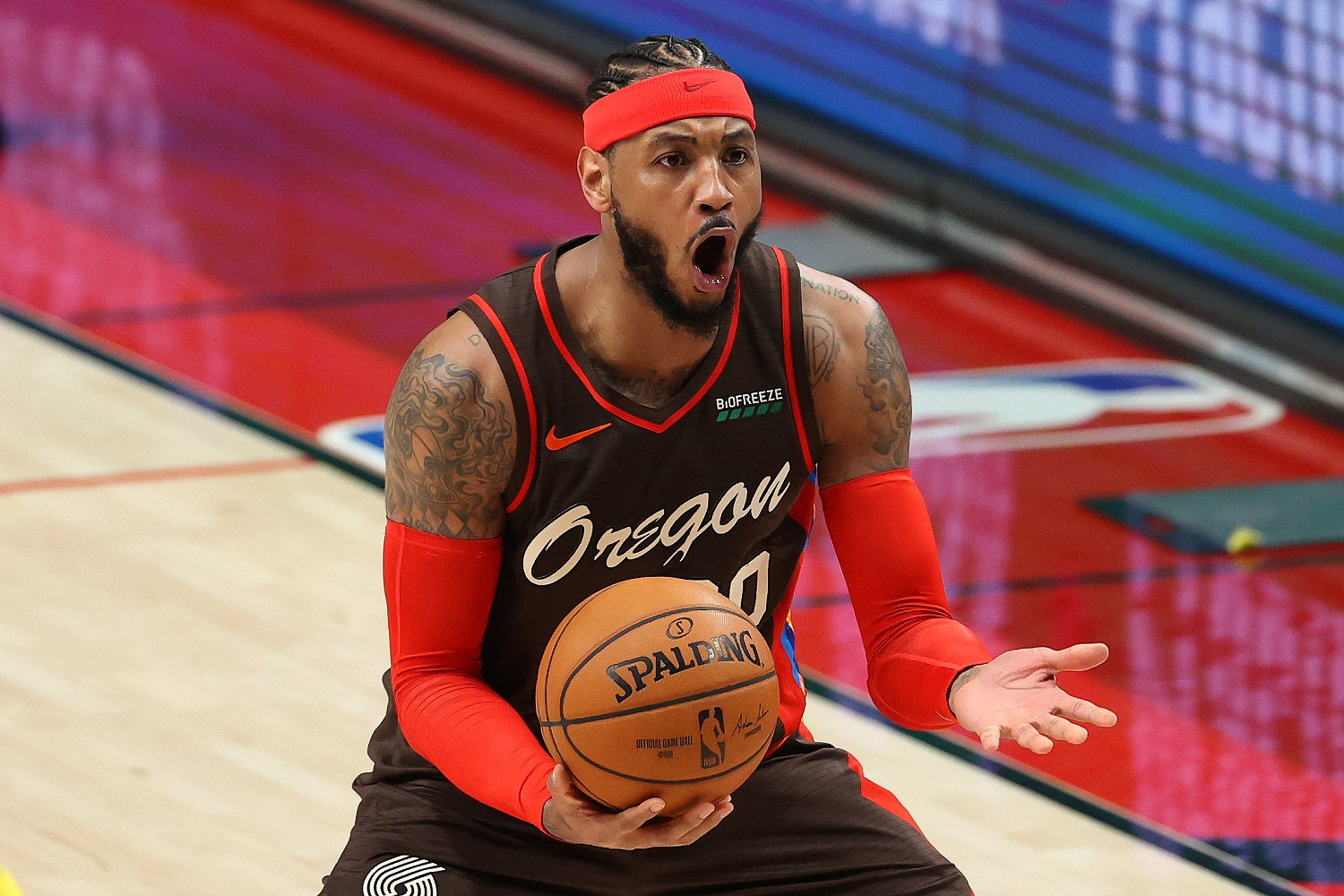 Carmelo Anthony's Major Flaw Was Too Much for Phil Jackson
Giving Carmelo Anthony a no-trade clause as part of his max contract in 2014 was ultimately Phil Jackson's undoing during a failed tenure as president of the New York Knicks.
Eleven NBA championships confirm that Phil Jackson knew how to coach an NBA team. His three years as a New York Knicks executive demonstrated he couldn't put one together, nor keep it together. Carmelo Anthony should have been the solution. Instead, he was the problem who helped chase Jackson out of town. Jackson blames Anthony for much of what went wrong when they were together with the Knicks, and he's probably not wrong.
The Knicks should have never made the Carmelo Anthony trade
Lest we forget, the Knicks' first mistake with Carmelo Anthony was trading for him well before Jackson arrived. Donnie Walsh was running the front office in February 2011 when the Knicks, Denver Nuggets, and Minnesota Timberwolves pieced together a complicated deal.
The Knicks ended up with Anthony, Chauncey Billups, Anthony Carter, Shelden Williams, Renaldo Balkman, and Denver's first-round pick in 2016. They surrendered Eddy Curry, Raymond Felton, Danilo Gallinari, Anthony Randolph, Wilson Chandler, Timofey Mozgov, cash, first-round picks in 2014 and '16, and a second-round pick in 2013.
Anthony gave the Knicks six-plus seasons (412 games), but the other acquisitions were short-term rentals who contributed nothing. Anthony didn't make the Knicks appreciably better – one trip to the Eastern Conference semifinals – while Gallinari, Chandler, and Felton all went on to productive careers. Those three plus the lost draft picks could have been complementary pieces to a splashy free-agent signing.
Speaking of which, the Knicks made the Anthony trade just months before he could have become a free agent. The league knew he wanted to play in New York, so the preemptive strike by the Knicks wasn't even necessary.
The Knicks tore through coaches, eventually firing Jackson
He averaged 24.7 points and 7.0 rebounds in his time with the Knicks, but Anthony was also a coach-killer. He needed the offense to run through him, which killed the flow. Coach Mike D'Antoni lasted roughly a year after Anthony's arrival, and Mike Woodson survived a touch over two seasons. And then it was Derek Fisher's turn to bang his head against the wall for not quite two seasons.
The Knicks hired Jackson as their president on March 18, 2014, giving him a five-year, $60 million contract. One month after Anthony exercised his opt-out that offseason, Jackson re-signed him to a five-year, $124.1 million max deal. The money wasn't a mistake, but giving Anthony a no-trade clause was.
Jackson's relationships with Anthony and Kristaps Porzingis seemingly deteriorated as losses piled up month after month. They never enjoyed a winning season together, and Jackson was grateful when owner James Dolan fired him on June 28, 2017, with two years remaining on his contract.
"It was best to leave, and I think as a favor, Dolan relieved me of the job," Jackson said during an appearance on  The Curious Leader podcast hosted by ex-Lakers player Cody Karl. "I think he actually did me a favor."
Anthony's major flaw was too much for Jackson
Knicks coaches and executives could probably have tolerated Carmelo Anthony as the focus of the offense had he been a better overall presence. If you're going to demand attention on the court, you should be commanding it in the locker room.
"Carmelo, I think, wanted to be a leader, but I don't think he completely knew how to be a leader as a player," Jackson said on the podcast, as reported by the New York Post. "And I think that the strength of his personality was intimidating to some of the coaches that were asked to coach the team. And, so, there wasn't this compliance that has to go between players and coaches."
The no-trade clause killed whatever incentive Anthony had to come around to Jackson's point of view. He could have been happier and more productive elsewhere – he has put aside his high-volume shooting while contributing for Oklahoma City and Portland – but Anthony wouldn't give Jackson the satisfaction of trading him.
Jackson said he offered Anthony a say in trade destinations. The player was having none of that.
"That was met without compliance," Jackson said.
Three months after Dolan fired Jackson, Anthony finally relented, and the Knicks sent him to Oklahoma City for Enes Kanter, Doug McDermott, and the draft pick that landed them Mitchell Robinson.
Like Sportscasting on Facebook. Follow us on Twitter @sportscasting19.