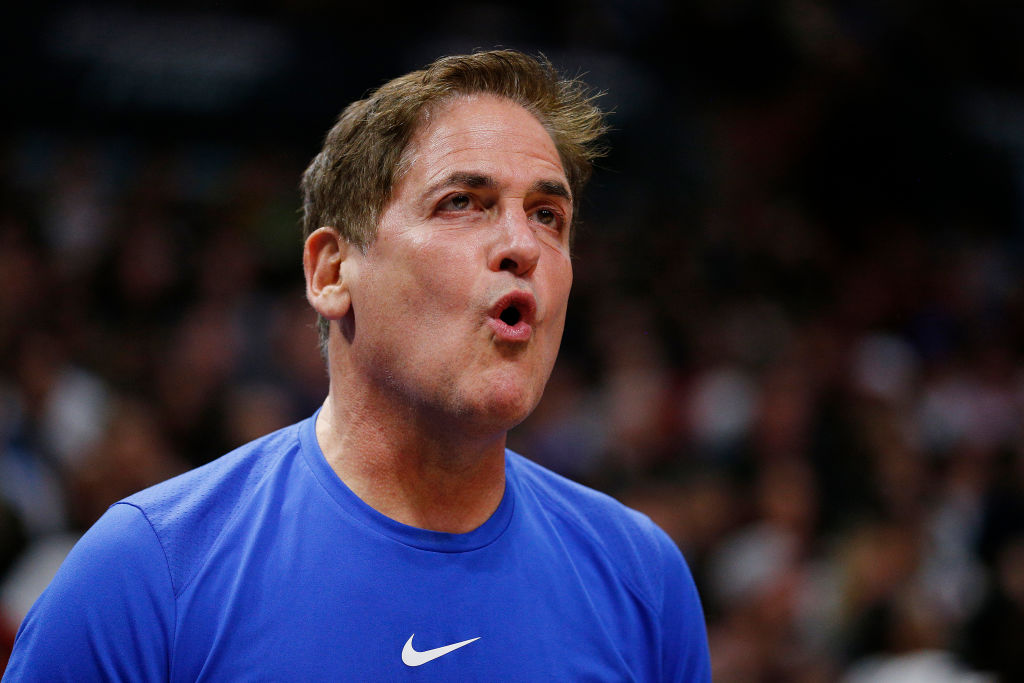 Mark Cuban Still Can't Believe How Easy It Was to Fleece the New York Knicks
Dallas Mavericks owner Mark Cuban marvels at how easy it was to pry Kristaps Porzingis away from the New York Knicks.
Mark Cuban has made some lopsided deals in the business world over his career, but he at least had to study the numbers and negotiate carefully to come out on top so decisively. On the other hand, acquiring a player who is now a cornerstone of his Dallas Mavericks was no more difficult than picking up his phone one day last year.
Kristaps Porzingis was both valuable and unhappy
The New York Knicks were so fixated on setting themselves up to land future free agent Kevin Durant and perhaps Kyrie Irving or Kawhi Leonard last year that the team's front office made exactly the kind of move that NBA fans would expect of a franchise that hasn't been to the playoffs since 2013 or to the league finals since 1999.
Big man Kristaps Porzingis was known to be unhappy with the Knicks' front office, which didn't offer him a rookie extension because the team was trying to preserve cap space. Coupled with the frustration of having torn his left ACL in February 2018, he was ready for a fresh start somewhere else.
Even with the injury, Porzingis should have had a lot of value on the trade market. The 7-foot-3 native of Latvia had averaged 17.8 points and 7.1 rebounds a game over three seasons in New York, a talent-deficient team for so long that letting Porzingis go under any circumstances was unforgivable.
The No. 1 problem with NBA trades is that at least one of the teams in the deal generally has salary-cap issues, so the negotiations typically require throwing in players on both sides of the equation to balance out the money. It's time-consuming and can really shake up a roster, but teams do it in order to land the players they need.
Instead of fishing around for other teams who could create a bit of a bidding war, the Knicks' first call once they decided Porzingis was expendable was to the Dallas Mavericks, who had shown some casual interest in the past.
That turned out to be one more in a long line of blunders.
Mark Cuban couldn't believe his good fortune
Dallas Mavericks owner Mark Cuban still describes himself as stunned over the trade that allowed his franchise to acquire Kristaps Porzingis on Jan. 31, 2019. Speaking on WFAN this week, Cuban drew parallels to a 2012 trade involving a young star who was clearly on the rise.
"It happens in the NBA. It's like the James Harden trade. Harden gets traded from OKC to the Rockets and I'm like, 'Damn, why didn't we even get that offered to us?' We weren't in the mix. Nobody was. It was one phone call and the Rockets said yes. (The Porzingis trade) was our one phone call."

Mark Cuban
Cuban said there had been previous talks between the Mavericks and Knicks about Porzingis, but it was always speculative tuff.
"GMs talk all the time. 'We're willing to do this if you ever want to give him up,'" Cuban said.
Well, the talks suddenly got real, and the Mavericks couldn't believe their good fortune. The Knicks bundled Porzingis, Tim Hardaway Jr., Trey Burke, and Courtney Lee into a package in exchange for Dennis Smith Jr., DeAndre Jordan, Wesley Matthews, and two future (2021 and '23) first-round draft picks. Jordan and Matthews were on expiring contracts, which was going to translate into additional cap space for New York.
Looking back on the lopsided trade
Kristaps Porzingis and exciting guard Luka Doncic give the Mavericks a foundation potentially comparable to what Karl Malone and John Stockton meant to the Utah Jazz for so many years. Porzingis is averaging 19.2 points and 9.5 rebounds through 51 games of the suspended NBA season.
Tim Hardaway Jr., also acquired from New York, is averaging 15.8 points a game in his Mavericks career and his production is up across the board. Well-traveled Courtney Lee is a role player in Dallas, which let Trey Burke leave via free agency last summer.
The Knicks' side of the Porzingis trade is a disaster. First and foremost, New York failed to sign Kevin Durant, Kyrie Irving, or Kawhi Leonard last summer. The Knicks waived Wesley Matthews a week after he arrived, and DeAndre Jordan went to the Brooklyn Nets as a free agent after the season. Dennis Smith Jr. was inserted into the Knicks' starting lineup out of necessity last year but was averaging only 15.8 minutes a game as a reserve this season.
The Knicks still hold Dallas' first-round picks in 2021 and '23. Given that the Mavericks could be a 55- or 60-win team for the foreseeable future thanks in large part to Porzingis, New York could be picking 25th in drafts that typically don't have more than 15 prospects capable of making an immediate impact.