Celtics-Lakers Rivalry: Remembering Kobe Bryant's Last Game in Boston
It was December during an unofficial Kobe Bryant retirement tour. The Los Angeles Lakers legend said the 2014-15 season would likely be his final year, and the Boston Celtics crowd played it up like it would be his last time playing at TD Garden. It was, and it was a special moment in the Celtics-Lakers rivalry.
Fans cheered Kobe. They booed him, too. In the end, Kobe won.
Kobe Bryant had a double-double in his final game in Boston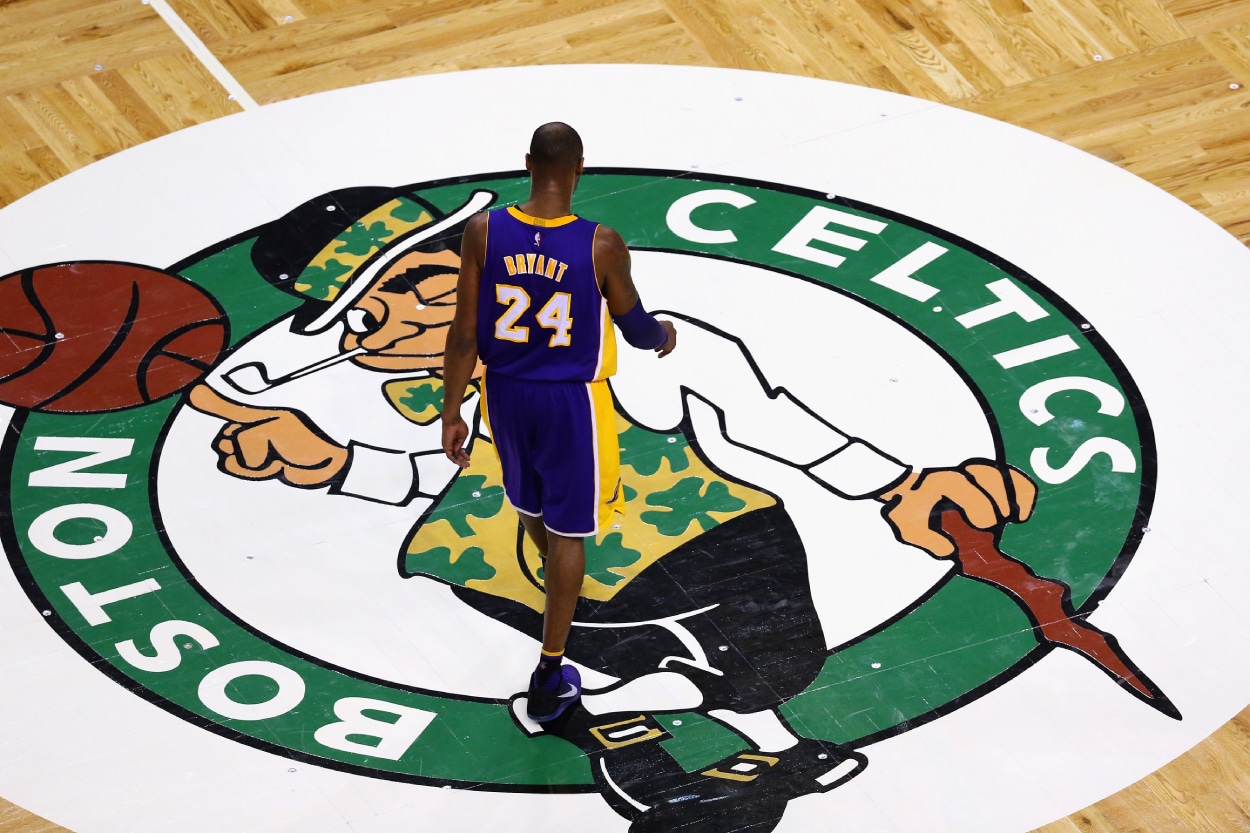 It wasn't your typical Celtics-Lakers rivalry game on Dec. 30, 2015. The buzz in the crowd was a lot more intense as something special was about to take place. It was likely Bryant's final game ever played in Boston.
Celtics-Lakers games have always had a special meaning, but this one was different. For Boston fans, it was always about beating LA. This time, however, it was about respecting a legend.
The Lakers entered the game 5-27. There was no real excitement about beating this Lakers team. Seeing Kobe at TD Garden for the final time was the draw.
Celtics fans gave Bryant everything, and it was everything he expected. They booed him because he was a Laker. They cheered when he was introduced for the final time in Boston. Then they chanted his name in the final minutes of LA's 112-104 victory.
Bryant finished with a modest 15 points and 11 rebounds in 33 minutes. It was his first double-double of the season.
"I wish I could do more to show my gratitude to them," said Bryant after the game, per ESPN. "It's a weird feeling walking across center court, looking down at that logo. I tried to cherish it as much as I can."
Bryant said Celtics fans made him feel at home
In the final minute of the game, the TD Garden crowd chanted, "Kobe, Kobe." It was a far cry from the time he came to Boston in 2008 and 2010 to face the Celtics in the NBA Finals.
"I can't believe this is the last time I'm going to be here. It seems like just yesterday we were playing in the Finals," he said.
Lakers coach Byron Scott gave props to the Boston fans.
"Like I said, the fans here are unbelievable as far as their knowledge of the game," Scott said. "The battles that we've had with them, especially Kobe over the years. I think they just wanted to show their appreciation."
When it was over, Bryant said the Celtics fans made him feel right at home.
"It was unbelievable," Bryant said, per NBA.com. "The recognition at the top of the game, and then as soon as I touched the ball and they booed, I was like, 'Ah, I'm home.' It felt great."