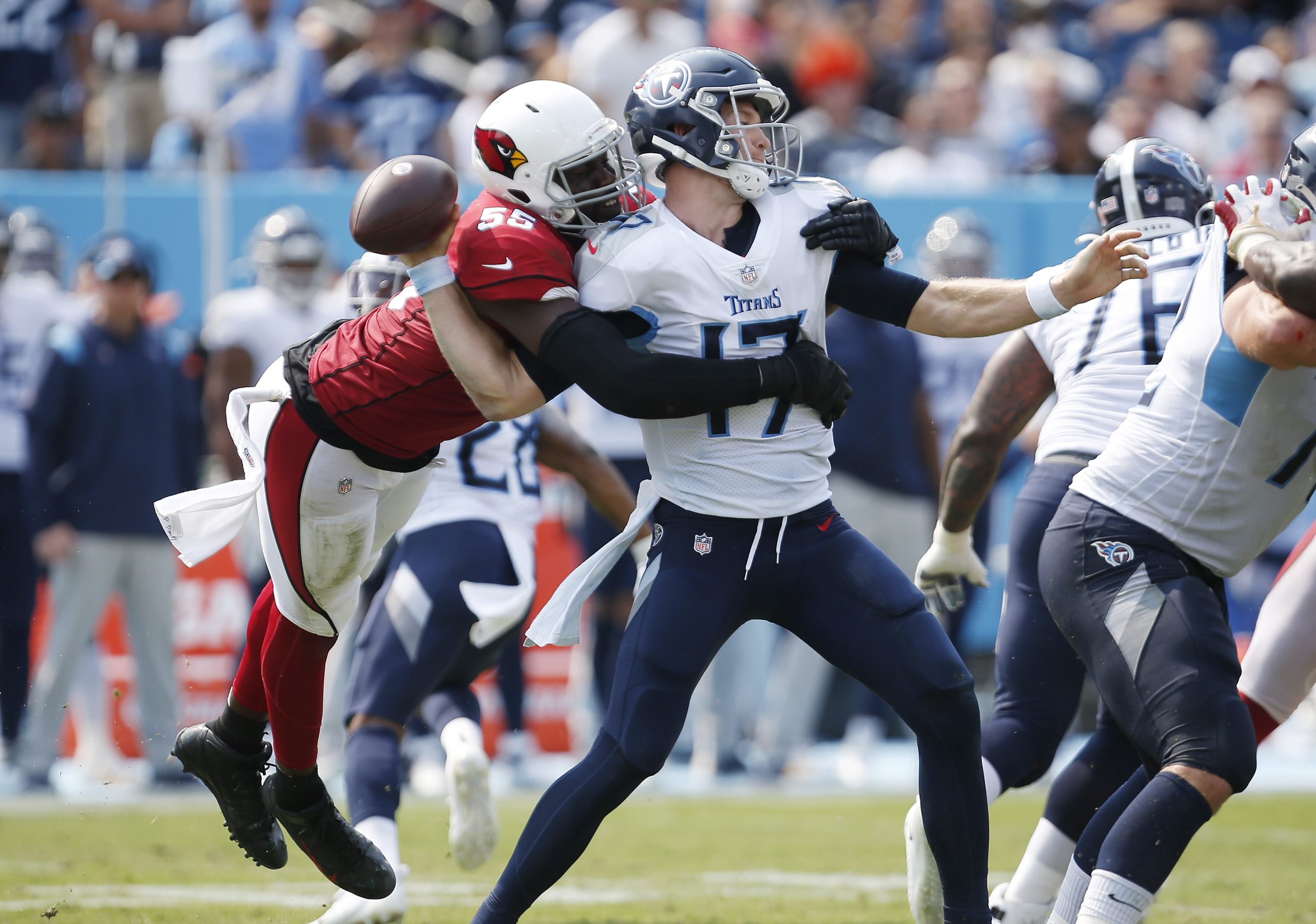 Chandler Jones Embarrassed Titans OL Taylor Lewan, Who Publicly Thanked the Cardinals Star for 'Exposing' Him
Chandler Jones embarrassed Titans OL Taylor Lewan on Sunday. After the game, Lewan thanked Jones.
Tennessee Titans offensive lineman Taylor Lewan is a stand-up guy. Because of him, however, his quarterback wasn't on Sunday. Ryan Tannehill spent much of Sunday's contest against the Arizona Cardinals on the turf as Chandler Jones racked up five sacks in a convincing 38-13 win over the Titans. Lewan was booed throughout the game and later thanked Jones publicly for "exposing" him.
Chandler Jones had himself quite a day Sunday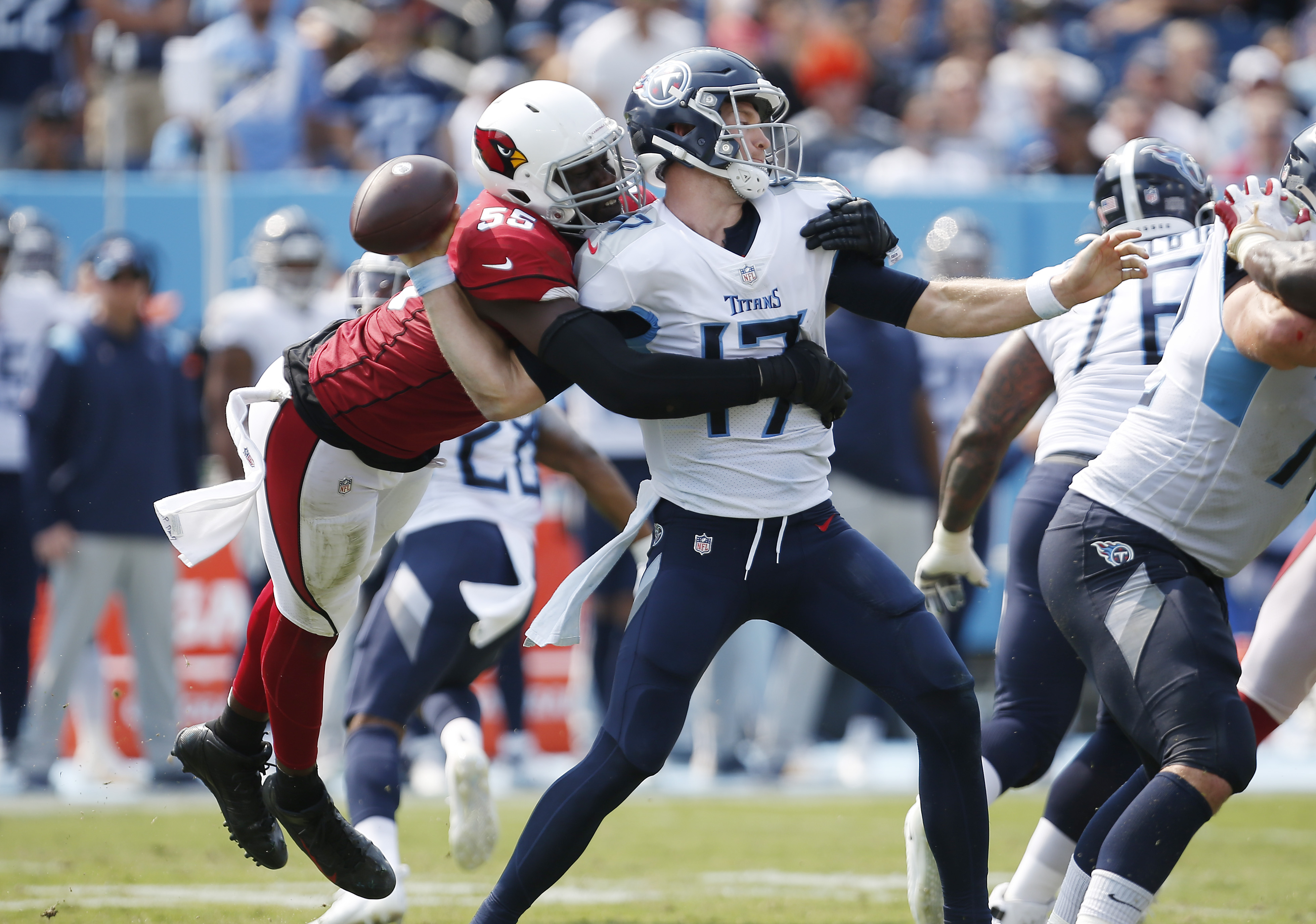 The Cardinals got off on the right foot Sunday with a big win on the road. While quarterback Kyler Murray threw four touchdown passes and ran for another score, it was the Jones-led defense that set the tone for the day.
The Titans couldn't muster anything offensively as Jones hounded Tannehill and the Titans' offensive line throughout the game. Jones had three sacks in the first quarter. He finished with a franchise-tying five in the game.
"It was epic," Cardinals safety Budda Baker said of Jones' performance via ESPN. "I think it was one for the ages."
Jones had missed some time during camp with a nagging injury, but his head coach Kliff Kingsbury said when he returned to action, he played with a purpose.
"He definitely has a chip on his shoulder, there's no doubt," Kingsbury said two weeks ago, according to NFL.com. "But he is who he is, and he's true to himself. You can't hide the type of enthusiasm and joy he has day in and day out."
Taylor Lewan thanked Chandler Jones for 'exposing' him
Lewan is in his eighth season in the NFL. The Titans selected the 6-foot-7, 309-pound lineman with the 11th overall pick in the 2014 NFL Draft. He made the Pro Bowl three straight seasons from 2016-2018. An ACL injury limited him to five games in 2020.
On Sunday, he had what may have been the worst game of his career. Jones blew past him on several occasions. Things were so bad that Titans fans booed him when he returned to the game after a much-needed break.
After the game, Lewan owned up to his performance. He took to Twitter and admitted he didn't play well. Then he thanked Jones for 'exposing' him and said he would learn from it.
"Got my ass kicked today, no way around that," he wrote. "I let the team and the fans down. Thank you @chanjones55 for exposing me. It will only force me to get better."
Not only did Lewan post it, but he also pinned it on his page as a reminder of how tough the day was.
Jones didn't speak after the game
According to AZCentral.com, Jones didn't talk to reporters after the game, sticking to his plan of staying quiet on all matters. Instead, he let his play do the talking on the field. Both coaches spoke about his play when the game ended.
"He was unblockable most of training camp to the point where it was, 'hey, we can only pass when he's out of the game' type deal," said Kingsbury.
"Chandler Jones has been a problem for a lot of years," Titans coach Mike Vrabel. 
It was Lewan's comments, although typed, that rang the loudest.
He knew Jones embarrassed him. He heard it from his home crowd. Lewan didn't run and hide from it. Instead, he'll use Jones' epic performance and become better from it.