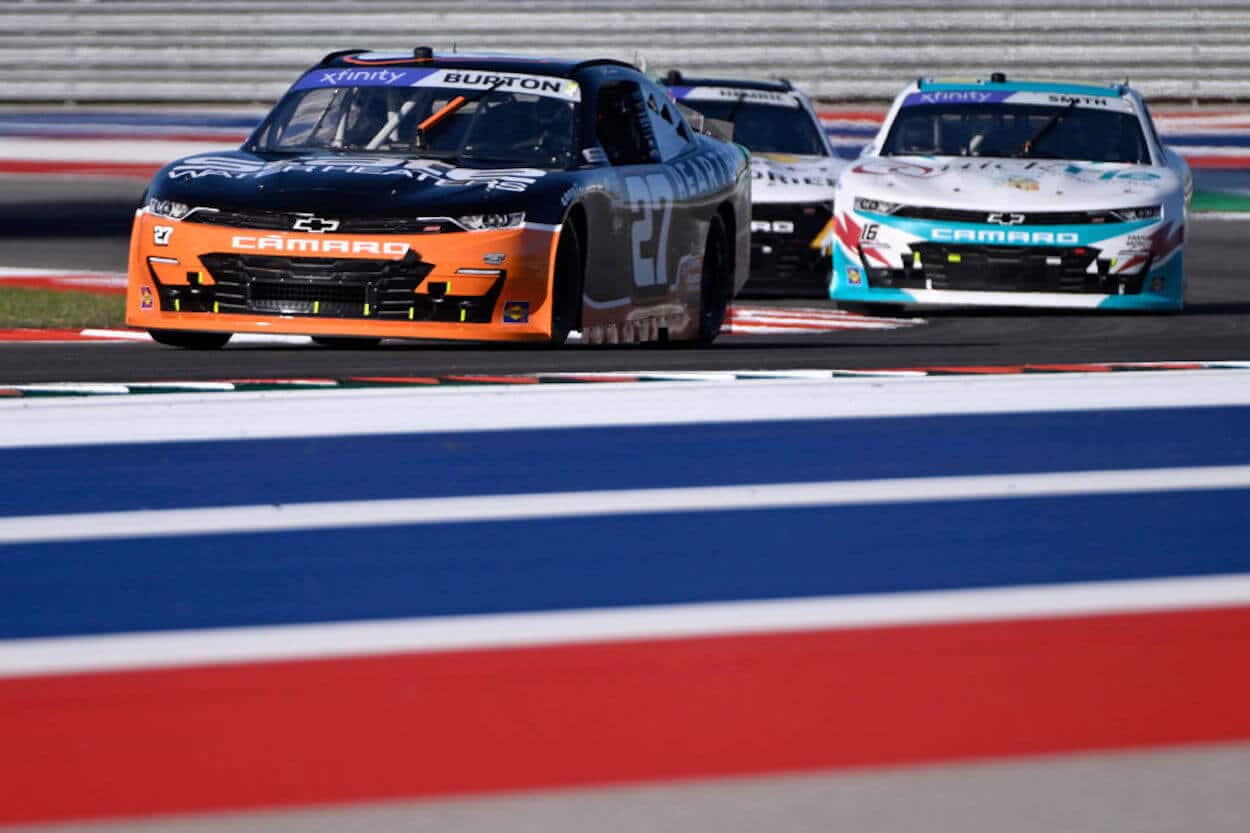 Chandler Smith Insulted Jeb Burton, But Burton Got Last Laugh With a Talladega Xfinity Win and an Insult of His Own
Sometimes, a driver can let their work on the track do the talking. Jeb Burton did that, but he also had a witty retort for his racing rival.
No matter how you slice it, Jeb Burton has endured a bumpy road in the NASCAR Xfinity Series. 
So, when Burton — the 30-year-old son of retired NASCAR Cup Series driver Ward Burton — won Saturday's Xfinity race at Talladega Superspeedway, he had every reason to relish the victory.
One of Burton's competitors, first-year Kaulig Racing driver Chandler Smith, doesn't think too highly of him, however, and made his opinion known with some unsavory name-calling after crashing out of the event.
Smith's salty comments culminated in a war of words between the two drivers that made for some remarkably colorful post-race fodder but failed to overshadow what Burton achieved on the race track.
Nothing leading up to Saturday's Talladega victory has been easy for Jeb Burton
After making cameo NASCAR Xfinity Series starts with multiple teams from 2013-2020, Jeb Burton finally landed a full-time ride with Kaulig Racing in 2021. But despite winning a rain-shortened race at Talladega and reaching the playoffs, the second-generation driver was let go by the team at season's end.
With few options available, the Halifax, Virginia native went to work for the small, underfunded Our Motorsports team in 2022 and endured a season he'd rather forget, posting no top-10 finishes in 33 starts.
"Last year sucked," Burton told me in an interview for a Q&A in NASCAR Pole Position magazine earlier this year. "It wasn't any fun. We had some decent runs, but last year was a survival year just to get through and do the best we could with what we had. That's pretty much what it was, but we did build some partnerships and grew some things. But better days are ahead. I'm glad to have had that opportunity last year — there was some positives there — but I'm just glad to be in a better situation now."
Burton left Our Motorsports at season's end to take over the No. 27 Chevrolet for Jordan Anderson Racing Bommarito Autosport — an organization that joined the NASCAR Craftsman Truck Series in 2021 and expanded to two full-time trucks beginning this season.
In his first eight starts with his new team, Burton finished no worse than 22nd but no better than 11th. Heading into Saturday's race at Talladega, Burton was 16th in the standings, so earning a berth in the 12-driver Xfinity Series playoff field seemed improbable. But Burton captured the Xfinity Series showdown at the 2.66-mile, high-speed Alabama track in convincing fashion, leading 17 of 121 laps on the way to his second Xfinity triumph in 118 starts in NASCAR's No. 2 division.
The win was significant for many reasons. For starters, it snapped Burton's personal losing streak dating back two years to this same race at Talladega. It was also the first trip to Victory Lane in Xfinity Series competition for Jordan Anderson Racing Bommarito Autosport — at the same track where team owner Jordan Anderson suffered second-degree burns in a fiery crash last October.
In addition, it marked Burton's first win in a race that went the full distance and punched his ticket into the 2023 Xfinity Series playoffs.
Perhaps most important of all, though, it was undoubtedly a shot in the arm for Burton's confidence, which he admitted back in February had waned a hit on the heels of such a disappointing 2022.
"It definitely can mess up your confidence, so you've got to just remember that you can do it, and you can only control what you can control. And if the car won't do it, it's not you," Burton said in the NASCAR Pole Position interview. It's easy to get down on yourself and think that it is you, but you've got to remember that you can only do with what you've got. Last year was definitely challenging sometimes. Confidence is big, and a lot of this is mental, but in the meantime, you've got to have the race car to be able to go fast. Last year, I didn't have that."
Jeb Burton got the last word in his spat with Chandler Smith — both on and off the track 
If Jeb Burton gave any weight to Chandler Smith's post-race comments at Talladega, confidence may still be an issue for the Jordan Anderson Racing Bommarito Autosport driver.
Asked after being eliminated in a late-race accident if he had any issues racing with Burton, Smith minced no words.
"He's not the sharpest tool in the shed," Smith, an Xfinity Series rookie who recently prevailed at Richmond Raceway in just his 10th Xfinity start, said, as documented by Noah Lewis.
Told of Smith's condescending remark, Burton wasted no time firing back during the post-race winner's press conference — a portion of which you can watch in the tweet below. 
"He raced like a complete idiot last week, and he raced like an idiot today," Burton said in response to an on-site reporter's question. "Every run that he got [in the draft], he just tried to take at the wrong times. I don't know what his deal is, but he hit everything but the pace car last week. He's not gonna last very long if he keeps doing that.
"He's got a fast race car, and he's not using his brain. That's pretty much all I got to say about it."
In all reality, Burton didn't need to say anything else. His driving did the talking for him at Talladega. Even if Smith — who offered the tongue-in-cheek "congrats"  seen in the tweet above — wants to sulk about it.